8 of Sydney's best dog-friendly beaches
Georgia Rickard | January 2019
Who's up for a day at the beach? Kingston sure is! We asked the cute doggo and his mum Georgia Rickard to sniff out Sydney's best dog-friendly stretches of sand.
There are over 100 beaches in Sydney… but which are the best dog-friendly spots? To answer this very important question, Kingston and I bundled ourselves into our doggy-friendly beach car (the Tiguan Allspace, of course) and went investigating. And the results are in...
1. Rose Bay Beach
End of Caledonian Rd, Rose Bay

With its milky sands and shallow, cerulean waters, Rose Bay Beach looks so dazzling on a sunny day you might wonder why Sydneysiders allowed it to go to the dogs. Puppers are free to tear around the expansive sands at all hours; parents can socialise with one of the world's most beautiful backdrops behind them (Rose Bay Beach also enjoys an unusual position looking back towards the city, with a full-frontal view of Sydney Harbour Bridge). Note, a nearby gutter run-off means water quality isn't great after heavy periods of rain. Free two-hour parking nearby.
Hot tip: Just across the road, you'll find the Eastern Suburbs' most beloved chicken shop: Chargrill Charlies. Just be prepared, you'll likely encounter a queue – it's that good.
Kingston says: Paws down, this is the best beach I've ever been to. First of all, I found something tasty in the sand. Which I immediately ate! Then Mum tried to make me drop it! But I swallowed it! Then I ran away! What a great day! I give this beach 10/10.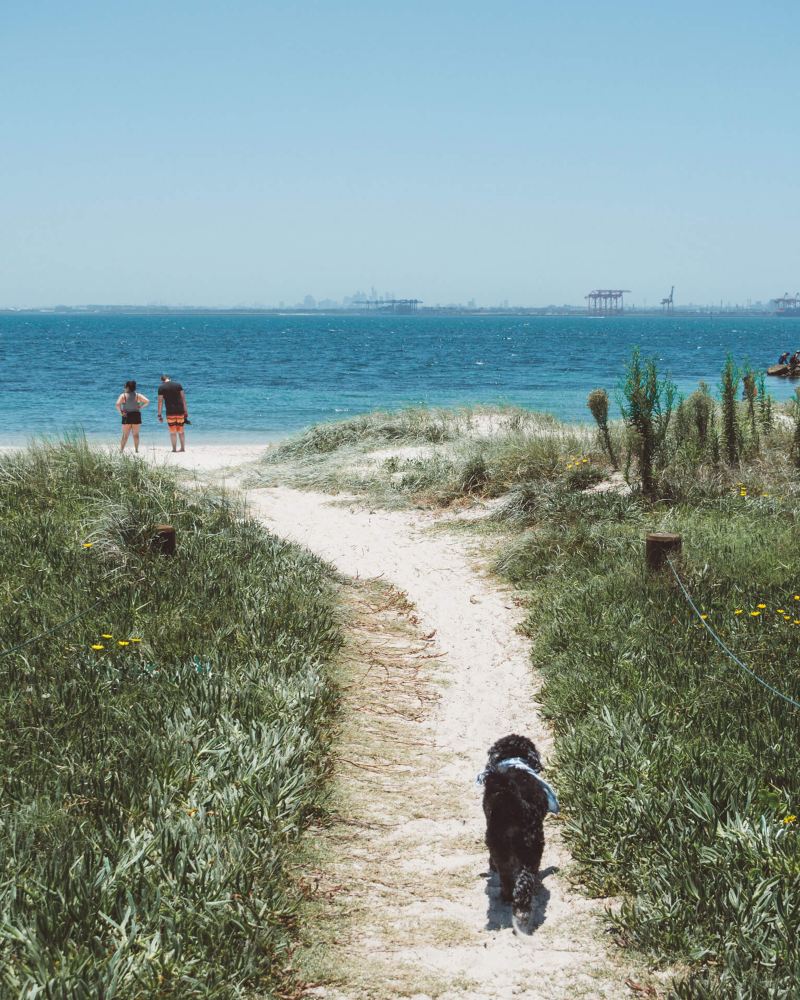 2. Silver Beach, Kurnell
Bate Bay Rd, Kurnell
This pretty harbour beach may well be one of the city's best-kept secrets. Found in the gentle curve of a flat, wide bay and cupped by low-lying shrubbery, Silver Beach is characterised by its shallow aqua water – beautiful on a calm day – and striking views of the city skyline across Botany Bay. A special section between its third and fourth jetties is dedicated to off-leash doggos, with fine pale sand that humans will love too. If you're a fan of harbour beaches, this is the kind of spot you could spend a day at – pack an umbrella and some water for your four-legged friend, and enjoy all-day parking with no time limits.
Hot tip: A short wander past the carpark will lead you to Kurnell Catamaran Club – home to Kurnell's coolest café. Pull up a milk crate underneath colourful umbrellas sprinkled with fairy lights and order an Acai bowl… or a frozen margarita, if that's more your speed. No judgements if you're still here at sunset!
Kingston says: There are so many good digging spots here! And you can run into the water and then roll in the sand! Until you've got sand EVERYwhere! Paws down, this is the best beach I have ever been to. 10/10
3. Greenhills Beach, Cronulla
2 Mitchell Rd, Cronulla
A stick's throw north of Cronulla you'll find Greenhills: a classic Shire beach with beautifully pale sands and plenty of waves. From the path's entrance (by the grassy reserve at the carpark) it's a 30-minute walk along the beach to the northern headland – a popular morning ritual for locals, who walk its length accompanied by pupsters running wild and free. The entire beach is off-leash dogger-friendly, but only before 10am and after 4pm. This is the perfect spot for a nice long beach walk before the day gets too hot, in other words – perhaps before a rewarding brunch. Greenhills has unlimited all-day parking.
Hot tip: One of Sydney's most popular breakfast spots, Blackwood Pantry is just five air-conditioned minutes away. Don't let the trendy crowd turn you off: the excellent food and coffee, and warm friendly staff, ensure that non-hipsters love it here too.
Kingston says: I can't believe how many things there are so many things to do here! I rolled in a seagull carcass! Best day ever! This is the best beach I have ever been to. This beach deserves a 10/10.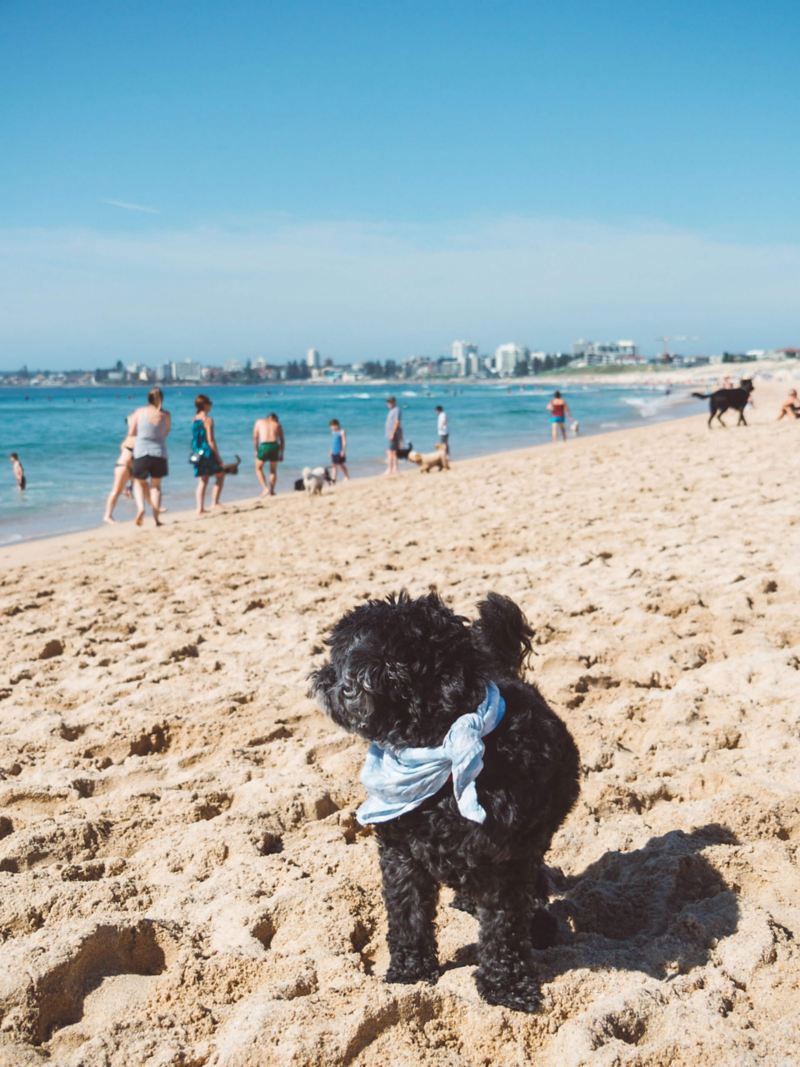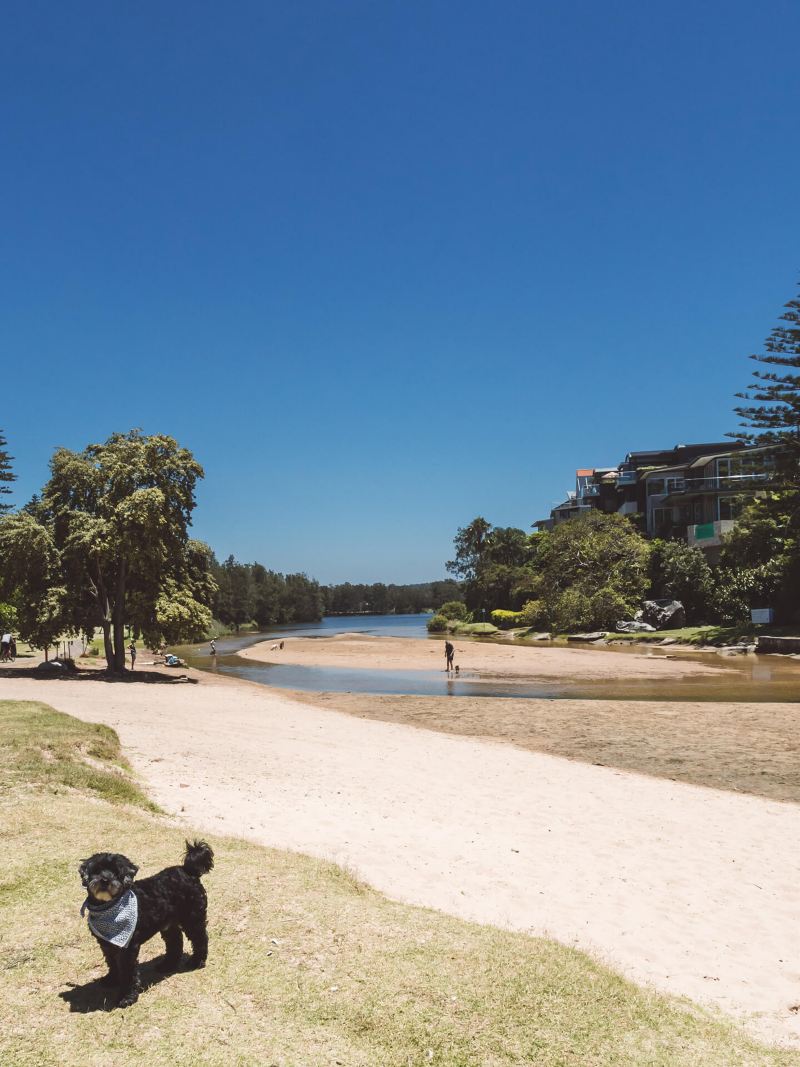 4. Manly Lagoon Reserve, Queenscliff
Beach end Cameron Avenue, Manly

Who knew one of Australia's most famous beaches had a special dog-friendly section? Queenscliff lagoon is the perfect spot for socialising, with humans often gathering here to chat with a morning coffee while their fur-friends launch themselves into the water, and/or schitznel themselves in sand. Bigger dogs will appreciate the deeper water further up the lagoon, while small pupsters can content themselves in the wide flat shallows. It's off-leash pup-friendly on weekdays only, however – on weekends, take yourself to nearby CurlCurl (see below).
Hot tip: Newly opened café, The Corner at Queensy does Manly's best brownie: half thick mud, and half gooey liquid, it's 100% chocolatey goodness and literal metres from the lagoon. Find it just behind Queenscliff Surf Club.
Kingston says: Couldn't believe how many good sticks were just lying around here! They were just waiting to be played with! I chased a stick into the water. Then I fetched it back out of the water! It was such an adventure! I think this is the best beach I have ever visited. 10/10
5. CurlCurl Beach, CurlCurl
Flora and Richie Roberts Reserve, 79 Carrington Parade, CurlCurl
At the northern end of CurlCurl beach you'll find a blissfully picturesque spot where CurlCurl lagoon meets the sea. Pupsters love hurling themselves into lagoon shallows off-leash dog-friendly area, while humans can throw balls, or socialise from golden sand on the banks. There are two access points to the lagoon; North CurlCurl carpark (via Huston Parade) and Mid CurlCurl carpark (via Griffin Road – turn left at carpark entrance for path to dog friendly area). Both have 12-hour pay-and-display parking.
Hot tip: Mid CurlCurl carpark (which enters the lagoon from its southern side) has a giant green plastic bathtub underneath a freshwater tap, so you can give doggo a quick rinse before bundling him into the car.
Kingston says: This beach has so many things to investigate. I investigated them all! Even a brown puddle! Mum chased me out of there! So then I chased a bush turkey! We all went running together! Mum took ages to catch me! Best beach ever. 10/10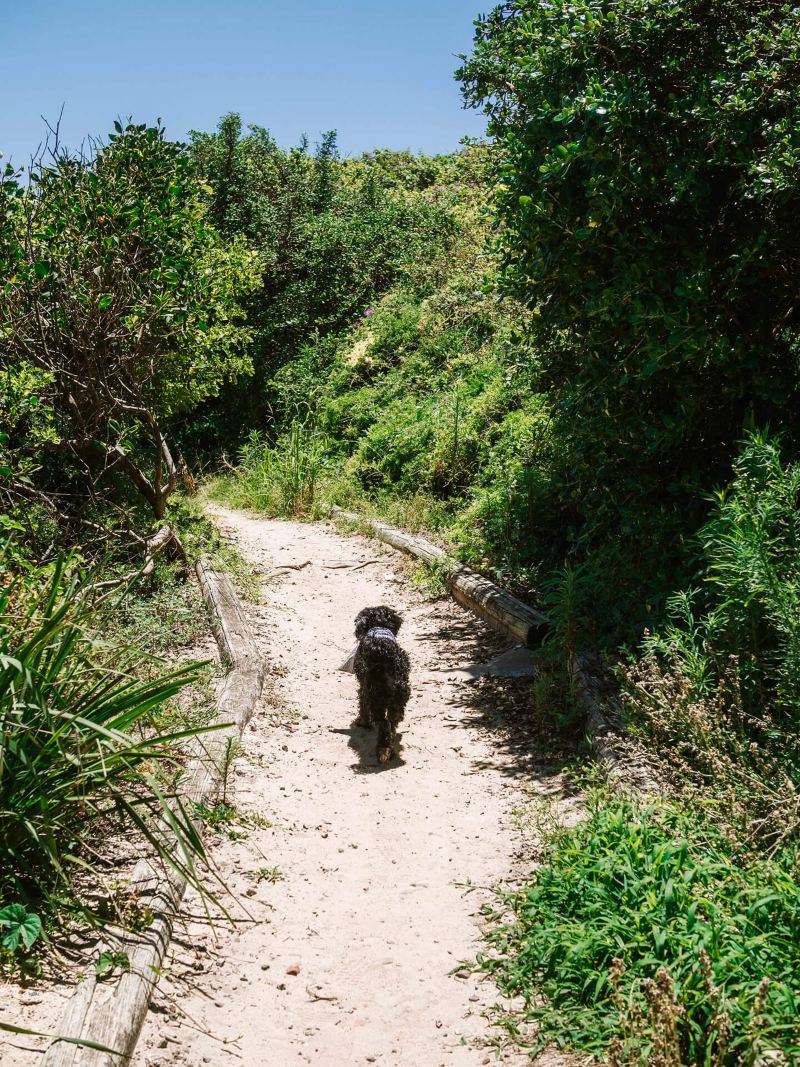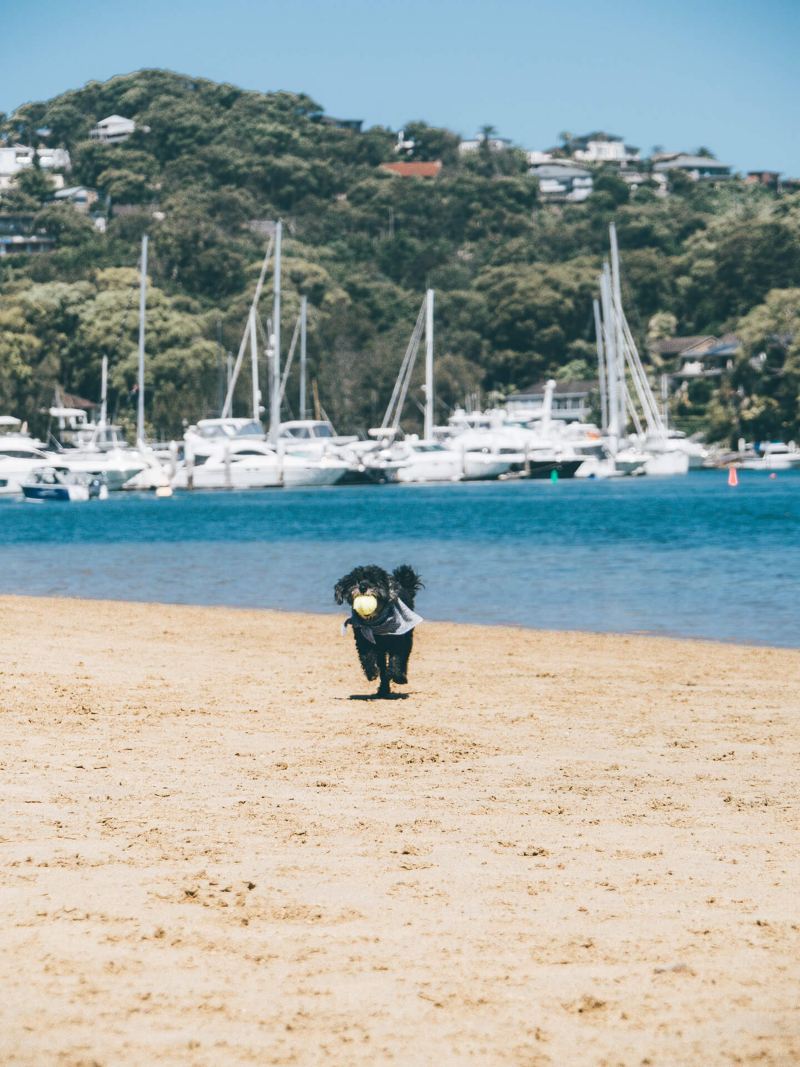 6. Bayview Reserve, Newport
Pittwater Rd, Bayview (note: also known as Rowland Reserve)
Bayview Reserve's flat, grassy area is fabulous for tiring out busy little legs, with views across the water stretch all the way across Newport. But the best bit is its beautiful sandy islet, which juts out into the clear salt water of Pittwater. Doggies can tear around the sand while their humans go swimming; on weekends there's usually a coffee cart to be found as well as a mobile dog wash, so every man, dog and car seat can leave in nice, clean conditions. Find 12-hour pay-and-display parking within the carpark, or free parking on Pittwater Road.
Hot tip: A dog paddle's distance away, you'll find the Newport Arms – one of Australia's oldest pubs, and home to Sydney's most beautiful waterfront beer garden…which just happens to be dog-friendly. Need we say more?
Kingston says: Couldn't believe how much sand there was here! I kicked sand everywhere! Even on someone's towel! And then I ran away really fast! No one could catch me! What a day! Best beach ever. 10/10.
7. Sirius Cove, Mosman
Sirius Cove Rd, Mosman
Just around the bay from its famous cousins Balmoral Beach and Clifton Gardens, Sirius Cove remains a relaxed, local affair. This small, tranquil harbour beach is right next to a huge grassy area, tucked between weeping willows and big old gum trees (perfect for picnics). Puppers can race around the beach and adjacent reserve all week long, but come weekends and public holidays, it's only dog friendly before 9am and after 4pm. Unlimited all-day parking available.
Hot tip: Don't tell anyone we told you, but even in the height of summer when nearby Balmoral is packed to the rafters, Sirius Cove remains a local secret. It really is a lovely place for some peace and quiet.
Kingston says: Best beach ever. There are so many interesting smells to uncover here! I played "running race" for so long! I had to lie down under a tree! Note, I hid someone's ball carefully under some sand. To be recovered on next trip! 10/10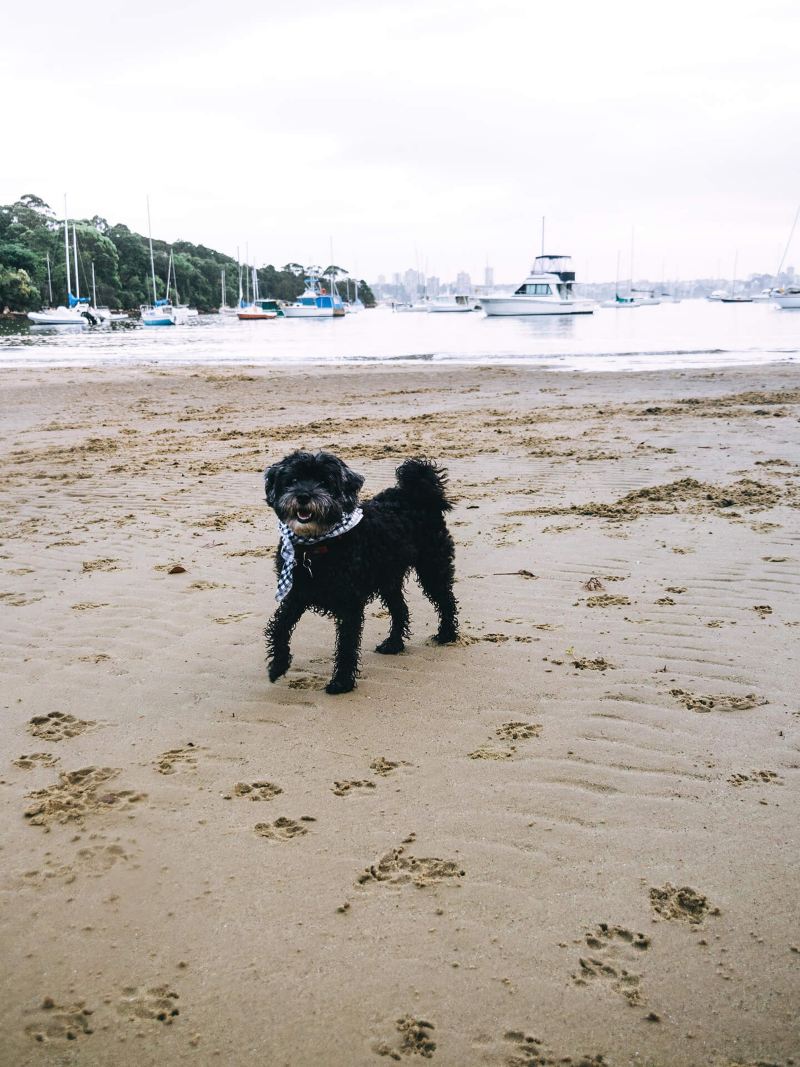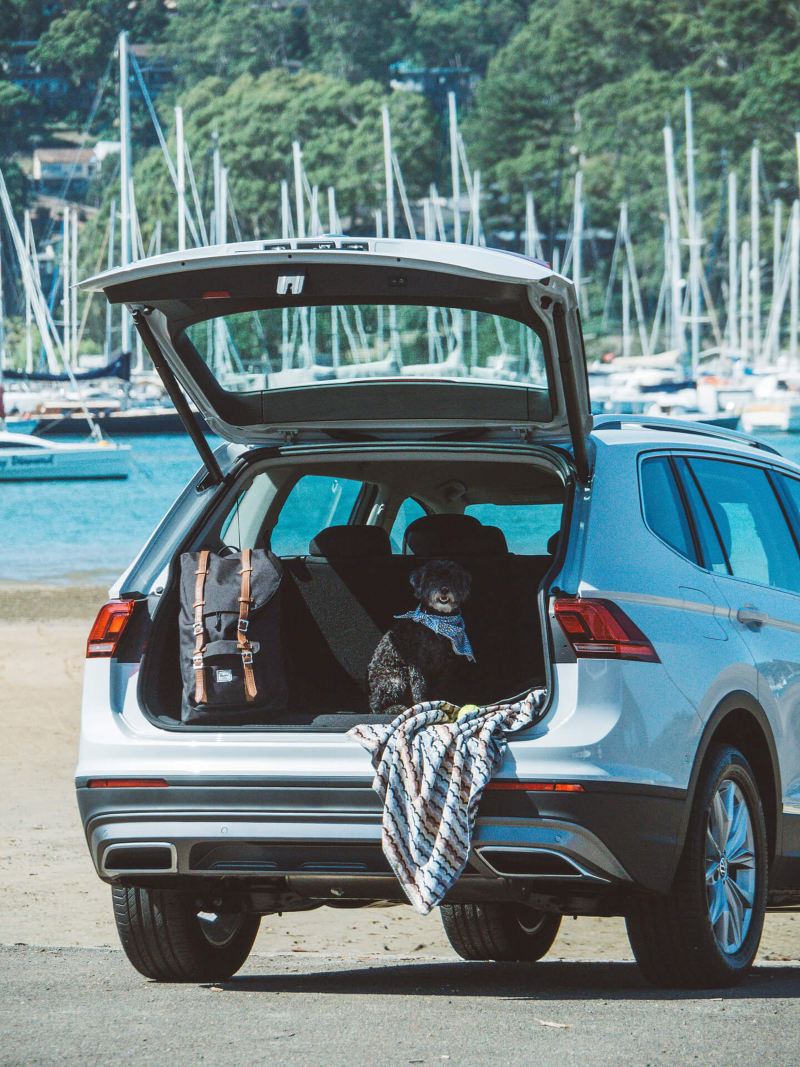 8. Patonga Beach
Bay St, Patonga NSW 2256
OK, so it's technically just outside of Sydney – but Sydneysiders' love of Patonga Beach has experienced a revival of late, thanks to the arrival of The Boathouse Group's newest venture. The Boathouse Hotel Patonga sports a café, restaurant, homewares store and hotel, all with Boathouse's signature whimsy and style and located virtually on top of Patonga's golden sands. But the best thing about this spot? Its dog-friendly beach, of course! Four-legged friends can go for their lives on the long stretch between Jacaranda Avenue and Brisk Street; afterwards, check out The Boathouse food (spoiler alert: expect edible flowers and the best-looking cocktails this side of the M1). Naturally, the outdoor dining area is dog-friendly. Bottoms up.
Hot tip: It's a 90-minute drive to Patonga from Sydney, but in a Tiguan Allspace – which we made use of for all our beach visits – it's a relaxed cruise. With a huge seven seats (everybody gets their own), backseat air conditioning (to keep paws cool) and easy-to-clean interiors (no more sandy crevices!), there's plenty of room for every man and his dog.
Kingston says: After a hard day's playing, I loved having my own special spot in the car to relax. Paws down, the Tiguan is the best doggy-friendly car ever. 10/10