To me, camping, in this day and age, genuinely is very much like tying two tin cans together with string and attempting to make a phone call.
The fact is, we've moved on, we can do better, and we should no more be sleeping outside under thin pieces of not entirely rain resistant nylon than we should be dressing ourselves in animal skins and performing our ablutions with handfuls of moss.
The wilful refusal to engage with good sense, or to benefit from mankind's ability to invent and adapt is clearly on show at any caravan park. At one, slightly smellier end of the facility you'll find the tent people, who poo-poo even the basic wisdom of paying for a powered site, and right next to them you'll find others with camper trailers, posh-looking motor homes, solar panels and satellite dishes.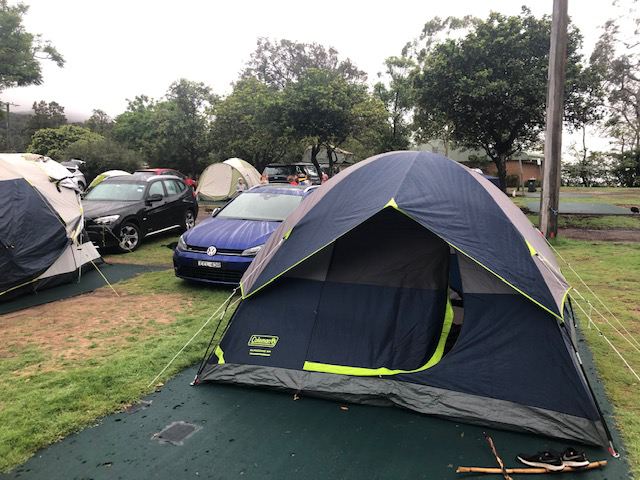 Up the other end, closest to the shops, are the more evolved humans, who happily hire an onsite van or a cabin, and just outside the perimeter fence are the truly modern holidaymakers, who sit in spacious, sensible houses booked on Airbnb, and laugh jauntily when it rains.
Clearly, I'm not a fan of camping, so it really takes something special to lure me into packing my car to the rafters with self-inflating mats (always too thin and mean to be called "beds"), sleeping bags (strangely named, because they're designed to provide you with everything but sleep) and head torches (okay, these are a wonderful invention) and head out of Sydney.   
The fact that I've done it more than once is something of a miracle, frankly, but I've been lured back repeatedly because my children seem to really enjoy a crazy cabal I've accidentally become a part of; my local Dads and Kids Camping group.
To be fair, my first two trips were to a truly incredible camping spot, right on the beach at Coaldale, south of Sydney, and it was hard not to have my inner fury at the madness of it all soothed by the sound of smashing waves not far from my toes at night.
Most recently, though, the doting Dads who organise the whole thing topped even that with a trip to Patonga, an ideal idyll, less than 100km from Sydney (a journey of between 90 minutes and three hours, depending on what time and day you attempt to leave town).
The obvious benefits of the camping ground include the on-site hot showers, clever little pads to pitch your tent on, which ensure a flat surface and none of that sense of sleeping while tumbling down a set of stairs you sometimes get, a shop, with coffee, and the fact that the recently renovated and deservedly popular Boathouse Hotel is a short walk away, even with 20 small children in tow.
What was less immediately evident - because I was busy swearing at my tent, all tents, the person who invented supposedly clever "dome" tents, other people who watch you struggle with your tent without offering to help and so on - was what a spectacular location it sits on.
On one side of the strip of prime land it occupies is pretty Patonga Creek, which is frequented by an entire air force of pelicans and runs, when the tide is in your favour, with a current seemingly designed by someone who used to work at Wet'N'Wild. 
This means that you, or your energy-filled children, can grab a boogie board, or just lie back and float, and be swept, thrillingly, downstream to a large sand bar that abuts Patonga Beach, where you can jump out, walk back and do it all again.
Experienced hands calls this the "lazy river" experience, and apparently some hotels in Las Vegas offering something very similar, at a far higher price.
The other side of your camp ground, just behind those wonderful showers, is the beach, which offers views all the way to the back side of Palm Beach and, temptingly, down to the Boat House Hotel.
Protected from big, bashing waves by the fact that it sits in a bay, adorned by fishing trawlers and a little jetty, this is a perfect place to wile away some sunset hours and, again, an almost endless source of entertainment for children.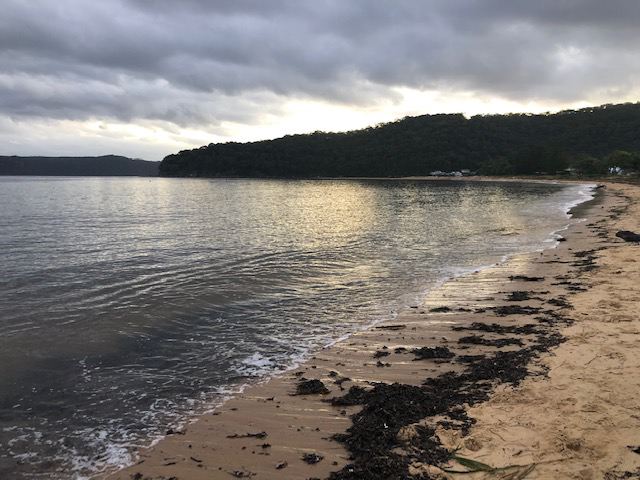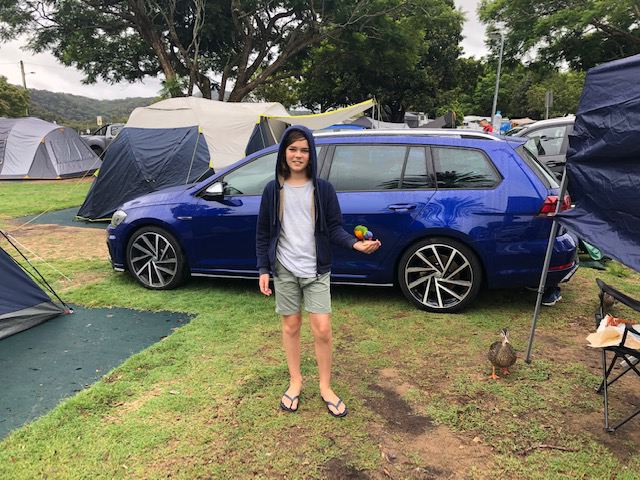 Remarkably, there is also another feature that often keeps the kids away from both river and ocean, and closer to your base, so you can keep an eye on them without having to stand up, which is the tame and colourful bird life.
While many adults would find the idea of being landed on by multiple rainbow lorikeets which do, inevitably, poo on you from time to time, a bit icky, young children seem to love it. So much so that all of the apples and most of the bread I had packed became bird food rather than human lunch.
It is, admittedly, something quite special to be able to examine these absurdly colourful creatures, with their shimmering, almost psychedelic feathers, at close quarters. They are not so tame that you can pat them, of course, and doing so will see your finger go the same way as the apples.
Dads and Kids Camping has just two, simple rules - No Mums, which means there's a certain chaotic nature to the whole weekend, due to an almost complete lack of forethought on the part of the supposedly responsible adults; and No Screens, which is a fabulous idea, and allows children to behave like children again, or at least the way that the assembled fathers remember young people behaving, back in their day.
In the past this has led to a few near drownings, a couple of broken arms, and possibly the odd case of scurvy (catering is minimal, as you would imagine), but no children have been lost yet, which is both a bonus and a small miracle.
It will come as little surprise that some of the best times are had once the children have collapsed, exhausted, into their flimsy, stupid tents (fortunately little people seem to love camping, and are too small and light to be uncomfortable in there), and the Dads get to breathe in the serenity, suck down a few beers and marvel at the fact that, in Patonga, you can be so close to Sydney and yet feel so very, very far away.