If it were not for our Touareg Adventure parked outside the reception area at Goonoo Goonoo Station, you could be forgiven for thinking we'd travelled back in time. While the working cattle station now offers guest accommodation, function spaces and a restaurant, the building façades have been left looking much like they would have been when used as a workers' township between the 1840s and 1980s.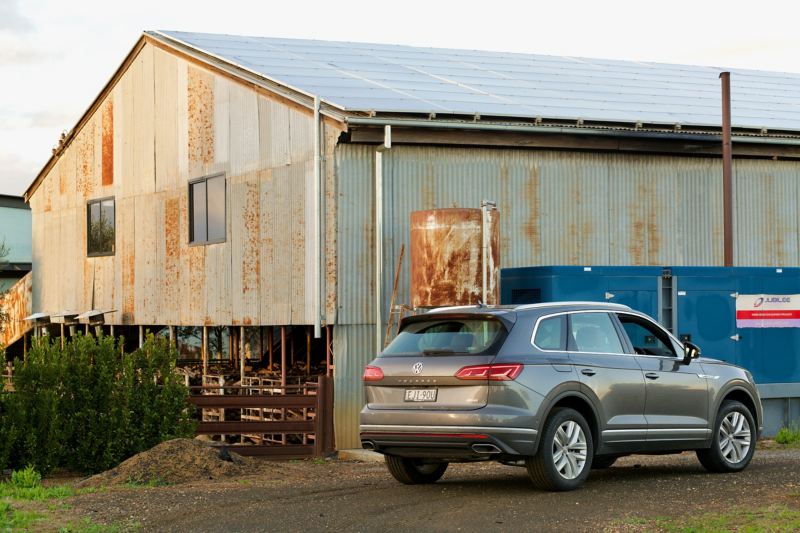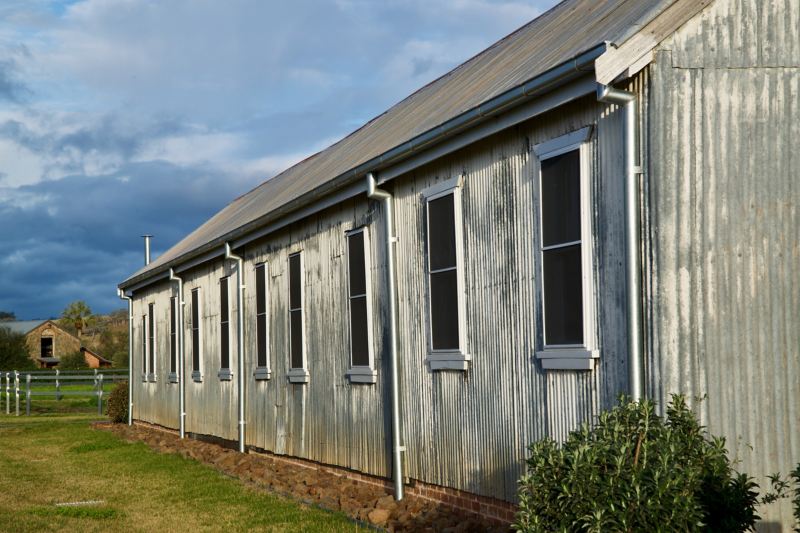 The interiors of some of the buildings have been restored to their former glory and made accessible for guests to explore, and we step into the chapel and take a look around. Other structures have been transformed into shmick looking accommodation, of which the Homestead is perhaps the most magnificent. This grand building provides luxury housing for up to 10 guests and comes with its own private courtyard and pool. But, since we're two adults and a little person, we settle for a room in the Shearer's Quarters. The double rooms easily fit a cot and offer a more practical choice.

Like many of the guests who come to stay here, we choose to splurge on dinner at the ultramodern Glasshouse Restaurant, also found on the premises. The aptly named restaurant is one of the region's most renowned dining venues, with a host of food, wine and architecture awards to its name. Huge glass windows border the dining space, giving guests a front row seat to unhindered views over the historic Goonoo Goonoo Station grounds and rolling hills beyond. We've timed our meal for sunset, and the kaleidoscope of candy pinks, soft oranges and mellow yellows sets the tone for what evolves into a wonderful evening.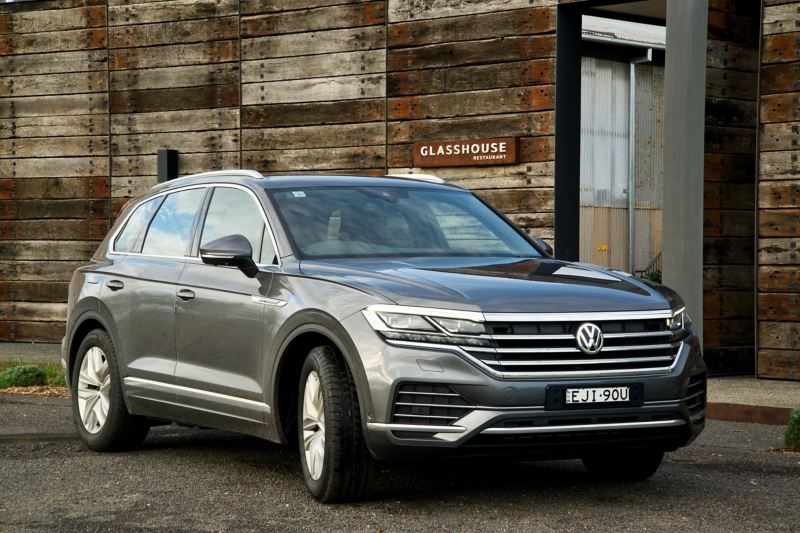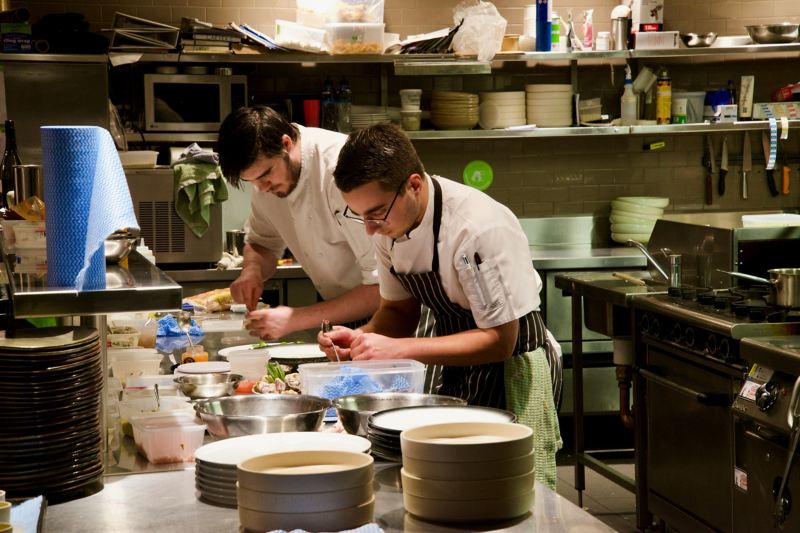 Since we're travelling with a toddler, we know from experience to order quickly, and only then sit back and enjoy the serenity for as long as time allows. We have to wait a while for our meals and one of the waiters pops by to tell us that's because the chef was not happy with how my husband's first steak turned out. The wait is worth it. My husband mutters between mouthfuls that his eye fillet is one of the best steaks he's ever had, while the blue-eye trevalla I order is served with an inventive concoction of sides, including the most delicious saltbush tortellini. Said toddler is kept entertained with the everchanging sunset views until darkness swathes over the day. When her attention finally wanes, a craft activities pack is presented to her courtesy of the restaurant, buying us precious extra time – just enough for dessert.

Our drive to Tamworth the next day is only 20 minutes, but we take it slowly to appreciate the views. Rainfall in the region has been abundant in the months prior to our trip, and consequently, the fields to our left and right are verdant carpets of emerald green, dotted with well fed cattle reaping the rewards.

The patchwork of green pastures stretches much further afield, we learn, when admiring the view of Tamworth and beyond at Oxley Scenic Lookout. Located five minutes' drive from the centre of town, it feels a world away from hustle and bustle.
Tamworth itself is best known for its famous country music festival. Held over 10 days in January, it features free and ticketed live music events, family attractions, street entertainment and heaps more, as the city transforms into one big, music crammed celebration. Although recent events have resulted in a cancellation this year, both the revellers and event organisers are hopeful the festival will be back on track for 2022.
Of course, visitors to the city are welcome to stop in at The Big Golden Guitar and adjoining Tamworth Visitor Information Centre to get a sense of what music means to Tamworth. Like most other passers-by, we ensure we get a snap in front of the famed guitar when we arrive, and every time we cruise past over the next few days we see someone else doing exactly the same.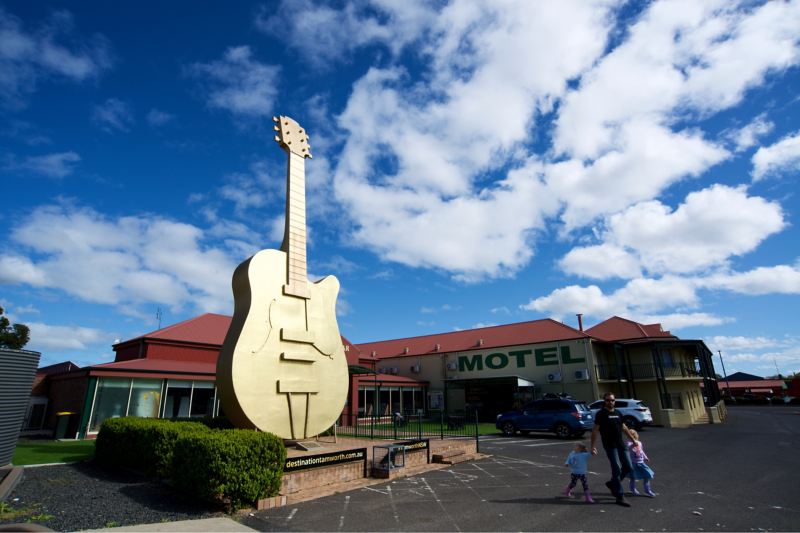 Tamworth has plenty more to see and do beyond the music scene, with food, culture and nature high up on the must do list. The Tamworth Regional Gallery is one of the oldest regional galleries in New South Wales and worth visiting. This cultural and arts hub features rotating exhibits – works of national significance as well as curated exhibitions by regional artists and students.
Near the Oxley Scenic Lookout, Tamworth Marsupial Park and Adventure Playground is great for wildlife lovers. Our arrival just after a rain shower means we have the whole space to ourselves, with loads of native wildlife out and about to greet us. Even on a busy day I can't imagine it would get too crowded, with plenty of space and a huge fenced playground fitted out with a variety of equipment. We stay for a few hours.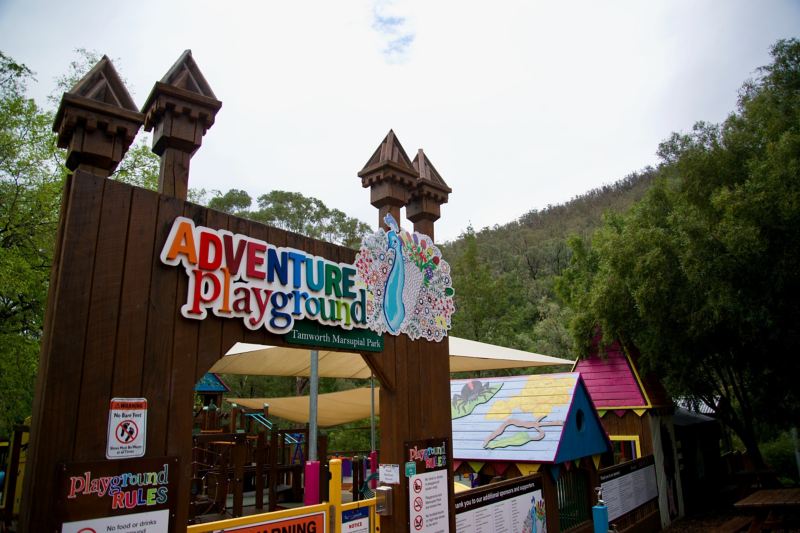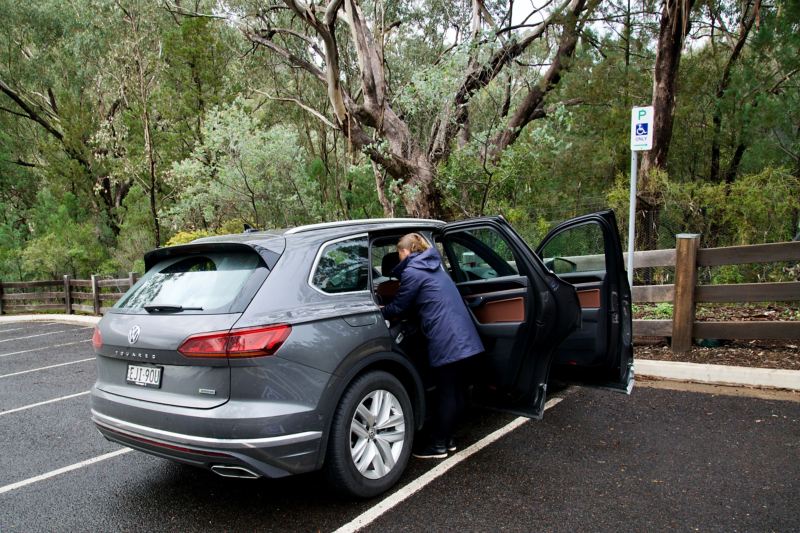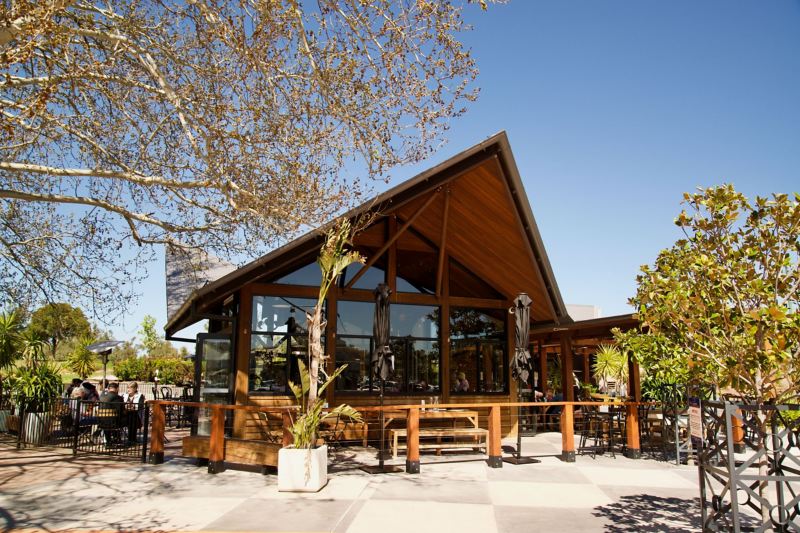 Our daughter cites the playground here as one of her favourite city haunts, along with the Tamworth Regional Playground. The latter is one of the biggest city playgrounds I've ever come across (and I've been to quite a few), with a splash pad, climbing equipment, towers, slides, bike tracks and plenty more. It's located right next to Hopscotch Restaurant & Bar, and my husband and I alternate between watching our daughter and relaxing in the restaurant when we visit here, enjoying brunch alongside coffee throughout the long, lazy morning.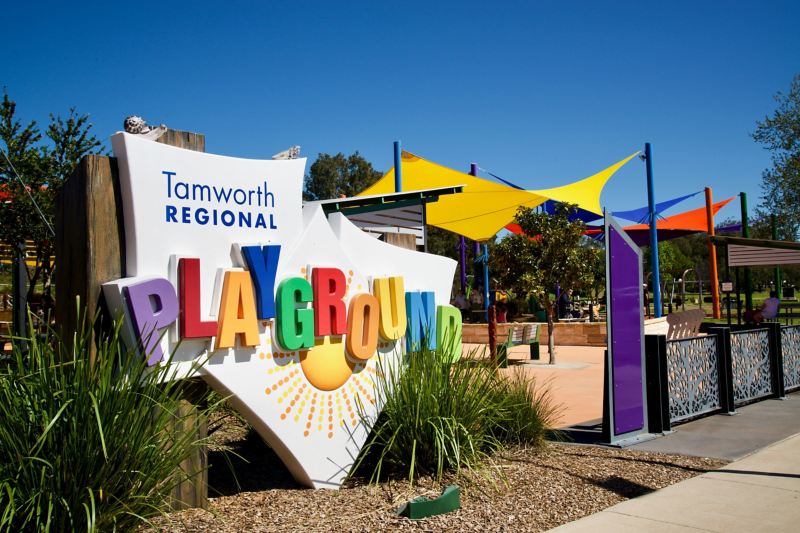 Cafe culture is alive and well in the city, with plenty of offerings to suit most tastes and budgets. Hissy Fits Cafe becomes one of our favourites. Owner Claire Rice opened the cafe at the start of 2017, wanting to create a space that is reminiscent of Gran's living room. The Mexican inspired food (her business partner is a fan of the colourful flavours) adds a unique touch.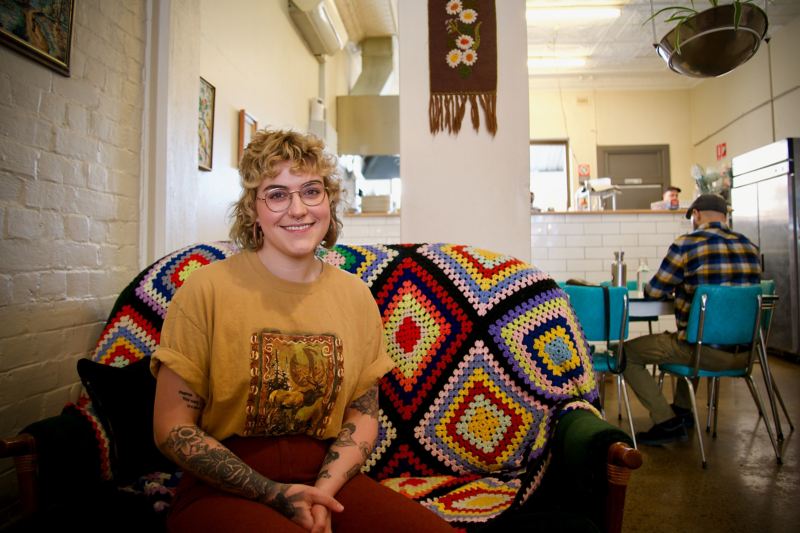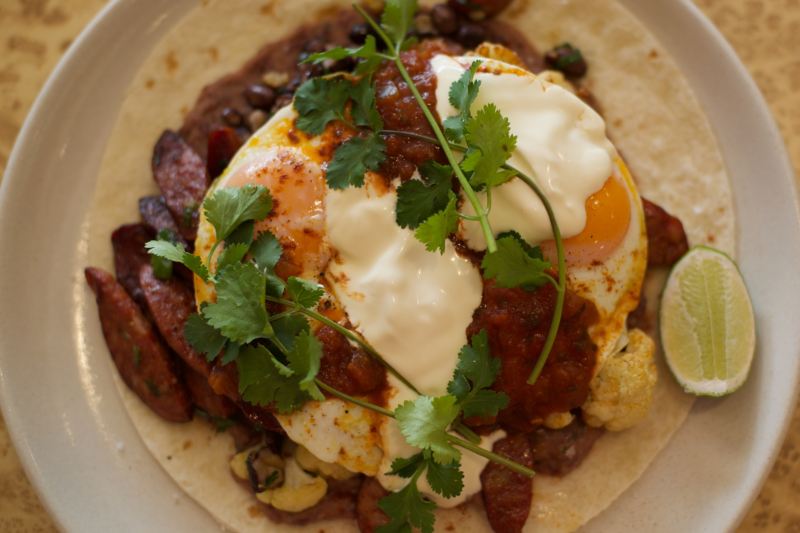 But, for the best milkshakes around, locals will happily drive 40 minutes. No one in my family needs any convincing to jump back into the Touareg for the scenic drive to Manilla, a town with a population of just over two and a half thousand north of Tamworth. We make it to Molly May's just before they close for the day for an Ultimate Shake. Laden with lollies and cream, one large shake provides the sustenance needed for the afternoon.

For more information visit www.visitnsw.com
Explore the Touareg