Heather Maltman |  January 2019
More Than A Car Podcast Co-Host, Heather Maltman, packs up the Tiguan and attempts to get back to nature, but things don't quite go according to plan.
Sure, we've all been there. Those trips where nothing goes right and you feel cursed from the very moment.  I should've read the signs.
First, I'm trying to leave work for a camping trip with my beau and I just can't seem to get away – welcome to my all-too- reoccurring nightmare.
Being the last trip Matt and I will take as boyfriend- girlfriend (we've since decided to call it quits, but remain close friends), we cannot seem to get the car packed and go. It's now 7pm, light is fading fast and we have a one-hour drive ahead of us in the new VW Tiguan. I've already told Matt that I will be setting up the tent and passing out, the minute we get to Mt Barney, an ecologically sustainable camping ground. I know right...
The aptly named Mt Barney Lodge is located in the beautiful Scenic Rim next to the World Heritage-listed Mt Barney National Park and right at the base of Queensland's most impressive peak – Mt Barney! It's about a 90-minute drive from the Gold Coast.
The threat of passing out when said tent is done, I already know is an empty one; as I imagine our campsite at Mt Barney, and it's pure magic. Big open camping areas with pre-set camp fire spots. The smell of wood fire burning and a delicious bevvy or toasted food feels so near that, even as I am standing at the boot of the car in the driveway at home I fail to realise I deadest have no idea if I have remembered to pack everything.
Matt comes down (at 8pm, but who's counting) and he's got his little travel coffee, and we take off towards the M1.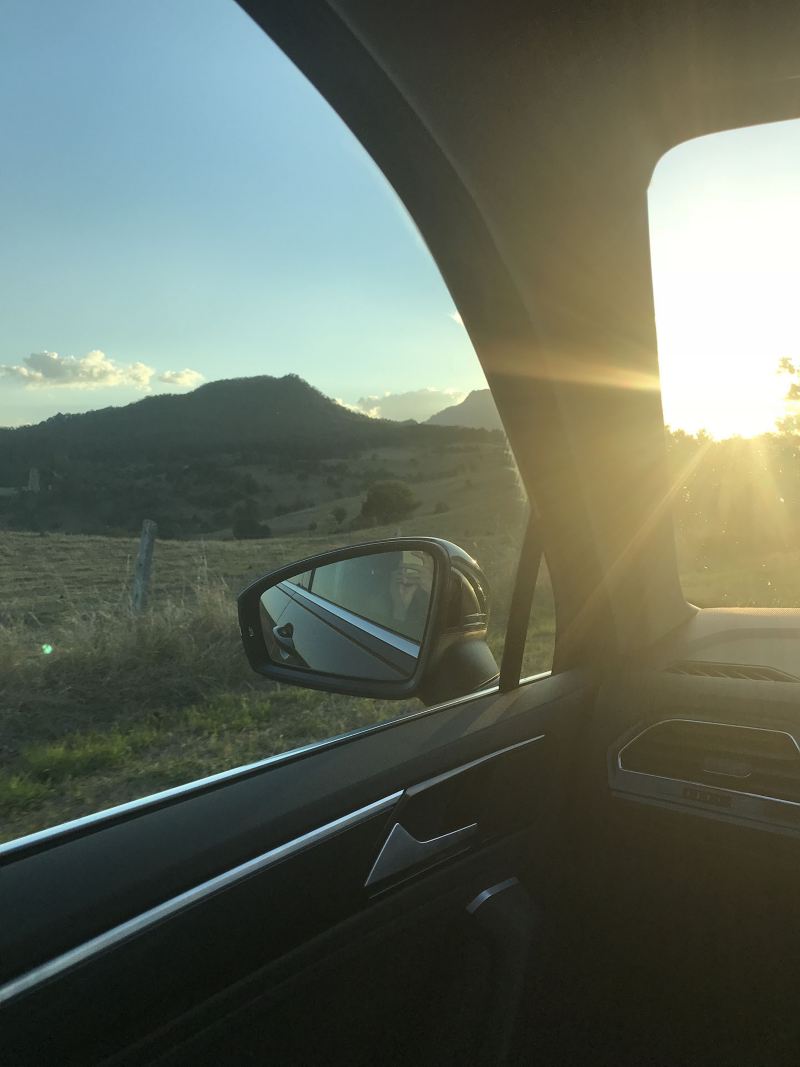 Once you bypass the clogged main roads (yes, even at 8:30pm), it's actually a really nice drive. The journey winds past farms and green fields, the fresh smell of cow poop fills the air in random pockets and the Gold Coast skyline is in the rear-view. The drive does get progressively dark as we head out there; I am pretty stoked this car is smarter than I am, and can sense oncoming cars to turn down the high beams. Plus, my bum is nice and warm from the seat warmer.
We arrive and have to use the car headlights to set up camp because, guess what? We forgot the torch. Strike 1 Maltman.
But at least the wood fire smoke I had imagined is filling the air, and I'm pretty sure a wild beast is coming to eat us…
Nope. False alarm. It's just one of the horses they have for trail walks. Never mind.
But this wouldn't be our brush with death.
We begin the tent build, and by 'we' I mean, Matt does it and asks me to hand him things. How will I camp without my fearless man warrior? Turns out though, I am very good at the self-popping long black stick thingies and getting the tarp doodad on the top of the other tent stuff. Or so I'm told.  Maybe I'll be ok after all?!
Matt turns to me, kneeling down with the long silver peg I've passed him, glistening angelically in the headlights of our Tiguan he says "Babe, pass me the hammer?"
Strike 2 Maltman… Strike 2… No hammer.
We jump in the tent after meandering in the dark for a while around the manicured property, and I blow up the mattress. That I can do. It's my turn to ask Matt to get the doona, and he looks at me blank.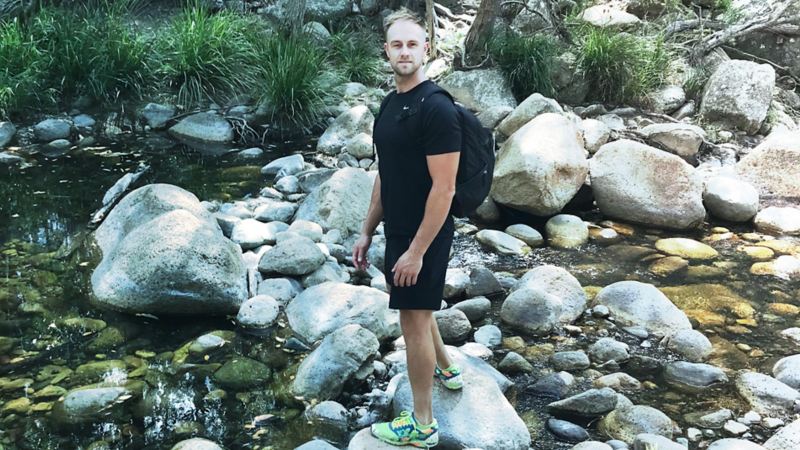 Strike 3, you're out of there.
The morning sun wakes us up by heating the tent to boiling point. The plan was to hike Mt Barney with one of the camp site's trained specialists, but because we can't get our act together, we've missed out. Trying not to be grumpy, I kiss my beloved and tell him I need a Panadol. (It's for the headache setting in after I forgot the blanket, and spent the night shivering.)
Here's a camping tip: Don't wear everything you own, and wrap yourself in toilet paper to stay warm, in place of a blanket. It doesn't work, and you'll sleep funny. Then wake up not able to move your left arm.
Never mind, get me a delicious camp fire bacon and egg roll with a hot tea and I'm anybody's again.
Faith restored in humankind, the campsite owners take pity and give us a blanket, and in the daylight we find a TRUSTY LARGE ROCK. Perfect for banging in tent pegs.
There are chats about the fact we missed the rock walk over Mt Barney, and I discover it's not really for the likes of me. I would prefer the mother/daughter camping trips they have, or the kids bushwalking treasure hunt they have there. (Best for ages 5-10)
You have to know our limits, and mine is searching through the gardens looking for traditional bush tucker. I manage to find some… Without the handy tourist signs… But whatever, I don't like to brag!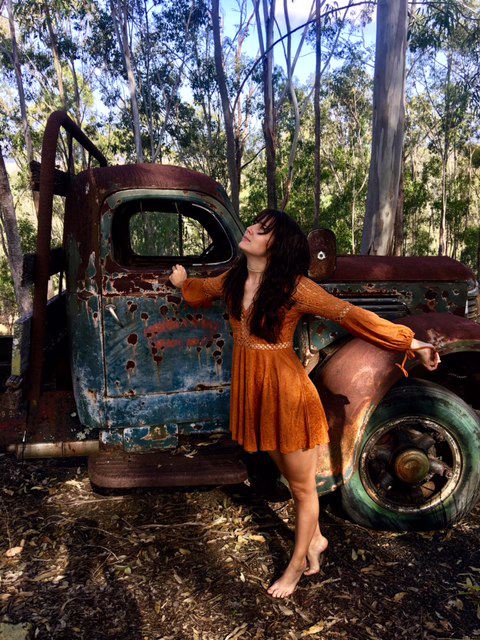 There is this super cute café down the road (4 Upper Logan Rd, Rathdowney QLD) from the campsite. It's called The Shed Café. It's wonderfully old school and rustic, and the coffee is like a delicious step back into the 80s with frothy milk and regular chocolate sprinkled on top. No hipsters as far as the eye can see – not even a beard among the punters. The apple pie is next level, and don't get me started on their gift wares, made by people from the area.
After a good chat with the locals serving us, we are told there is a cute stream just one town away. It's called Running Creek, and right next to it, is a great camping spot you can bring the family dog; so Rover can come too. Hot diggity…
As we drive out onto Upper Logan road heading towards Chinghee National Park, just north of Running Creek, we spot police, fire AND ambulance, all heading the way we had just come. Perhaps someone has had an accident on these windy roads.

When we get to the creek, we walk up and down hopping across rocks. We listen to the birds, and sit on a rock in the sun like lizards. When we head back to camp after a day in the sun, we're not prepared for what awaits us.
The entry to Mt Barney Lodge has a base camp set up, for a rescue operation. The face of the mountain has a chopper trying to evacuate people and is just hovering above. An eerie silence comes over us. It's one where all you could hear is that distant hum of the chopper, echoing off the terrain.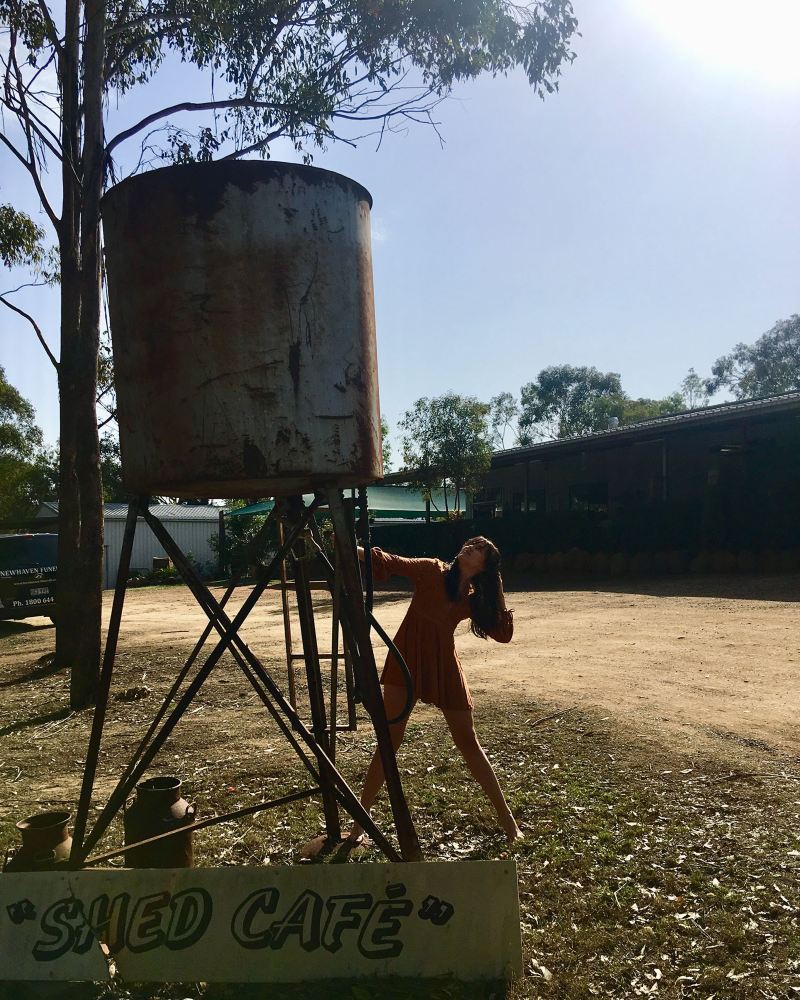 We keep driving along to give the camp some privacy and focus on what they were doing. Until we get to camp and see an ambulance leave.    

I ask one of the site owners if everything's okay, but sadly it isn't. A private group of rock climbers had gone down the face of the mountain and three had slipped. Tragically, one fall was fatal. A 50-year-old man, who I would later find out was named Steve Turner, will be remembered by his friends and family as the Godfather of climbing and outdoors in south-east Queensland.
As Matt and I sit outside our tent that night, we can't help but run the
"what if" scenarios in our heads. What if that had been me up on the hill with the Mt Barney tour guide? We continue to sit there with these sobering thoughts, and at the same time in awe of how the universe appears to work.
I turn to Matt on our rubbery squeaky blow up mattress, and said "I am so lucky that I get to go on adventures with you. You are my rock-hammering hero, and I feel such a deep, overwhelming sadness for this family. Would you mind if we did a mediation and sent them loving energy; even if it's a pile of hippie crap and does nothing?"
As I write this, I am so grateful knowing I took in every moment of this relationship. Especially after being there for such a tragic loss.
So that's what we did.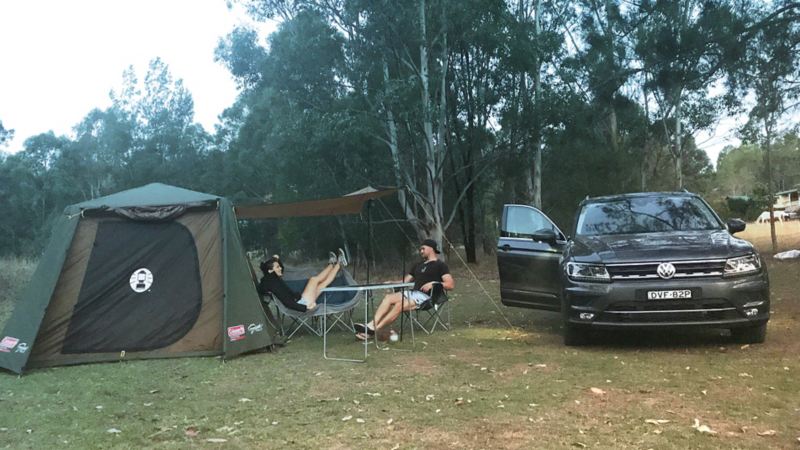 In the morning we wake at sun up. There's September frost all over the ground and a chill in the air. Maybe I'm being silly, but it feels like everything is different now. I would stop trying to rush us. I would stop complaining. I would laugh more and see how bright the day is. I hug Matt for all I had. I even manage to save a nearby camp mate from a tick bite. Then we pack up the car and head home.
We once again pass the rescue mission still attempting to bring home the man we lost. Matt and I decide to go waterfall hunting in his honour.
It's a full-on sad moment, whichever way you look at it. But I hear he died doing what he loved. I guess that's the best we can all hope for.
Knowing what I know now, remember to hug your loved ones a little tighter, kiss them more passionately. Then turn the tv off and get outdoors. You never know when your last day on earth will be, or when your last adventure with the ones you love will take place.
This was mine in so many ways.