Celeste Mitchell burns off the emotional baggage of Covid-19 in the new T‑Roc 140TSI Sport.
Celeste Mitchell | December 2020
If ever there was a valid excuse for a wellness-focussed weekend away, 2020 is it.
When Coronavirus whirled into society like Looney Tunes' Taz, it upended life as we knew it and left our collective mental health shaken. I know I'm not alone in feeling the physical and emotional toll of what has been a rollercoaster of lockdowns, restrictions, and hand sanitiser. Social distancing has left us feeling disconnected even from ourselves. So with the year drawing to a close, and with an emotional reset on my mind, I jumped into a Flash Red T‑Roc Sport, and zipped up the Sunshine Motorway to Noosa.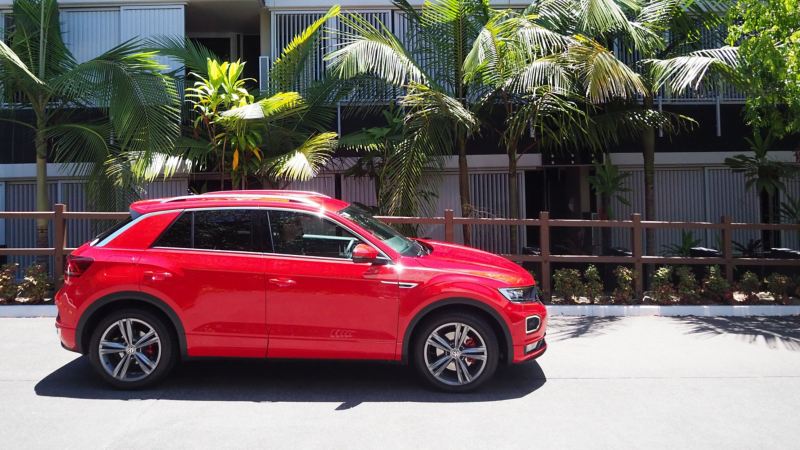 Wellness travel is now being heralded as the trend that will propel us through the post-pandemic era but stressed and overworked travellers have long come to worship at the altar of wellness that is Noosa. The resort pocket at the northern end of the Sunshine Coast is home to day spas, healthy organic cafes, that famous national park, and the healing waters of the Pacific. Noosa's protected Biosphere environment is a natural wellness retreat in itself – it's hard to be stressed when you're swimming in Fairy Pools or paddling the pristine Noosa Everglades, after all.
We drive up into a corner of town you wouldn't know existed unless you've stayed, where our one-bedroom apartment at Peppers Noosa Resort & Villas faces out to a living green screen of remnant rainforest. We switch off the air-conditioning and slide back the balcony doors to drink in the birdsong and sweet scent of rain.
A five-minute stroll down the hill lands us at the beginning of Hastings Street, a few bare footsteps from Noosa Main Beach which looks more millpond than the World Surfing Reserve it is on this moody Friday afternoon. Ominous clouds sit on my head as I dive into its salty embrace.
Deep unbroken sleep sets us up for a delicious wholesome breakfast at VanillaFood in Noosa Junction the next morning. It's only five minutes' drive from the resort so we take the T‑Roc for a surf check along the eastern beaches – Sunshine, Sunrise, Peregian – before settling in for bruschetta loaded with fresh burrata and basil pesto, and a polenta and maple pumpkin breakfast stack.
After running her cafe and catering business for six years, owner, Nilla Tomkins, has just launched the VanillaFood cookbook which has the tick of approval from local chef and Slow Food Noosa ambassador, Matt Golinski. I thumb through its beautiful pages as I deliberate over ordering one paleo date muffin or two. An enviable kitchen garden out back complements the organic local produce used in the cafe, alongside Clandestino coffee and house-made nut milks. This is food that makes you feel good and the place is buzzing. In fact, all of Noosa is.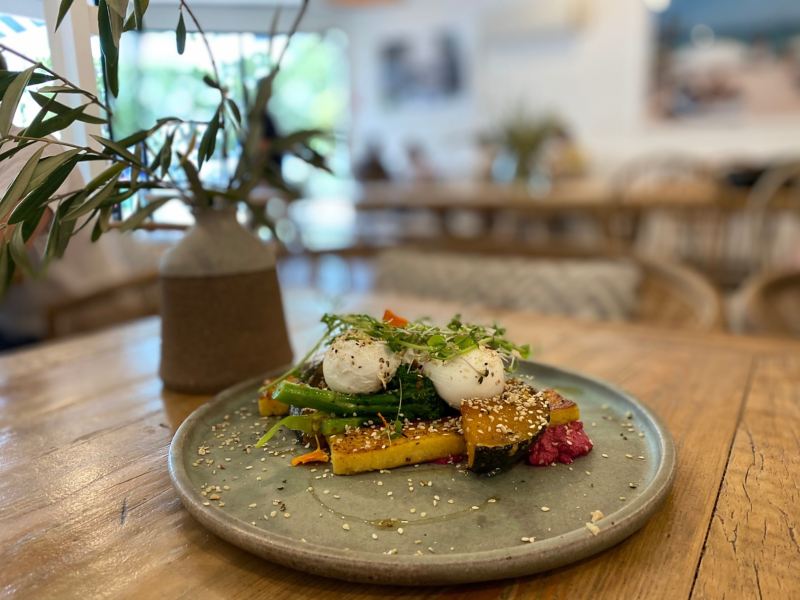 "The phone has been running off the hook since the borders reopened," my therapist Sonya tells me as she bathes my feet in a rose-petal adorned milk bath then asks me to close my eyes and smell three essential oil options. I'm back at Peppers, just a few short steps from our apartment at Stephanies Ocean Spa.
"A lot of people are treating themselves because they'd normally be away, spending money on overseas holidays," she continues. "Everyone could use some pampering after this year."
Ninety minutes pass in a sensory dream of long oiled massage strokes with pressure in all the right places, and a back exfoliation that ends with fluffy hot towels being wiped across my skin. Sonya places heat packs on my back while she works on my legs, and the centre of my chest while I lay on my back during a light head massage. In those 90 minutes, there are no work deadlines, no responsibilities, no worrying about ill parents and siblings in lockdown on the other side of the world.
I'm already floating but I've opted to add-on another kind of anti-gravity experience today. Flotation therapy is fairly new in Australia but the benefits range from improving insomnia and relieving chronic pain to easing anxiety and depression. The feeling of weightlessness combined with the absorption of magnesium through the skin works wonders on the nervous system, relaxing the body and if all goes to plan, quieting the mind. I'm shown to a private flotation pool suite where mineral-rich water is kept at body temperature and glows with red lights. It's far more spacious than the claustrophobic sensory deprivation tanks I've tried in the past and lush gardens beam in through a wall of windows. Still, I seem to sink more than float, even with a pool noodle under my neck for support. Maybe 2020 has been heavier than I thought.
"People are [now] definitely valuing their health, nutrition, the planet and their bodies more," nutritionist Vladia Cobrdova says as she places a bountiful Rainbow Salad in front of me at Australia's first gut health bar, Jungle & Co afterwards. The Noosa Junction cafe is another feather in the cap of the town's thriving wellness scene, opening two years ago when Vladia moved to Noosa after spending 22 years in Sydney, running wholefoods retail chain, About Life.
"Everyone can relate to when your gut is not right and how you feel, not only physically but mentally," she explains. "Our gut is the foundation of health, that's what I believe in. And we have such amazing produce in Australia, I want to inspire people rather than telling them what to eat." As well as offering cleanses and fresh produce boxes, the cafe serves as a meeting place for anyone seeking fresh, nutritionally balanced meals, smoothies and gut-healing soups.
Feeling positively wholesome, we steer the T‑Roc past the entrance of Peppers to wind our way up to a lookout I never knew existed before today, even though I grew up 30 kilometres down the road. Perched atop two water tanks framed by towering eucalypts, Laguna Lookout offers up panoramic views over Noosa's Main Beach and Laguna Bay with the peaks of the hinterland framing its furthest reaches. As it happens, our visit coincides with what meteorological boffins are calling a "weather bomb" event, but the T‑Roc's all-wheel drive provides sure-footedness while keeping up its sporty performance as we explore.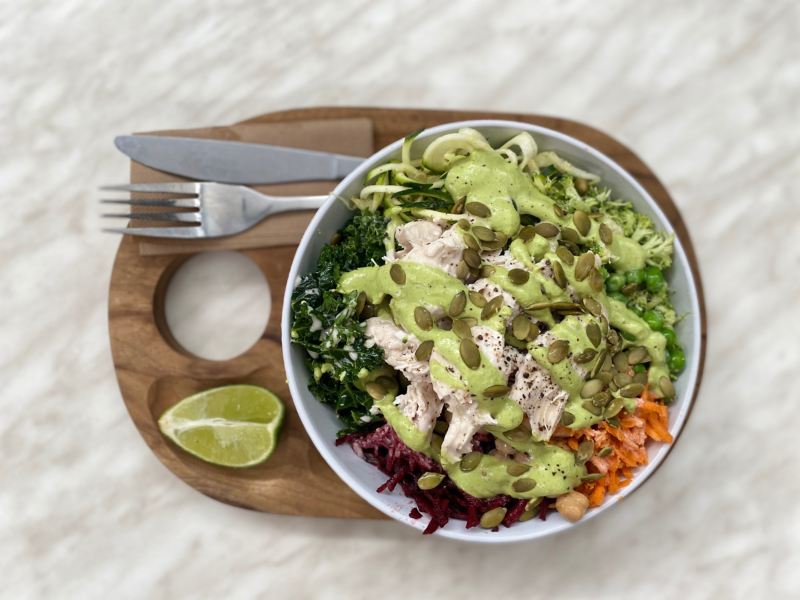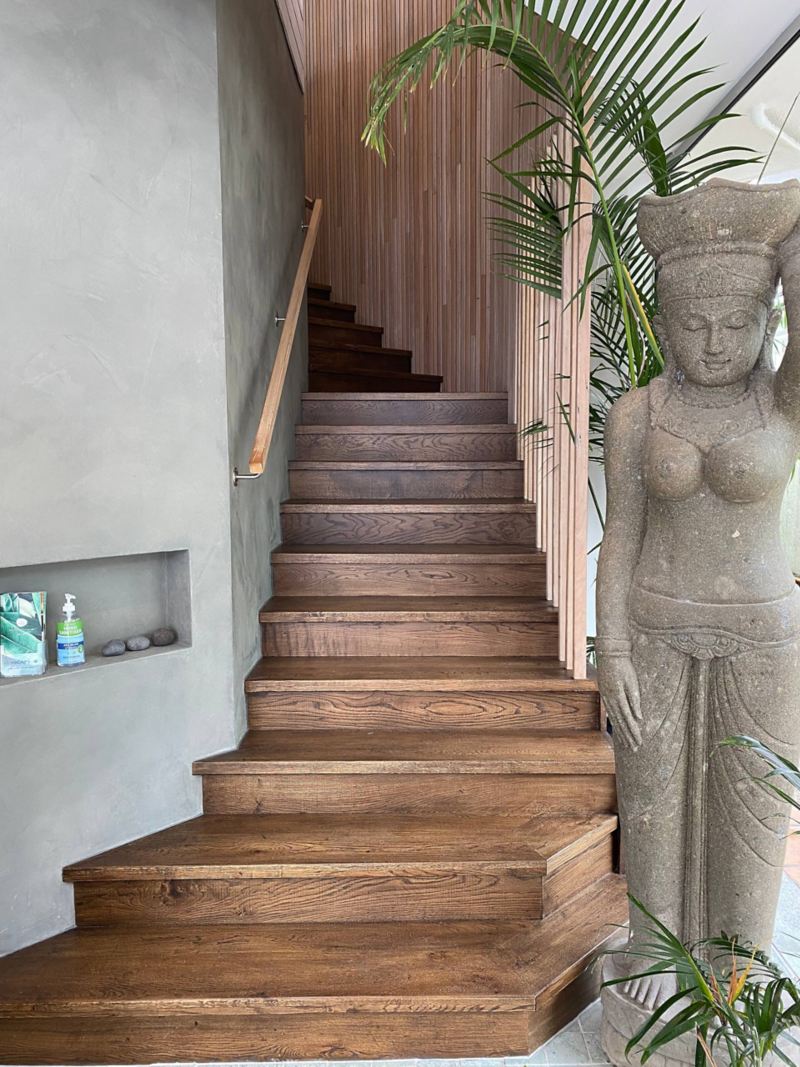 With rain painting the world melancholy the next morning, I snag a park on Hastings Street right outside Sensaura Day Spa and find calmness as soon as I start climbing the timber stairs to the light-filled reception.
"Everyone is living such busy lives, we just want to help settle the nervous system, bring people back to themselves," spa manager Sarah tells me as she walks me through the spa menu. Ayurvedic treatments and yoga appear on the line-up alongside the Signature Facial I've booked today.
Beyond the usual cleanse/scrub/mask routine, over the next 75 minutes the experience elevates to mind-altering levels during a hypnotic facial massage. My therapist Ange's strong and sure fingers work my stiff jawline and furrowed brow line like a master potter works clay, promising to move lymphatic fluids, soften the facia, and increase circulation. The original owners of the spa developed this treatment more than 20 years ago and it remains one of the most popular and beneficial for their clientele.
"Have a look in the mirror," she says after I'm dressed and sipping my herbal tea, and I'm shocked to see a dewy, glowing, unmistakably relaxed face looking back at me.
Thankfully lane assist and navigation takes care of itself in the T‑Roc as I float home in my well-kneaded bubble along David Low Way, taking the coastal road south. Come at me 2021; I'm ready for you now.
*The writer was a guest of Visit Noosa.