How to escape to the bush: a weekend at Paperbark Camp

How to escape to the bush: a weekend at Paperbark Camp

We took our new Golf Comfortline on a big drive up from Melbourne, stopping overnight in Jugiong (to check out the amazing Sir George Hotel), and Canberra as well. My partner was keen to check out the War Memorial, so we broke up the drive by spending a couple of hours slowly meandering through the World War 1 and 2 exhibitions - it was amazing. We also popped into the National Gallery of Australia to have a look at the James Turrell Skyspace exhibition, "Within Without", in the Gallery's new Australian Garden. Light is Turrell's medium, and his Skyspace is a viewing chamber that affects the way we perceive the sky. A beautiful us e of space and the light that inhabits it. Incredible!
We continued on in the Comfortline to the little coastal town of Huskisson in Jervis Bay, stopping one more time for a quick beer at the Nerriga pub. In the middle of seemingly nowhere, this tiny pub was full of a handful of locals for whom it is most likely their local Friday afternoon watering hole.
Arriving in Huskisson, we took a turn off the main road and into the entrance of our home for the weekend - the Paperbark Camp. A chic, safari-style retreat, surrounded by eucalyptus and paperbark trees. The Paperbark Camp is home to 12 canvas-clad tents offering a simple, laidback luxury deep in the heart of an Australian bush setting. Each of the 12 tents has been named after local wildlife and cute, well-curated in-room guides provide lots of info about your namesake animal. We were in the "Wombat" tent, and loved its position right by the creek. With a huge comfy bed, and outdoor ensuite shower (with a couple of visiting frogs!), these gorgeous tents offer both luxury and privacy. Paperbark Camp celebrated their 20th anniversary while we were there - twenty years of providing guests with an authentic and luxurious experience in the heart of Mother Nature.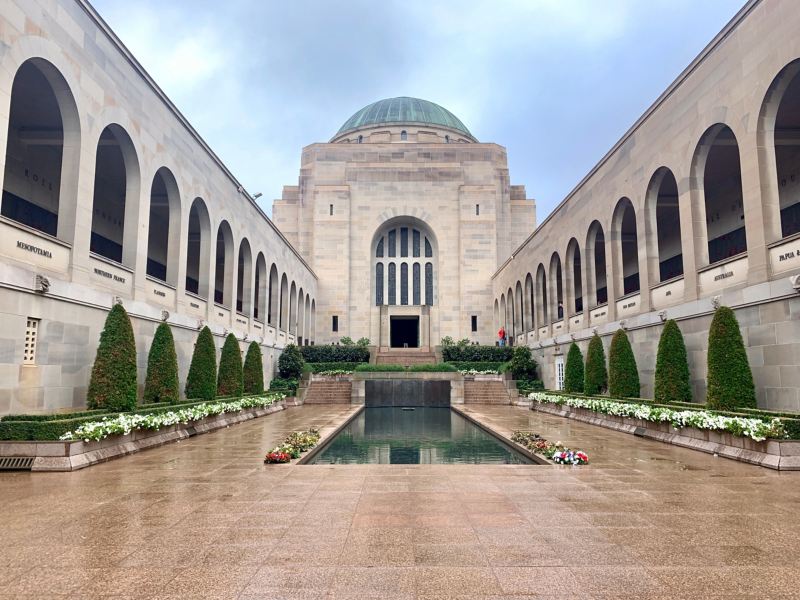 There is a motto for the Jervis Bay area that says "do it all (forest treks, creek kayaking, swimming and snorkelling) or do nothing at all; and that is what makes Paperbark Camp so perfect. You really can choose to do everything, or absolutely nothing at all. We chose to take out the Camp's beach cruiser bikes out one morning to ride into town. Jervis Bay's jaw-dropping beaches are a mere 4km away, so the short ride into town - along a ripping bike path - was super leisurely and enjoyable. We stopped in Huskisson for a bite to eat the Five Little Pigs, and then carried on past Collingwood Beach and Orion Beach until we reached Nelsons Beach. The water here is so incredibly turquoise, calm and clear, and the white sand is out of this world. It really is incredible.
From Nelsons Beach, the "White Sands Track" begins. A walking track that links the four beaches from Nelsons, including Blenheim Beach, Greenfield Beach, Chinamans Beach, and ending at Hyams Beach. The sand is some of the whitest in the world. It is very beautiful here. Looking over the Jervis Bay Marine Park from the beaches you can see the Beecroft Peninsula - and if you have time, it is definitely worth taking the boat trip (only operates on weekends), that takes you to the darling little cove of Honeymoon Bay. Stunning. We also loved taking our Comfortline deeper into the Jervis Bay National Park to do the short walk through to Cave Beach in Wreck Bay - an untouched wonderland.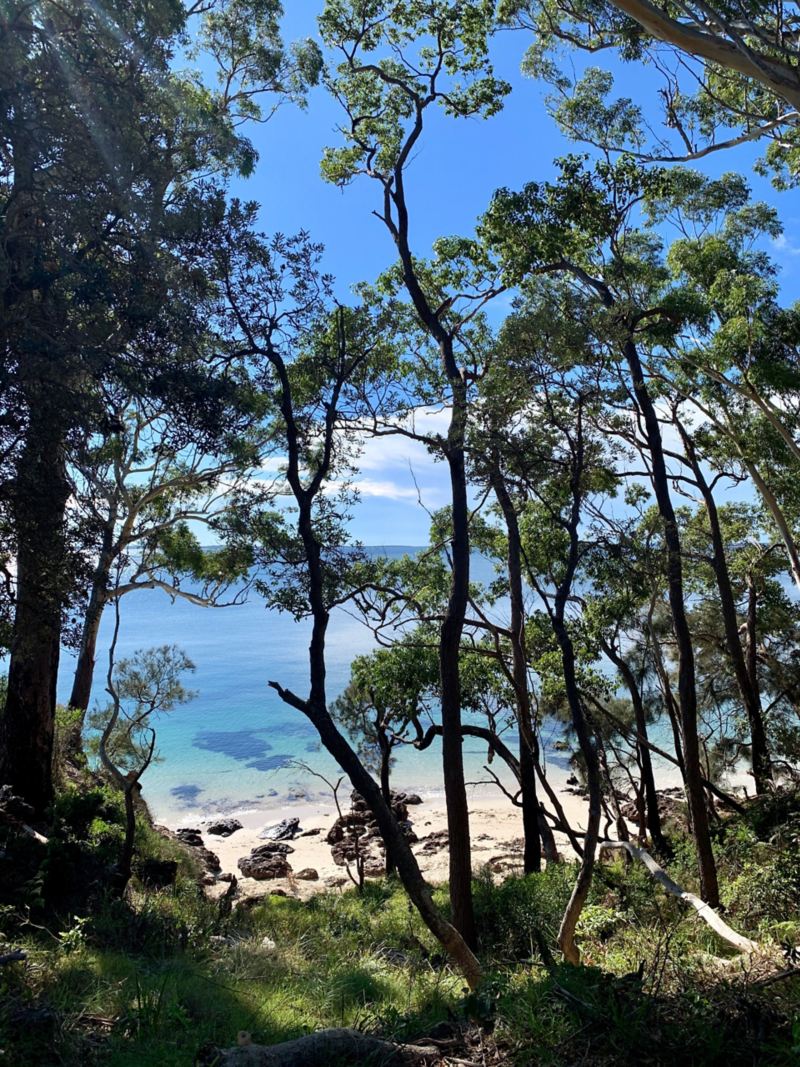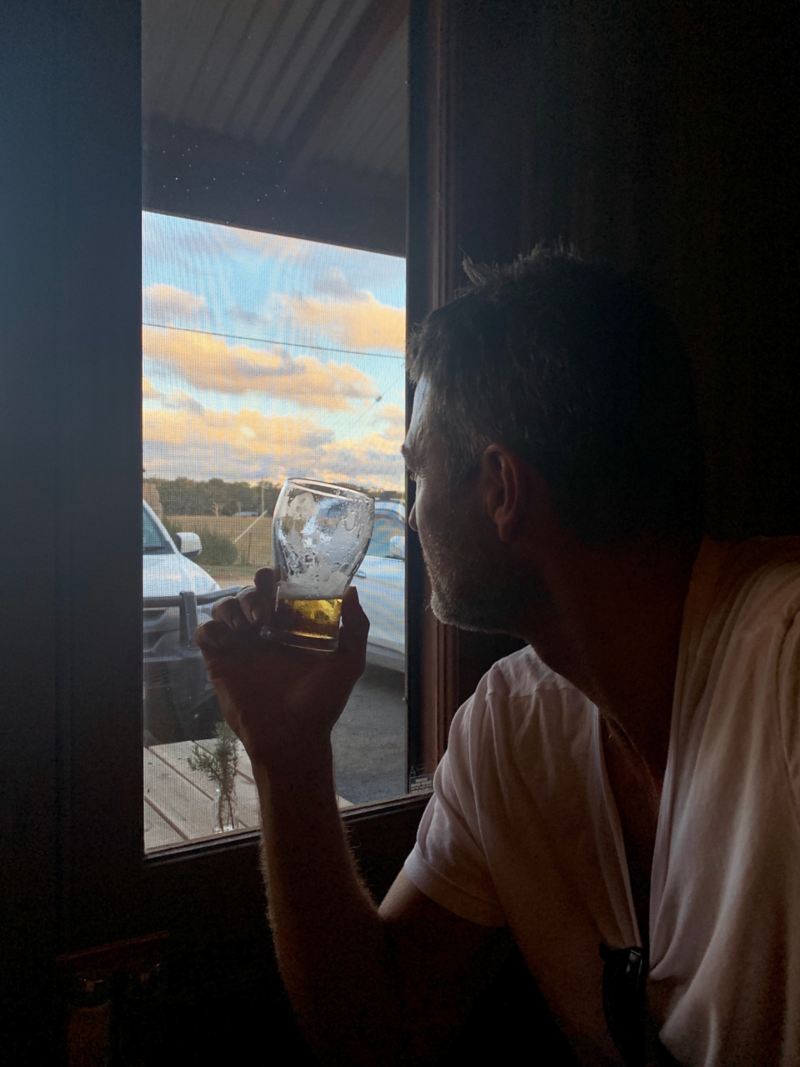 Back at the Paperback Camp, and we were lucky enough to enjoy a few meals at their well renowned Gunyah Restaurant. A set menu for dinner, the night we visited it looked a little like this: Amuse Bouche to start, together with homemade focaccia; Heirloom tomatoes, basil snow, olive oil sorbet, and black garlic for entree; Charcoal smoked lamb, chorizo, chick peas and feta for main; and a dark chocolate and coffee mousse, caramel beer ice cream, raspberries for dessert. We ordered broccolini with a parmesan crumb, and roast Dutch cream potatoes with herb butter as our sides. All produce is grown on-site, and if not, is sourced locally, and all food served at Paperbark is organic, fair trade and free-range. The food was amazing
After dinner, we took a bottle of wine down to the campfire and sat out under a sea of stars. With hanging lights from the trees, it was a beautiful setting.
In the morning, breakfast is also served in the Gunyah Restaurant. You can order something hot off the menu, or enjoy the fresh and healthy selection of fruit, yoghurt and cereals from the breakfast bar as well. The coffee is great. The service is excellent.

Paperbark Camp provides the perfect opportunity to really rest and recharge. Surrounded by nature, this is the most luxurious camping experience we have had to date. It is quiet, peaceful, and eco-friendly. We felt incredibly lucky to spend some days here and know we will definitely return.
It's beautiful here.