Mark Daffey | January 2021
The Grampians region is changing. Known primarily for its myriad hiking trails and world-class climbing routes, it is slowly transforming into a food and wine destination as well, driven by returned travellers who grew up in the area and energetic interlopers attracted by its lifestyle opportunities or agrarian attributes.
I'm seated at Raccolto Pizzeria with my wife and son, chatting to co-owner Carly Flecknoe, who moved to Halls Gap from Melbourne with her husband Richard in 2015, when this realisation dawns on me.
"The area has had a huge transformation in the last five years," she says. "Back then, you could get a bacon and egg roll and not much more; maybe you could get some avocado."
"It's a place you used to go in your holidays and stay in a cabin. But that's changing, which is great. It's beginning."
She then goes on to list other small business owners who have helped enhance the feeling that the Grampians is more than a two-trick pony in recent years. For five years, the Flecknoes owned Harvest café, serving wholesome breakfasts and lunches. But a prolonged shutdown in 2020 due to COVID-enforced restrictions provided an opportunity for them to pivot their business, reopening in November 2020 as a pizzeria serving gourmet Italian fare in an informal setting. Raccolto is now only open during evenings from Thursday to Monday, as well as weekend lunch hours. 
"It was the best thing we've ever done," says Carly. "This is a lot more relaxed and a nicer way to interact with diners."
Amazingly for a country town like Halls Gap, if you had wanted to eat pizza prior to last November, you had to hope that it was on the menu at one of three pubs in town. It's part of a greater regional transformation that includes the opening of an American-style flame-grilled smokehouse, restaurant lunches at award-winning wineries, and a gourmet fish and chippery and gelataria that launched just in time for the summer crowds in late 2020. A music festival at Pomonal Estate is on the cards this February, depending on the COVID situation.
Unlike previous visits to the Grampians, where we'd typically pitch a tent in a national park campground then spend our days hiking up trails to various craggy viewpoints, our visit this time is multifaceted. We'll still squeeze in hikes to the summits of Boronia Peak, near Halls Gap, and to Mt William, the Grampians' highest peak, but we'll also investigate the food and wine offerings in the region.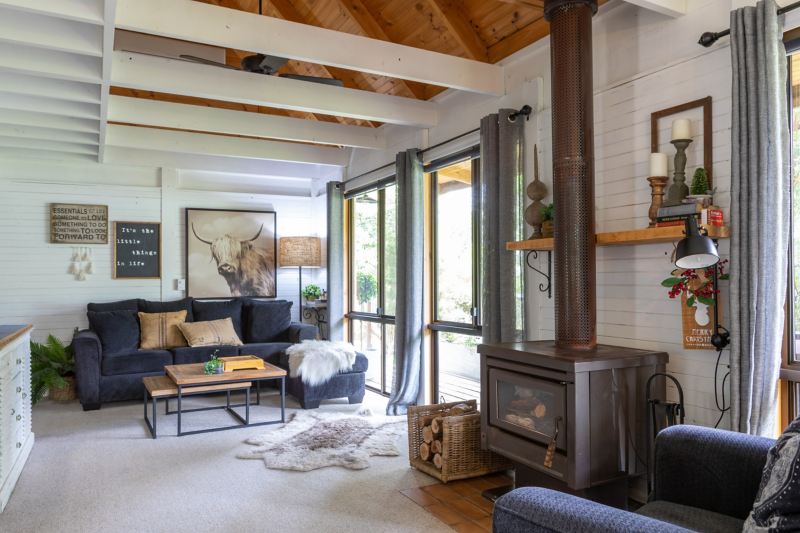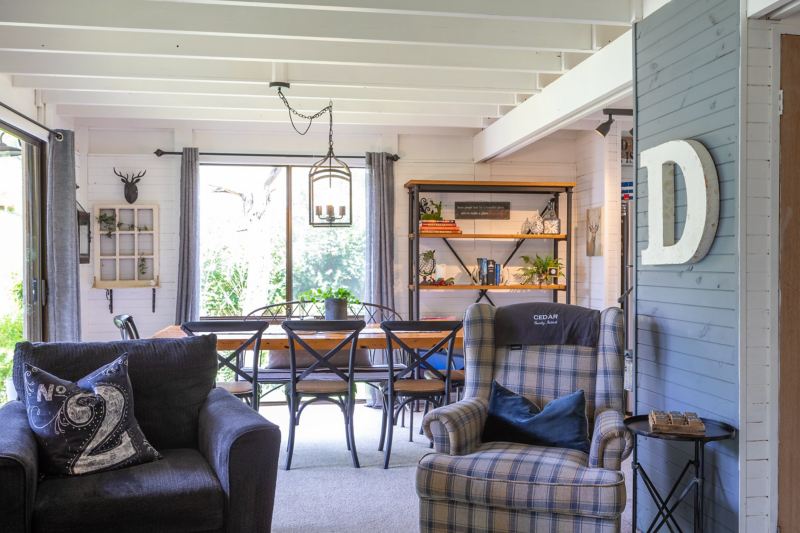 After travelling up to Halls Gap from the coast, feeling our T‑Roc engine's turbo-charged punch as we drive along lonely back roads through the volcanic Western District region, we check into our lovely accommodation at Cedar Country Retreat. The Grampians extend for roughly 100km from north to south and are 55km wide, comprising three main sets of ranges and a number of smaller ones. Halls Gap is nestled at the foot of the Serra Ranges, and our cottage accommodation is conveniently located within easy walking distance of the town shops and Visitors Centre. Cathedral ceilings shelter three upstairs bedrooms, above living areas exhibiting an imaginative array of decorative touches.

I'm seriously tempted to open the complimentary bottle of local wine and Lindt chocolates that have been left for us and plonk myself down on the couch in front of the TV for the entirety of our two-night stay, but I've planned a full itinerary, including a day that leaves me a little light-headed and a few kilograms heavier by the end of it.
It starts with a visit to Five Ducks Farm in Pomonal, where we enjoy a guided farm tour with owner Anita Evans ahead of sampling her delicious jams, chutneys and honeys from the farm gate store. She also makes a mean coffee ice cream, which proves to be popular among the masses as it's sold out when I hunt around for a scoop to try.
We then move a short distance down the road to Red Rock Olives, where several bottles of their homegrown cooking and salad oils are added to a mouth-watering collection of goodies that's starting to pile up inside the T‑Roc's amply spaced hatch.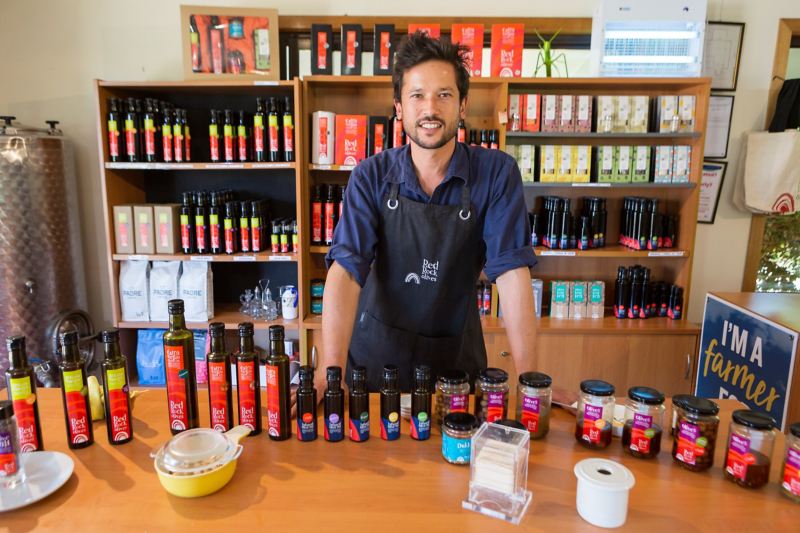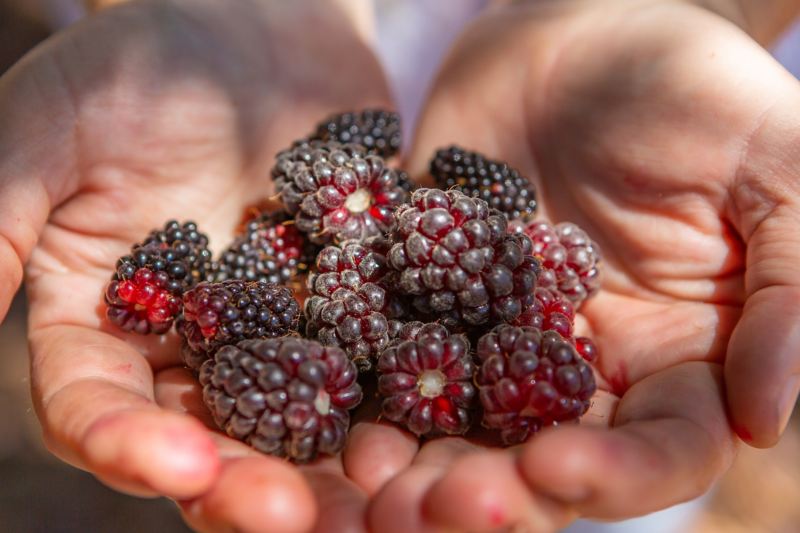 Choosing our lunch dishes at Pomonal Estate winery café proves to be more difficult than we expect, as we know we can't order all of them. We opt for a mix of Lionhead Pork Meatballs, Prawn Croquets, Truffle Croquets and Chicken Karaage, accompanied by a glass of the winery's own Riesling. Owner Adam Atchison also brews the beers on tap behind the bar.
More than 20 wineries make up the Grampians Wine Region, producing spicy Shirazes, elegant Rieslings and crisp Chardonnays. They include Best's and Seppelt, two of the oldest family-owned wineries in Australia. Fallen Giants is the most accessible winery from Halls Gap, while ATR Wines' Adam Richardson is building a reputation for producing cutting-edge vintages from his vineyards in Armstrong. In the heart of Halls Gap, Simon Freeman's Grampians Wine Cellar is a one-stop shop where you can taste regional wines while he regales you with stories about famous winemakers from across the world.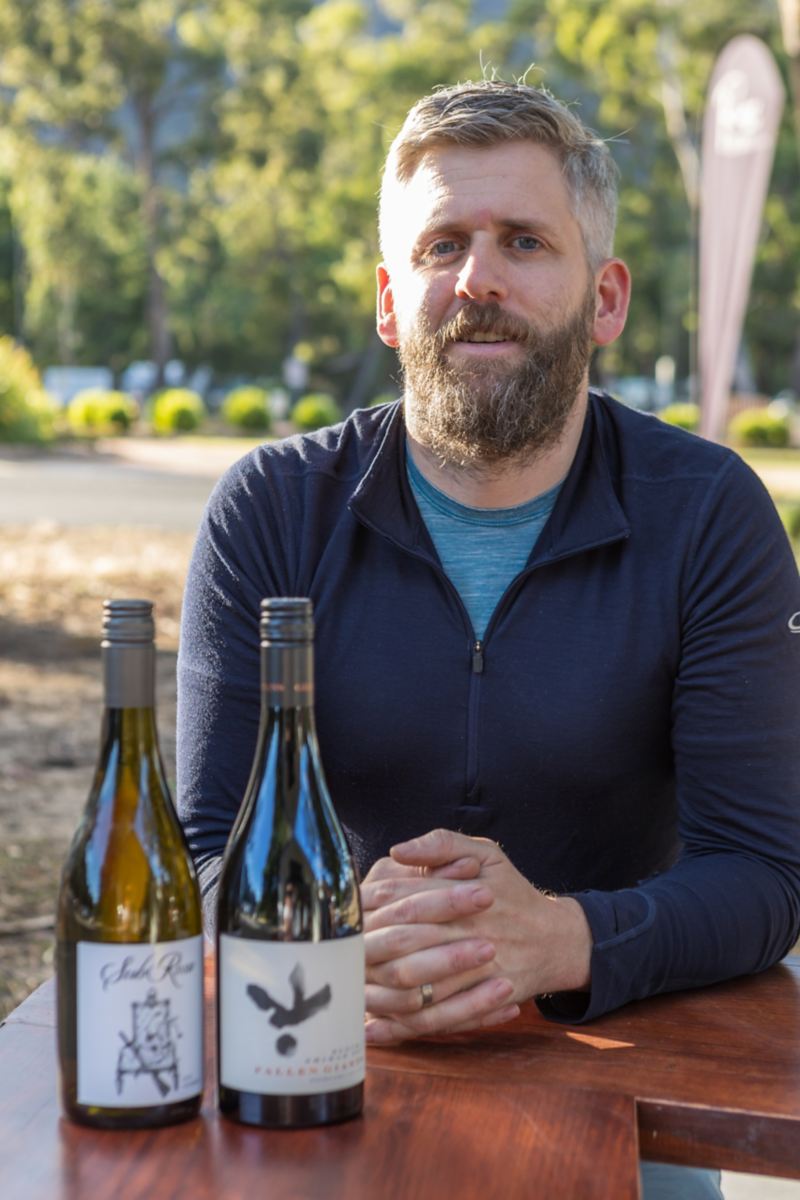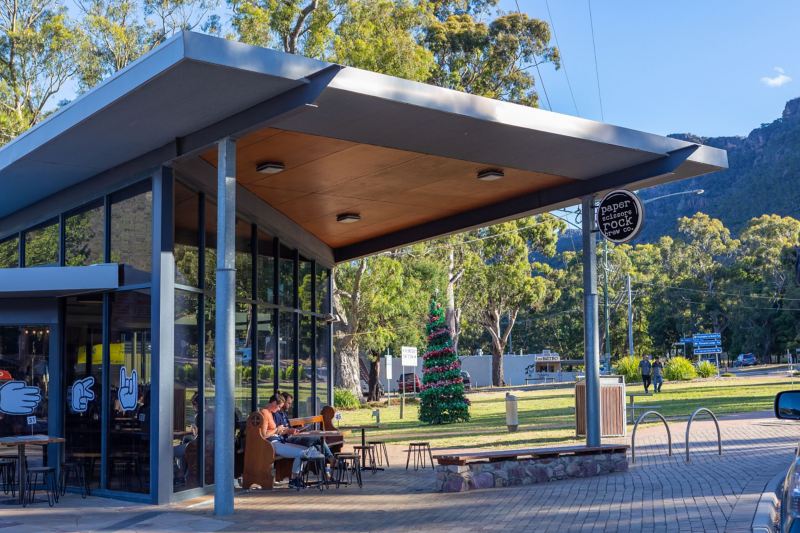 Our final stop for the day is in the heart of town at the Paper Scissors Rock brewery, where I squeeze in a meal of lamb backstraps accompanied by a glass of home-brewed pale ale – one of 40 rotating beer and cider varieties offered on tap.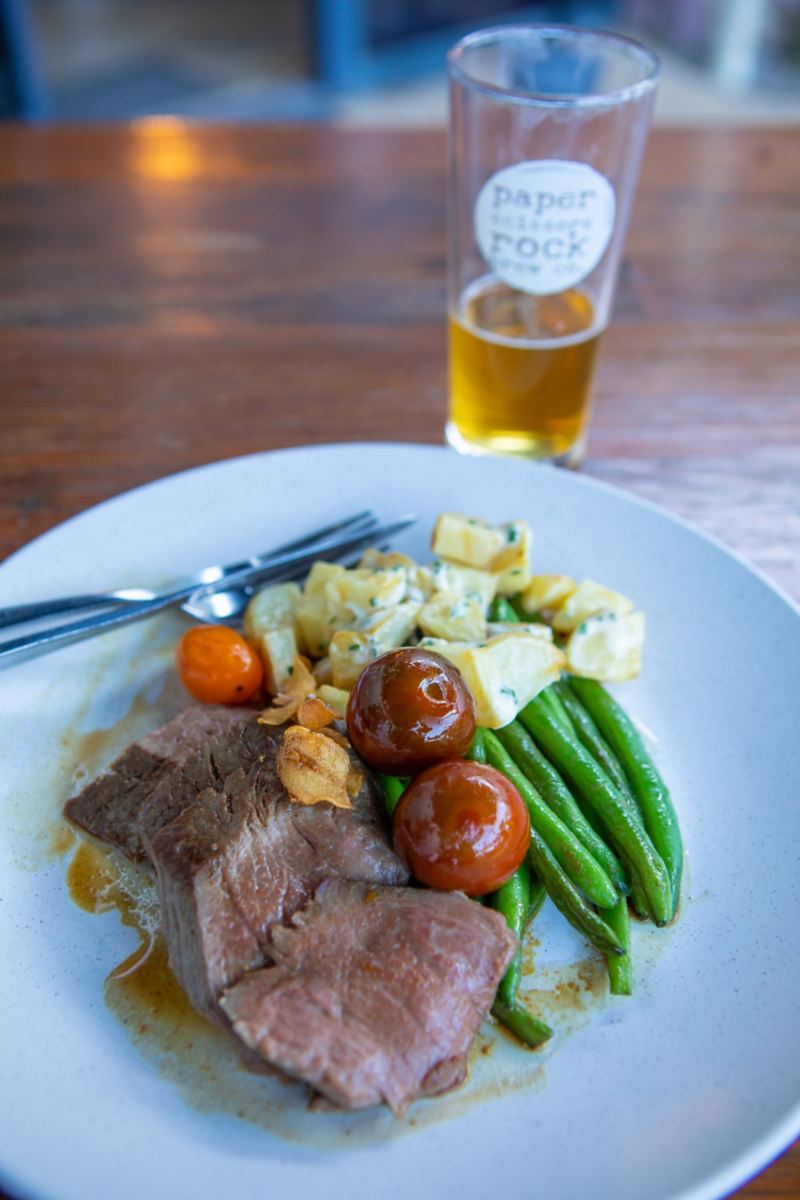 The Grampians are unusual in the way that they rise so dramatically from Victoria's flat western plains. From certain angles, its saw-toothed peaks resemble a crocodile's back, with each area containing its own attractions. Waterfalls tip over rocky crevices, eventually flowing into some of the largest rivers in Western Victoria. The mountains contain some of the richest Aboriginal rock sites in Southern Australia, and they act as refuges for kangaroos, emus and wallabies. A long distance walking trail will eventually connect one end to the other, from Mt Zero in the north to Mt Sturgeon at its southern extremity.
But they are also easy to navigate by car and we drive south along the Grampians Road, at the foot of the mountains, to the town of Dunkeld, where we pull up outside the The Old Bakery for lunch. Located two blocks back from the busy Glenelg Highway, the bakery is housed inside a Heritage-listed cottage that dates back to 1887. Decorated with artworks by Warrnambool octogenarian, Grenville Montgomery, it's lamb ragu and beef ale pies come highly recommended, though so do does it's hearty Breakfast Bruschetta.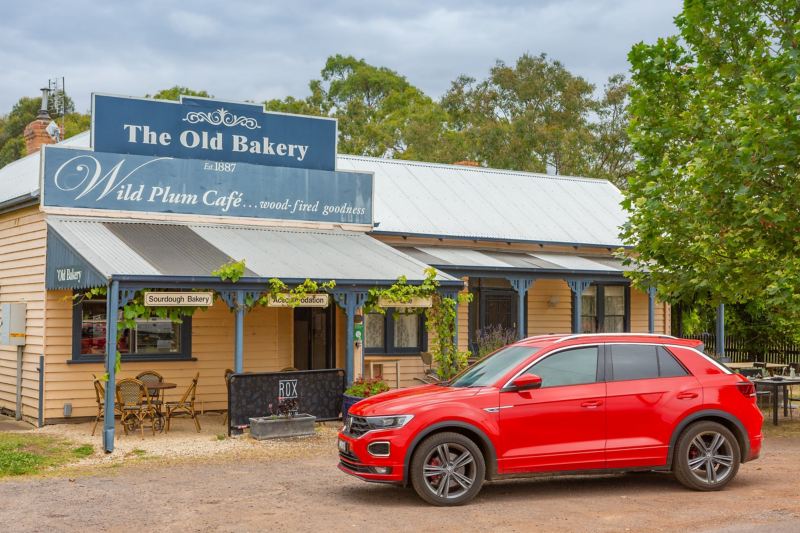 I was hoping to hike to a viewpoint over the Southern Grampians that afternoon – perhaps up The Piccaninny, which affords views of Mounts Abrupt and Sturgeon. The trails to the top of either of those two are more of a slog, requiring more time and energy than we can afford. But the weather has other ideas anyway and it rains heavily all afternoon. Any ideas we might have of enjoying the outdoors are scuppered and we instead hunker down in our night's accommodation at the beautifully cosy Salt Creek Cottage.
Thoughtfully, a complimentary bottle of Grampians Estate Shiraz has been left on the kitchen bench, and we've arranged to collect an assortment of dinner goodies from Izzy's Café. After yesterday's busy schedule, it's a change of pace we're willing to embrace.