The Great Inland Way: Drone disaster and Carnarvon Gorge

Tace Clifford  |  November 2019
Tace Clifford swaps seats with her husband on a 4000km inland odyssey with her daughter and mother-in-law from Cooktown to Sydney, in a Golf R wagon.
As my husband clambers down the bank wielding an enormous tree branch, I teeter precariously on the edge of the bridge, road trains thundering past inches behind me. I look down nervously at the drop below and glance across at the sign that reads "BREAK NECK GULLY".
It's at this moment that I wish I had not insisted we stop the car to send the drone up and begin to wonder how this predicament will end.
Let me rewind a little:
My husband Haitham, mother-in-law, three-year-old daughter and I have travelled from Cooktown through Cairns, the Atherton Tablelands and Undara Volcanic National Park, following the Great Inland Way in a Golf R Wagon that I have affectionately named Glenda.
We have been on the road a week and need to cover serious distance over the next three days in order to reach Carnarvon Gorge, stopping for the night at Charters Towers and Emerald to break up the journey.
This stretch of the Great Inland Way is our first real outback driving, the kind Aussie road trips are made of, big blue skies, long open roads, red dirt and dry scrub.
Glenda has accumulated a satisfying coating of red dust, a reminder of all the kilometres we have successfully conquered so far. She's not your obvious choice of car for this journey and I'll admit I am petrified of hitting a 'roo or damaging the pristine rims!
However, we all discover over the next few days just how practical and comfortable Glenda is as we settle into the rhythm of life on the road.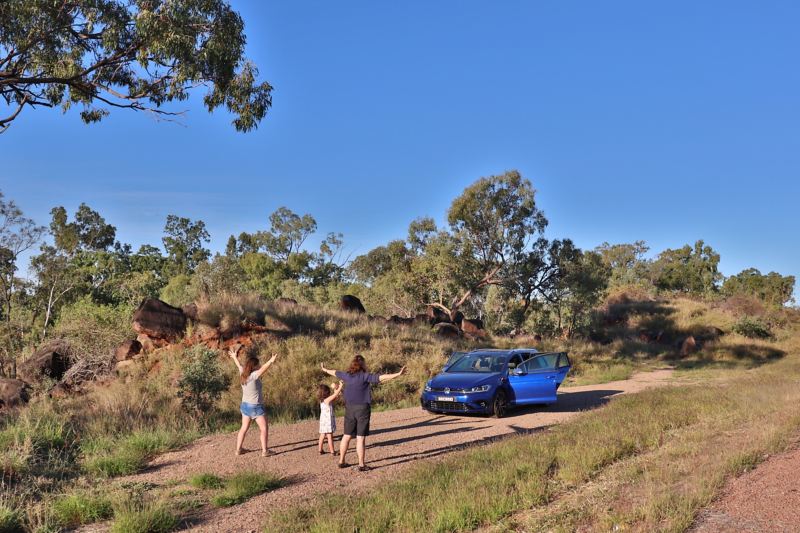 The landscape is barren, cactus trees grow at the sides of the road and the earth is dry as far as the horizon. Cattle search for any scrap of greenery in the fields, kites, crows and eagles feast off shocking numbers of roadkill carcasses that are strewn at least every 10 metres.
Glenda's big glass roof is like a lens as the birds fly over us. The roads are isolating, with just us and the occasional caravan or road train. At least Glenda's crazy amounts of engine power mean she overtakes easily!
Our daughter is asleep when we cross a bridge and I see amazing carved and scalloped walls of a gully below, where water has carved out its path, and I whisper STOP.
Pulling over, Haitham jumps out and sends the drone up. As I drive back toward the bridge I notice the drone about five centimetres above a tree and say to Nana-J in the back, "that drone was seconds off crashing…" .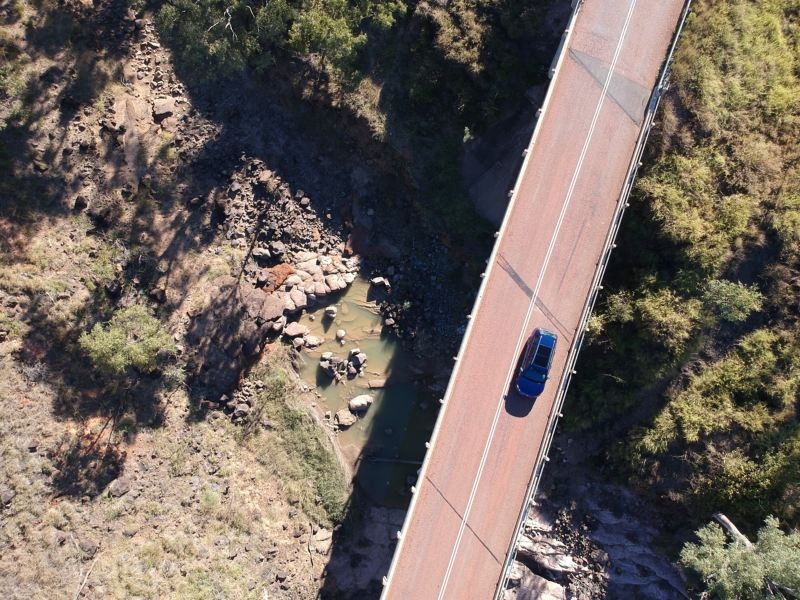 Due to time lost while successfully recovering the drone and avoiding a fall into Break Neck Gully or being hit by a road train, we roll into Charters Towers at dusk.
Queensland's second largest city back in the gold rush days, Charters Towers is made up of lovely elaborate buildings and a grand tree lined street that all looks so unexpected out here in the back of beyond.
It's just an overnight stop and we soon realise these small towns are at least as interesting as the larger destinations we've plotted along this route. We'd love to be able to stay and explore them.
The nearly 500km drive from Charters Towers to Emerald is full of flora and fauna spotting, with heaps of emus, eagles and wildflowers. Livestock lingers at waterholes as we pass through dry scrubland of rich red soil with bare dead sticks of trees sticking out of the earth.
Bottle trees lining the road into Emerald make for a beautiful, happy way to enter a town after 500km of mostly barren dirt.
After an efficient overnighter we detour into the beautiful Emerald Botanical Gardens so our daughter can run off some energy on the tropical garden walks. Her morning is made when she finds a rock painted with a toadstool.
...that drone was seconds off crashing…

We duck into Emerald Town Hall to see the 250-million-year-old fossilised tree laid outside it. Emerald is a lovely, modern town and we wish we had more time to enjoy it. Again, the infrastructure here seems better than you'd expect in the surrounds of an outback town.
Back on the road, spring has sprung in the outback and native yellow flowers paint the sides of the road. We pass rickety makeshift fences where dust-stained Brahman cows stand like statues among flocks of dancing brolgas.
It becomes apparent the further we get into this road trip just how special the journey itself is. Patterns emerge as we adults take turns in the back. Nanna-J does the morning shift for playtime, I do post-lunch nap shift and Haitham does post-nap afternoon shift seemingly oblivious to our daughter's frenetic witching hour behaviour!
Deep in the melody of the road I overshoot the Carnarvon Gorge turn off. Soon we're gobsmacked by fields of voluptuous cows, throat deep in bright, green grass. It's such a contrast to the scorched, dry earth of the last 1000km. 
Tucked in amongst gum trees is Takarakka Bush Resort, our base for the next two nights. Takarakka, meaning peace and tranquillity, is exactly what washes over us as we drive into this stunning setting. There's a well-equipped Explorer Cabin for Nana-J and a Taka Safari Tent for us, a glamping setup complete with a charming ensuite inside a converted water tank.
Takarakka is magical and ripe for exploring. We find the river with pretty-faced wallabies feasting on grass at its banks. Our daughter recognises different types of rocks in the riverbed from learning about them at Undara days before. I'm astonished how much she is learning on this trip and how fantastic it is to have this time together as a family.
Camp fire smoke drifts on the breeze, drawing us back to enjoy a hearty Takarakka dinner on the deck under the stars while soaking in the great atmosphere and fuelling our bodies for tomorrow's bushwalk.    
The temperature plummets and we go to bed wearing jumpers, beanies, gloves, thermals and pyjamas! Pushing our beds together for warmth, we read stories by torchlight and drift off to the sound of screeching curlews.
Woken by the kookaburra dawn chorus, we pass kangaroos munching the dewy grass on our way to breakfast before heading out early to make the most of our day in Carnarvon Gorge.
Ever-helpful Takarakka staff advised us to walk to Art Gallery (10.8km return from the visitor centre) and to then venture off to lookouts on the way back. But just walking from the carpark to the gorge entrance has our daughter complaining, which doesn't fill me with confidence for the 14km hike ahead!
Shortly past the visitor centre is the first of 12 river crossings. Laid on the bank are discarded walking sticks from the previous day's trail hoppers so we each select an 'excellent stick' to help us balance across the stepping stones. Our daughter is enchanted by the challenge of the river crossings and we count the stones as we step across, warning each other of wobbly ones.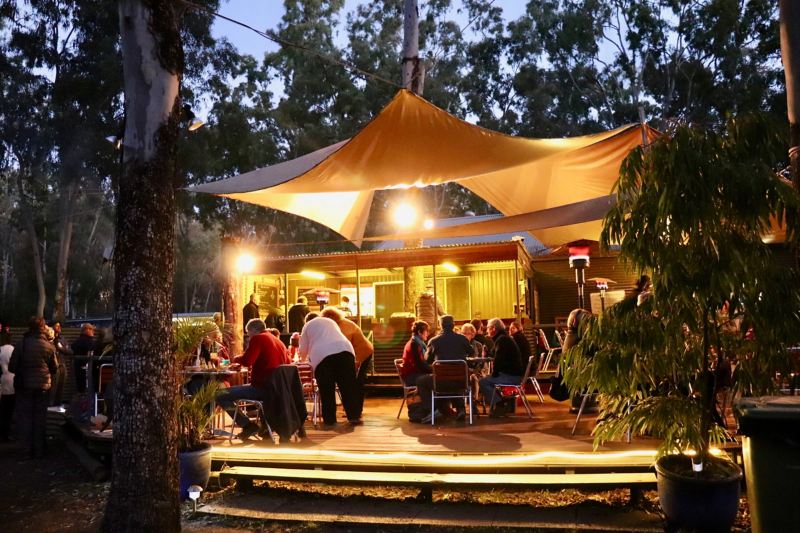 It's a mainly well-trodden and even track, with hilly sections with steps that aren't a problem across our three generations. Weaving in and out of trees and shrubbery, the towering sandstone cliffs loom above us and suddenly disappear when you are deep within the trees that line Carnarvon Creek, which plays havoc with your perception of scale.
My daughter announces she can't walk a step further. I buy some time acting out 'we're going on a bear hunt' as we tackle an area of long wavy grass, then a river crossing. It's another 20 minutes before I finally deploy the carrier and she finally disembarks the mother-ship at the foot of the Art Gallery.
After climbing through the cool calmness of an enormous split rock, I'm overwhelmed by the sight as I round a corner. Here, on this 62-metre-long sandstone wall is an exceptional display of aboriginal art, decorated with more than 2000 images by countless generations of indigenous people who gathered here to tell their stories.
As we make our way along the walkway, the shade of the cliff face provides refuge from the sun and the heat of the day. We read the signs explaining the different markings, shapes, symbols and methods and I enjoy explaining their meanings to my daughter, which she loves, and it really feeds my soul.
We spend so long enjoying the art and ambience that we don't leave enough time to visit all the outlooks on the walk back. I have a few more parenting tricks up my sleeve and our daughter soon becomes Dora the Explorer, Dino Dana and the Gruffalo as we hunt dinosaurs, possible log pile houses and anything else I can think of!
350 steps lead us up to Wards Canyon, an eden of tranquillity and one of few places in the world where the ancient species of King Ferns survives. I learn that the frond structure of these enormous and vibrant green plants is supported by water pressure so high that breaking their surface tension would cause a release similar to a high-pressure hose.
There's now just time for Moss Garden, again accessed by climbing big stone steps and clambering along stunning cliff edges. We pass an enormous fig tree, its roots wrapped around a boulder like something from Indiana Jones. When we arrive at the cool and peaceful destination it is well worth it.        
Vivid green moss covers the walls and rocks like a giant fairy garden complete with small waterfall. 
We can easily see how this place got its name. Vivid green moss covers the walls and rocks like a giant fairy garden complete with small waterfall. Inquisitive and wanting to know everything, it was another lesson for our tired girl as we explain how water filters through the sandstone rock and can be seen dripping constantly onto the moss-covered walls.
Heading into the lowering sun, pleasantly exhausted and with my daughter asleep on my back, kookaburra laughter echoes off the gorge walls as we make our twelfth river crossing and lay down our 'excellent sticks' for collection by tomorrow's walkers, wishing them as much enjoyment in the gorge as us.
A farewell committee of kangaroos outside the visitor centre see us off and I am relieved to see Glenda.
Another cosy night's sleep rugged up in the tent and we say goodbye to Carnarvon Gorge and the peace and tranquillity of the Takarakka Bush Retreat as we prepare for the next part of our adventure.
A clothing designer by trade and adventurer at heart, Tace Clifford founded parent-focussed car review website BabyDrive.com.au after driving her infant daughter to sleep in the countless press cars her husband brought home from work. Taking her daughter on epic road trips at least guarantees a few hours' peace and quiet.