The Great Inland Way: Undara, the outback and beyond

Haitham Razagui  |  October 2019
Three generations of Haitham Razagui's family continue their 4000km inland odyssey from Cooktown to Sydney, in a Golf R wagon.

"I need the toilet, Daddy," comes the call from my daughter's cocoon-like child seat. Just as I'm feeling all proud that she's now mature enough to communicate these things, she follows up with: "I'm desperate!"
That's even in her vocabulary? But urgency in her voice tells me she knows exactly what it means.
Frustratingly this unscheduled stop comes only about 20 minutes after we checked out of our cabin at Atherton and our destination, Undara Volcanic National Park and its famous lava tubes, are still another two hours southwest of here.
While we're scanning the roadside for convenient 'wild wee' locations, a brown tourist attraction sign for Mount Hypipamee Crater appears. We divert into a thicket of rainforest and are immediately faced with multiple warning signs for cassowaries.
As we emerge cautiously from our Golf R, people in full-on safari gear wield high-end cameras with gargantuan lenses hoping for a glimpse of the reclusive and potentially deadly flightless bird.
We have no cassowary encounters on our visit to the toilet block but are curious enough to follow a track toward the crater that is thought to have been formed by a volcanic gas explosion. It turns out to be a 130-metre-deep cylindrical hole in the rock with sheer cliff walls and the bottom 73 metres submerged.
Around 58 metres below the viewing platform is the crater lake's bright green skin of duck weed, which sustains a unique species of freshwater shrimp. Stalactite-like bacterial formations also thrive here due to consistent water temperatures of between 17.2 and 17.5°C.
Before my mind gets too occupied by the fact no land-based creature could ever escape a fall into this geological attraction we head back to the Golf R, keeping an eye out for cassowaries – there are none – and resume our journey toward Undara.
Another 25 minutes later and we're passing through Ravenshoe, which at 930 metres above sea level is Queensland's highest town. It's an altitude we shan't again exceed until we cross the Blue Mountains on our final approach to Sydney.
Patches of rainforest have become less frequent and dry, grassy country is the new normal, peppered with squat termite mounds resembling abstract statues of the Laughing Buddha.
Ranging from sandy in colour through multiple shades of orange and red, these stocky anthills reflect otherwise unseen soil changes beneath the bitumen on which we travel.
Bottle trees begin to appear by the roadside, along with a level of roadkill that my mum – who still mourns a wild rabbit she ran over when I was in my early teens – finds absolutely horrifying. But regular causeways with flood markers remind us it's not always this dry.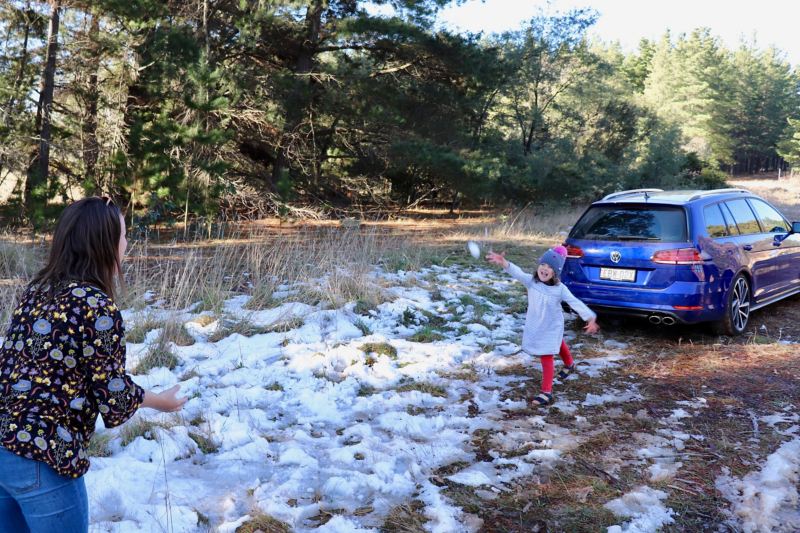 The novelty soon wears off for our daughter, but thankfully the National Motor Racing Museum has a great little kids' area and playground with barbecue facilities where we enjoy lunch.
Anyway, we're on our way to Jenolan Caves and will have to be on our driving game for the steep, twisty road down to the little complex of tourist facilities scattered along a canyon on the edge of the Blue Mountains.
But first, we climb high enough for recent snowfall to remain by the roadside. It's our daughter's first experience of the cold, white stuff so we pull over and enjoy an extended snowball fight. The little girl's reaction is priceless, as is that of my mum when she cops a child-hurled snowball to the face.
If the descent toward Jenolan Caves doesn't blow you away, driving through the massive rock bridge called Grand Arch to access the site will. Then the view opens up and the Alpine-styled, heritage-listed Caves House comes into view.
The grand period-correct interior of labyrinthine Caves House, designed and built in 1897 by Walter Liberty Vernon, has an air of faded glory about it. Glass cases containing curios and collections invite discovery, while the mind boggles as to the effort required to build it way back when, not least the challenge of getting the required materials down here.
It's dark and freezing cold outside by the time we're checked into our rooms. We head upstairs to Chisolm's Restaurant, which occupies a stately dining room that manages to be both voluminous and intimate in the way eateries in modern buildings seldom achieve.
The service and food are sublime. Our waitress advises us which cave tour to take and lets us know where we can have a close encounter with kangaroos on our drive back up the mountain.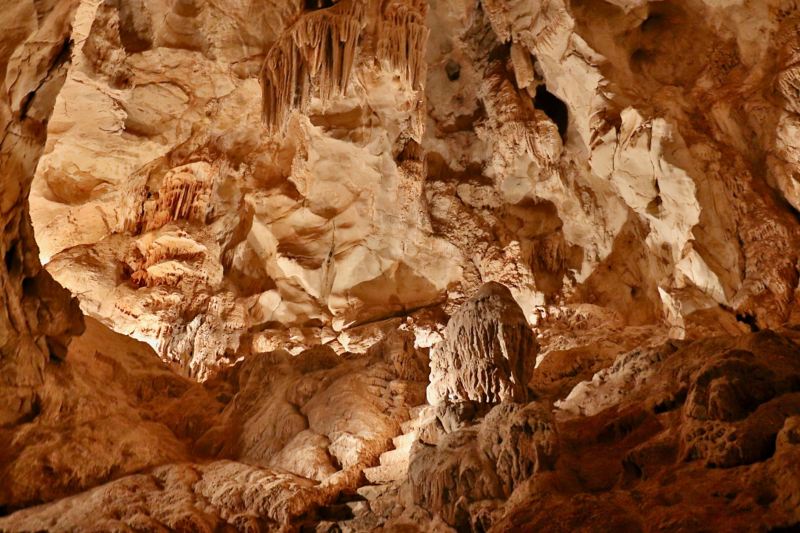 With that it's off to bed, happy in the knowledge that we'll return to Chisolm's for breakfast beside a roaring open fire to fill up in preparation for some cave exploration.
After a quick walk around the shimmering Blue Lake – that owes its inviting colour to heavy limestone deposits collected during the water's long, slow journey through surrounding rock – we meet our guide Anita for the Lucas Cave tour.
She explains that 430 million years ago the area was submerged in a warm, shallow sea and that 310 million years later an earthquake shattered the limestone, beginning the formation of these caves, some of which are regarded as among the oldest on Earth.
Anita points out evidence of erosion caused by an ancient underground river and explains how moisture and carbon dioxide were able to enter the cavities, causing the shapes we see today.
The Burra Burra people have for millennia regarded this area to be a place of healing due to the mineral-rich waters, proliferous crystals and the general beauty and tranquillity of these surroundings.
It is less clear whether the Burra Burra people ever entered as deep into the caves as we are now, at least until the first recorded explorations of this underground world took place in the mid-1800s when escaped convict James McKeown was, according to legend, captured by James and Charles Whalan who then became the area's very first tourist guides.
Early explorers had to make do with candlelight, navigating their way in and out using cave fantasy

Lucas Cave takes its name from local politician John Lucas, who in 1862 lobbied for the caves' protection after observing damage done by visitors.
Cave visitors today are able to enjoy atmospheric lighting that highlights various artefacts and features, courtesy of hydroelectric power that has been generated on-site since 1889 courtesy of the dam that was built to form the Blue Lake we walked around earlier.
Early explorers had to make do with candlelight, navigating their way in and out using cave fantasy; the practice of identifying, naming and committing to memory shapes they have seen along the way.
As an example, Anita draws our attention to a stalactite that resembles a clergyman with one arm outstretched. "That's the Pointing Bishop," she explains. "He's pointing the way out of the cave."
Others include The Jellyfish and The Curtain. A boulder known as Full Stop Rock was so named because that was what happened to people if they let go of the rope that was once used to access the caves. Level concrete floors and a network of stairways and bridges has since made navigating far easier.
In one cave, a huge column where a stalactite and stalagmite merged long ago has split due to the cave floor dropping as underlying rock has been eroded by running water below. It's a reminder that this environment is ever-changing, albeit very slowly.
Our final stop is the Bone Cave, where the skeleton of a long-dead wombat is displayed to show how this chamber got its name. Anita explains how it was full of skeletons when first discovered, due to animals finding their way in through a crack in the rock high above and never being able to escape.   
With that, she turns on a multi-coloured light show revealing the many crystal and rock formations in the many pockets of this cave and our tour comes to an end. We've all learned a lot and our daughter is full of questions, which Anita is more than happy to answer in a way all three generations find both entertaining and easy to understand.
On our way back out of the valley, we pull over where the waitress had mentioned we'd see kangaroos. As soon as we stop the car, three bound towards us. They're obviously used to human company and one quickly helps itself to a strawberry stalk that fell off our daughter's lap when she climbed out of the car.
It starts snowing as we're surrounded by these curious and friendly creatures. My mum, having travelled all this way from the UK and seen so much on this trip, never expected she'd be hanging out with kangaroos in the snow. It's a special, unforgettable moment for all four of us.
We have time for my mum to grab a quick, windswept selfie with the Three Sisters at Katoomba before we start our descent to Sydney, our final destination.
Three generations travelling from Cooktown to Sydney, in a Golf R wagon. Against all the odds, we had a brilliant time.
I've no idea how we could top this for my mum's next visit; it was certainly a trip of a lifetime for us all.
Haitham Razagui is a technical writer turned motoring journalist, graphic designer, communications consultant and event manager. For some reason, he enjoys ridiculous road-trips with his wife and daughter (and his mum).