Too good to overlook with the

Golf

Wagon

Paul Murrell | November 2019

If ever a city was blessed with an abundance of wine districts almost on its doorstep, it's Adelaide. Any wine lover will instantly recognise McLaren Vale, famous for its chocolatey shiraz, the warmer climate Barossa Valley (bold, earthy shiraz and newer styles like viognier and tempranillo), Clare Valley (most famous for its rieslings) and the Adelaide Hills, rapidly building a reputation for its sophisticated cool climate sauvignon blancs and restrained chardonnays.
But on a whim, we decided to visit a wine region less well known.
Langhorne Creek is just 78 kilometres south east of Adelaide and for no good reason, been overlooked and overshadowed by its more famous neighbours. It is home to the oldest recorded cabernet sauvignon vines in the world and families that have been growing grapes and producing superb wines since 1850. There are almost 6000 hectares of vines, their fruit invigorated by cooling lake and ocean breezes.
With an eye to buying a few cases of Langhorne Creek's best, we decided a Golf Wagon was the ideal choice, and since the roads in and around the area are such fun to drive, we upped the ante by specifying the R version.
With 213kW on tap, the drive south was a relaxed cruise through the Adelaide Hills, with plenty in reserve for rapid and safe overtaking. Once through Strathalbyn, we turned east onto the B45 and quickly arrived at our first destination, the rustic cellar door of Angas Plains Estate.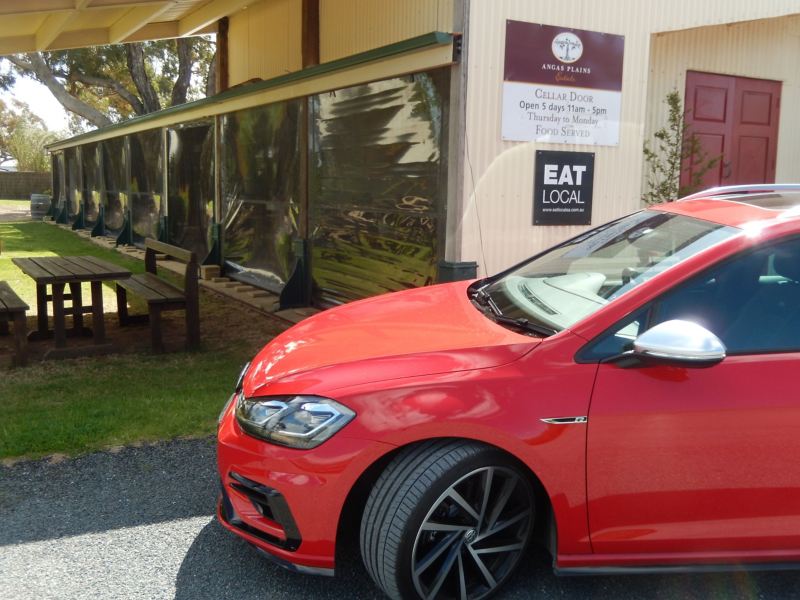 Owner Phil Cross pops a few corks for me while his wife Judy makes a lovely latte to accompany warm home-made scones with jam and cream for my wife, who will inevitably become the "designated driver" later in the day.
Angas Plains is one of the district's younger wineries, having started in the 1990s and producing its first vintage in 2002. It was an auspicious beginning, the inaugural 2002 Cabernet taking home a gold medal.
The wines are typical of the cool climate region, with soft tannins, helped along by the alluvial sandy loam soil and the consistent ripening of the cabernet grapes. But my favourite is the European-style 2012 Emily Cross Shiraz, named for Phil's mum who declared it her preferred variety.    
Grabbing a brochure for future reference that lists the upcoming Music in the Vines program (a monthly event at Angas Plains Estate), we head off to our next tasting appointment, the appropriately named Winehouse just through town on the left.
The Winehouse is home to four award-winning boutique Langhorne Creek wine labels plus the Creek's first craft beer label, the Meechi Brewing Company. With beers and wines to sample, our decision to make this our lunch stopover proves inspired.
The Potts family have been Langhorne Creek stalwarts since 1850, ever since Frank Potts recognised the agricultural potential of the region. Not long after, he set up Bleasdale Vineyards and Winery, the second-oldest family-owned winery in Australia. Ben is the fifth generation of Potts and there's no doubt his great-great-grandfather would be proud of him since he has become one of Australia's most respected winemakers.
Gnarly old low-yielding shiraz and cabernet vines produce some amazingly concentrated and flavoursome fruit. Handpicked, this fruit is crushed in small open-top fermenters and matured in a combination of new and old French oak. No, I'm not that knowledgeable about wine; the charming Kate Schmidt who poured the wines for me in the tasting room explained their characteristics.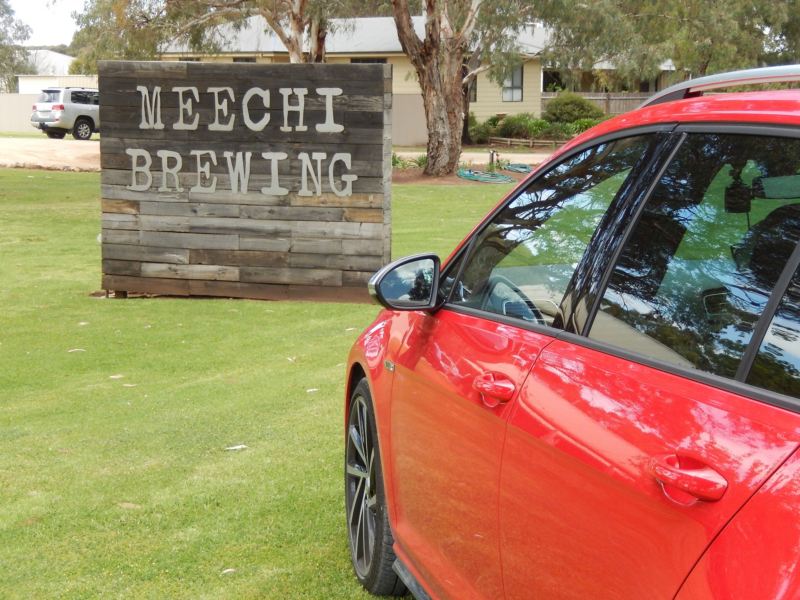 Another well-known wine-making identity based at the Winehouse is John Glaetzer, one of Australia's most awarded winemakers (as more than 3600 trophies and medals eloquently attest).
His John's Blend Cabernet Sauvignon uses fruit from the Meechi, Teangi and Pasquin Vineyards. First vintaged in 1974 and released in 1977, the 2015 vintage is the 41st to be released. Without missing a beat, I ask Kate to put a dozen aside for me, only to be disappointed when she replies that the open bottle behind the counter is the second last of the 2015 vintage. I quickly snaffle the last bottle of the 2015 (plus a few other premium wines) and put in an order for the 2016 vintage, due for release a few weeks later.
With a palate quickly tiring, I order a cleansing Meechi pale ale (having already ascertained that I can order the John's Blend by the glass from the tasting bottle to accompany lunch). The original inhabitants of Langhorne Creek knew the Bremer River as the Meechi, explaining the name adopted for the brewery. The beers were created by two mates, Matt Schmidt and Ben Potts after, as Kate diplomatically explains it, "countless research and development missions, barbecues and long lunches". For me, a program along those lines would have resulted in nothing more than a rash of poor decisions!
Time for lunch and we order the exactly-as-described "Everything but the Kitchen Sink Platter for Two". It's a generous assortment of local produce: smoked leg ham, garlic mettwurst, brie, cheddar, various olives, fig and walnut roll, fruit paste, nuts, sultanas, crackers, toasted ciabatta and warmed flatbread. It takes us so long to work our way through it, I am forced to order a second glass of John's Blend.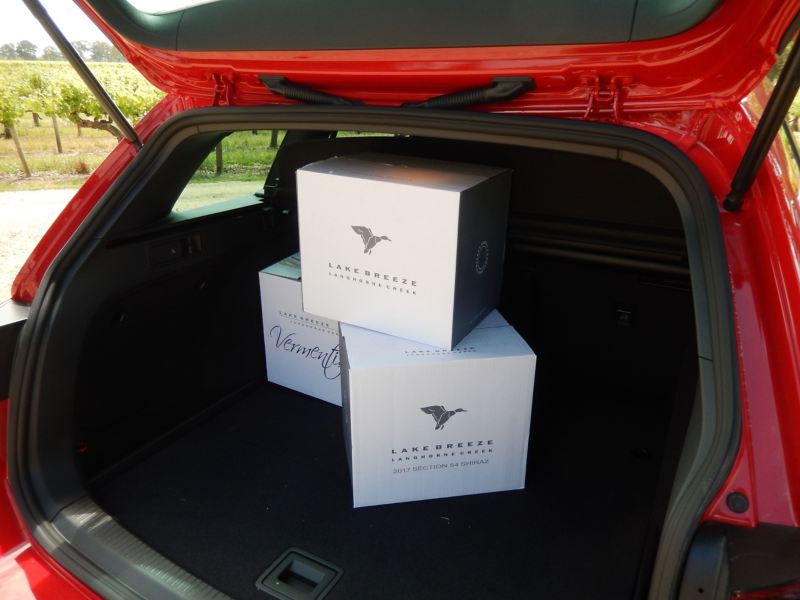 The temptation to stay by the window in the mellow afternoon sunlight is strong, but my obligation to promulgate the delights of Langhorne Creek wins out. The designated driver takes the wheel and chauffeurs me to our final stop, Lake Breeze Wines, another winery with a long and proud heritage that began with vineyards planted in the late 1880s by Arthur Follett.
As we arrive, preparations for the hugely popular Handpicked Festival (held each November – this year's line-up includes Amy Shark, John Butler and Missy Higgins) are well under way. The lush green lawns and majestic red river gums are in perfect condition and being enjoyed by small groups indulging in wine and a ploughman's picnic platter from the restaurant. Family member Robyn Follett (wife of talented winemaker Greg) welcomes us and proudly shows off the modern, stylish facilities.
One of the standout features of Langhorne Creek is the value of its wines. Being relatively unknown has its benefits (for wine lovers, if not necessarily for the hard-working and talented winemakers). For example, when noted wine writer Huon Hooke reviewed 37 Fleurieu cabernet sauvignons, the Lake Breeze 2016 cabernet sauvignon topped the rankings. Its cellar door price is just $25. The wines in second and third place are $75 each and the fourth placed cabernet sells for $250 a bottle. Knowledgeable people tell me a $40 Langhorne Creek wine would cost $60 or more in more high-profile regions.
Needless to say, another couple of cases find their way into the cavernous luggage compartment of the Golf wagon before my wife takes me by the ear and declares "It's time for home."
I was quite looking forward to the scenic drive home. Truth be told, I slept all the way.
Staying over
Langhorne Creek is not particularly well served with accommodation but there are a number of charming B&Bs, including many within easy walking distance of the wineries and restaurants. Additional accommodation can be found in Strathalbyn, only a few minutes up the road. Accommodation at the Handpicked Festival ranges from basic camping to glamping in a luxurious tent.