Van-tastic getaways have changed - for the better
Stephen Corby  |  August 2020

Experiencing true value for money, Stephen Corby takes his family south of Sydney in the Touareg 190. 
We all have those friends, the Great White Bargain Hunters; people who brandish a Costco Card like it's a Titanium Amex, who talk about getting a good price on a bunch of broccoli with the kind of rapt ecstasy that normally accompanies winning your dream job, or Lotto.
I have several friends like this, but the most determined discount hunters I know literally have no other hobbies besides saving money, which can make going away on holidays with them a challenge.
Most recently, in a moment of what I'd like to call wife weakness, "we" agreed to join them for a weekend at a caravan park, which, with their NRMA discount, would work out at exactly $1.33 of fun per minute over a whole weekend.
I don't think I'm the only one whose memories of caravan parks - formed in various shanty-town-like locations along the NSW South Coast, first in my youth and then in my even more impressionable early 20s - are somewhat mixed.
I remember the smell of things burning, the sound of screaming children, and adults, vooming through walls as thin as a Coke can, and being cryogenically frozen in winter and broiled in my own tanning oil in summer.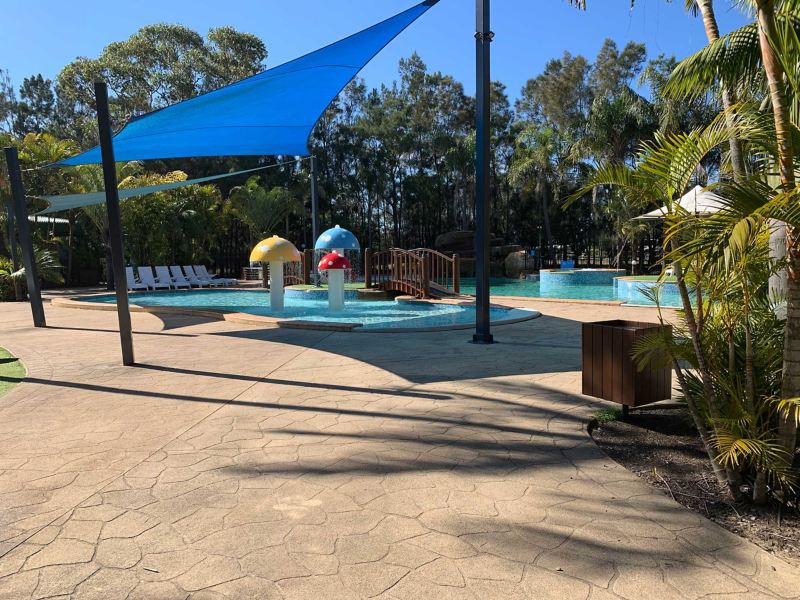 After I'd stopped weeping, my wife gave me the good news about the Ocean Beach Holiday Resort (note the use of "Resort", although Google also makes reference to it as a "Caravan Park"), which was that we would not be staying in one of those cruel, cut-price conveyances known as a caravan. (Look, sure, I have some good memories about the excitement of kitchen tables that turn into beds, and bunks that only a child can fit in, but most of those date from a time when I thought The A Team was a documentary and Swiss Army Knives were a technological high point for humanity).
Indeed, it turns out that you can't even hire an on-site van at this slightly swanky sounding location, right on Umina Beach, although you can bring your own, if you're driving over to NSW from the early 1980s.
Even caravan parks seem to think staying in a van is a bit passé today, and so they offer cabins - with central heating no less - that are, to my childhood  summer holidays, what a private jet is to a Cessna.
We were to stay in an Ocean Breeze Villa, which sounded just a tiny bit posh, and yet I just couldn't bring myself to look forward to something that so much of my psyche was convinced would be horrible.
After an enjoyable drive in our Volkswagen Touareg along the Old Pacific Highway's fabulous winding ways - which, for once, the kids seemed to enjoy almost as much as I did - we pulled in through the all-too-familiar boom gate and into a world that seemed to make our children's heads explode even more powerfully than a whole new world launching on Fortnite.
What I'd somehow forgotten, of course, is how much fun a caravan park full of like-minded kids (meaning 'I'm away from home and my parents have banned screens for the weekend, I'd better find something to do') can be. It also turns out that modern van-resorts, as they should probably be called, are entirely stuffed with things to make children go hog wild.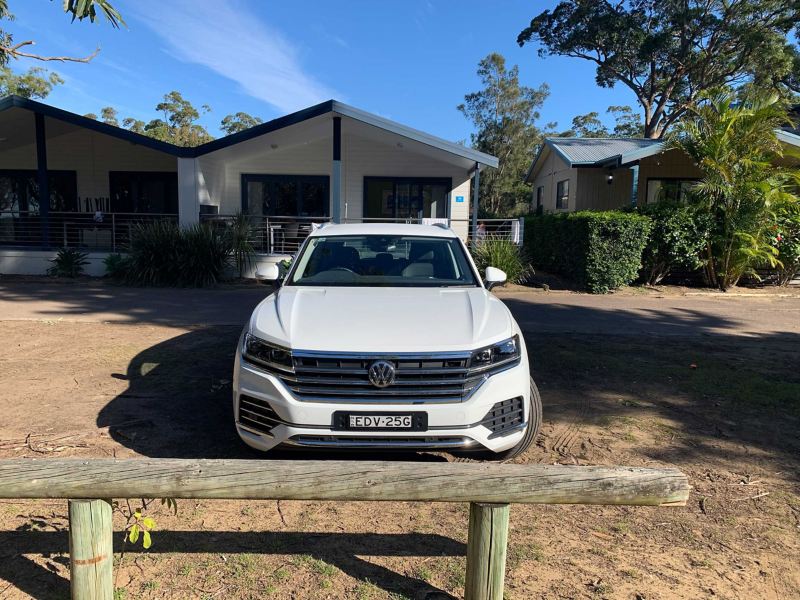 Within a short stroll of our villa door were two Jumping Pillows, which are the kind of invention that should probably win someone a Nobel Prize, but won't. If you've not seen one, it's like a trampoline but a hundred times better, and 200 times larger.
And pillow shaped. Think bounteous bouncy castle free-for-all frolicking.
It looks like so much fun, in fact, that I had a go myself, and very nearly ended up with a collection of compact discs instead of a spine.
Just behind the Jumping Pillows was Umina Beach, which was largely ignored for the next two days, in favour of the two gigantic swimming pools (one of them heated, thank the Gods of Winter), complete with water slides and castles, plus one of those water parks where little children wet themselves in a variety of entertaining ways.
In non-Covid times, there's also a games room, apparently, there are kids movies shown every night, and you can even hire bicycles or little go-karts that they can pedal around, if you're feeling generous. Just outside the park, sorry, resort, are a skate park and a BMX track, which only added to the level of child joy pouring forth.
Unlike our recent camping trip, to a park that provided grass and barbecues and not much else, the fact that you could feed lorikeets by hand was relegated to only about the 10th most amazing thing about Ocean Beach by my nine-year-old daughter.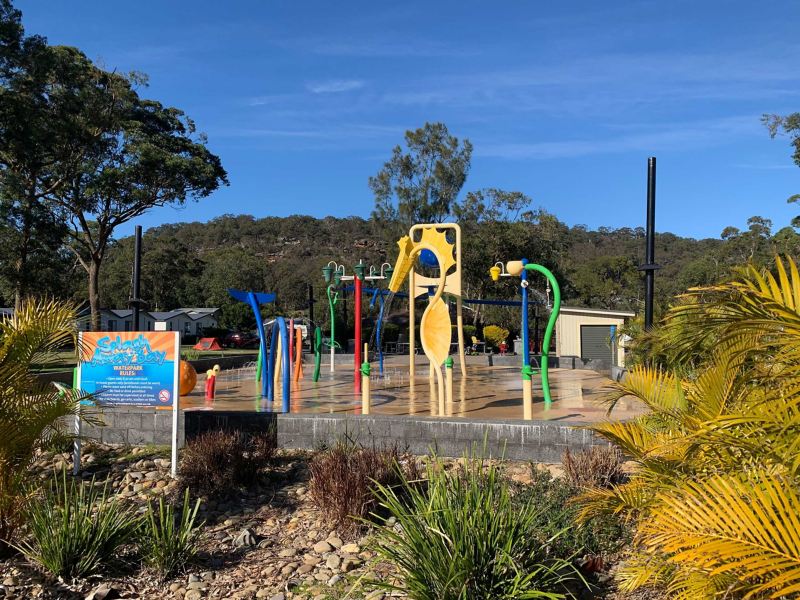 What any savvy parent will have quickly realised is that all these options meant that we were not required to perform our usual roles as Entertainers in Chief at all. Indeed, long, languorous periods of time would pass in which we did not see our children.
This allowed us to perch on the balcony of our genuinely quite acceptable, if basic, villa, with its view of the ocean, and marvel about how far the humble caravan-park holiday has come. I had assumed I might be more comfortable sleeping in the capacious Touareg's boot each night, but it didn't turn out to be necessary.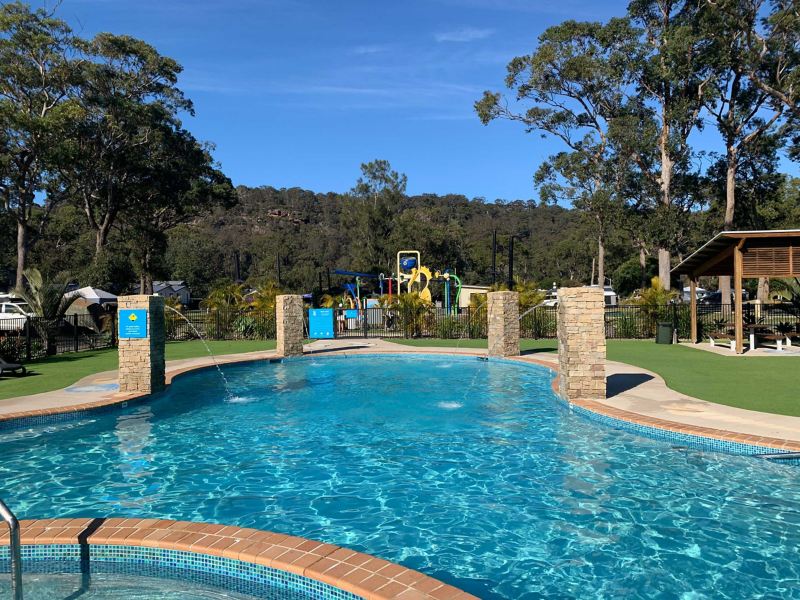 Sleeping in actual rooms with comfortable beds and having the toilets and bathrooms in the same building we were staying in are huge leaps forward for a start. Yes, it can still be noisy, and there's a certain sense of constant chaos from all that humanity happening in one place, but there's a certain shared joy in all that as well. So many kids having so much fun all in one place does create an air of happiness that's been sadly missed over the past few months.
This did lead me to think that, just possibly, nearly all of the holidays on which we've taken our children over the years - the modern kind, where you hire a quite lovely house on AirBnB and hunker down away from the rest of the world - could have been a lot better, at least from a certain point of view shared by the younger people who live in my home.
Those same children are, predictably, already begging to go back to the Ocean Beach Holiday Resort in summer, and demanding that we stay at least a week.
Sadly, I've just had a look and it turns out that this is one more area in which caravan-park holidays have changed since my sunburnt youth - come the warmer months, they are not cheap. At all.
Fortunately, I happen to have some friends who I'm confident will be able to track down a special deal for us.