At

Volkswagen

, we're constantly dreaming of what the future looks like. We're always looking forward, working towards a sustainable future, and making those ideas come to life. So we're inviting you to our drawing board. 
It's no longer just about getting from A to B. The I.D. LIFE is an experience, and one that can become a mini cinema or gaming centre. This strikingly clear, futuristic car comes with a video game console and projector, as well as a projection screen that extends from the dash panel when required. With its 172 kW electric motor, the I.D. LIFE accelerates from 0 to 100 km/h in 6.9 seconds, while its 57 kWh high-voltage battery enables a range of up to 400km. It also embodies sustainability with its parts made from natural and recycled materials.
This top-of-the-range, self-driving sedan combines modern design, a smart interior and cutting-edge technology to show our vision of what an electric car embodies in the future. Electric motors installed on the front and rear axles guarantee all-wheel drive and particularly dynamic acceleration. Housed in the floor, a powerful lithium-ion battery provides a range of up to 665km. This is a Volkswagen for tomorrow's world, and provides greater freedom for the guests on board.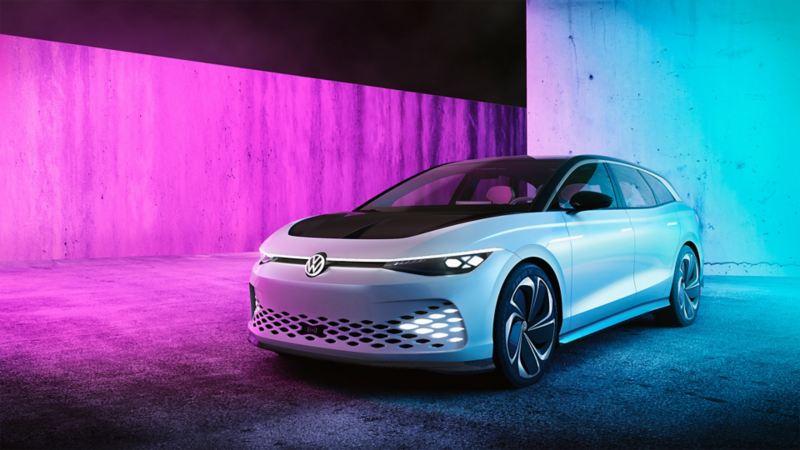 Electric vehicles don't need a radiator or a large space for the motor, giving our designers and engineers new design freedom. So they've taken this opportunity to optimise aerodynamics, which therefore increases range, on the ID.SPACE VIZZION. Along with the latest electric drive technology, this visionary car has plenty of room for comfort and uncompromising performance. It's an outlook on a new vehicle class that can set standards in every respect.  
In 2019, this emission-free race car set a benchmark time on the demanding Tianmen Shan "Big Gate Road" mountain pass in China. With 99 hairpin corners and a maximum altitude of 1,110 m, this gruelling course didn't startle the ID.R one bit. But that's not all. The best time for an electric vehicle on the most demanding racetrack in the world – the 20.8 kilometre-long Nordschleife of Nürburgring – has also been beaten by the ID.R with a time of only 6:05.336 minutes. It's successes such as these that prove it's possible to make an impression without making an impact.  
Travel forward in time with the concept of the Californian dune buggies of the 60s, and we've got ourselves the ID.BUGGY. This modern, retro-free interpretation of an icon is zero-emission and high-tech, ready for the bustling city and beach lifestyle. Off-road features include standard 18" wheels and BFGoodrich All-Terrain T/A® off-road tires as well as solid aluminium underbody protection. Inside, the ID.BUGGY features a minimalist aesthetic, waterproof materials and a hexagonal steering wheel covered with water-repellent Nappa leather.1 It's one not to underestimate, sprinting from 0-100 km/h in just 7.2 seconds.