Battery technology

1.

All images displayed on this page are for illustrative purposes only and may include overseas models, optional equipment and features not available in

Australia

. Actual vehicles may differ. Please confirm final specifications and features with an authorised

Volkswagen

Dealer prior to purchase
The ID. Family's newly developed modular electric drive matrix (MEB) has been specifically designed for electric vehicles. At the heart of the system is a fast-charging battery system consisting of battery modules which allows for configurations of different battery sizes, more range and performance.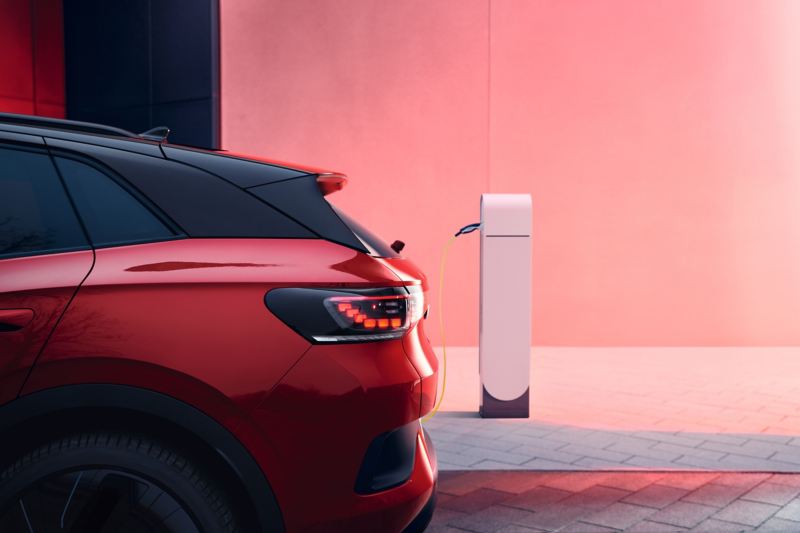 Whether it's in a city car, SUV or a new age Kombi van, the modular electric drive kit offers you everything you need for the future of driving. That's because this newly developed vehicle platform is designed specifically for electric cars. The key benefit of this is that the MEB can be used to make the most out of the possibilities offered by the electric car battery technology. For you, this means more space, range, comfort and convenience.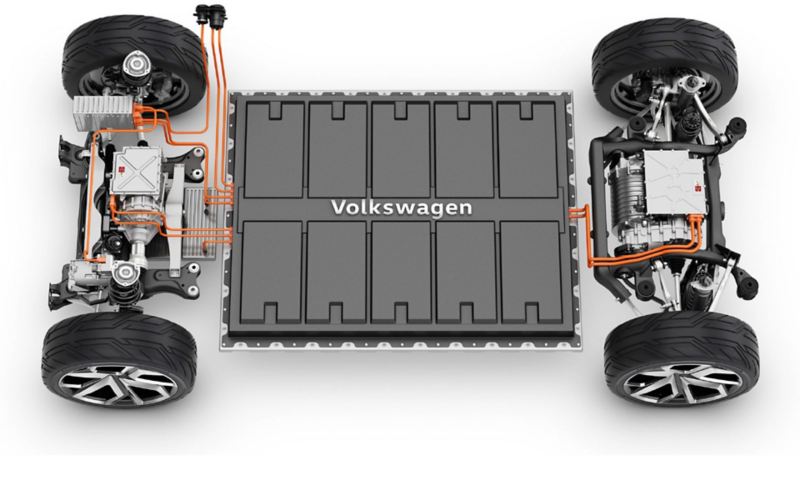 At the heart of the ID. family lies its fast-charging battery system, which is protected and integrated in the floor of the vehicle to save space. This lowers the centre of gravity and creates a better distribution of weight so that you can enjoy exceptionally well balanced and dynamic driving.
The platform allows for different configurations depending on the model and variant. For example, if you don't necessarily need a large range because you do a lot of driving in the city, a smaller battery will be fine. If, on the other hand, you need large amounts of power for long distances, you can simply choose a vehicle with a bigger battery. It can also accomodate dual motors, that sit on each axle which give improved all-wheel drive performance.
The EV battery system of the MEB electric platform
Simply electrifying: the lithium-ion battery

Every lithium-ion battery cell consists of four components: 

During the charging process, the lithium ions travel from the cathode to the anode and are stored there. The electrical energy from the power grid is converted into chemical energy. 
During the discharging process – for example, to power the electric motor – it works the other way round: the lithium ions now travel from the anode back to the cathode and convert the chemical energy back into electrical energy. 
Five main raw materials are needed to produce lithium-ion battery cells: a compound of cobalt, nickel and manganese for the cathode (this structure helps to store the lithium charge carrier), graphite for the anode, and lithium, which is contained in the electrolyte.
The three Rs of EV batteries

After eight years, or 160,000 km, up to 70% of your EV battery capacity should still be available. Inevitably, there will come a time when the battery is not capable of optimally powering a vehicle. At that time, the battery can be reused, remanufactured or recycled.
1. Reusing
In addition to recycling, battery life extension plays a central role in our group battery strategy. We plan to bundle used vehicle batteries together to form much larger batteries. In turn, these batteries will help power both Volkswagen plants and co-operative projects with cities and suppliers. 
2. Remanufacturing
By replacing certain internal components, some used batteries can be used in electric vehicles again. Parts taken from used batteries can also go into storage to be used again later.
3. Recycling
Sooner or later, a battery will need to be recycled. This is done carefully and safely in co-operation with several recycling partners, which helps ensure that we keep waste to a minimum.

"The batteries are dismantled, crushed, and reprocessed. Here, raw materials such as nickel (28Ni), copper (29Cu) and cobalt (27Co) are recovered in large quantities and can then, for example, be reused in the production of new battery cells." 

Group Strategist in the business field of e-mobility and infrastructure