Crafter 
Kampervan 
Get your life off track  
First allocation is exhausted, orders for 2023 delivery will open soon.
First allocation is exhausted, orders for 2023 delivery will open soon.
You could buy a house with ocean views. Or you could own a Crafter Kampervan and get mountain vistas, lakefront spectaculars and vineyard expanses. Why wake up to the same backyard when you can have all of Australia outside your window? Embrace life on the road with the fully fitted Crafter Kampervan, designed in partnership with RV experts Jayco. With all the amenities you need in a camper including 4MOTION technology as standard, settle down in a great spot – and next day do it all over again.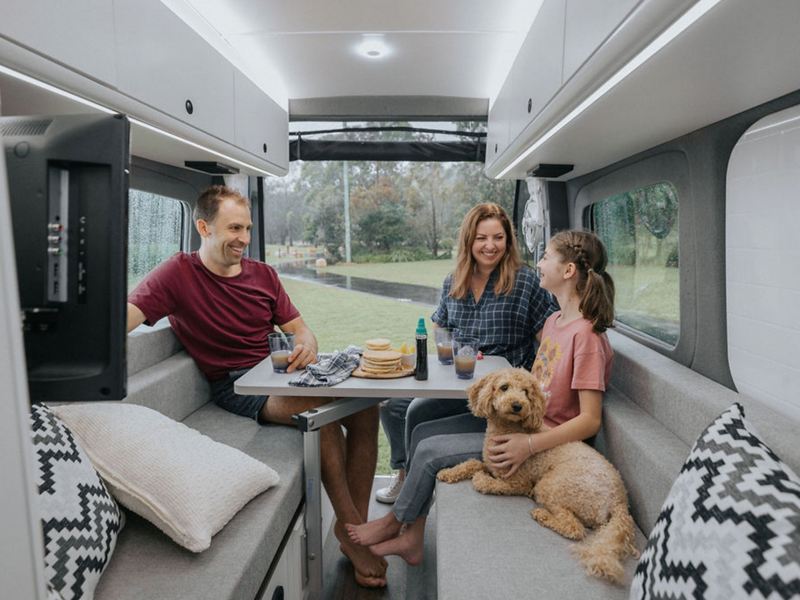 Australia

's favourite RVs  
The Crafter Kampervan channels the spirit of the iconic Kombi to create the quintessential modern-day explorer. We've partnered with Australian RV specialist Jayco to design, engineer and manufacture the Crafter Kampervan conversion at Jayco's state-of-the-art Australian facilities.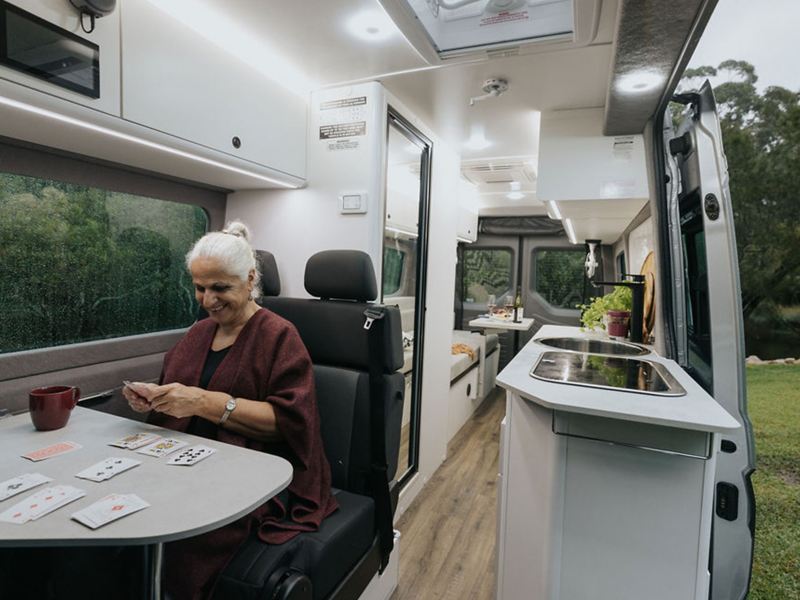 Kick back in style
Capable of seating four and sleeping three, the Crafter Kampervan has everything you need to take your home on the road. With its versatile and comfortable lounge, integrated bathroom and kitchen, off-grid capability and suite of entertainment options, you have all the creature comforts you'll ever need.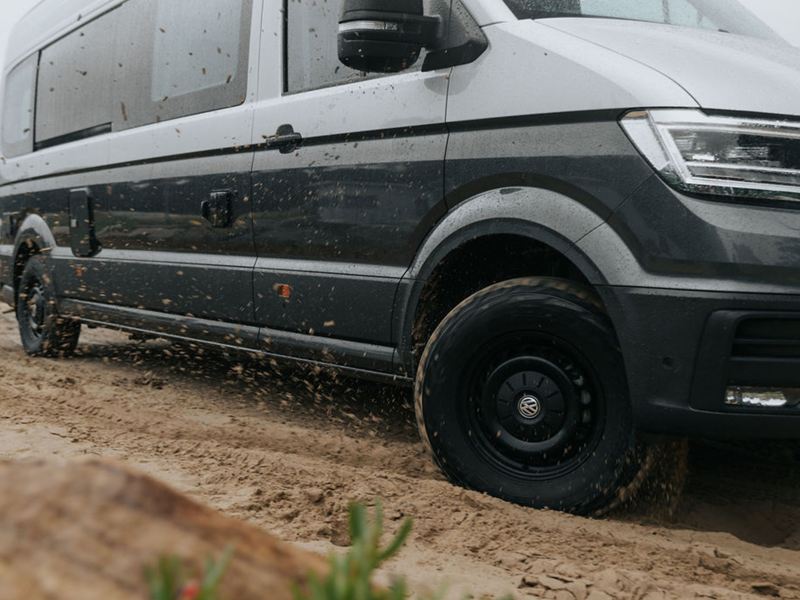 Take the life less travelled
The Crafter Kampervan features a 2.0-litre bi-turbo diesel engine delivering a maxiumum 410Nm torque and 4MOTION All-Wheel Drive as standard, so you can get off the beaten track with confidence. The Kampervan's assured drivetrain means you can follow any path – or forge totally new ones instead.
Which Crafter Kampervan is right for you?

Live life differently when you're in a Crafter Kampervan. No corner of the country is off limits when you're behind the wheel.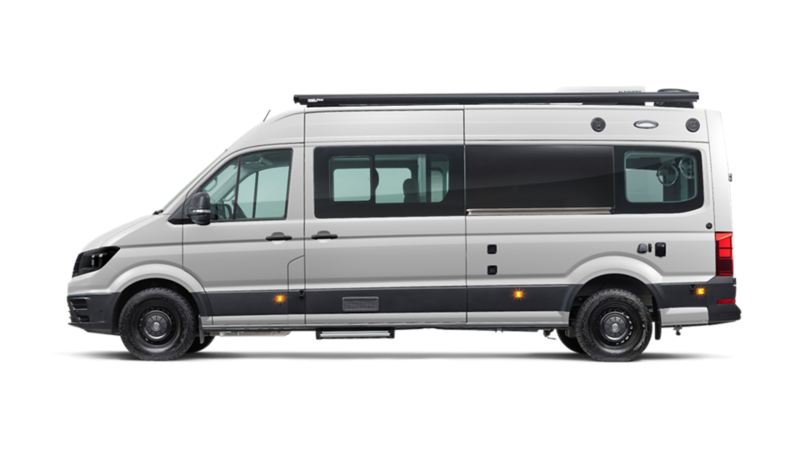 Crafter Kampervan Standard  

The Crafter Kampervan has been designed from the ground up with adventure in mind. With its contemporary Jayco styling, extensive safety and driver assistance systems, and unsurpassed levels of comfort and convenience, the Crafter Kampervan might just be the ultimate escape machine.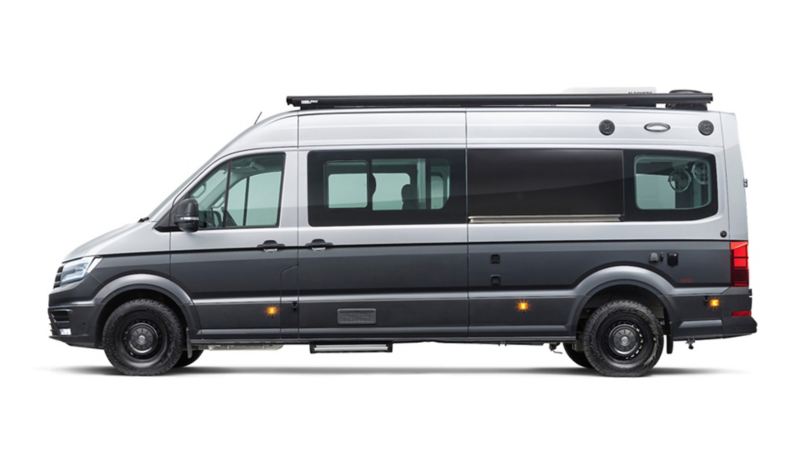 The Crafter Kampervan Style builds on the outstanding features contained in the Crafter Kampervan, by adding an extra layer of safety with innovative Lane Assist and Adaptive Cruise Control technology1. Other satisfying additions include LED headlamps, a heated multi-function steering wheel and a Discover Media navigation system. If you're looking for a little more flexibility, you have the option to upgrade to the All-Terrain package. 
The Crafter Kampervan has all you need to enjoy an on-road adventure. Add even more fantastic features when you choose from the following options.
The All-Terrain package builds on the features of the Crafter Kampervan Style by adding superior external protection for unrestrained forays into the wilderness. Defensive features such as a higher body clearance from the 30mm lift kit, underbody protection for the engine and fuel tank, rear differential and rear shocks, and go-anywhere Off-Road AT Tyres.
Add optional snorkel for enhanced performance. 
Only available for Style variant
Nothing changes your state of mind quite like getting out in nature. There's no limit to the far-flung places you can escape to in a Crafter Kampervan. With its versatile fittings, state-of-the-art kitchen and clever use of space, who says you can't take all the comforts of home with you?
A cosy place to sleep is all the more enjoyable when you've spent a day exploring local sites and attractions. It takes no time at all to transform the Crafter Kampervan's versatile lounge and dining area into comfortable sleeping quarters for two adults. The foldable day bed in the front cabin makes an ideal sleeping place for a small child.
What's a road trip without your favourite music and the latest in innovative technology to brighten up your next journey?
There's no limit to the infotainment options you have at your disposal. It's easy to access all your favourite smartphone apps and media files with App-Connect for Apple CarPlay® and Android Auto™. A Composition colour 6.5-inch radio system with USB input and Bluetooth® is a standard inclusion and a delight to use. Or choose the Style or All-Terrain models to receive an 8-inch Discover Media navigation system and unlock all the benefits of satellite navigation.
Your

safety is paramount, always
Take every confidence that your next adventure will be a safe one with the Crafter Kampervan's extensive array of safety and driver assistance systems. 1.
The Crafter Kampervan has you covered with reassuring driver assistance technology that acts as a guiding hand with every drive you take1.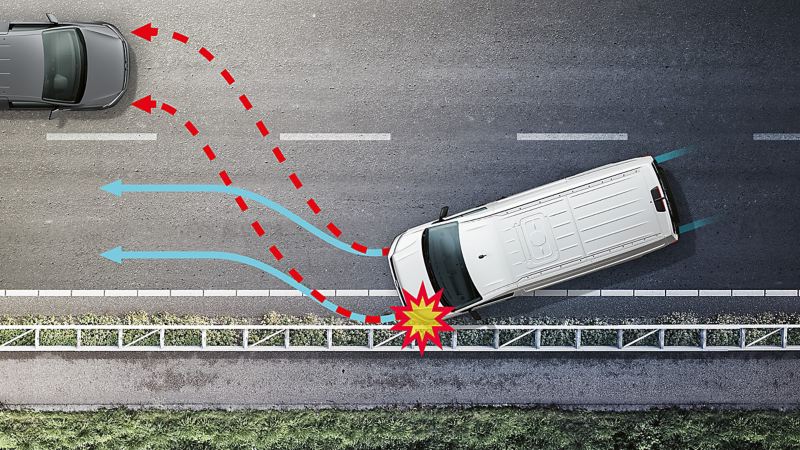 The Crafter Kampervan has you covered with reassuring driver assistance technology that acts as a guiding hand with every drive you take1.
5 years unlimited kilometre warranty

24-hour Roadside Assist for the first year