1
1.

All images displayed on this page are for illustrative purposes only and may include overseas models, optional equipment and features not available in

Australia

. Actual vehicles may differ. Please confirm final specifications and features with an authorised

Volkswagen

Dealer prior to purchase.
With the innovative and sophisticated design of the Caddy California, you can explore our country trouble-free. This home on the road offers a comfortable sleeping place, folding table and chairs, high-quality Digital Cockpit and modern driver assistance systems. 
Always ready for an escape
From exploring the city to the great outdoors, the Caddy California makes it easy with a charming exterior, revolutionised cockpit designed for comfort, cutting-edge interface, and premium seating. Big on the inside and small on the outside, this versatile van navigates the city with ease.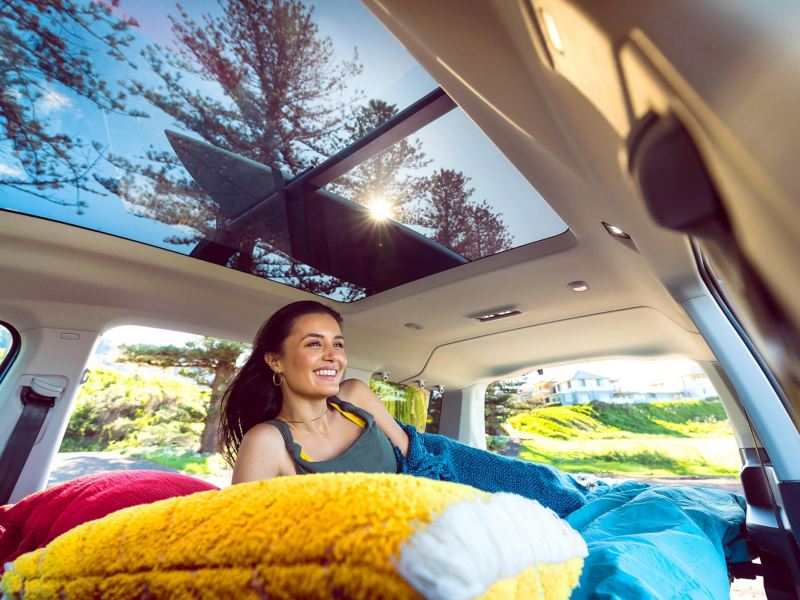 Sweet dreams all night long
The cosy folding bed has more than enough space to relax under the stars. Camping life doesn't get any more convenient than this.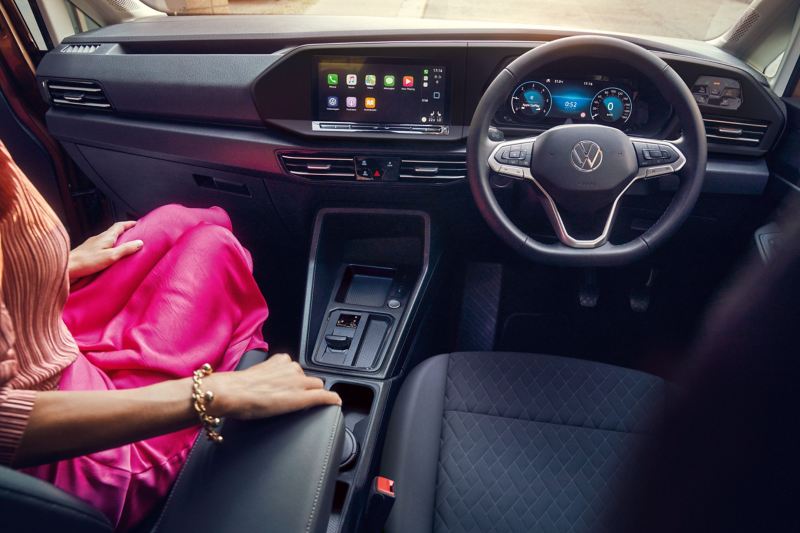 Looking out for you
Featuring 15 state-of-the-art driver assistance systems, including Travel Assist and Adaptive Cruise Control, the Caddy California is a safer way to travel. All you need to think about is where your next lunch break is. 2
Build your 

Caddy

your way
With everything the Caddy California has on offer, it won't even feel like you've left home. From performance to extra storage, it includes the essentials for any kind of drive.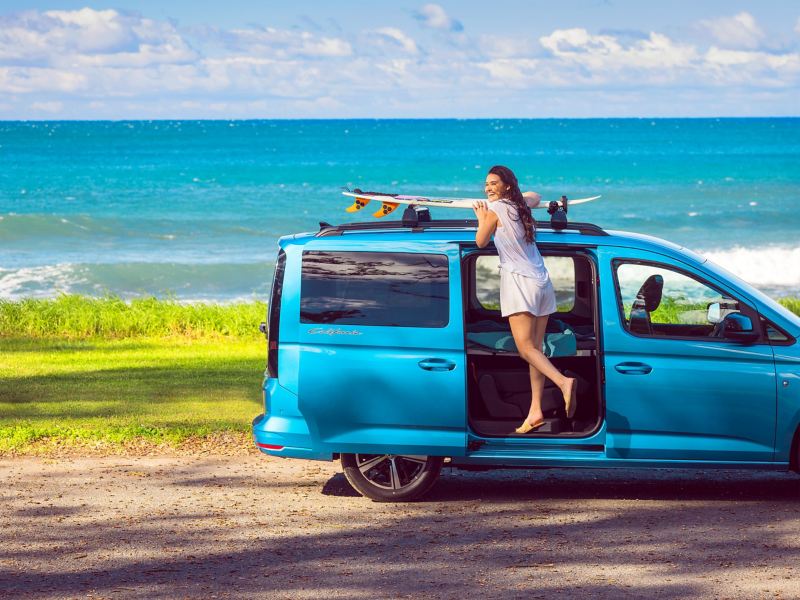 When you look good, you feel good.

Sleek, aerodynamic and sporting an eye-catching honeycomb structure and 18" Monterosso alloy wheels, the Caddy California is both stylish and practical. Upgraded with an enhanced diesel or petrol engine, the road has never felt so smooth.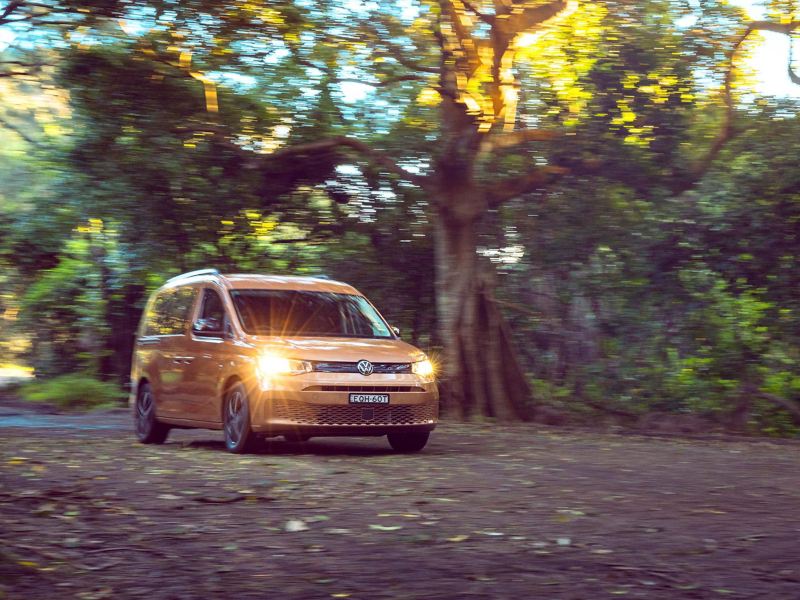 Go the distance
The Caddy California might make for a nice little home when it's pulled up, but it's not afraid to pack some serious power when it's on the move either. With the choice between two efficient engines – the 2.0L 90TDI diesel engine with 90kW of power and 320Nm of torque, or the petrol 1.5L TSI engine with 84kW of power and 220Nm of torque – you'll be ready for your next escape.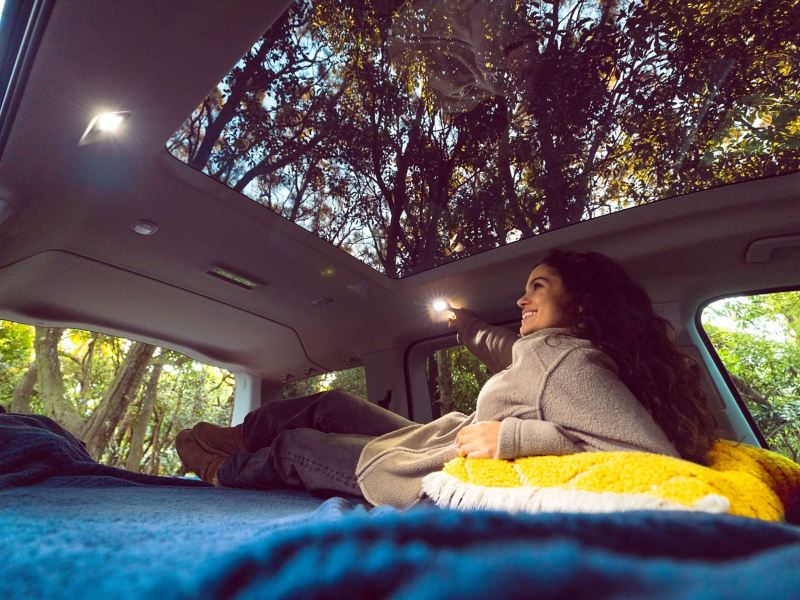 Stargaze from bed
The optional panoramic glass sunroof is your window to blue skies and starry nights. Wherever you're parked, you and your passengers can enjoy a view like no other.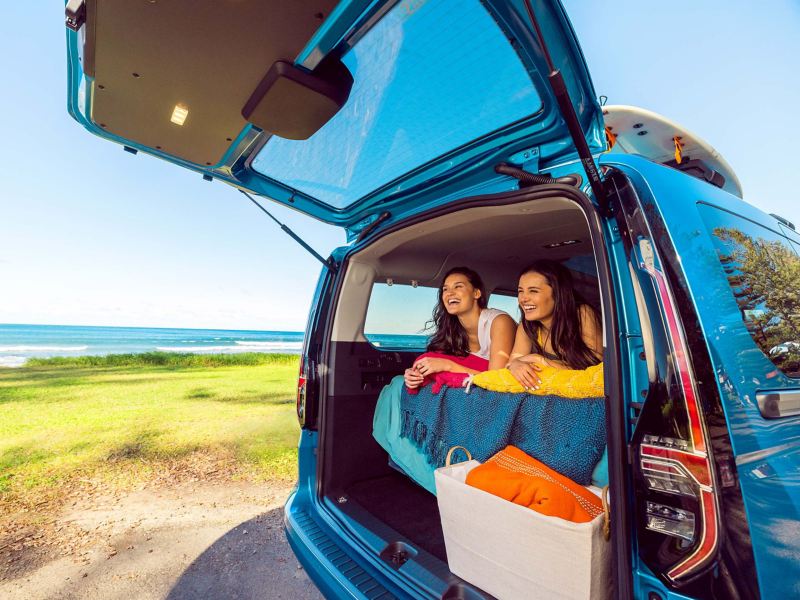 A cosy place to relax
After a long day, you'll want to kick back and relax. The Caddy California's folding bed is supported on the vehicle body, making it easy to set up and pack down. For an efficient use of space, there's even more storage underneath the bed.
The ultimate travel companion

The Caddy California has a whole new digital setup that'll make an easy and stress-free drive.
See the Caddy California in a different light with the crystal-clear Digital Cockpit and a choice of either 8.25 or 10-inch high-definition displays with App-Connect integration3. Enjoy a high-resolution view of your instrument cluster behind the wheel and find all your entertainment, maps, contacts and more at your fingertips with the seamless built-in media system.

Travel with a helping hand

The Caddy California features a suite of 15 state-of-the-art driver assistance systems including Travel Assist and Adaptive Cruise Control, all as standard to help make your trip as smooth as it can be.
When you're on the road a lot, a little help can go a long way. That's why the Caddy California comes with features like Travel Assist - an innovative combination of Adaptive Cruise Control and Lane Assist that can sense lane markings and vehicle distances to automatically brake, accelerate and help keep you right where you're supposed to be.2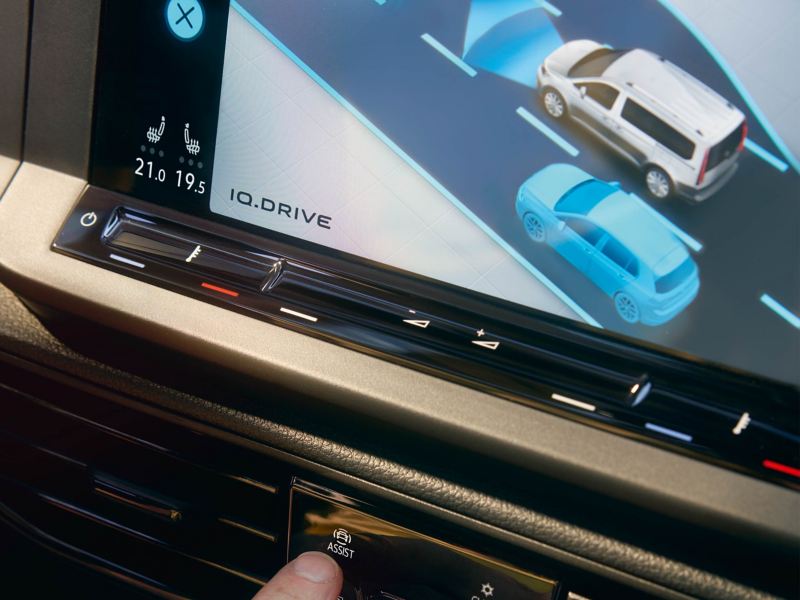 When you're on the road a lot, a little help can go a long way. That's why the Caddy California comes with features like Travel Assist - an innovative combination of Adaptive Cruise Control and Lane Assist that can sense lane markings and vehicle distances to automatically brake, accelerate and help keep you right where you're supposed to be.2
5 years unlimited kilometre warranty

24-hour Roadside Assist for the first year