November 2019

It was a cold and rainy morning when we kicked off our automotive adventure in Munich. Our final destination would be Reifnitz in Austria. But first we'd need to get there, and luckily we had the right car for the trip. We'd travelled for over 30 hours from Sydney, Australia to make our way to the other side of the world, and waiting for us in Munich was a 1999 model, MK4 Golf GTI that had been purchased off the internet.
So, what were we doing here? Well, we were in Europe to experience our first Wörthersee Fan Meet, often referred to as the greatest Volkswagen event in the world. This globally renowned event has been held on the edge of a beautiful lake in Reifnitz since the early 1980's and has become an annual pilgrimage for Volkswagen lovers from across the globe. While fans were coming from all over Europe and even the USA, I was quite sure we were the first Australians who would be attending in our own car - that is, if we'd actually make it there in one piece.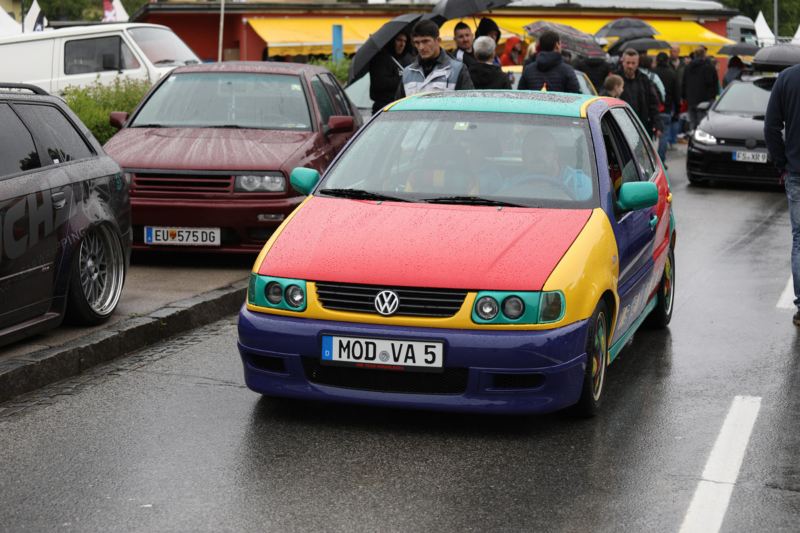 It was at this point that we were almost immediately pulled over by the local Police and had our paperwork checked. This was the first time ever, over countless overseas driving trips, that I had my international license checked. As it turns out, wearing a hoodie near the German border can appear suspicious, particularly when the Police have their eyes out for 'drug user targets'. Once they realised we were not drug mules but merely jetlagged Australians, we were free to make our way towards Austria (where we would be pulled over and checked again).
It was an incredibly wet and slow trip to make our way out of Germany, but we stayed hopeful that soon the highway would open up. And open up it did, along with the heavens as we battled our way towards Austria in torrential rain while munching on raw asparagus. Our little car did great and although we'd only just painted parts of it in the hours before we left, it amazingly all stayed intact.
After a few hours on the road, a couple of road stops for snacks and fuel, and another Police stop, we had arrived in Austria and headed to our hotel to get a good night's sleep before our first day at Wörthersee.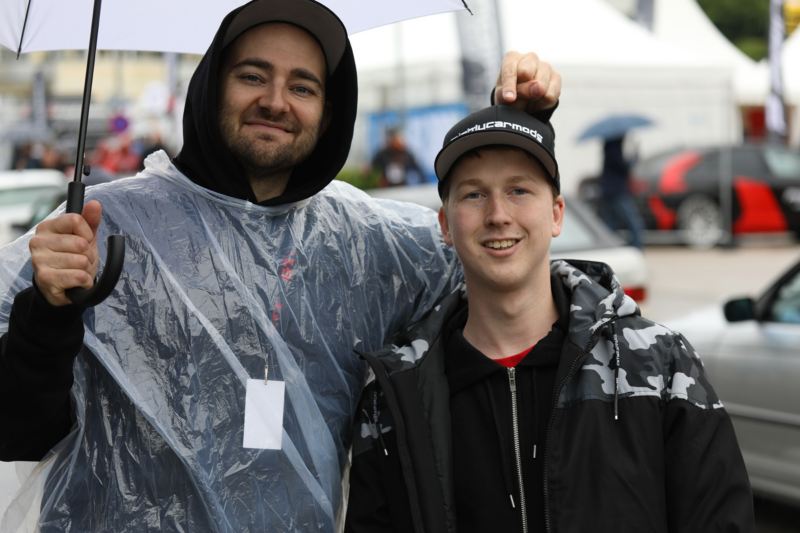 The morning brought a new hope for better weather, but this was unfounded as we woke to more rain. However, nothing was going to dampen our spirit as we drove towards what would be the biggest Volkswagen meet in our history. Around 5 minutes out of the meet, we were brought to a stop by a roadblock, where entrants had to pay a fee to enter. It was then that we were refused entry because they wouldn't take our Australian currency, US dollars or even the yen that I found stuffed in my bag. This was probably fair, considering that we were in none of those countries, so we turned around and made our way to a local university to find an ATM and get some Euros. With that in hand we made our way back to the lake and entered Wörthersee.
After being to countless car meets over the years, and even hosting our own in various countries over the years, it's hard to explain just how calm and beautiful this location was. Nestled up to the river, alongside old hotels and restaurants serving hot tea and scones, thousands of Golf GTIs paraded calmly down the street. From full on track cars, to classic MK1 and 2 Golfs that had been beautifully restored, the feel of this meet was unlike anything I'd ever experienced before. But while the event stays true to its heritage, there are now all sorts of cars on display - we even saw a single lonely EVO down a side street – was it hiding or just keeping to itself like a hyena watching a pack of lions roll past? The main thing that caught our attention was that vinyl wrapping is absolutely huge over in Europe. Australia doesn't have much of an appetite for it, but this was a whole new level. And the wheels. Things you've never seen before or heard off. Crazy offsets and wild colours. It's an incredibly impressive sight to see so many cars done in a different style to what we usually see locally while in a beautiful setting. It's an incredible atmosphere and should be high on the bucket list for car lovers of all ages.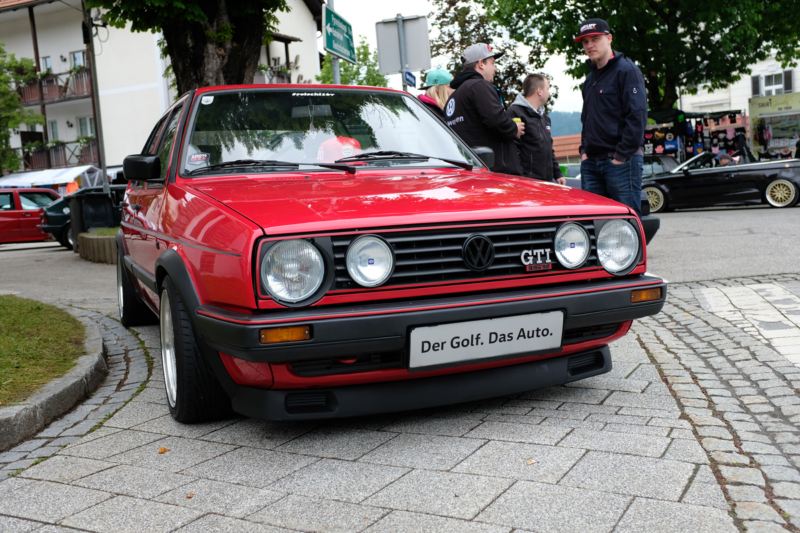 What we didn't know at the time, was that Volkswagen had organised for us to present our little car on the main stage of the event. And yes this was nerve-wracking. We had the cheapest GTI in Germany with 24 hours of modifications and a spray can paint job. As we sat in our car backstage, they filled it with theatrical smoke, then lit up the strobe lights and out we drove as the music pumped through the festival PA system. The crowd was pumped that a couple of guys had come all the way from Australia to celebrate their event and there were even a whole bunch of Mighty Car Mods fans there to cheer us on, which was a real highlight.
After spending a couple of days meeting fans and visiting all the attractions and vendor tents, sadly, we had to make our way back home. We decided to go the long way round and took a scenic (and treacherous) route via the infamous Stelvio pass in Italy. This was the best way to finish off our trip, with our little Golf being put through its paces on one of the most gruelling and famous driving roads in the world.
Once back in Munich, we handed over our little car to the same MCM fan that had helped us throughout the whole trip. The car now lives on in Germany, so if you're ever there, keep your eye out for the cheapest little Golf GTI in town that racked up a couple of million views on YouTube! You may even see it again at Wörthersee…
Moog is the co-creator and co-host of Mighty Car Mods, Australia's most successful independent automotive series with over 500 million views on YouTube and also broadcast on Discovery Channel worldwide. His current daily drive is a modified Volkswagen Golf R.