Philip King | December 2020
Philip King explores Adelaide and surroundings in the Touareg 190TDI Adventure.
With the planet playing a giant game of viral snakes-and-ladders, crossing any border is a dice-roll with lockdown. It can so easily be a case of beautiful one day, COVID the next.
So my partner and I shudder with what-might-have-beens after our week in South Australia ends – happily, with return flights to Sydney - just hours before the state's COVID numbers come up. We realise our holiday could have been a road-trip to nowhere.
Instead, we glimpse a pre-viral era - South Australia partying like it is 2019.
Well, almost. Rules, discreetly applied, mean Adelaide's Peel and Leigh street bar and restaurant zone achieves as much of a free-wheeling atmosphere as you can expect these days. Here's where you find many of the venues that give this city its reputation for great food and drink served with a dash of panache.
We choose Udaberri and come away delighted with its delicious tapas and gorgeous G&Ts, which make these Hendricks-and-cucumber fans feel like hicks. Ounce Bold with rosemary and fat green olives, 78° with pear and fennel … we order again, just to be sure.
Compared to the bustle of Sydney or Melbourne, every day is like Sunday in Adelaide. But in a good way, not like the Morrissey song. We fall into its relaxing rhythm: central market delis, tram to Glenelg for seaside fish-and-chips, the Botanical Gardens. Two of its minor charms turn out to be right on our hotel doorstep: Flinders Street Project café and the once-a-month Vintage Hustle clothing mart. Perfect granola and glad-rags, respectively.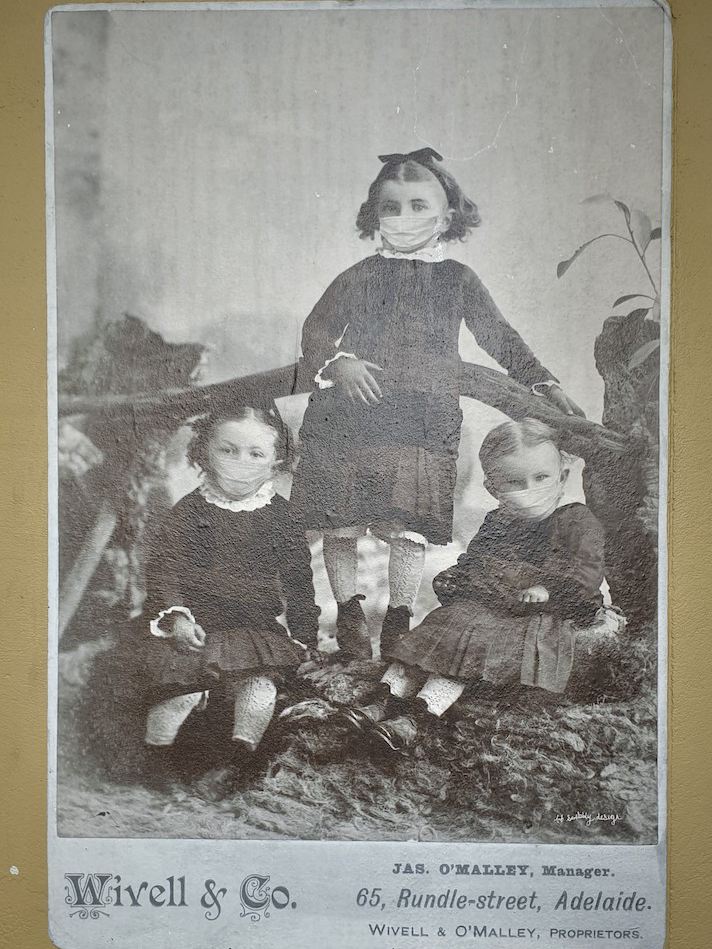 We're heading north but detour through Hahndorf for a lesson in the state's Lutheran pioneer history. It's a little try-hard, with more cuckoo clocks and bratwurst than many German villages, so it's reassuring to find it doesn't take itself too seriously. Dotted around are sepia posters of its past, artfully photoshopped with snippets from the present - Victorian children "wearing" face-masks, for example. Ah, dark Teutonic humour.
We rent a cute cottage in Angaston for two days in the Barossa, where the Lutherans arrived with their vines and vigneron skills. An organised tour is an ideal way to sample their legacy and we're in a group with four Americans buoyant in the wake of the US election result.
First stop, Langmeil, is terrior ground-zero with Shiraz vines and manicured architecture dating back to the 1840s. Next is its counterpoint, Soul Growers, which was formed by four mates chasing a dream in a shed. Award-winning wine-maker Stuart Bourne follows traditional methods and says the region depends on the descendants of original settlers.
"Five hundred families today still grow grapes in the Barossa," he says. "Take them out of the Barossa, and you haven't got a Barossa."
After a lunch plater and more sampling at Z Wines in Tanunda, the group is positively effervescent and decides to chase its tastes with a detour to a gin distillery, then a cleansing ale at Barossa Valley Brewing. Hick!
The following morning is suitably sobering. We pause in Kapunda to observe its Memorial Day and listen as the Last Post echoes across the nation, reflecting on the sacrifices made by former generations.
Further north in Burra, hundreds of small crosses testify to the price paid by what was once a booming mining community. Original stone workers' cottages are still proudly occupied and there's a weighty presence to its other structures, from the town hall to the butcher's. Visitors can view the old cooper mine buildings around an open-cut pit which briefly revived Burra's fortunes half a century ago.
Although only a couple of hours from Adelaide, it already feels like we're on the edges of the Outback and that's reinforced by the rust-coloured cliffs of nearby Red Banks Conservation Area. This site is a rich source of mega-fauna fossils including the 4m-long Diprotodon, the largest known marsupial, which became extinct 25,000 years ago. It also seems to be playing host to South Australia's annual bushfly convention.
Our goal is Rawnsley Park Station, which borders the Ikara-Flinders Ranges National Park. We have secured a cabin for two nights but the restaurant seems booked in perpetuity. Disappointing for us, but good news for the travel industry which has been slowly regaining confidence as inter-state tourists return.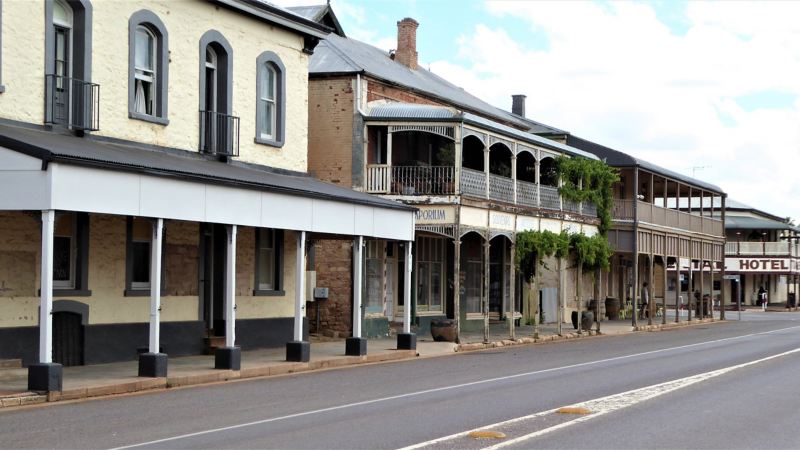 In Quorn we stop for BBQ supplies and to admire its heritage architecture. Almost everything, from the railway station to the shops and hotels, could pass as unchanged in a century. No wonder it's featured as the backdrop to many movies, from Gallipoli to Wolf Creek.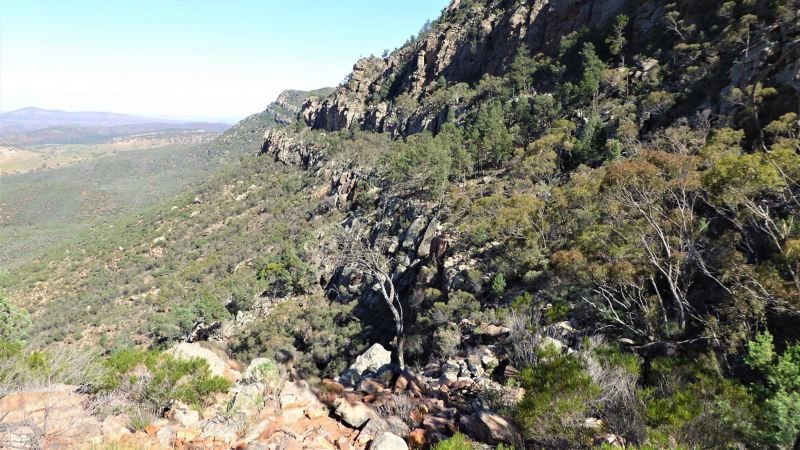 Rawnsley is a working sheep station as well as a holiday destination – or perhaps that should be the other way around – with glorious views of Wilpena Pound's southern slopes. These are our goal with an early start to achieve the rocky climb to Wilpena Lookout before the day gets too hot. The trail constantly serves up spectacular views back towards the lesser ranges and it's flush with colour after recent rain. At the top, we take in the ancient natural basin and surrounding walls, which reach 1171m at St Mary's Peak, directly opposite.
It leaves us hungry to explore the region further and there's lots more to see, including the Bunyeroo and Brachina gorges and the historic town of Blinman. Until this point, most of the roads have been sealed but now the Touareg Adventure comes into its own. We're grateful for its more advanced four-wheel drive system on these rollercoaster dirt roads, but even more thankful for its ground clearance and underbody protection on the dried-up river beds of the gorges.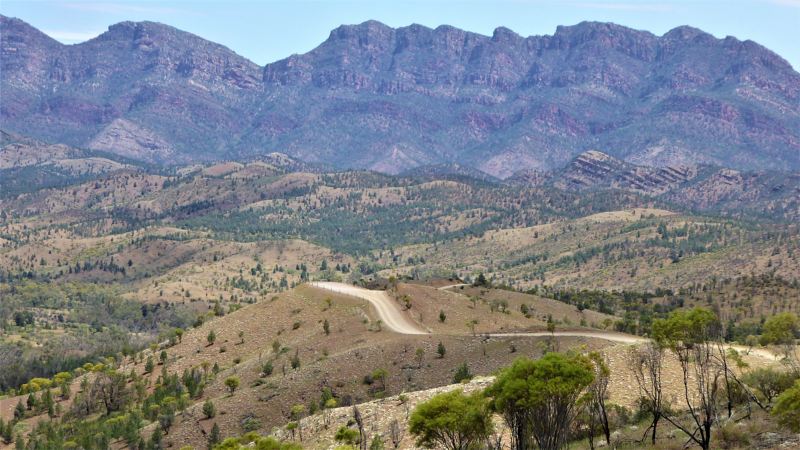 The next day the Touareg settles back into a comfortable touring mode for a leisurely return to Adelaide. Our route takes us through Melrose, another delightful town and nirvana for mountain bikers thanks to challenging trails in the adjacent Mt Remarkable National Park.
We also stop at Kirrabara, which joined 30 other towns on the Australian Silo Art Trial two years ago. The painting by SMUG, aka Sam Bates, represents the region with a forestry worker and red-capped robins, a rare local species.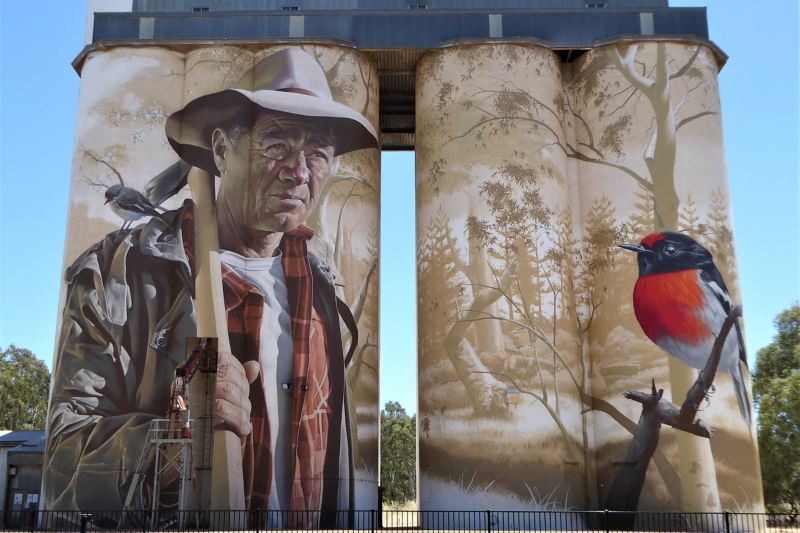 Our final stopover is reserved for another wine region: Clare Valley. There's time to sample some of the produce – at Knappstein, Shut the Door and KT Wines – and, best of all, dinner at Umbria. The chef at this popular rustic Italian restaurant has become known for his homemade kangaroo ravioli, which is every bit as good as its reputation suggests.
And of course there's pizza, if you wish. But after the latest COVID scare, it's best not to say too much about pizza.