Back to the beginning: Mandurah, Fremantle and Perth
Haitham Razagui | March 2019
Haitham Razagui and his wife Tace approach the conclusion of their retrospective WA trip, reliving decade-old memories from their around-Australia adventure in a 1974 Kombi and introducing their daughter to life on the road in a Multivan Kombi 70 special edition.
Perth, July 2007. A specialist in classic VWs operates next door to the tyre and mechanical workshop where I've been saving up to buy a vehicle for my wife Tace and I to take on a cross-continental adventure.
They know of a man who has spent months renovating a certain turquoise 1974 Kombi but longs to follow his sweetheart, who has gone back home to France.
With the above useful intel, the offer from this pair of cheeky British backpackers is low. After a long silence from our lovesick Kombi seller, it is accepted. After all, he needs the money for a long-haul airfare.
Fast-forward 11 years and we've made Australia home. Lifelong friends we made on that epic Kombi adventure are getting married in Western Australia and Volkswagen is commemorating 70 years of the iconic bus with a special edition T6 Multivan.
We're in Mandurah, having driven the Multivan (which our daughter Tulsi has named 'Kamps') from Perth to Albany and through the Valley of the Giants, then visited Cape Leeuwin at the very southwestern tip of Australia before travelling up through the Margaret River region to explore the underwater observatory at the end of Busselton's 1.8km-long Jetty.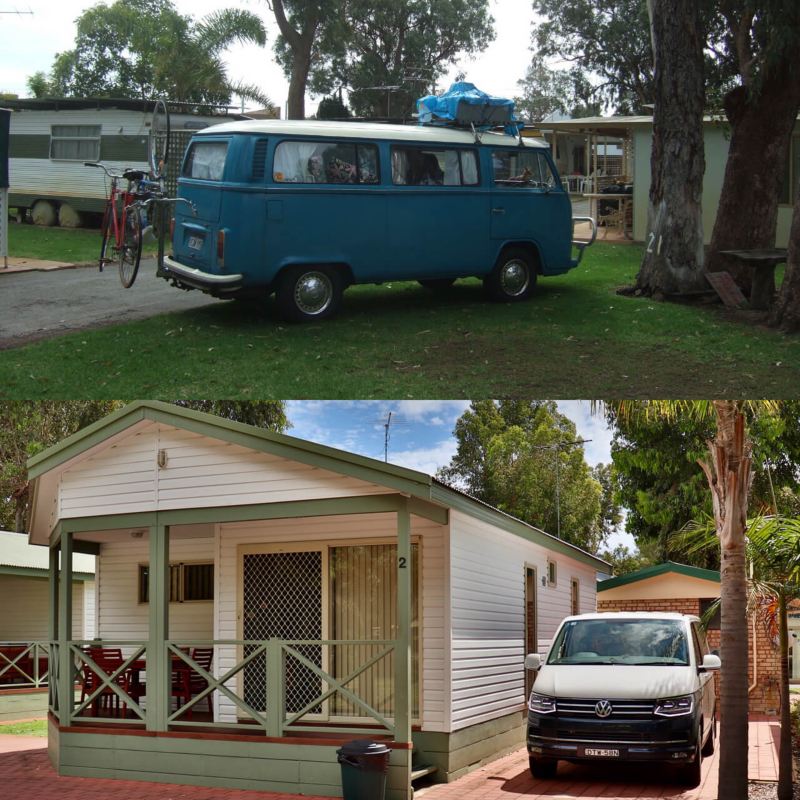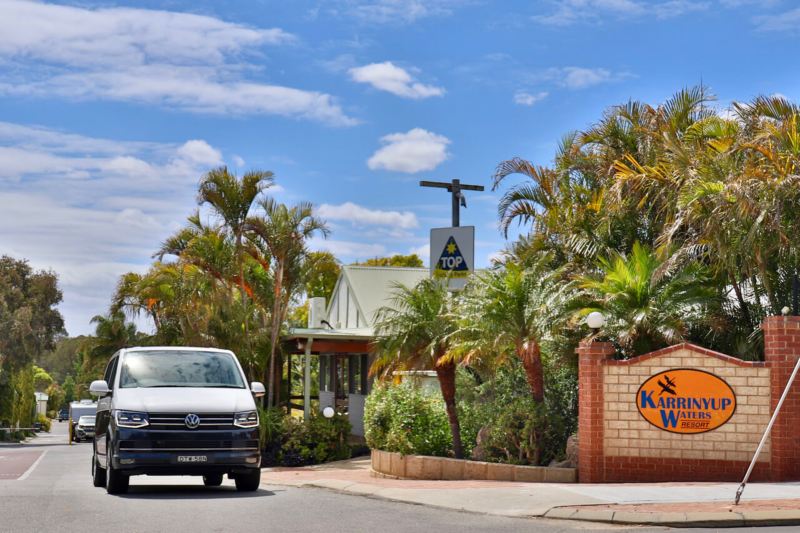 I remember making a phone call to my mum back in 2007, in which I told her that every day felt as though we'd stumbled into a David Attenborough documentary.
A dramatic change since 2007 is the fast road now linking Busselton and Mandurah, making the journey an absolute breeze.
We're glad to be in a spacious, air-conditioned van with dark window tints as we change into the glad rags we've been transporting around WA in preparation for today, in a secluded spot around the corner from the wedding venue. We ponder, does the Multivan's colour scheme count as bringing 'something blue'?
Celebration of love enjoyed and recovered from, we check into two bedroom cabin at Mandurah Caravan and Tourist Park, the reception area of which doubles as a gift shop that is like a shrine to the Kombi.
Our 2007 visit to Mandurah was unplanned because Bessie had developed a misfire and, being a weekend, we had to wait until Monday to get her some mechanical attention. Of course, our modern Multivan hasn't missed a beat, so we spend a relaxing afternoon on the Mandurah Cruises vessel Mandjar, exploring the local waterways and spotting dolphins.    
This region being home to WA's largest population of Indo-Pacific bottlenose dolphins, it doesn't take long to find a pod of them. The Mandjar then heads into Mandurah's Miami-style canal network so we can sticky-beak at some flamboyant waterfront homes.
A curious sight among the modern mansions are the old stone homestead and outbuildings of Sutton Farm, some of which date back to 1870 and represent some of the earliest European settlements in the area. Stranger still are the real estate signs saying this heritage site is for sale.
The last part of our tour takes in the abundant bird life of the wetlands, including the same North Asian migratory species we first learned about during a visit to Bribie Island close to our home in Queensland.
None of this is of more interest to Tulsi than a large play area on the foreshore she has spotted from the boat. Luckily, it's not a long walk from our disembarkation point and even better, we can round off this delightful day with a delicious treat at the nearby Simmos ice cream parlour.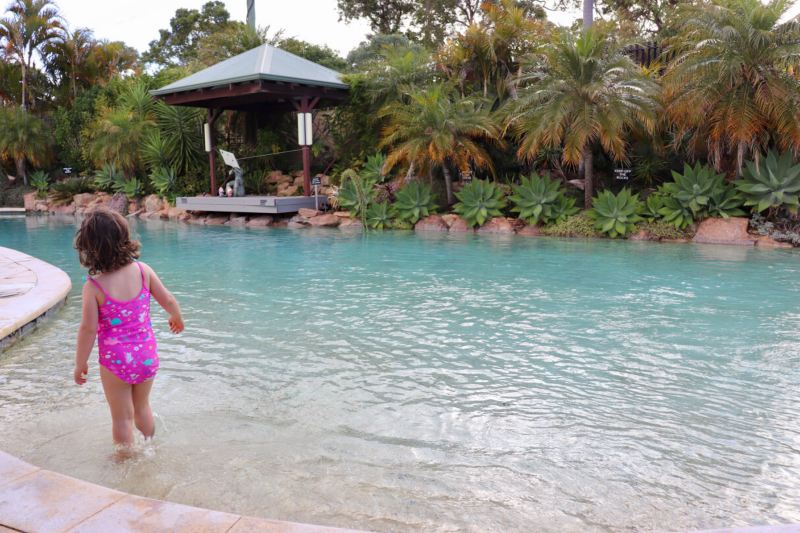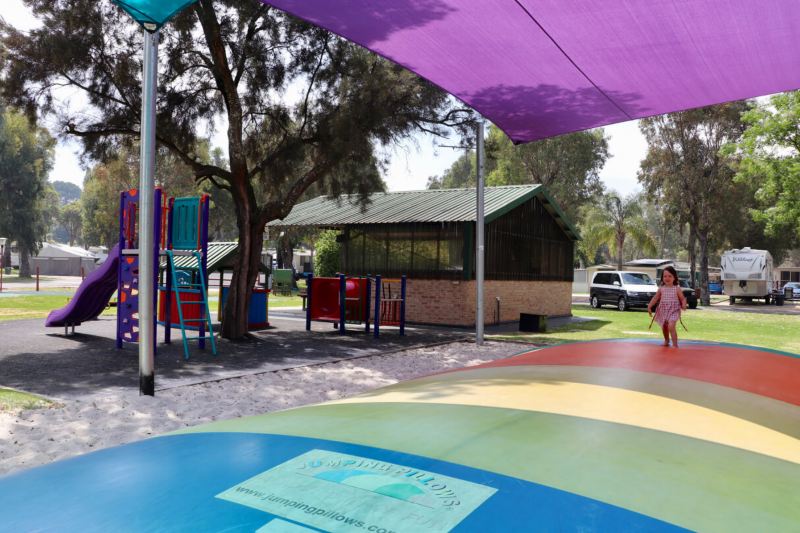 Tulsi, who has been sleeping since we left Mandurah, wakes we trundle through Fremantle. Her first words, having observed the historic buildings outside, are: "Why are we in London?"
Freo feels a hell of a lot busier than it did in 2007. Back then, we enjoyed the youthful atmosphere juxtaposed by a backdrop of old buildings. Now, it appears to have become the hipster capital of WA. It's as colourful and vibrant as ever.
Our priority is to visit the famous markets – Tace is on a mission to replace some shoes she bought here years ago – and we gladly find the carnival atmosphere is still there along with an even greater diversity of products, from local handicrafts and boutique clothing labels to fine art and unusual children' toys.
The quality of coffee and street food – now with a low-carb, grain-free, vegan twist – has stepped up several notches too. I suspect this has something to do with all those hipsters.
Back in the day we'd regularly visit Kings Park, perched high above the Perth CBD and one of the world's biggest inner-city green spaces. Covering more than 400 hectares, more than a third of its area dedicated to native bush.
Eight hours a day lifting heavy 4x4 wheels and tyres at work kept me fit in 2007, but Tace would spend lunch breaks from her office job running up and down the 242 steps of Jacob's Ladder, a steep pedestrian entrance to Kings Park.
From Kings Park, the views over Perth and the Swan River are still glorious. There were cranes on the skyline in 2007 and there are more today. In addition to a number of extra skyscrapers, a lot of things have been modernised, public transport has been extended and a vast new stadium dominates the horizon.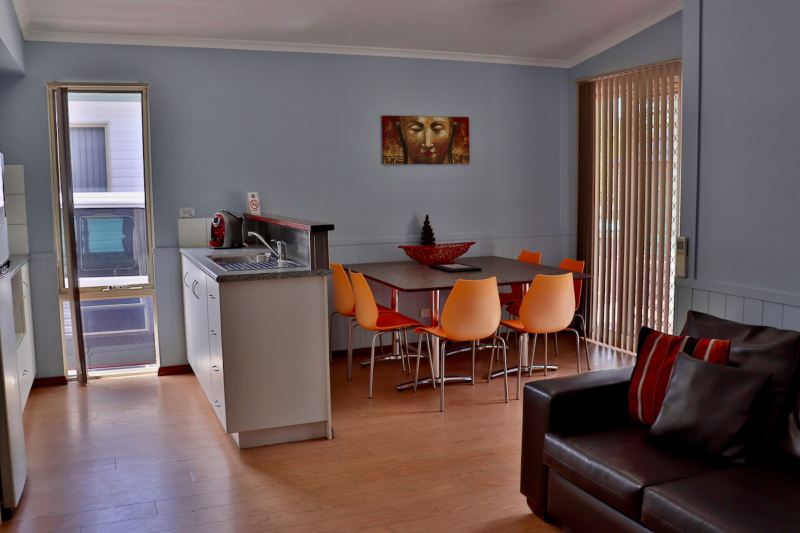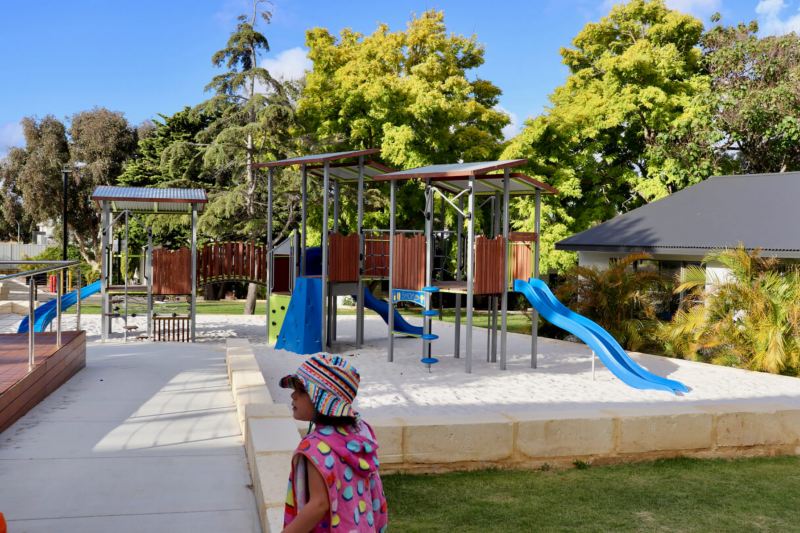 Our final stop is the conveniently located Karrinyup Waters Resort, where we slump into the comfy sofas of our two-bedroom cabin for a while before exploring the resort's two playgrounds and make the most of the tropical leisure pool, which is adjoined by a lap pool and large spa. 
It's not far from the workshop where I sent three months saving for Bessie, and the VW specialist next door that gave us the ultimate excuse to buy her. For nostalgia's sake, we drive by but it's a Sunday so both are closed.
Scarborough, though, is even more pumping than we remember it was in 2007, full of revellers dressed to impress and enjoying a Sunday session at sun-down.
"I don't want to go home," says Tace, as we watch our last WA sunset.
But I do. In this van, via Darwin.
Epilogue
As for Bessie, her French connection proved strangely circular at the end of our journey. She was bought by group of backpackers from France. I don't know what happened to her next, other than uncovering a Gumtree advertisement that suggested they had tried to sell Bessie in Cairns. I'd love to hear from anyone who recognises her and the message we wrote on the pillar of the sliding door.