Camping in Sydney with the

Golf R

Wagon

Haitham Razagui  |  November 2019
Three generations of Haitham Razagui's family enjoy a poetic conclusion to their 4000km inland odyssey from Cooktown to Sydney, in a Golf R wagon.
The last time we stayed at Lane Cove Holiday Park was March 2008. As with tonight, we were in a Volkswagen Golf R Wagon and as with tonight, our arrival here marks the end of an epic journey.
One big difference: Last time we found our way here using a paper map and got it right first time. Tonight, we are third time lucky, having first failed using Waze, then Google Maps. Both got us stuck in Lane Cove National Park as rangers prepared to lock the gates, then one-way systems and the battle of evening Sydney traffic. Despite its reputation, it was Apple Maps that successfully guided us here in the end.
Another big difference: Last time it was just my wife Tace and I, in our 1974 Kombi, having driven here from Perth via Darwin, Adelaide and Melbourne. Tonight, Tace and I are with our daughter and my mum. All four of us have travelled the Great Inland Way from Cooktown, racking up 4000km on our Golf R Wagon in the process, and amazingly have got along famously for the entire trip.
There's little reason for Sydneysiders to know about Lane Cove Holiday Park, but for road-trippers it's perfect. Nestled in the aforementioned national park yet with all the action of Australia's most populous city all around, it's possible to get a civilisation fix without jarring yourself out of that dreamy road-trip rhythm.
It's pretty convenient, a 15-minute walk to a bus stop near the cluster of big-name corporate headquarters along Delhi Road followed by another 20 minutes or so on the bus and you're in the heart of Sydney CBD.
Or, if public transport isn't your thing, driving takes less than 20 minutes when traffic is on your side and you can park right beneath Sydney Opera House for just $14 provided you book the parking space online, arrive before 9.30am and leave by 7:30pm.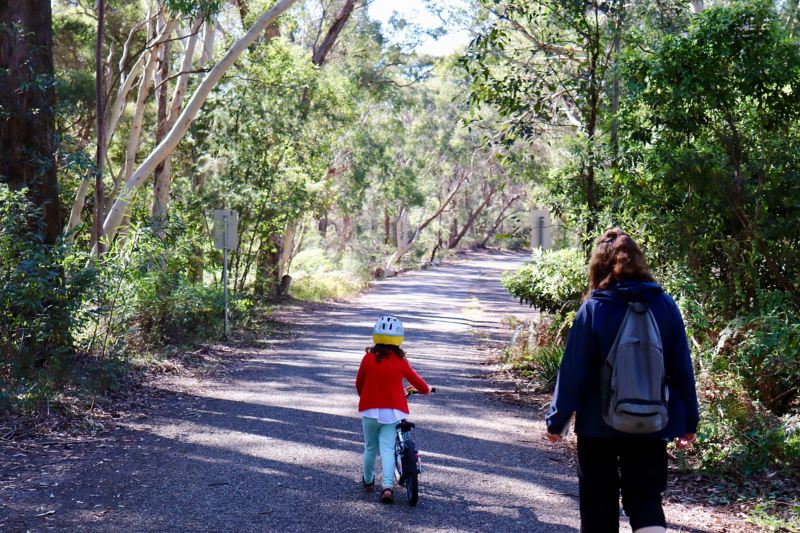 Naturally our beautiful self-contained Kombi provided all the accommodation we needed back in 2008 but this time the four of us check into a family cabin, which has been thoughtfully pre-warmed on this chilly August evening by our hosts. A further welcoming touch is the pack of muffins and a friendly note left on the dining table.
It's a huge effort but equally cathartic to empty our seemingly endless possessions from the extraordinarily capacious Golf R Wagon and into the cabin before settling into a well overdue dinner and slumping exhaustedly into bed shortly afterward.
A kookaburra is on the balustrade of our deck when we rise the next morning, followed by a typically enthusiastic lorikeet and a brush turkey bold enough to walk through the open door.    
I take a walk around Lane Cove Holiday Park, reminiscing and finding the plot where we parked our Kombi all those years ago. My memories of the place have been clouded by time, but it seems little has changed and the wildlife is at least as abundant as I recall.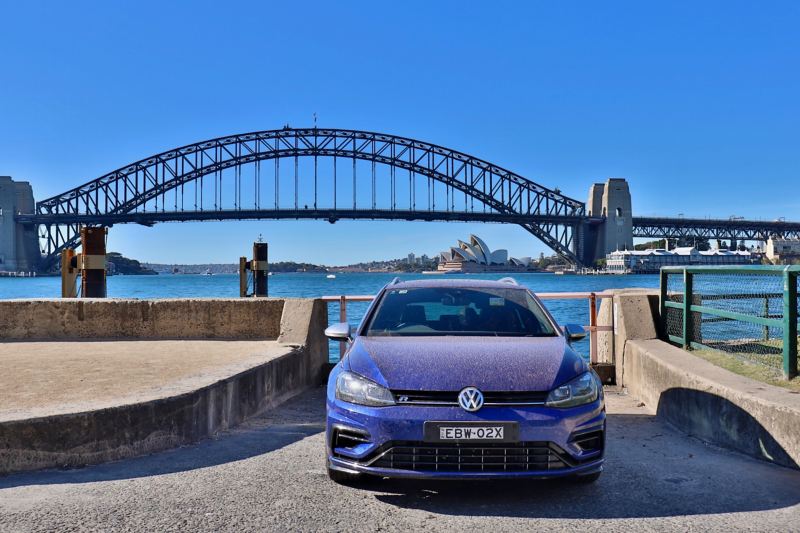 This is my mum's first visit to Sydney, so she and Tace accompany the youngest member of our crew, who is atop her balance bike, down to the national park where I will meet them with the Golf so we can drive into the city.
Glorious bushland, big boulders and rocky outcrops line the Lane Cove river and our daughter ends up spending hours at the playground, clearly relishing the opportunity after so long on the road.
She is interacting beautifully with local children whose parents and grandparents – oblivious to the reason for her joyfulness – thank her for playing so generously.
The crisp morning has turned into a warm, perfect blue-sky day. It's hard to tear ourselves from the playgrounds and nearby café, so we decide Sydney Royal Botanic Garden will be our next stop. But not before a triumphant end-of-journey photo of the intrepid, dusty, bug-spattered Golf in front of Sydney Harbour Bridge from Blues Point.
It's a thrill for my mum to be driven across the harbour bridge and she enjoys the juxtaposition of historic and modern buildings as we travel through the CBD before spiralling down into the corkscrew-like car park beneath the famed opera house.
Family happy-snaps with the bridge and opera house prove irresistible beneath this huge blue sky before we stroll through the botanic gardens and find a table outside the just-refurbished Farm Cove Eatery for a late lunch.
Having travelled the Australian outback and trekked through desert, rainforest, bush and scrub, it is in these genteel surroundings that we sustain our first injury at the hands of native wildlife. An opportunistic kookaburra swipes a hot chip from my mum's hand, its razor-sharp beak drawing blood in the process.  
It's a magical moment to savour

We resume our trek all over the botanic gardens – our daughter sniffing every flower in sight – before returning to Circular Quay as the evening light fades and temperature drops then boost our blood sugar at a chocolatier before jumping on a ferry to Darling Harbour for dinner so we can enjoy the glitter and glitz that is Sydney by night.
It's been a long day and our comfortable cabin is a welcome sight when we return to Lane Cove Holiday Park well after our daughter's bedtime. Tomorrow's my mum's last day in Australia, so we'll make it a good one.
While art-loving Tace takes in the Young Archie portrait exhibition, I take my mum and daughter to the Sydney Harbour Bridge Pylon Lookout. We navigate our way through tightly-packed, labyrinthine streets and alleyways between historic buildings of The Rocks before climbing a staircase up to the famous bridge.
In addition to excellent views of Sydney Harbour and getting you high enough up the bridge to appreciate its scale without going for the much pricier – and strenuous – bridge climb excursion, the Pylon Lookout houses a fascinating museum dedicated to the story of how this now iconic bridge was conceived, designed and built before it opened in March 1932.
Before emerging onto the rooftop viewing deck, we learn that like any major public infrastructure project today, the bridge was not without its controversy and that 16 lives were lost during its almost eight-year construction, which cost the equivalent of $1.5 billion in today's money.
After making our way back down, we meet Tace for lunch at the Glenmore hotel beside the bridge before the real finale of our Great Inland Way trip from Cooktown: An afternoon cruise aboard The Southern Swan, a Danish barquentine vessel constructed in 1922 that ended up sailing to Australia as part of the bicentennial First Fleet re-enactment in 1988.
Of course, to our thrilled daughter it's a pirate ship and she's even more excited when the skipper allows her to take the helm. Icing on this substantial cake comes when the on-board guide points out the building on which the Finding Nemo movie creators based 42 Wallaby Way.
We sail back toward Campbell's Cove as the sun sets and my mum thanks me for what has been a real highlight to her action-packed trip across Australia.
As we step off the boat, the setting sun briefly casts a shadow of the harbour bridge's latticework onto the sails of the Opera House. It's a magical moment to savour before dropping my mum at the airport, washing the Golf of its accumulated 4000km worth of dirt, and preparing for our return to normal life.
Back to just the three of us at Lane Cove Holiday Park, we condense everything we've carried here in the Golf from Cooktown – and plenty of stuff we've gathered along the way – into suitcases we can check in as luggage.
The last time we departed this place, it was for a different return to normal life. We used the money from selling our Kombi to book flights back to the UK, having been away for 18 months.
Little did we know we'd be back at Lane Cove Holiday Park more than a decade later, as parents and Australian citizens.
To us, it just made sense to drive a Volkswagen Golf R Wagon here from very, very far away.