Mark Daffey | January 2021
In my mind, Victoria's Great Ocean Road has always been split into two parts. The first, from Torquay to Cape Otway, is one I know well, having holidayed along that stretch of coastline since I was a teenager. It's filled with memories of surfing at Bells Beach and Winki Pop and snorkelling around the reef off the Anglesea River mouth at low tide. There were hikes down trails to waterfalls near Lorne, and along cliff tops near Aireys Inlet and Moggs Creek. When I was old enough, there were plenty of nights out at pubs and restaurants too.
The second, from Cape Otway to Allansford, just before Warrnambool, has proved more elusive. I can only recall travelling along that section twice – both hastily, and without ever staying overnight. I've never lingered long enough to visit all of its coastal attractions or its dairying hinterland, largely because of the extra distance from my Melbourne home. It was easier to stick to the area east of the Cape.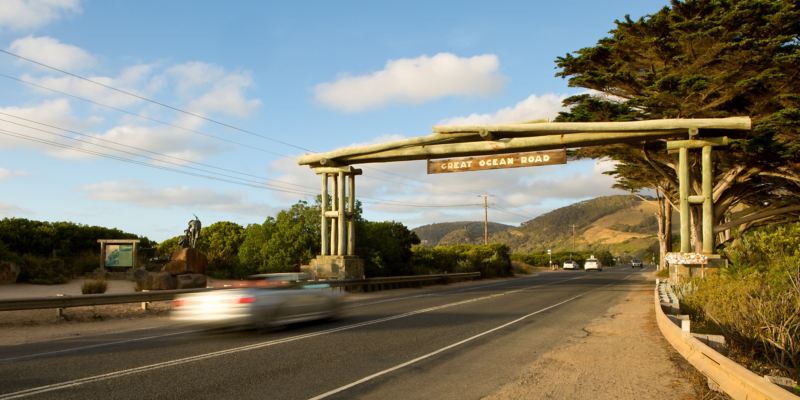 It's been years since I've travelled along that second half of the Great Ocean Road, west of Cape Otway, but I still remember how much the countryside there contrasts with that east of it. Where the eastern half is blessed with golden beaches shadowed by heavily forested mountains or nestled between rocky bluffs, the western half is barren and windswept, and much, much wilder.

Since my last foray west of the Cape, the Great Ocean Road has been inundated with coachloads of tourists, both domestic and foreign. To my disbelief, thousands have completed the 650km round trip from Melbourne in a day – a horrible thought that I would never consider trying to replicate.
But then COVID put a stop to that. After months of hard lockdown, and with state borders still in the throes of opening up to a wary interstate population, Melbournians like me could finally break free from our metropolitan incarceration. My wife and son and I would be to happy go anywhere. But with much thinner crowds, the Great Ocean Road was the route that beckoned most.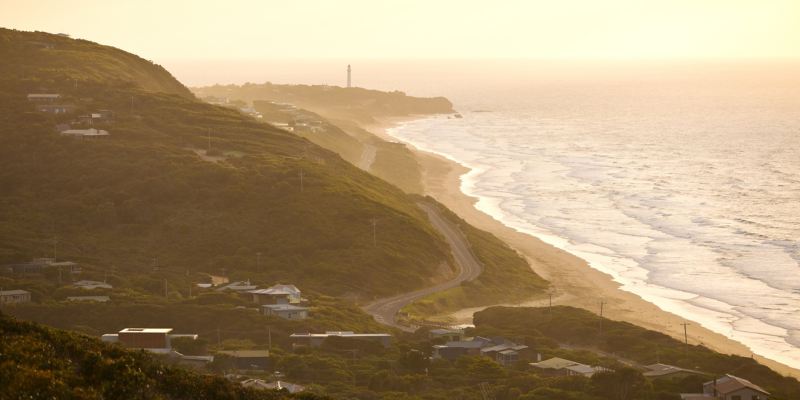 We set off from home in a sporty T‑Roc, whose Flash Red colouring is bound to turn heads wherever we go. We've allowed two full days to complete the route, starting from the family beach house in Anglesea. Had I not be so familiar with the route's early stages, two days would have sold it way too short. For starters, it's one of the windiest roads in the country – perfect for the T‑Roc, which would handle the bends easily. But it restricts to driving speeds to well below 100km/hr for most of the way.
Then there are the inviting beaches and the limitless surf breaks. Countless walking trails follow the coastline; others detour inland, alongside mountain streams. And scenic lookouts are impossible to drive past, so spending a week or more here is easily doable.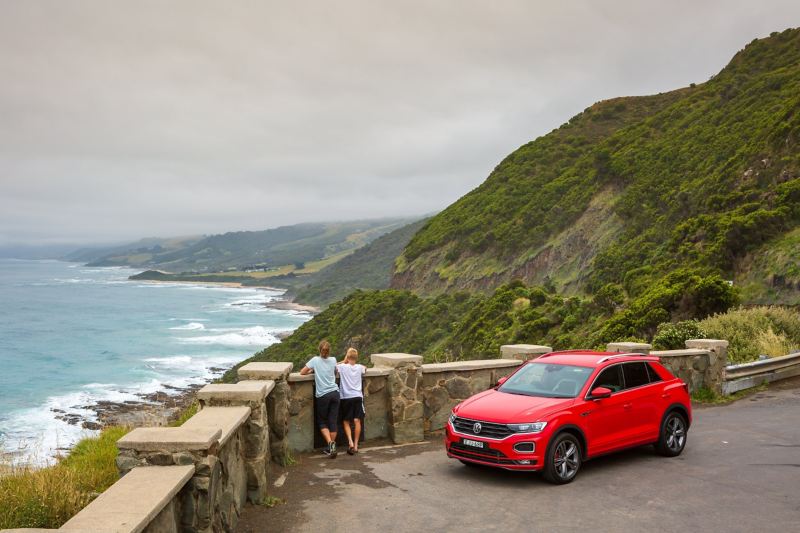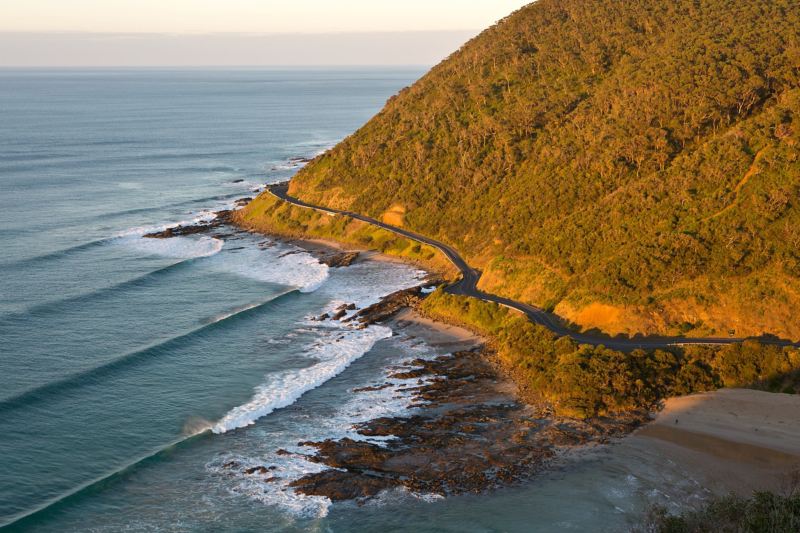 Aireys Inlet's Split Point Lighthouse is visible across the water the moment we exit Anglesea but we drive on through, continuing on to Fairhaven and Eastern View. Every time I drive along this magnificent stretch of beach, I imagine living here in my dream home, clinging to the hillside and overlooking the sea.
In Lorne, we wind along a narrow back road to Teddys Lookout, overlooking the Sheoak River mouth, then return to the water's edge to stroll along the Lorne Pier at Point Grey. Today's concrete structure is twice as long as the rustic timber pier that I once jump off with university friends. It's something I'm sure my kamikaze son Finn would enjoy doing and I suggest we return some day when the weather is kinder.
"We could bring Leo and Michael," he says, referring to his equally daring cousins. Then I discover that jumping off the pier is now prohibited. It probably always was.
Our arrival in Kennett River coincides with our morning coffee break. A colony of koalas is known to loiter in the treetops here and the tables outside the Kafe Koala General Store are often the perfect place to spot them. Not today though, as they remain hidden away somewhere. But the barista-brewed coffee and homemade cakes we order mean it's still time well spent. Besides, we know there are more opportunities to see koalas further along the road.
Kennett River is located roughly halfway along the most dramatic stretch of road linking Torquay with Warrnambool. The highway clings to the shoreline, rising and falling with the mountainous terrain. From Cape Patton, we pause at a viewpoint looking towards misty green pastures that slope towards the ocean.
"It reminds me of Ireland," says Michelle.
"Yeah, me too," adds Finn. "Even though I haven't been there."
A salty breeze fans our limbs as we hike along a trail to Marriners Lookout, above Apollo Bay. On calmer days, hang gliders would be launching skywards from this point, just as they do back from Scion Kop back at Moggs Creek, near Fairhaven.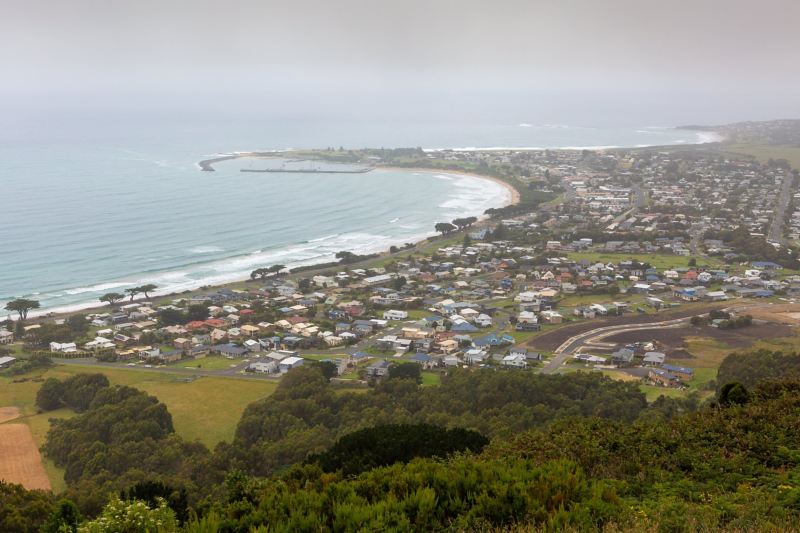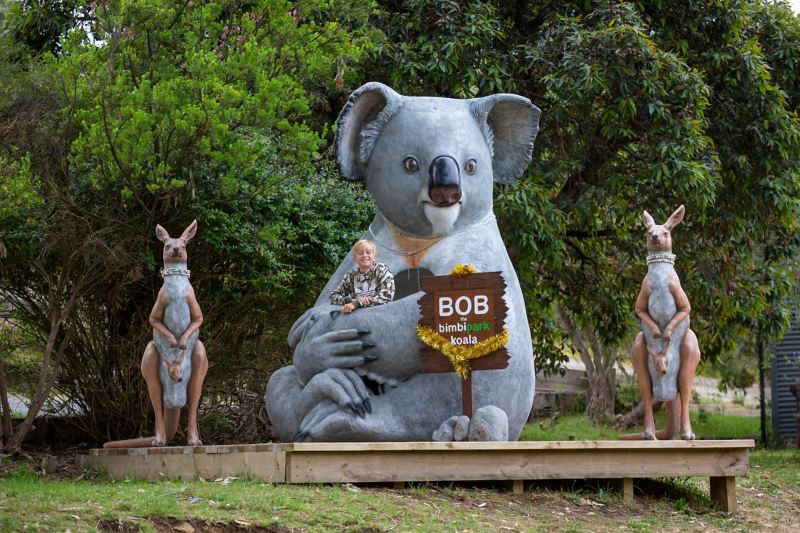 Luscious rainforests nevertheless hold scant appeal to young teenagers, who would rather play mini golf or tackle the climbing wall at our holiday resort among the manna gums at Cape Otway. One round of golf is enough to make him ask if we can return another day.
That evening, I drive south, on my own, to Cape Otway, the point where the Southern Ocean collides with Bass Strait. Eight ships were wrecked along this part of the coast, leading to the construction of a lighthouse in 1848. It's open daily, from 10 am to 5 pm.
I've mistimed my visit, arriving just before sunset and instead content myself with a glimpse of Victoria's oldest operating lighthouse through a clearing in the bushes. Kangaroos, wallabies and black cockatoos accompany my journey back to the resort. Still no koalas though.
In Apollo Bay, a carnival has been set up along the grassy foreshore for the duration of summer, fronting a sweeping beach that continues for miles on end. The carnival includes a towering roller coaster – an impressive step up from the usual coastal fare of merry-go-rounds and dodgem cars that I grew up with. Finn, of course, asks if he can ride it.
"It's not Disneyland," he says, "but it will do."
From Apollo Bay, we stop for one last time before bedding down for the night in a comfy Eco Cabin at the Bimbi Park holiday resort. Maits Rest Rainforest Walk commences beside the highway as a kilometre-long trail where lichen grows on mosses, which grow on ferns, which grow on Myrtle beech trees. One myrtle beech that's over 200 years old is actually three conjoined trees and is Heritage-listed because of how unusual it is.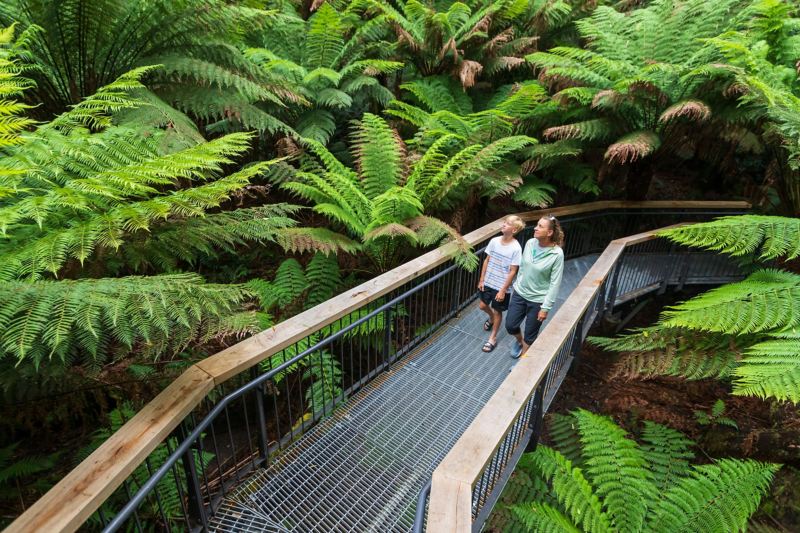 I'm staggered to calculate that we've barely driven 100km for the day – an effort we repeat on our second day. If there's one lesson we learn about touring along the Great Ocean Road, it's to allow plenty of time. From Bimbi Park, we take all day to reach Peterborough, where we check into our cabin at the Great Ocean Road Tourist Park. It takes us eight hours to drive 104km.
"I can't believe people who drive down here from Melbourne and expect to be back home that night," says Sarah Hellessey, owner of the park, when I tell her how far we've come.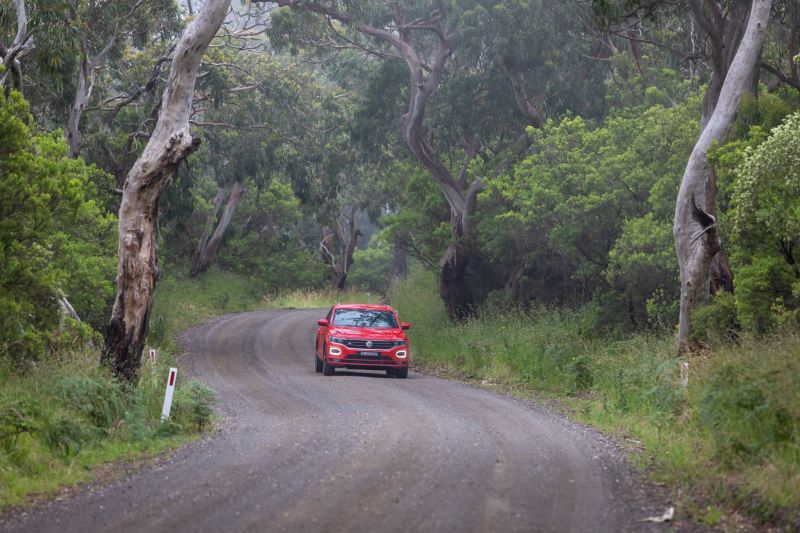 Finn had moaned and groaned all morning, confessing multiple times how he'd rather be back playing mini golf at Bimbi Park than driving all day. Spotting koalas in the trees outside the entrance to Bimbi Park even failed to perk him up. But then we reached Wreck Beach, where he ran around like he was 12 again, skimming rocks on the water and jumping puddles, or climbing cliffs whenever they allowed him to.
Wreck Beach is named for the rusting anchors of two 19-century shipwrecks that are embedded in tidal rock shelves along the shoreline. It is accessible via a 375m stairway from the car park at Moonlight Head – home to the highest sea cliffs along this coast.
In places, the sea cliffs around here are so neat and sheer they could have been sliced with a bread knife. That's certainly the case at Gibson Steps, where a stairway has been cut into the cliff face, leading to a beach beside two of the fabled Twelve Apostles that the Great Ocean Road is most famous for, inside the Port Campbell National Park.
Just eight of these limestone sea stacks remain intact, towering up to 40 metres tall and backed by sea cliffs that are half as high again. The ocean is a restless beast here, pounding the coast with relentless force and often accompanied by howling southerlies driving up from Antarctica. It's a miracle any of the Apostles have survived till now, and the only certainty is that they'll all collapse someday.
The distances between each attraction along this coast are small and we are continually hopping in and out of the T‑Roc to visit viewpoints or hike down to beaches. Stops at Loch Ard Gorge, The Arch, The Grotto and London Bridge all eat into our day. Finn runs up and down stairways and hurtles down sand dunes. He digs holes in the sand while Michelle and I hike along Gibson Beach. Though he hardly needs it, he grows extra leg after a sugary hit of Timboon ice cream in Port Campbell.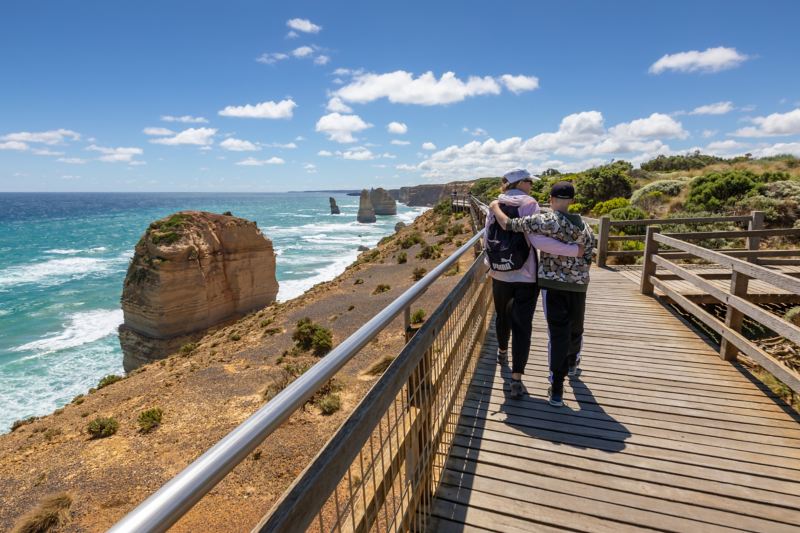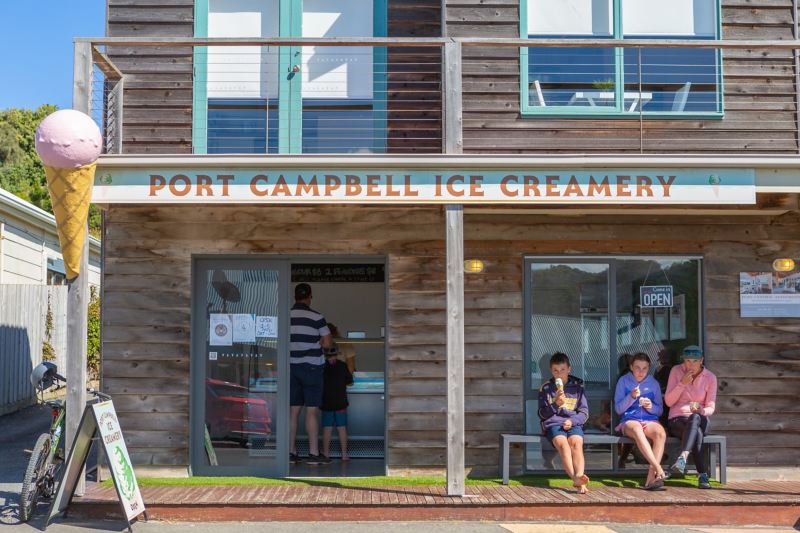 He's boisterous and playful thereafter and in some ways, I preferred him earlier. But there's no doubt that touring along the Great Ocean Road is a nicer experience now compared to how it was before we were all impacted by the global pandemic. I'd rather rub shoulders with one sugar-fuelled teenager than against thousands of strangers.