Brent Davison | November 2020
An adventure like no other, Brent Davison explores Jindabyne in the Touareg 190TDI.
THE FIRST TIME I saw snow I was struck by two things: its magnificent whiteness and its incredible iciness. I decided there and then I didn't much like it.
For me, snow is just too much like hard work. Car tyres need chains, skis and snowboards become the bulk of the luggage, clothing capable of sustaining an Antarctic explorer becomes a necessity and frostbite an expectation.
Cold weather? That's different. Rugging-up to go outside, drinking hot chocolate in front of a warm fire, the atmosphere of a warm café on a wintery day and saying "Brrrrrrrr!" while stamping my feet and clapping my hands together to make them warm are all great things.  
Enjoying the cold but disliking snow can be an interesting juxtaposition for a winter holiday. The answer? Stay below the snowline – low snow component, high fun factor. For me that meant the lower Snowy Mountains to visit places like Jindabyne, Dalgety, Cooma and Berridale, towns that don't just spring into life for the June - October Aussie snow season then creep back into hibernation when the weather starts to warm but stay lively year round.
Jindabyne, for example, has become a year-round town, Fun Central with an array of options for anyone visiting the not-really-snowy part of the Snowy Mountains, a handy stepping-off point for the snowfields but a popular location for water sports, fishing, hiking, bicycle riding, entertainment and the arts when winter departs.
Lake Jindabyne is a glorious sight for drivers cresting the last big hill and coming around a corner for an impressive view taking-in almost the full length of the lake.
The expanse of water to whose shore the pretty town clings is part of the incredible Snowy Mountains Hydro Electric Scheme. It is a popular spot for fishing types, boating, sailboarding and stand-up paddle boarding (or as I like to call it, 'Getting Embarrassingly Wet') in the warmer weather. It even has its own yacht club.
The lake, with its 700,000 megalitre capacity and 3,035 hectare surface area (give or take a hectare or two), is one of the largest fresh water reservoirs in NSW and at roughly 70 kilometres around, requires a swag and ration pack in any circumnavigation plan.
Interestingly, the original Jindabyne township was sacrificed back in the 1960s to create the lake and now sits on the bottom. Every now and then, when the water level falls far enough, the old buildings emerge as a haunting reminder of the past.
Adventurous types can try the Lake Jindabyne Shared Trail Network, a project connecting the outer villages with single track hiking and mountain bike trails and will eventually loop the lake, linking with the region's existing trails.
The Mill Creek section of the trail, a 6.5-kilometre haul connecting Jindabyne to Tyrolean Village, is already open and the next stage is a nine kilometre track linking Curiosity Rocks to Hatchery Bay.  As well, there are some 40 kilometres of shared hiking and biking trails, making the Snowy Mountains a superb adventure destination.
Riders who prefer pleasure over pain can take the e-bike option and local bike shop, biking advice bureau and treadly fixer-upperers Sacred Ride will happily hire them out.
Officially, mountain bike season starts on November 14. Unofficially? If you can pedal then life is good all year round.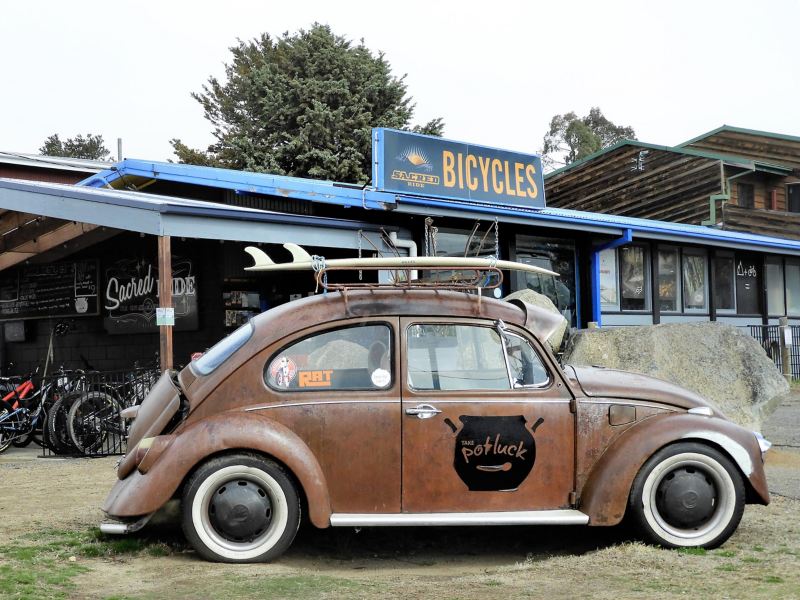 Artists are almost as prolific as hikers and bikers in the lower Snowies, no doubt stimulated by the seasonal moods and inspired by the region's changeability.
The exhibition needs of some 30 district artists have been met by the Jindabyne Art Gallery, a communal volunteer project helped by commercial support. It exhibits works across a wide sweep, from photographs and paintings to sculptural installations.
"We exhibit whatever the artists want to bring in. Many of the pieces are for sale but some are just for display," gallery spokesperson and artistic photographer Wanda Lach said. "Down the track we hope to have a broader range such as written work; poetry and the like and expand our offerings to have workshops with local artists."
Culturally, the region eases into the cooler weather each Easter with Jindabyne's Lake Light Sculpture Festival, an art show and sale in which sculptures adorn the town's foreshore, bringing art to the people and people to the art.
But there is even more to these mountains.
Berridale village, about 30 minutes' drive from Cooma on the road to Jindabyne, is home to Shut the Gate Wines cellar door and The Little Grocer, a gourmet providore-cum-general store-cum-classy bottle shop that evolved organically from a cellar door operation with a little push from COVID-19.
Want milk, bread and peanut butter? No problem. Need eggs, chocolate and ice cream? Too easy. Desire free range eggs, garlic, varietal cheeses, truffles or a gourmet meal that only needs heating? Done. Want a crisp red, semi-dry white or a delicious 'sticky'? You have come to the right place.
Meals can be served in front of the fire, accompanied by a glass from the winery's broad, award-winning selection.  Every variety has a unique label with beautiful artwork which tells its own story. 
Shut The Gate is the well-known South Australian winemaker's Snowy Mountains annexe, a comfortable lazespace and gourmet shop with dedicated tasting room attached, a comfortable, inviting place in which to showcase premium wines.
"We didn't want to open the kind of cellar door that scares people. After all, wine is just fermented grape juice and it shouldn't be taken too seriously," owner Rasa Fabian said.
"We take our wine making seriously but we believe people should have some fun with it."
That fun includes an outdoor alfresco dining area which holds over 120 people and hums with laughter and music in the warmer months.
Our accommodation at Lake Crackenback Resort and Spa, a teeny step above the snowline is, quite frankly, picture perfect. Chalets and lodges are spread casually around the lake with the main buildings and restaurant almost overhanging the water, which provides a beautiful backdrop to the dining experience.
Waking to a landscape shrouded in mist and with light snow falling, the stark, natural beauty was reminiscent of northern hemisphere postcards.
The weather put paid to any attempt at the archery, golf and fishing on offer but did encourage a bracing walk along the banks of the Thredbo River to admire the multi-hued trunks of the Snow Gums. At least the ducks paddling contentedly in the freezing water seemed to be enjoying themselves.
Having survived the walk on the wild side it was time to have a microscopic look at Jindabyne, where the snow was not falling and the weather was comfortably cold with occasional bursts of freezing.
The unexpected arrival of snow, incidentally, made me appreciate the robust and comfortable all-wheel-drive Volkswagen Touareg I was driving, especially when I saw 'regular' cars scrabbling for grip and one unfortunate waddle off the road into a ditch.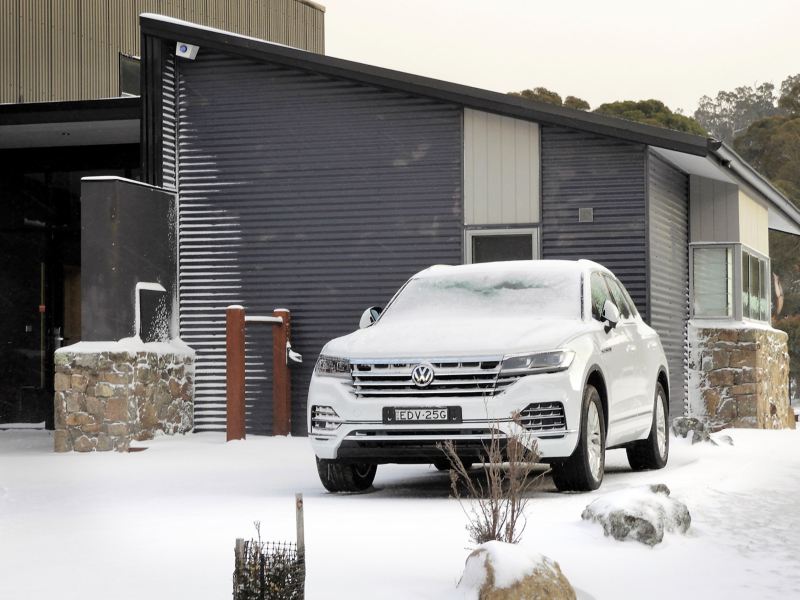 Jindabyne locals are, I discovered, patient and caring people. They have to be because even in this weird COVID year the tourists still arrived, parking was difficult, shops were crowded and ski passes limited. Even getting a seat in a coffee shop meant queuing.
Yet in a display of mass kindness the native Jindabynians surrendered their seasonal ski passes so that more tourists could visit, keeping the tourism industry's wheels turning and the tourist dollars flowing. A selfless and sensible gesture by the locals.
Cold weather has its own level of fashion, too. Parkas, boots, bright colours and impressive headwear.
At Birchwood Café, for example, it was noted that almost every customer was a beanie wearer, the cold climate symbols flaunted in various styles and shades from tight and tall to fat and floppy, some in garish multi-colours and others with stylish pom-poms and similar adornments. The important thing? Everyone had cozy heads and warm ears!
Birchwood Café specialises in seasonal produce and fresh ingredients, serving healthy food with style. The broccoli and blue cheese soup was warming, hearty and just the thing for the weather outside and the coffee, hot and strong, was pure bliss.
Heading back out from Jindabyne to Wild Brumby Distillery on the Alpine Way near Crackenback, Sebastien Druege was happy to pose with 17-year-old Florence.
They make an odd couple. Florence is bold, brassy, attractive in her own way and with a wonderful floral bouquet about her. Bespectacled Sebastien is older, more reserved but happy to talk of the many adventures they have shared.
Austria is famous for its castles, its mountains, Mozart and the Von Trapp family – and schnapps, a drink invented to warm people up after a day on the piste.
Sebastien, who came to Wild Brumby from Austria to work as its master distiller, explained that every distillery names its stills and Florence is named for Wild Brumby owner Brad Spalding's grandmother.
Sebastien has tended to her every need since she arrived in 2004 to deliver her first vintage, giving her the clean mountain water, the fruit, herbs, spices and other ingredients necessary to make Wild Brumby's schnapps and she, in return, has produced thousands of litres of the heady liquid.
As well as the traditional style which, I can honestly say, is a cracking, ultra-smooth drop, Wild Brumby makes a number of flavoured varieties - pear, apple, peach, raspberry, butterscotch, chili and (seriously) apple strudel-flavoured baked apple schnapps. Sebastien also created a grape-based vodka about five years ago.
He and Florence are responsible for an award-winning gin using mountain botanicals and local produce as well as an ultra-limited-edition Snow Gin, using snow-melt water. Limited to just 50 bottles annually, it is sold-out months before distillation.
Wild Brumby is more than just a distillery and restaurant though, its tranquil grounds serving as an art gallery, home to a collection of beautiful sculptures which are, by themselves, worth the visit.
Back in Jindy, Jindabyne Brewing is a micro-brewery that has become a very popular location.
Perched on a hill, it has taken-on the persona of a scaled-down Bavarian beer hall and about the only things missing are gents in lederhosen and busty waitresses hoisting trays of frothy steins.
The brewery makes five distinct varieties and, not surprisingly, the 'cellar door' is a quite convivial place.
My favourite? The Hefe Weissbier, an unfiltered wheat beer with a great colour and a better taste.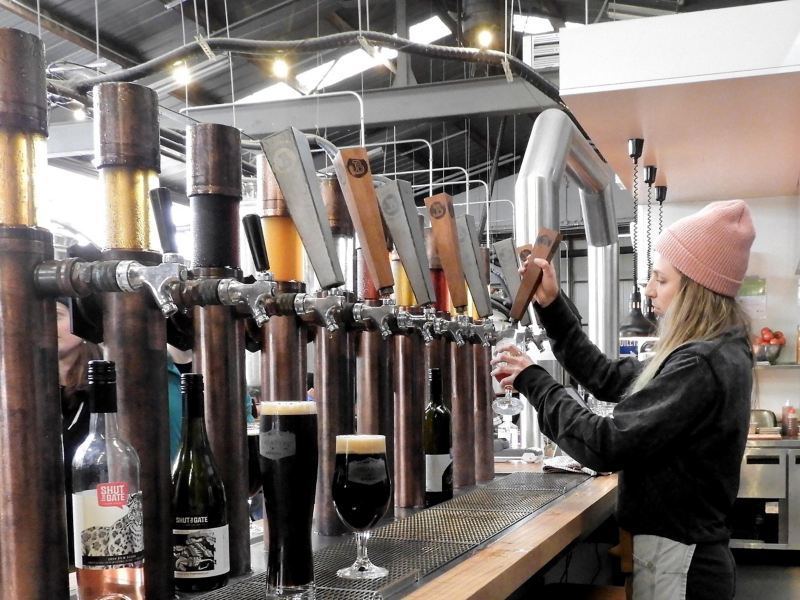 Other areas beckoned though and we toddled-off to Dalgety, 30 minutes from Jindy on the banks of the Snowy River, for a game of 'Spot the Platypus'.
Dalgety could have been our national capital but politicians got their way and chose Canberra instead, leaving the sleepy hamlet to its own devices and its populace to think about what might have been.
Dalgety is the launch point for an amazing drive over the rocky, treeless, windswept Monaro Plains to Cooma through a region that is completely different to the mountainous region around Jindabyne and the higher snowfields.
There is more to the Snowy Mountains than art, gastronomy and adventure sports – it is, quite literally, one of the most powerful locations in Australia.
Shaken awake in 1949 by the Snowy Mountains Hydro Electric Scheme, one of the world's modern engineering marvels, the mountains are now home to a series of dams, tunnels, pipelines, pumping houses and power stations that fit together in a humungous Meccano set assembled by armies of workers over several decades.
In Cooma, effectively the northern gateway to the Snowies, visitors to the region can see the whole thing laid bare at the Snowy Hydro Visitors Centre, a combination museum and educational area dedicated to the project and those who worked on it.
Three-dimensional maps show the 16 major dams, the 145 kilometres of tunnels and pipelines, the 80 kilometres of aqueducts and the nine power stations housing the 33 turbines producing 4500 gigawatts of clean, renewable hydro-electricity every hour.The Visitors Centre is open daily and has impressive Experience sessions every half-hour. It also has damn fine coffee available for the trip home.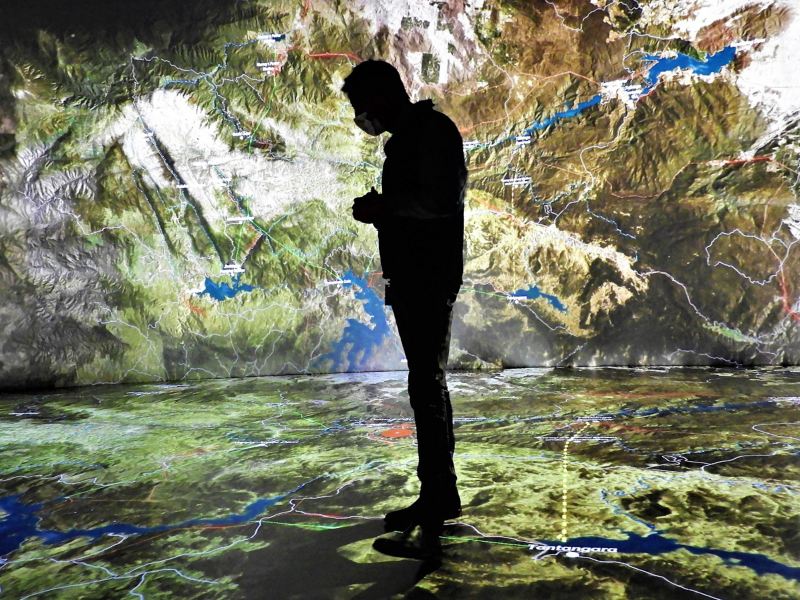 If my mission proved just one thing it is that even those of us who don't like snow and know that snow sports are not our cup of tea can find plenty to do at any time in the Snowy Mountains with more sporting, gastronomical and artistic pursuits than you can poke a stick at.
There are a thousand fantastic photographic locations promising a million perfect pictures.
Which pretty much sums-up the Snowy Mountains - an excellent location for a great break any time of the year where the only limitation is your imagination.