A fine old time with the

Golf R

Wagon

Paul Murrell  |  November 2019
Many a night has started out at a licensed club and ended up in a gaol cell, as did this one. Many have predicted it was only a matter of time before I ended up behind bars. But all is not quite as it first appears.
Mt Gambier sits on the slopes of a dormant volcano and is the second largest city in South Australia. Because it is so conveniently located almost precisely halfway between Melbourne and Adelaide it is the perfect stopover, but people planning a brief overnighter find plenty to lure them back.
And so it proved for us on our visit to family and friends in Gippsland.
We arrived in Mt Gambier late in the afternoon after a relaxed drive from Adelaide thanks to our comfortable and spacious Golf R Wagon. We could have taken the coast route along the Coorong but opted for the more direct path through Keith, Naracoorte and the wine districts of the Coonawarra and Penola.
Okay, I admit it: our first stop on arrival was the famed Blue Lake, one of three in the volcanic craters. While the lake certainly was blue, it wasn't as spectacular as we had been led to believe, until it was explained to us that it changes to a brilliant turquoise blue in November. Inexplicably, I have never been in Mt Gambier during its "turquoise" phase – it's all about timing! We circled the lake, stopped at the various lookouts and generally played tourist, along with crowds of others before making our way to our night's accommodation.
Like most other destinations, Mt Gambier has a range of accommodation choices, ranging from caravan parks and cosy B&Bs to the ubiquitous '70s-style motels. We decided to be a little more adventurous and stay in the Old Mt Gambier Gaol. Yes, it's a genuine gaol and as proprietor James says, "We are not the Hilton. We are not five stars. We are not full of mod cons, new technology and bright lights." The Old Mt Gambier Gaol is unlike anywhere you've ever stayed before (unless, of course, you've been banged up at Her Majesty's pleasure). And before you ask, no, it isn't haunted, despite three official hangings in its 129 years as a gaol (but none we know of since it became a hotel).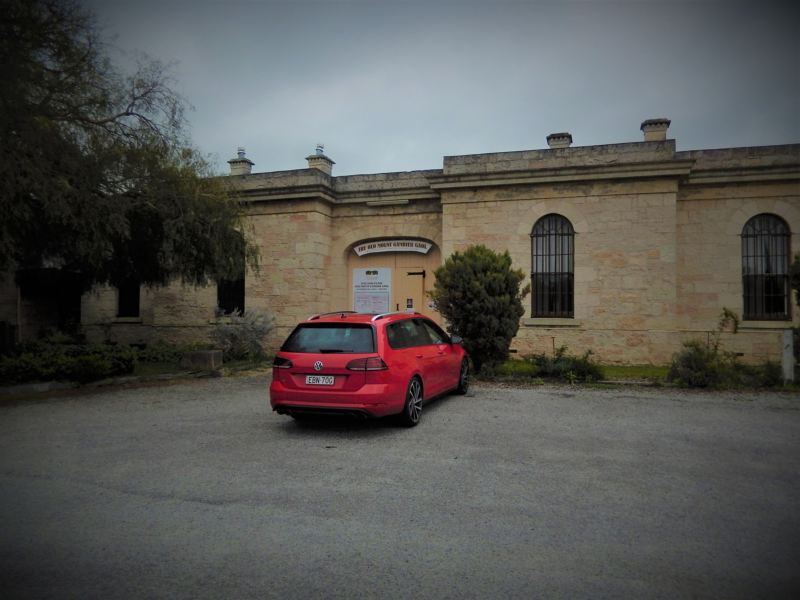 The large and forbidding front doors slam shut solidly behind us, and James welcomes us with what one suspects is a well-rehearsed explanation of the Gaol's background before showing us to our cell. It could be spooky but isn't, even though the gaol only closed its doors to non-discretionary guests in 1995. The heater has been on for a few hours so the small (six metres long by four metres wide) and austere cell is quite warm.
James and his wife Mel live in the warden's cottage on the property and proudly tell us this is the only prison accommodation in the world (plenty of decommissioned prisons offer tours but this is the only one to accept paying guests). It was opened in 1866 and James has carried out considerable refurbishment, but it will never gain five-star status; heritage listing and its original purpose will see to that.
As we check in, we enquire about Morrison's Jazz Club and James gladly goes online to make a booking for us.
James Morrison is an Australian treasure and one of the world's great jazz musicians. A few years ago, in partnership with the University of South Australia, he established his eponymous Academy of Music in Mt Gambier, opening up the world of jazz to aspiring musicians and giving them the opportunity to work with some of the finest jazz educators in the world including, of course, James himself.
We walk the few blocks to Commercial St West and find an unpretentious doorway. Once upstairs, however, we have been magically teleported from Mt Gambier to New York. This is a jazz club as I recall them – Frank Traynor's in Melbourne, the Basement in Sydney. The only thing missing, thanks to our more enlightened age, is a thick fog of cigarette smoke.
For the derisory entrance fee of $10 each, we enter a different world. Academy students, on this evening led by Isaac Power, play three sets dedicated to American jazz saxophonist and composer Wayne Shorter. Each of the band members plays a number of solos, with some stand-out performances on saxophone, alto sax, clarinet, slide trombone and trumpet. An appreciative crowd of mostly Mt Gambier locals acknowledge each solo with the traditional desultory applause – it just isn't cool to show too much enthusiasm in a jazz club.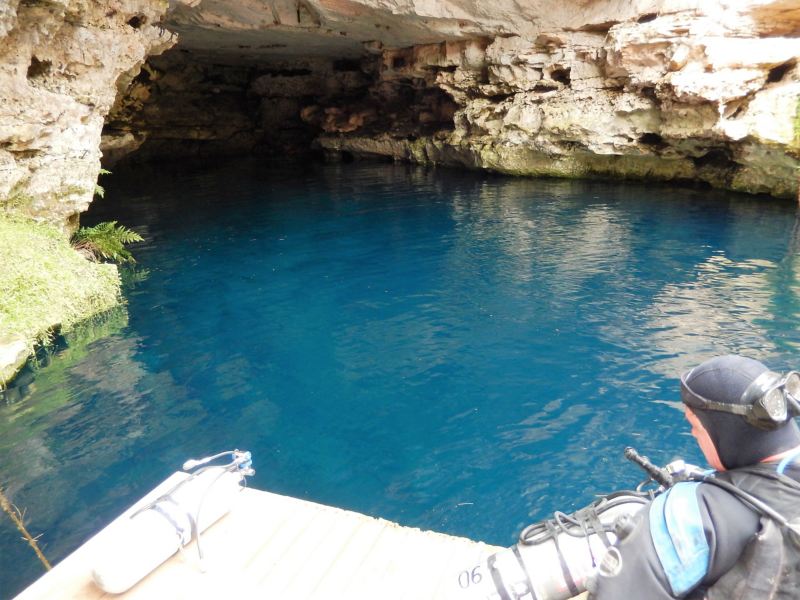 Next morning, we set out to find breakfast (well, brunch, if I'm being totally honest) and are surprised to see that most of Mt Gambier has the same idea. Fortunately, there's plenty of choice, and we find a table at the bustling Metro Bakery and Café where we are presented with the Paddock to Plate, a country-sized serve of ham, polenta, sourdough, fetta, mushrooms, tomato salsa and dukkha.
Suitably refuelled, we head for one of Mt Gambier's natural wonders, the Kilsby Sinkhole. A picturesque 14km drive leads to what appears to be an ordinary farm, but one paddock is a hive of activity. The Kilsby Sinkhole is one of the most significant sinkhole dive sites in Australia.
The Kilsby family have been custodians of the Sinkhole for generations and it has become a mecca for freshwater diving enthusiasts worldwide. On the lawns, free divers (divers who eschew breathing apparatus) are donning wetsuits, other divers are struggling into different sorts of scuba gear and another group is being instructed in abseiling before swinging down the sheer sinkhole walls.
The water in the Kilsby Sinkhole is incredibly clear, thanks to being filtered through the surrounding limestone. Recreational diving here began in the 1950s. In the early 70s, it was used for weapons research, including the classified testing of Barra Sonobuoys, technology applied to locate and classify submarines and ships. But now it is a playground for all classes of diver, and more recently, snorkelers.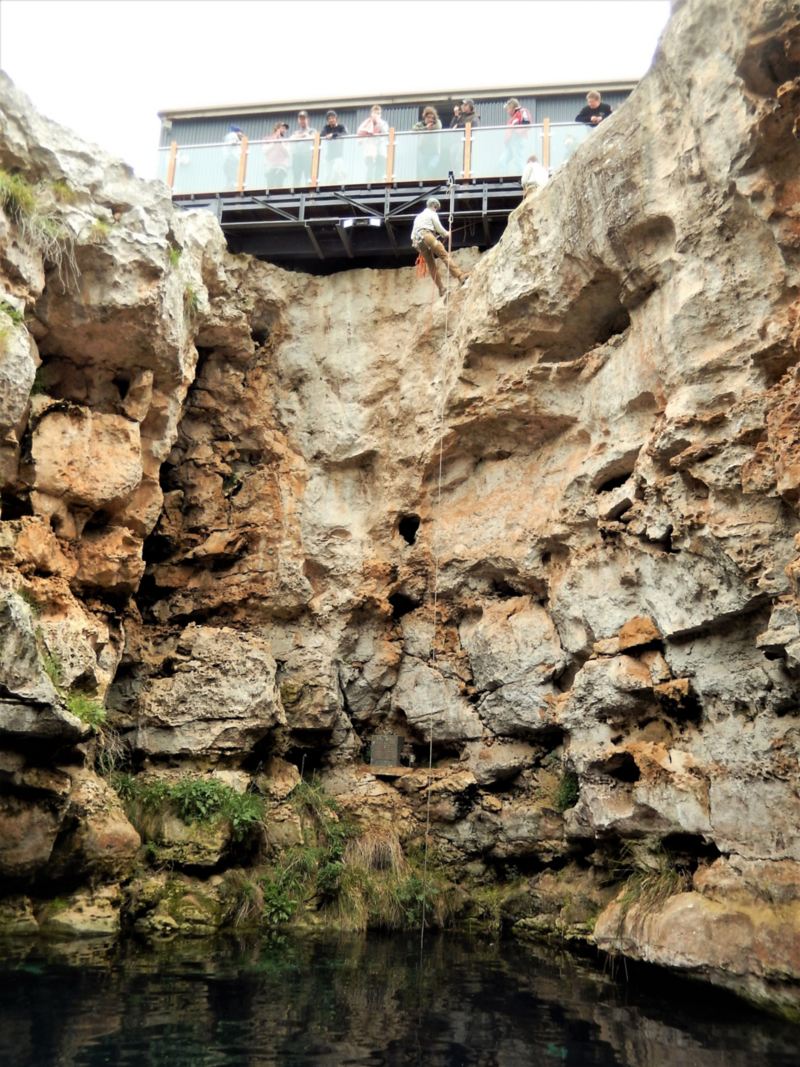 The crystal-clear waters were so often described as "gin-like", they inspired fifth generation Kilsby, Ben, to use them to create … gin! He pours me a small measure (I'm driving, after all) and I detect a subtle apple rhubarb flavour, lifted citrus notes and a hint of lemon myrtle. There must be a lot more in there because he tells me Sinkhole Gin is made up of more than 20 ingredients, including muntries (also known as emu apples or native cranberries). This is definitely not your average gin!
For dinner, we have taken the advice of another local and book ourselves into The Barn Steakhouse, part of Mt Gambier's newest and most luxurious accommodation complex (and a far cry from the Gaol!)
Locals obviously know a good thing when they find it, because at least half the clientele are from Mt Gambier and there's not a vacant table to be seen. It's a steakhouse, so naturally, we order steaks. They come with serrated knives, but a butter knife would have been sufficient. The Barn Steakhouse uses the finest beef from grass-fed Hereford cattle, bred and finished on a nearby property, then perfectly cooked over Mallee coals. For a little light reading, I scan the 39-page wine list, but know that Steakhouse cellarmaster Kent Comley has won plaudits for his locally grown pinot noir. It's a choice I don't regret.
Next morning, we continue our interrupted journey to Victoria. Mt Gambier has been a revelation on so many levels. And because of our commitments, there are many other attractions in and around that we have had to forego. I have a sneaking suspicion that it will be a long time before I am forgiven for not making the 30-minute detour to Port MacDonnell, officially known as "Australia's Southern Rock Lobster Capital". But there is always next time!