With his mother riding shotgun, Mark Daffey takes the T‑Cross up to Victoria's northwest.
Mark Daffey | January 2021
The COVID lockdowns were tough on my mother. My father had passed away only months before they were enforced, leaving her abandoned inside a big house on her own. As an active woman who craved social interaction and was forever on the move, she was itching to break free from the five-kilometre radius she'd been confined to for 123 days.
"I'll go anywhere," she'd said on more than one occasion during that time.
So with Victorian Premier Dan Andrews easing restrictions from November 9, allowing Melbournians to travel beyond its metropolitan boundaries, I suggested we tour the Silo Art Trail and see the pink lakes that are dotted across Victoria's north-western corner, where my mother had grown up. Well, she couldn't have agreed fast enough. In fact the night before we hit the open road, I received a candidly descriptive text from my Auntie that brought a smile to my face.
'She's almost wetting herself with excitement,' it read, after the two of them had talked about our plans over dinner.
I can sense it in my mother's voice next morning as we navigate through Melbourne's industrial western suburbs in our T‑Cross. She barely draws a breath as we talk about politics and health and sport. But this proves to be distracting, as I miss the Western Highway turn-off, adding 20 minutes to our journey.
The conversational pace stalls only when we pull off the highway to visit Best's Great Western winery a further two hours up the road. Part of the Grampians Wine Region, the first vines were planted here in 1868, making this one of the oldest family-owned wineries in Australia. Its cellar door tasting room reflects that vintage, housed inside the original red gum slab stable complex.
The Shirazes and Rieslings we sample provide verbal lubrication for our onward journey to Rupanyup, where we stop to see the first instalment along the Silo Art Trail. Victoria's original silo artwork in Brim was painted by Melbourne-based artist Guido van Helten. When it was completed in January 2016, onlookers came from afar to gaze upon a ghostly quartet that are so lifelike that you can almost smell the sweat and dust clinging to their shirts.
Encouraged by the newfound prosperity these out-of-towners brought to businesses in the region, further artworks were commissioned on silos in Patchewollock, Sheep Hills, Rupanyup, Lascelles and Rosebery. When the paint dried on the last mural in late 2017, the country's first Silo Art Trail was complete, prompting neighbouring communities to tack onto the end of it. In 2019, silos in Nullawil and Sea Lake were added to the trail, followed by more in St Arnaud, Kaniva and Goroke in the latter half of 2020.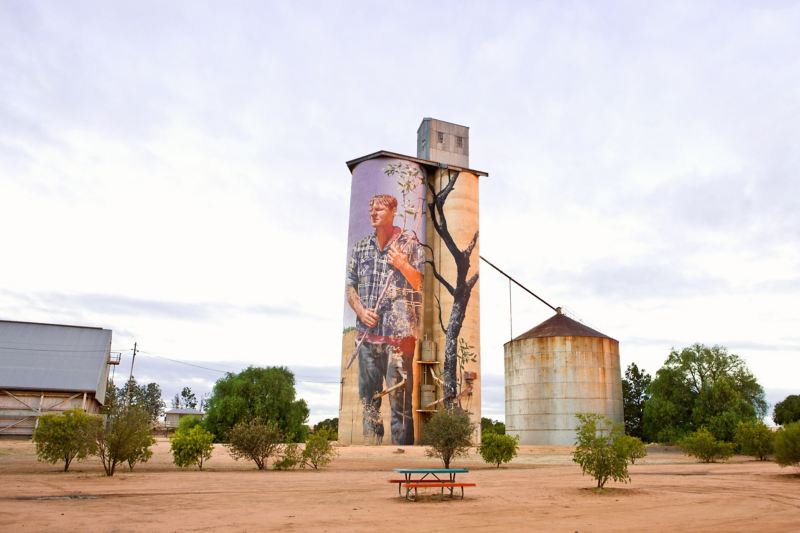 After a night in Warracknabeal, the birthplace of Nick Cave before he swept through global music charts like a blustering whirlwind, we continue north, pausing beside each silo. Others follow the same route as us, often with caravans in tow, and if ever our breaks coincide Mum is inevitably distracted from the artworks by the possibility of meeting someone new.
"I come from Ultima," she'd say, wearing that status like a badge of honour. Then she'd ask where they came from, and that would be the start of another lengthy conversation that would leave me marvelling at her innate ability to place others at ease.
But I needn't grumble at being delayed so often, for while Mum is busy finding common ground with strangers, it enables me to appreciate the artists' varied styles, from colourful to abstract, or even slightly caricatured. Artworks depict a weathered farmer with an arm around his Kelpie or a little girl innocently rocking gently on a playground swing. In Rupanyup, the aluminium silos feature two fresh-faced sports stars that have been painted using a technique that resembles a charcoal drawing.
From one silo we almost certainly see another, rising like a medieval watchtower above a distant horizon. In between, cotton-ball clouds float above farmers who are busy harvesting crops of wheat and barley; it's the quintessential rural scene.

But my mother and I view these panoramas differently. I frame landscapes with a photographer's eye, ever mindful of the light, whereas Mum sees woolsheds and hay bales and tractors and couldn't give two hoots whether the sun is shining on them. At one point in our trip, I'm utterly fascinated by storm clouds that are brewing over a barley field. When I show Mum the picture I take of it on my camera screen her eyes pop, then she shifts her gaze towards the clouds above the horizon. I'm certain she hadn't seen them until then.
"There's a hill," she says, almost triumphantly, shortly after. It's a pimple on the horizon, above pancake-flat paddocks, but Mum likes to think it's something she's noticed before me. I laugh, which only encourages her, and so she picks out shearing sheds and telephone exchange depots that she insists I should photograph. Or she'll see some sheep in a field then demand I photograph them too. To her, the stories behind each are more important.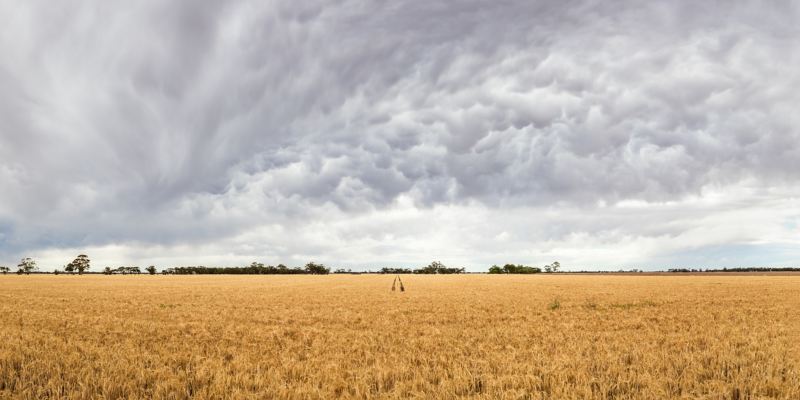 We travel out to the Murray Sunset National Park to examine a cluster of four pink lakes then stay that evening at the hotel in Patchewollock, where we meet Bryce the publican, amiable patrons Speedy and Richo, and their loquacious companion Boozer, who flits around the bar like a gossiping bowerbird.
"He's like the mayor of the town," says Mum. It's a position I suspect she'd enjoy.
From the 38-degree heat the previous day, showers and cooler weather are forecast this time. It's typical behaviour in Victorian skies, but it's easy to see the weather approaching across the wide, open expanses up here, where bursts of rain are heavily localized, often skirting around us. It's cloudy then sunny, altering constantly, and it helps to explain how some farmers can have good years while neighbouring farmers don't.
Our T‑Cross glides across the graded road that leads to Pine Plains Lodge. I'd originally enquired about staying here, attracted by the novelty of overnighting somewhere that seemed so remote, out in a sandy patch of wilderness with the brilliantly imaginative name of Big Desert. To put that into perspective you must first understand that a smaller desert region exists further south, and you'll be unsurprised to learn that it's called Little Desert. They're our only desert areas in Victoria.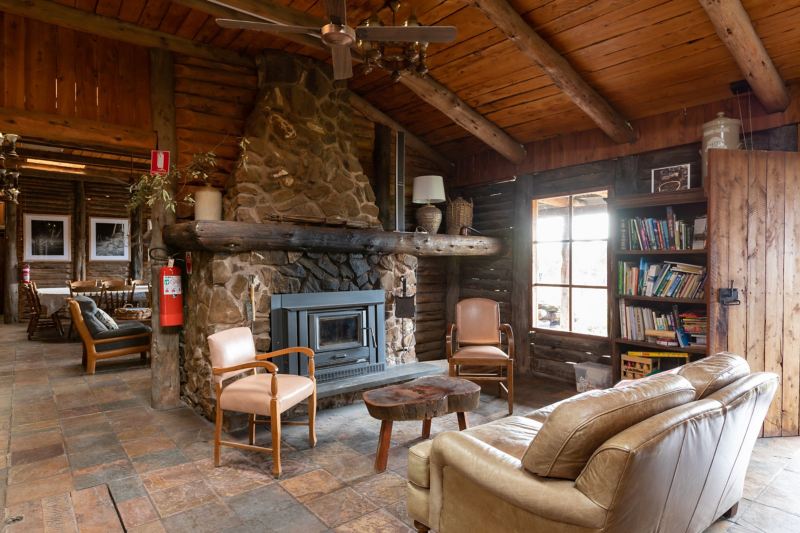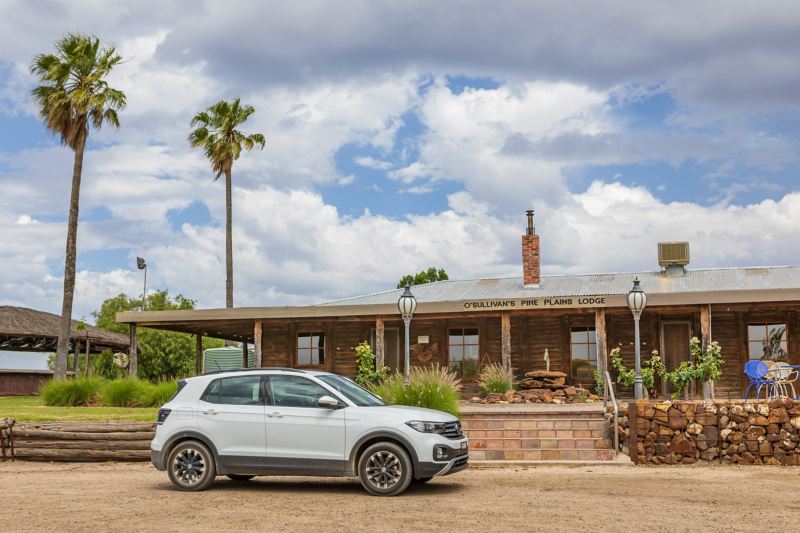 My initial viewing of the hand-hewn timber lodge on its webpage made me think that it had been there since pastoral settlers first drove their livestock herds onto its desert grasslands in 1847. But in fact it only opened in 1997, so it's a relatively recent creation. And because of COVID, I'm told it's closed when I call owner, Gen O'Sullivan, on the phone the week before.
"You can still come out and have a look though," she'd said.
So we drive west out of Patchewollock, away from the endless grain fields into Wyperfeld National Park, where the native wildlife practically hops inside the car the moment we pass through the park gates. A sluggish shingleback trudges across the dirt. A snake that's sunning itself on the road escapes our tyres in the knick of time. A mob of emus tiptoes across the track in front of us. And Western grey kangaroos narrowly avoid our bumpers.
The lodge sits on a rise overlooking the dry lakebed of Lake Agnes. On the lawns out front is what's claimed to be the world's largest Mallee root, with a girth measuring 11.8 metres. There's also an astronomical observatory reaching towards the heavens immediately next door.
Boozer, from the Patchewollock Hotel, generously invited us to stay in his farmhouse in Tempy that night and we gladly accepted. Of course, we stay up late talking, then I'm mesmerised by the shadow play across Boozer's healthy-looking barley fields from the veranda early next morning. Mum's more interested in fossicking through the rusting farm equipment lying about the house. They trigger memories of her formative years on the farm in Ultima.
We're heading to Sea Lake today but first travel out of our way to visit Woomelang, where murals of endangered wildlife from the region smother grain bins and fences all over town. But there's also a shearing shed, the likes of which even my mother has never seen before.
"Oh, this is wonderful. That's another thing around here that I knew nothing about," she says, standing before a heavily rusted shed that's clad entirely in egg tins. An information board describes it dating back to the 1950s, when supplies of raw materials like corrugated iron were difficult to source following World War Two.
It's all new to me. My experiences of exploring the Mallee were mostly confined to visits to the relatives in Ultima when I was younger. On the odd Saturday afternoon in winter we might have travelled to a neighbouring town to watch my uncle or cousin play a football match, or occasionally we'd slip into Swan Hill. But it's also rewarding to hear that after 79 years, my mother has been able to see new things during our trip. It's enough reason for us to have done it in the first place.
Of course, her attention waivers the moment others arrive to gawk at the shearing shed and she soon strikes up a conversation with a woman whose history is remarkably like hers, only in reverse.
"Mark, this lady is a teacher from Melbourne who moved to Sea Lake and married a local bloke," she says, by way of explanation. Then she turns to her. "I was a teacher too, from Ultima. I met my husband in Bendigo, then we both moved to Melbourne." Both are also recently widowed.
I eventually manage to usher her into the car so we can continue on to Sea Lake. I've arranged for us to join a tour out to Lake Tyrrell with Julie Pringle, a woman who bustles with energy and was largely responsible for Chinese tourists beating a path up the Calder Highway from Melbourne to come to this forgotten corner of Victoria. In 2014, Julie's sister posted a photograph of the two of them skylarking on the lake. When the photo went viral on Chinese social media, busloads of foreigners stampeded up north.
The lake's most remarkable feature is how its surface acts like a mirror, reflecting the brilliant sunsets that the Mallee is renowned for. It also happens to turn pink – a chemical reaction that's triggered by spring rains, high salinity levels and algae.
But Julie calls late that afternoon to tell us she's cancelled our sunset tour. "The winds are too strong," she says. "You won't get the reflections. We'll try again in the morning."
When I pass the news onto Mum and tell her the ungodly hour she's expected to wake up, she opts to bypass the morning tour in favour of a sleep in. For me, the 5am alarm call is justified when I witness a two-dimensional spectacle of the fiery dawn colours being absorbed by both clouds and water.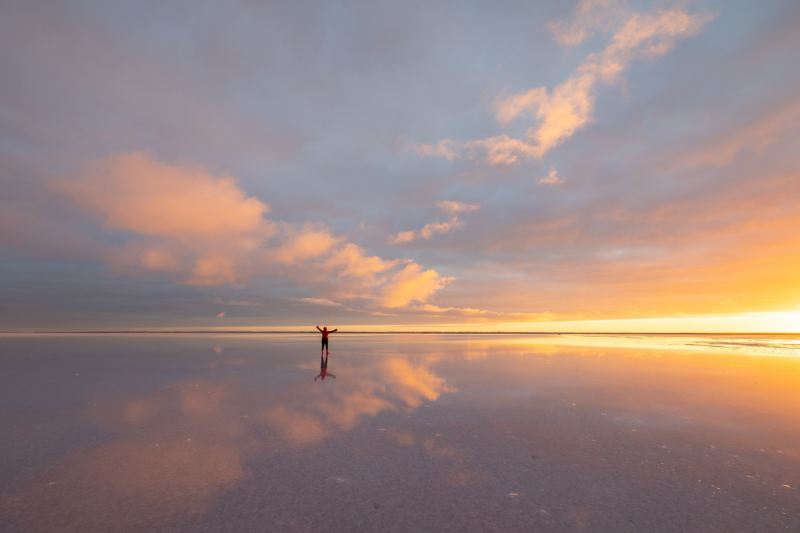 Sea Lake is unusual for a Mallee farming town in that it holds the promise of prosperous times ahead. Despite the fact that the COVID pandemic has been an immovable dam wall preventing Chinese holidaymakers from coming, its tourism industry is booming. The new silo art has brought a fresh wave of visitors and the refurbished Royal Hotel that's owned by a cooperative of local investors now ranks as one of the best country pubs in Victoria – something we confirm over a dinner booking.
Out by the lake, a multi-million dollar viewing platform has just opened and government funds are being sought for road upgrades. Real estate prices have skyrocketed, young folk are starting new businesses and for the first time, a Visitor Information Centre has been earmarked to open in the old shire office, providing a fresh environment for Julie Pringle to tout the town's blossoming attractions.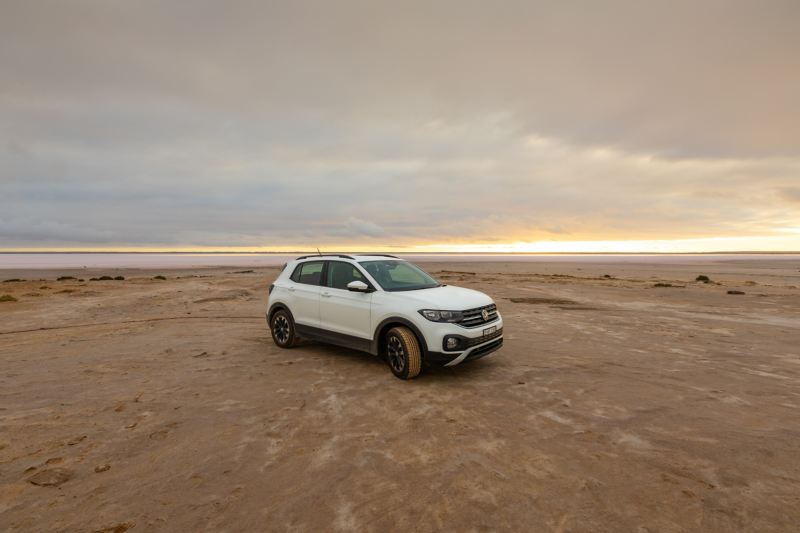 Unfortunately, Sea Lake's changing fortune contrasts heavily against my mother's hometown of Ultima, which we pass through on our way to the riverside city of Swan Hill. Both the farmhouse she lived in and the town house her parents occupied (where we spent many school holidays) are barely recognisable. The pub is barely limping along and the primary school currently educates just three students.
"I can't believe it. This is the most disappointing part of our trip," says Mum. She looks visibly distressed.
But with the promise of further roads and towns to explore, it doesn't last long. We spend a night at her brother's house in Swan Hill, then another in Wycheproof before returning home to Melbourne.
"That was wonderful, Mark. I had a lot of fun," she says as we turn into her driveway. "Now, where are we going next?"