Modern day nomads with the

Caddy

Beach

Paul Murrell  |  October 2019

There's something appealing about pulling into a caravan park (although most aren't called that anymore) and setting up camp for the night.
It's a bit like moving house, every day. There's the anticipation of meeting like-minded wanderers in the tent, motorhome or camper next door, sharing a convivial glass of wine and swapping open-road experiences.
Whether your plan is to "do the lap" (which, as any seasoned traveller knows, means circumnavigating the Australian continent) or just get away for a few days R&R, the twinkling lights of your home-for-the-night are always welcome.
Hotels and motels may be more convenient because all you need do is open the door, dump your bags and decide where to go for dinner, but hotel and motel guests tend to keep themselves to themselves and for many people, that defeats the purpose of hitting the open road.
The around-Australia jaunt always appeals, but for us time was limited, so we decided to get out of a cold and wintery Adelaide and escape to the coast. While most of us think of beaches as summertime destinations, the coast in the depths of winter has its own appeal.
Loading up the Caddy Beach didn't take long, and we reassured ourselves that anything we had forgotten could easily be bought at our destination. Like all travel, there is a temptation to pack everything you could possibly need, but we went minimalist. All those useful little nooks and crannies in that huge space behind the front seats could have been loaded up with so-called essentials (and would be if we were heading further off the beaten track), but when we had finished packing, there were still plenty of storage spaces left over.
As we head south through hills lush and green as they never are in summer, we feel the city stresses falling away and before long we've arrived at our destination, Port Elliot Holiday Park. Check-in is a simple process and we quickly discover another winter bonus: rates are lower, so we're paying just $37 a night for our powered site. We are directed to "our" parking bay, a million-dollar location meters from the beachfront of Horseshoe Bay.
...we're kicking back in the last of the day's sunlight.

Now, I do have to admit that setting up a tent has never been my forte, but attaching the canopy to the back of the Caddy Beach is simplicity itself. In no time, we're set up, the bed unfolded, curtains attached (using nifty and simple magnets all 'round), our table and chairs unpacked and we're kicking back in the last of the day's sunlight.
If your recollection of a caravan park is a down-at-heel, slightly grubby and ramshackle collection of facilities, the Port Elliot Holiday Park is a revelation. The grounds are manicured, facilities are clean and convenient and there's even a playground, a jumping pillow the size of a small football field and a handy internet kiosk. It feels more like an upmarket resort. And right behind us, the waves roll gently onto the golden sands of Horseshoe Bay.
Our VW Caddy Beach attracts plenty of attention from the other campers, and provides a convenient conversation starter. It gets a bit of a condescending chuckle from the driver of a huge motorhome, and the tent dwellers are intrigued with how simple the canopy is to erect (although one suggests more substantial tent pegs might be a worthwhile upgrade).
Once chatting about the relative merits of the various ways of setting up shelter for the night, my argument that the Caddy is a lot simpler to use to duck into town for a coffee and a lot more economical on tour than a huge RV starts some spirited discussion.
After a glass of semillon from nearby Mt Jagged Estate (a good stopover on the way down, if you have time), we start getting serious about where to eat dinner. It's another advantage of having a camper van without cooking facilities – although we could always set up the Weber – but this is a break for both of us.
We're spoilt for choice, from the easy informality of the Port Elliot Hotel, the more upbeat and modern Thunderbird bistro or the highly recommended Flying Fish Café, looking out over Horseshoe Bay and serving some of the best seafood you'll ever find. No contest: it's the Flying Fish Café where we gorge on oysters, scallops in the shell and Coopers Sparkling Ale-battered King George whiting. As usual, SA seafood lives up to its reputation.
Another break from routine is waking early to see the sunrise over the ocean. The fresh ocean air competes with the various smells of cooking breakfasts all around the campground. No such drudgery for us; we're off to Cockles Café for eggs on toast with homemade tomato relish and freshly brewed coffee.
Then we disconnect the canopy (we're getting better at it all the time!) and head off to Goolwa to take a ride on the iconic Cockle Train. The oldest steel-railed railway in Australia, the Cockle Train travels between Goolwa Depot and Victor Harbor (by the way, Victor Harbor finally settled on the "-or" spelling after spirited debate, but Adelaide railways refused to accept it and continued to call it Victor Harbour). We disembark before Victor, because we have other plans for the afternoon, and it's just a short walk from Port Elliot station to the Port Elliot Bakery for some of their famous meat pies – in summer there'd be a queue 100 metres long, but we hurry inside out of the cold wind without delay, and then it's back to the Holiday Park where we rent pushbikes for our next outing.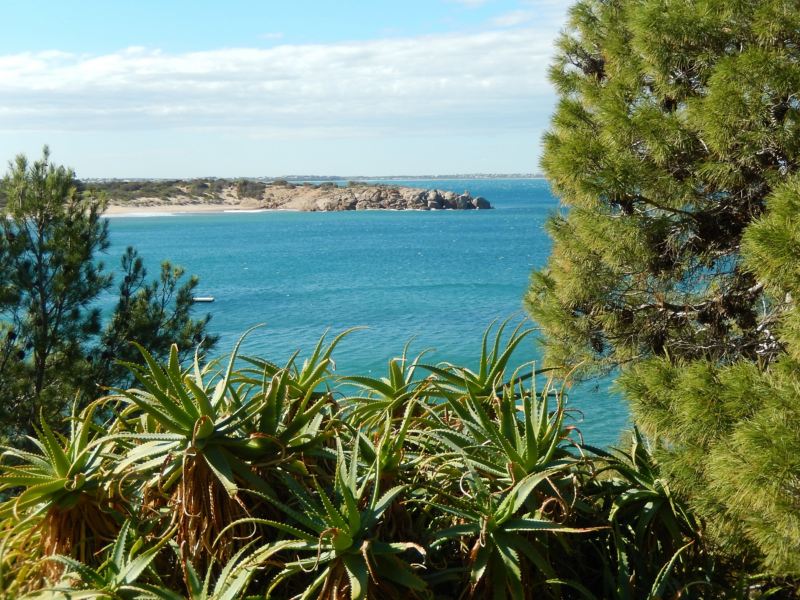 The Encounter Bikeway stretches 31 km from Laffin Point (3km north of Goolwa) to The Bluff (5km south of Victor Harbor). There's no way our aging and unaccustomed muscles will cope with the entire length, but we take a leisurely pedal along the mostly flat bikeway, enjoying the crisp air, cycling without the stress of motorised traffic and taking in the magnificent vistas and the changing scenery as far as Middleton before turning back.
Back at the Port Elliot Holiday Park, we quickly park, open the hatch and reattach the canopy. Plans for dinner are overtaken by plans for an early night in our cosy little hideaway – maybe we were a little optimistic with our bike ride.
Next morning, it's back to real life. It's only an hour and a half or so back to Adelaide, but I can't help wistfully glancing in the rear-view mirror as the coast recedes, all the while thinking how many things were left undone in and around Port Elliot.
Of course, with a Caddy Beach parked in the driveway, we can always come back again and again. Bliss!