Sue Allsop-Jones  | October 2019
Sue Allsop-Jones and her family embark on a truly Aussie adventure, travelling to Music in the Mulga in the
Amarok

V6 580 Ultimate.    

What's the attraction of a 4 day country music festival on a cattle station 10 hours west of Brisbane?

With some four-wheel driving planned and station stays thrown into this swag-camping adventure, we intend to discover why close to 3,000 people make the trek each year to Wandilla Station for Music in the Mulga.

The first night of our adventure found at us the Nindigully Pub, Queensland's oldest hotel famous for its Road Train Burger – a mighty $80 meal that can feed 8. Tonight the steaks did not disappoint and made setting up camp in the dark a breeze. Or was it the couple of rum and cokes that did that…

The highlights of our travels to Wandilla Station were Thallon, St George, Charlotte Plains Station and Alroy Station. Thallon is home to the Watering Hole, a spectacular mural on one of the largest grain silos in Australia. It also forms part of the Silo Art Trail, an Australia wide collection of over 70 painted silos and water tanks. Aidan couldn't help hanging out with local identity, William, the giant northern, hairy-nosed wombat before we headed north to St George, through cotton country.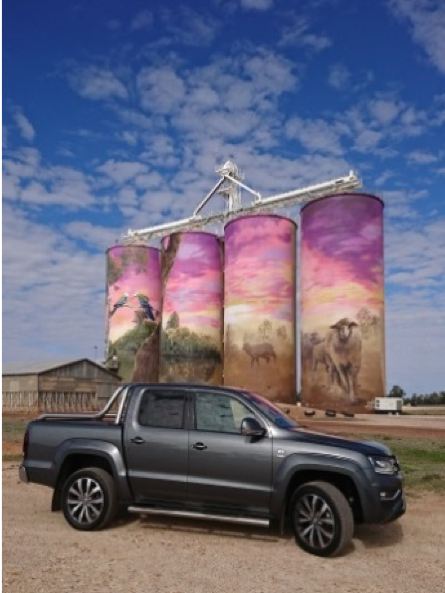 After the best milkshakes 'EVER' in St George we headed west to our first station stay at Charlotte Plains Station. A family run sheep and cattle property with an artesian bore and baths. Travel instructions: drive 134km west from Bollon until you see the star picket with the yellow bucket on it.  Luckily we spotted the yellow bucket. We chose the bush camp so we could finish the day in an open air bath in 42 degree artesian water with a beer in hand. What more could you ask for?!
We had it - an open fire, comfy swags which may not be 5 star camping but we didn't care as we had the view 1,000 stars in our sights.
Our next stay was at Alroy Station, a 56,000ac working sheep and cattle station 60km off Adventure Highway, north west of Eulo.  After a warm welcome from Mary, one of the owners, we set up camp under the massive mulga tree and settled in for another relaxed spa, dinner and camp fire chat.
We took the opportunity to explore north to Toompine and west to Thargomindah and then headed back to Alroy via a 'short cut'. The dirt road had not been open since the recent floods and was full of washouts and nasty potholes giving the Amarok more of a workout. Not a problem!!   
Tonight my son had requested a camp oven roast, which thankfully was a success! The campfire chat tonight with fellow campers and owners, Mac and Mary covered carbon credits, the drought, feeding cattle, isolation and how having opened the station up to tourism was helping on both a financial and emotional level.
Just 15km from Eulo, turn right at the SpongeBob mailbox and you are in Music in The Mulga territory. Red dust, an ocean of caravans and campers and that unmistakeable country beat greets you. Music in the Mulga has been running for 13 years and was founded by Carmel Meurant, who wanted to bring a sense of excitement to those in the community affected by the droughts. The four-day festival has the atmosphere of a large family gathering and attracts performers and participants from across the country.  Aim of the event – simply have fun.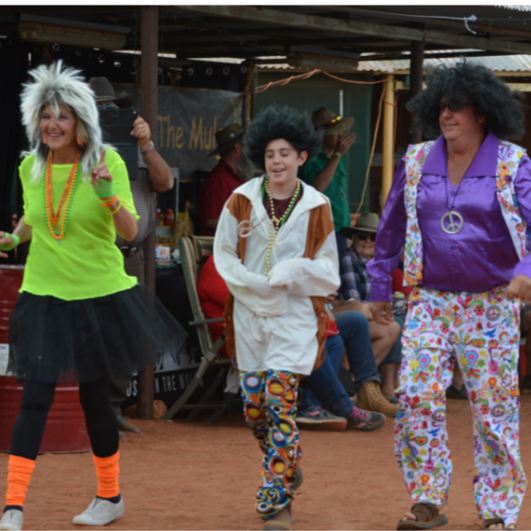 Fun, frivolity, lots of great country music, a cracking bush dance, bush poets and campfire jam sessions were just some of the highlights of the festival.
Fashions of the Field and Yabby auctions and races gave everyone a laugh, while the charity auction brought some of us to tears, as the generosity of the community raised over $9,000 for a young family going through tough times. 
The Festival injects much needed funds into the area as well as all the surrounding communities that you travel through to reach Music in the Mulga.
It is a time for locals and visitors to let off steam, meet up with old friends and make new ones, sit back and enjoy the likes of Jayne Denham, Becky Cole, Adam Harvey or have a go at entertaining the crowds at the 'walk ups', join in the singing around the campfire into the wee hours or listen to poignant stories by bush poets.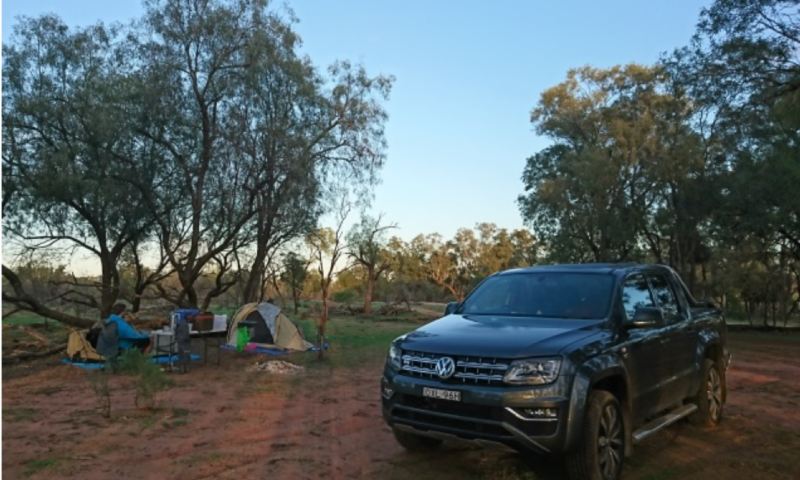 For us, every day was an unforgettable experience; we learnt so much about the local communities from so many different people.
Brendan 'Bumpa' Farrell, founder of Burrumbuttock Hay Runners were just one of the many people that inspired us. Burrumbuttock Hay Runners fundraises all year and donates hay to drought-affected farmers across Australia. "People say you can't move mountains but, we come pretty close; in the past 12 months Hay Runners have delivered 8,500 bales to farmers," Farrell said.
We also met Bill who extended a welcoming hand and Bushy who entertained us with his bush poetry and humour. On setting up our camp Bill, a neighbouring camper was quick to welcome us and offer a watchful eye over our campsite if we could do the same for his.  Ensuing conversations unearthed that Bill had lost his family farm to droughts, falling markets and the banks, but still carried on.
Bushy entertained both on stage and around the nightly campfires - he travels light with his swag and his bike and a lifetime of stories. A true Aussie larrikin.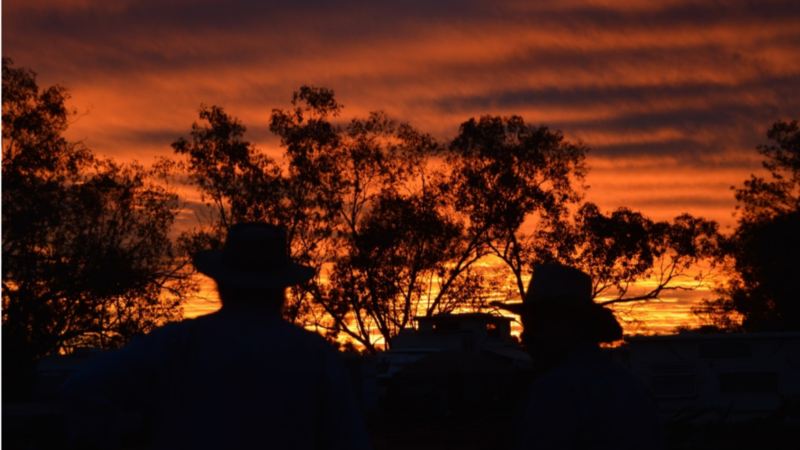 A truly spectacular sunset helped close the festival and we found that it certainly generates the promised atmosphere where you could not fail to simply have fun. We certainly did!     
On the way to Thargomindah we were graphically shown what the country can look like after rains and the underlying reality that this drought was not broken.
Highlights of our last few days were visiting the border town of Hungerford and its iconic pub dating from 1873, Kilcowera Station with its abundant birdlife and wonderful sunrises, and Lightening Ridge with its house made of bottles, statue made of VW car bodies and quirky locals in search of fortune from opals.
We bookended our holiday with one last night at the Gully. One last steak, one last rum and coke and one last sunset.    
In total we travelled 3,216 km in our 11 day adventure which grew to be so much more than we anticipated. We travelled to remote stations, were shown true Aussie hospitality, met many inspiring people, tested the capabilities of the Amarok V6 and found out what the attraction of Music in the Mulga is all about. A memorable adventure - Thank you VW.