Tatyana Leonov | March 2019
There's more to Mudgee than food and wine. Tatyana Leonov takes her family for a drive.
The sunset stops us in our tracks. Fiery pinks and bright orange hues transform the grey-blue sky and for a few minutes even my one-year-old is quiet. Sure, we've seen pretty sunsets before, but here at Sierra Escape the magic is amped up a few notches. There are no buildings to be seen, no city noise to be heard, no sign of human life. It's just the three of us surrounded by farm scrubland and the aromatic Australian bush, enjoying the peacefulness and serenity.
Sierra Escape is the only glamping accommodation in the area – a collection of three luxurious tents that are completely off-grid (they use tank water and solar panels for energy). The tents are spread far apart from each other on a property in pretty Piambong – about 15 minutes drive from Mudgee with the last section along Lower Piambong road – a dusty dirt road that's a heap of fun to drive. The only other times you might see another human is when driving in or out, or if hiking around the 280-acre property. Our tent – Diwali – is the largest of the three.
We've driven here from Rylstone – a meandering drive past scrubland dotted with gumtrees and the huge Windamere Dam. It's takes around 45 minutes or so (there are two ways from Rylstone to Mudgee and we've chosen the more scenic of the two), but we stretch it out to just over an hour with photo stops. Our plan for the rest of our day is to do absolutely nothing, then explore Mudgee and surrounds the following day.
Mudgee is renowned for its food and wine and we've visited before to eat and drink. Now, back for a second time, we're staying out of town and driving in and around over the next few days. Whereas last time we were kid-less, this time with our daughter in tow our plans still involve food and wine, but also other activities.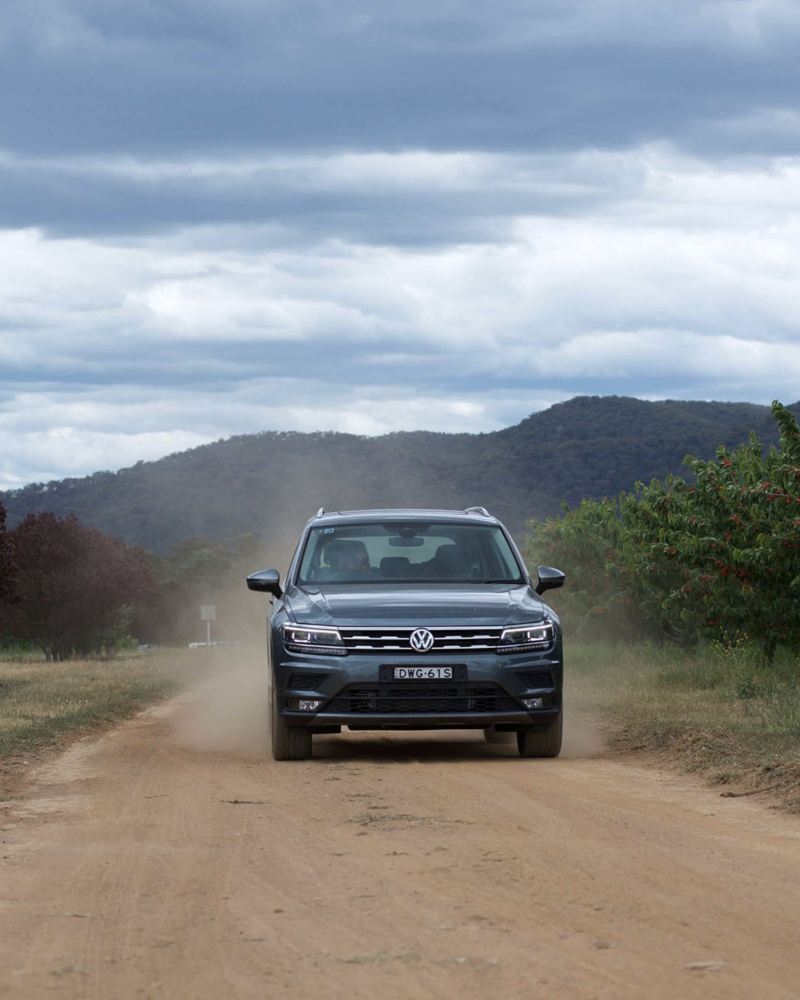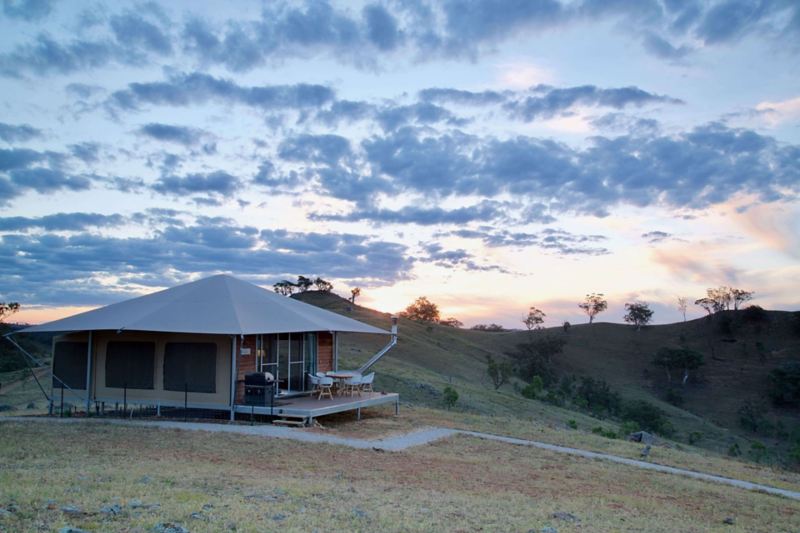 Cherry picking at Roth Family Cherry Orchard is our first stop (the Roth family welcomes guests to come and pick cherries from late November until the middle of December). As a kid I remember how delighted I would be when we went berry picking in various spots around NSW and I'm keen to show my daughter how it's done.
She's a little too young to get it… and I quickly discover there's a whole art to cherry picking: It's easy to rip off a handful of cherries along with the branch, but this damages the tree for the next season. The art is to pick cherries with their stem intact.
Ingrid Roth, who runs the orchard together with her husband Guy Roth, takes us for a stroll around the orchards pointing out different cherry varieties (they grow Samba, Simone, Rons, Vans and Black Star varieties) and explaining the differences between them in size, colour and taste. The large crimson Rons are my favourites and we gather around a kilogram over the next hour, reaching high and low to select the finest specimens… I possibly snack on just a few.
I continue to munch on the cherries in the car (hubby is at the wheel now as he enjoys driving the dirt roads like the ones at Roth's), stopping only when we are back in town to have lunch at Alby & Esthers – a charming cafe located down a cobblestone alley with seating both inside a circa 1873 stone terrace and outside under a coiling grapevine. It's a great choice. The kitchen team take great care in preparing delicious food using predominantly local produce. My poached eggs crowned with avocado and served alongside Mudgee mushrooms is too good to share and the house-made fruit loaf delivers the perfect sweet finish.
Away from flickering city lights there are plenty of spots in country Australia with dark skies which make for ideal star gazing conditions, including the outskirts of Mudgee. On a clear night the Mudgee Observatory is a must visit and we've lucked out. The sky is an ink black carpet studded with blazing stars, some in such close proximity to each other that they appear like a string of Christmas lights spiralling in all directions.
With 45 years astronomy experience, owner John Vetter knows a thing or two about the stars and planets. He constructed the collection of telescopes here himself and explains that since he was always outside admiring the night sky, it made sense to start running tours.
We spend the next couple of hours gazing at glittering shooting stars, bright-burning planets and the odd sporadic satellite whizzing through the galaxy like a speedboat of the sky, stopping occasionally for a hot cup of tea and a biscuit before venturing back into the great unknown.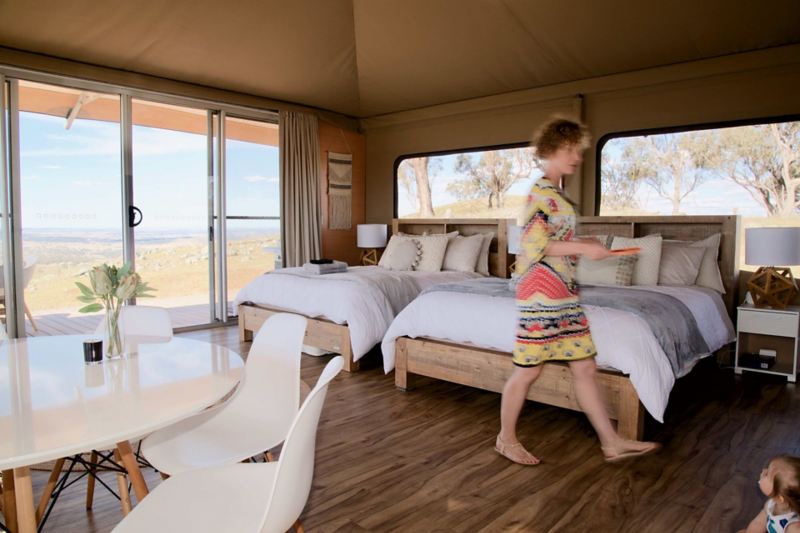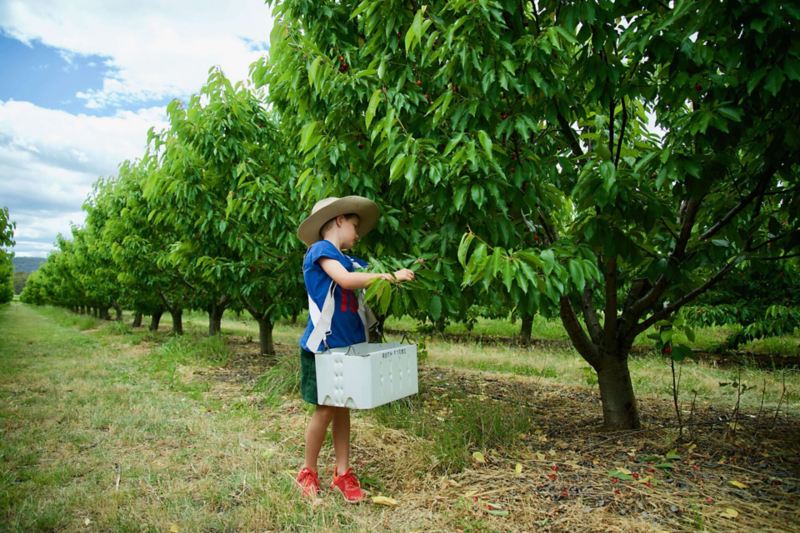 Our daughter falls asleep an hour into the tour and manages to stay in her deep slumber as we transfer her into Tiggy (she's named our Tiguan Allspace) and then move her again into our tent. There's something about the fresh country air that helps people sleep better.
With a half day left in Mudgee before our drive to Dubbo we culminate our stay with food and wine. We visit Lowe Wines where David Lowe talks us through the ethos behind their small batch winemaking practises. We spend close to an hour chatting about what organic and biodynamic wine production entails and why Lowe Wines has chosen to take this route. It's harder work (essentially biodynamic refers to wine made without the use of chemicals, organic wine refers to wine made from organic grapes), but the results are clearly worth it.
Then it's off to Robert Stein for a small tasting for one (it's my turn to drive) before a lavish lunch with a view at Pipeclay Pumphouse. There's earthy cumin and coriander hummus with soft bread, a pork and ham terrine studded with pistachio slivers and served with a tangy apple and radish remoulade, and a hearty gnocchi dish that's served with tender bits of lamb and a rich mushroom ragu.  
It's a fitting finish. Our bellies are full, we've got a few wine bottles to take home, and the road beckons. Next stop Gulgong.