Teeing off from a higher plain: Part one
Daniel DeGasperi  |  February 2019
Keen to put our heavily-upgraded MY19 Golf GTI through its paces, motoring journalist Daniel DeGasperi, takes the iconic hot Golf, to play some golf, at Australia's highest golf course in Thredbo, NSW.
THE Volkswagen Golf has been around since 1976, successfully seeing through seven generations of small hatchback popular around the globe, its longevity clearly the result of very studious, eyebrow-furrowed designers and engineers. Such a feat is only equalled by that of also clearly clever motoring journalists who, for the same 43 years now, have been penning puns around its nameplate. For us it has been, ahem, par for the course.
Now, however, the release of the Model Year 2019 (MY19) Golf GTI hot hatch requires us exhausted individuals to take that to new heights. This time quite literally.
Blanketed in white in the winter months, the New South Wales snowy mountains region reveals itself to be full of spectacular straw-green grass, gushing streams and whispering grey gums in the summertime, as mountain bikers bounce across the landscape and families in SUVs saunter from one sight-seeing spot to the next.
And in Thredbo Village – at the base of two iconic ski fields in the region, with Perisher the other – beside the chairlifts and lodges, bars and restaurants, is placed Australia's highest golf course. Standing 1420 metres above sea level and with a banked nine holes cresting up where skiers and snowboarders usually cut a path down, it is also one of the prettiest places to be as it is overshadowed by mountains above and overlooks Thredbo river below.
But hilly alpine regions also offer up a superb set of roads to enjoy, so rather than swinging a driver on the highest golf course this country has to offer, this driver will be swinging the Golf GTI around an on-road course designed to see if this hot hatch can reach new heights.
First, though, to get to the tee-off point.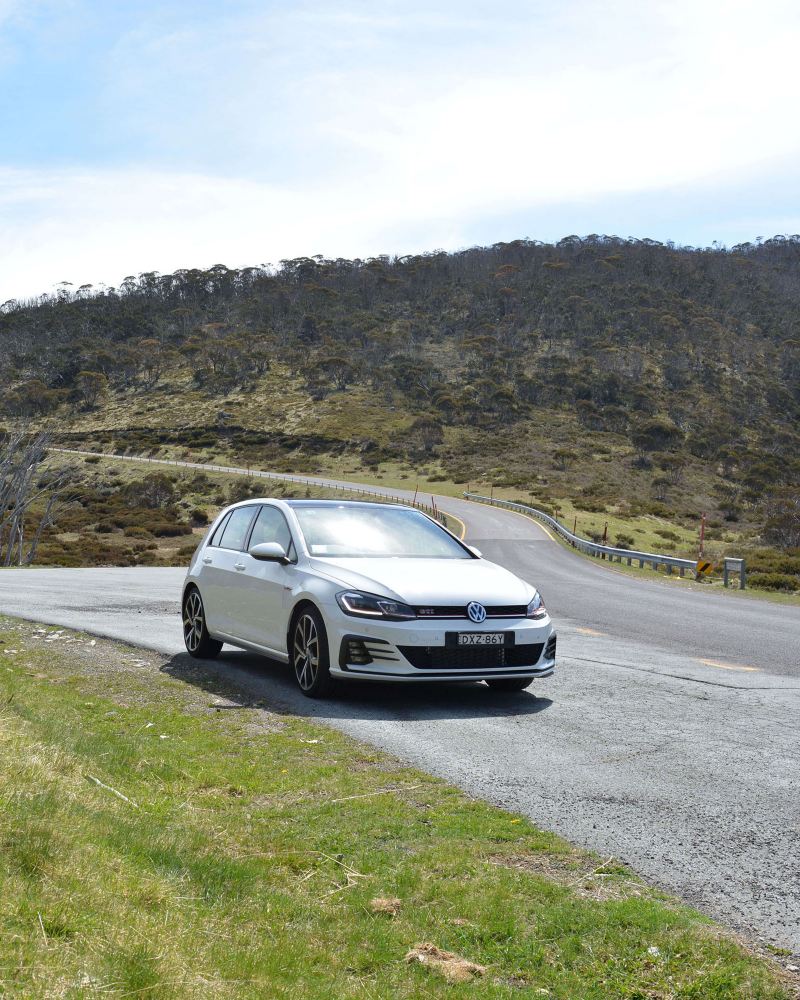 Thredbo golf course is exactly 500km from the Sydney CBD if you're happy to traverse the traffic-clogged artery that is the M5 tunnel, cruise through various radar traps on the mind-numbing Hume highway, and then veer past pollies in Canberra to Cooma and Jindabyne.
One of the hallmarks of Golf GTI ownership is that it can do this drive comfortably and quietly, and our winter-white example fitted with lush leather seats, a panoramic sunroof, a sensational Dynaudio sound system and bright new centre and driver displays, proves – we can say this, because we did it on the way home – no exception.
What this lightly facelifted MY19 update brings to the party, though, is the sort of stuff that retains those all-round hot hatch traits but makes the 'hot' bit hotter. Power from the 2.0-litre turbocharged petrol four-cylinder moves from 169kW to 180kW, torque from 350Nm to 370Nm, and the Direct Shift Gearbox (DSG) gets an additional, seventh gear. There's also an electrically-actuated mechanical limited-slip differential (LSD) standard for the first time, which basically pins more power to whichever front wheel has the most traction – so when you're turning left in a corner, gravity will push weight onto the right wheel, and vice versa.
With Australia's Great Dividing Range piercing a line between coast and countryside all the way along our eastern states, you can bet there's a few corners in our zig-zag approach to Thredbo … and by that we really do mean zig, then zag.  So let's course our own nine holes.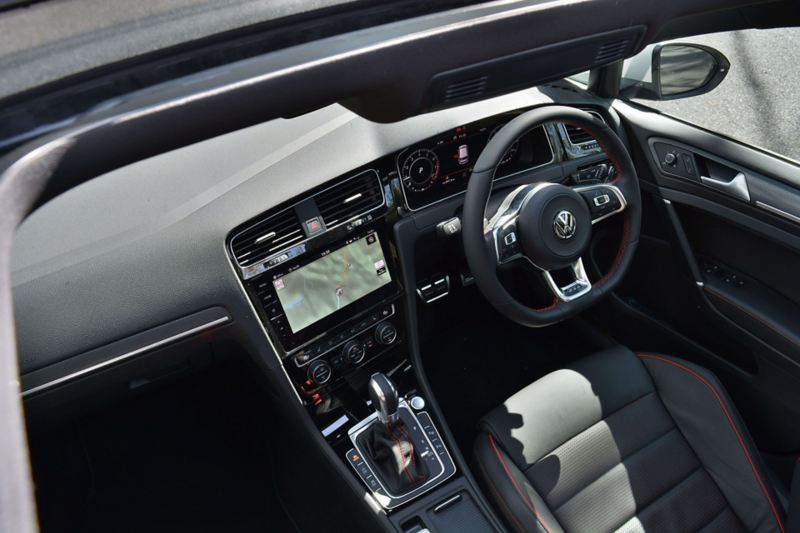 One: you'll want to throw Macquarie Pass into the navigation, which the GTI can do via voice activation. It's about 100km and an hour-and-a-half south of the Emerald City, and under a rainforest canopy packs no fewer than 30 mostly very tight corners in 10 kilometres, as it leaps from sea level to 700m and into the – obviously titled – Southern Highlands.
For our metaphorical 'hole two' you'll want Kangaroo Valley, another 43km and as many minutes to get there, as you 'zag' back down another side of the range due south, this time with bends wider and flowing. By now the GTI's 19-inch Pirelli P Zero tyres are nicely warm.
After a quick flirt with the ocean again in Nowra, it's inland again towards Braidwood on the eastern edge of the Australian Capital Territory (ACT), a two-hour tour-de-three punctuated by sweepers, some very crumbling bitumen surfaces and the odd freckle of flat dirt. It's here where the Comfort mode of the Dub's three-mode adaptive suspension comes into play to dial down the sporty firmness of Normal and especially Sport. Blue skies; sunroof open.
Queanbeyan, another hour west, is just far enough away from the zoo otherwise known as parliament house. There's nothing for Aussies, let alone drivers, in the Canberra bubble; though just outside it is bursting with flavour. With the sun stretching to its afternoon yawn, we bypass holes four (an epic roller-coaster surface that is Corin dam), five (clear and curvy and climbing Brindabella Road that skirts Mount Stromlo Observatory high above the city); and six (the narrow cliffs of super-tight Wee Jasper Road – though it requires a U-turn).
Make a weekend of them, enjoy Canberra from above and literally look down on our pollies. 
... see if this hot hatch can reach new heights

But the final three holes will be for a tomorrow tee-off as we bee-line for Thredbo golf course some 200km and two-and-a-half hours away. It's adaptive cruise control on, the Golf slowing automatically for trucks on one-lane Monaro Highway, only to belt past them safely and with a sonorous spool of torque and series of snappy gear changes when it's all clear.
This region could be ripe for a horror film with a bit of darkness and fog. Ominous dead gums lurch over hills, freckled with grey rocks and fenced off by bronzed barbed wire along the highway. But then, getting closer to our destination, the beautiful fruits of the Snowy Hydro Scheme come to life. In 1967 the scheme created Jindabyne Dam, which required flooding a town formerly of 300 people; they say when waters are low you can see the church steeple of engulfed 'old Jindabyne' from the new town that licks at the water's edge.
Best stop for fuel here, and a feed, before the final 400m climb in 40km and 40min. It's late November when our drive takes place and as we near our destination the mountains are still snow capped. As the road weaves out yellow lines and dots red markers that ensure travellers don't fall off edges should snowstorms occur, on this Bluebird Day it's difficult not to stop and soak in a vista of white, green and blue.
It's quiet as we approach the course; no players are out today. But I'm happy with this development, as it should mean fewer cars on the road tomorrow for when we play Golf GTI on the most epic course yet. Holes seven, eight and nine await in our next chapter.