Teeing off from a higher plain: Part two
Daniel DeGasperi  |  February 2019
Motoring journalist Daniel DeGasperi continues his journey in our iconic MY19 Golf GTI, to Australia's highest golf course in Thredbo, NSW.
IT TAKES minutes for the morning sun to start glistening off the snow-capped mountains above Australia's highest golf course in Thredbo, New South Wales, remaining ice melting slowly months after skiers and snowboarders had clipped roof racks and headed home. In the idling winter-white MY19 Golf GTI, however, the climate control is already blasting cool.
There's little slow-moving about this updated version of Volkswagen's iconic hot hatch, and this bug-splattered and dirt-licked example has already criss-crossed the Great Dividing Range having started 500km north in Sydney's bustling CBD.
And in lieu of the slow, relaxing pace of a hit at the 1400m-high golf course, we're ready to – via Pun-ville – hit out the remaining three 'holes' in our fun drive of the region. Macquarie Pass, Kangaroo Valley, Braidsville are done, Corin Dam, Brindabella Road and Wee Jasper Road around Canberra were skipped due to a fast-moving sunset and fast-hopping 'roos; and now we're in the Snowy Mountains proper and a veritable triangle of spectacular roads.
Having escaped freeways and holidaymakers, it's a whole lot quieter up here in the summer. From here, beside the chairlifts and ski lodges, we could continue south right into Victoria and onwards to Melbourne, if it weren't for this elusive triangle.
The next stop is Khancoban and a question. Looking at the GTI's navigation map, the road looks not only like an intestine, but one linked with that of several other humans as well, then compacted. Cornering signs say '15km/h' and flick left, right, left, right, barely allowing the body of even the best-sorted sports car to settle and regain composure in these washing machine-tumble conditions. The intestine doesn't let up for 75 kilometres that apparently will take you an hour-and-a-half. It doesn't in this Golf, even with very sensible speed. The way the GTI grips, points and shoots is better than ever thanks to enhanced front traction. It's poised, it's stable, and it communicates in a linear fashion through the steering to you.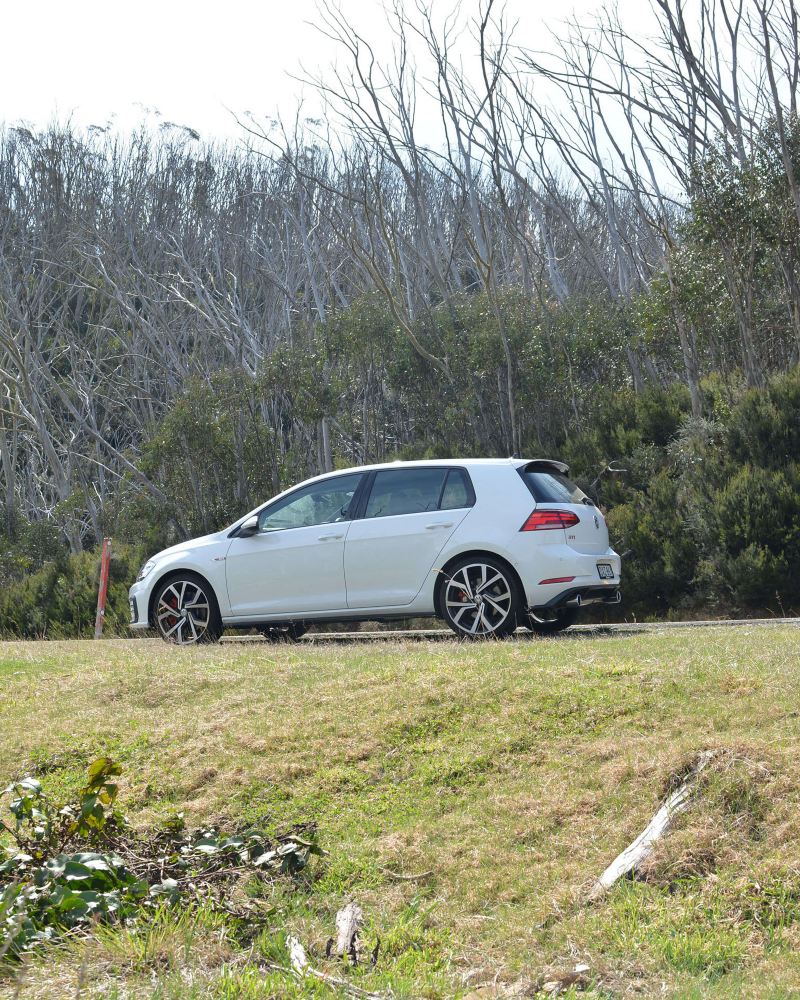 There are cliff-faces, ghostly trees that hang low over the road, and valleys that plunge and sweep back uphill, making this small hot hatch feel very small indeed. The road is narrow though sight lines are clear – which is a good thing because there's plenty of cyclists about.
From here we're a tickle to the border, but a sharp right from Alpine Way to Swampy Plains Creek Road brings us back towards Thredbo. Well, sort of. By now we're over the other side of Mount Kosciuszko, standing 2228m tall, circling about 1200m beneath it, and about to traverse back up its western side past Jagumba and the – aptly named – Jagungal Wilderness. But in all the wilderness there is Tooma Dam then Tumut Pond towards Cabramurra way back up high, just 600m under Kosci.
They are just two of the 16 dams, seven power stations and 225km of tunnels and viaducts used for the Snowy Hydroelectric Scheme built between 1949 and 1972 long before renewable energy and climate change were things. Just as the scheme manipulated higher-running water to spin turbines that then created electricity, drivers must navigate the sort of twists and turns that the harsh and hilly surrounding terrain demands. Even in a potent hot hatch such as this 2.0-litre turbo, you're constantly aware that the environment dominates all here, and that some hefty engineering has been at play to allow the Golf GTI to be able to cut a swathe through the browns, greys and greens that swamp the surrounds.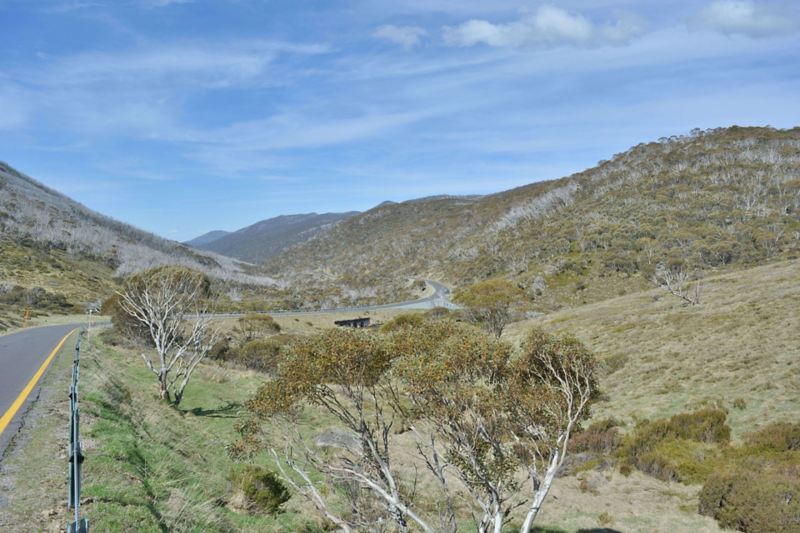 There are camping and fishing spots here, with the dams said to be excellent for trout, but after stopping every second moment for photography the day is getting on and the myriad kangaroos nearby will soon start hopping in search for food. Best protect the bull-bar-less little hatch, then, and press on.
By now we're two-thirds through the triangle. Just past Cabramurra, the main road intersects abruptly at a T-intersection with Snowy Mountains Highway. But this is no boring highway. Turn left and it's 90km to Tumut, which soon meets Gundagai, home of the dog on the tuckerbox and the Hume highway that really would be a boring return back to Sydney.
Turn right and it's exactly the same distance back down to Cooma and the real entrée town to the Snowy Mountains where signs to rent skis and boards start being offered up on the roadside. This is very much the top of our Golf course – time to ski down.

Some 1500m above sea level, we're about to drop down half of that to our conclusion. In fact the sharpest 500m of downhill skiing is done in about 30km, our hard-working GTI finally allowed to cool off a fraction and let gravity and momentum help it through. Now it's up to the brakes to hold up.
Here, back in Sport mode and with beautifully glassy surfacing free of major bumps and divots, the Golf guides graciously down the sort of road where you can see three corners ahead. The front grips and the rear pivots around the driving wheels exactly as a hot hatch should. There's a real authenticity to this new model; it retains its hallmark all-rounder attitude without piling on the kilograms, and keeps things restrained without being brash.
Unfortunately, not all roads are as great as this magic triangle that circles the Snowy Mountains region, so when the brakes cool and Sport mode is relaxed back into Normal, the Golf can just become a Golf again. After being a hot hatch, it again becomes a smooth hatch.
Sure, skiing is the raison d'être of this region. Playing golf at the highest course in Australia could have been enjoyable too. But this sort of Golf driving range arguably trumps them both – and a pun that really did create seriously good fun.