The Great Inland Way: Cairns to Cooktown

Haitham Razagui  |  November 2019
Three generations of Haitham Razagui's family embark on a 4000km inland odyssey from Cooktown to Sydney, in a
Golf R

wagon. 

"So you've flown into Cairns from Brisbane, so you can drive to Sydney," clarifies hotel receptionist Carly.

"Yes," I reply. "But I'm going to Cooktown tomorrow."

Carly's forehead wrinkles. "And your room booking is for three adults and one child?"

"That's right. I'm travelling with my wife and three-year-old daughter. And my mum who is visiting from the UK."

At this point all breezy check-in small talk has evaporated and the real Carly is before me. "In that little blue car outside?" she queries with widening eyes, motioning to the Golf R wagon my family is beginning to unpack outside the lobby entrance.

I nod. As Carly hands over the room key, her voice lowers. "In your shoes," she rasps, "I'd be thinking shoot me now."

The plan is to follow the Great Inland Way, a non-obvious route from Cooktown in Far North Queensland down to Sydney to match the less-than-obvious choice of car.

Hopefully we can prove Carly wrong and avoid creating any family feuds in the process.

We'll be on the road for more than two weeks and covering more than 4000km while soaking in as much of each destination as we can.

Packing for so many climate zones means we're at the limits of our airline luggage allowance and even testing the Golf R Wagon's commodious cargo capacity. As such, loading and unloading presents a source of friction to begin with, but I keep reminding myself that suitcase Tetris gets easier with practice.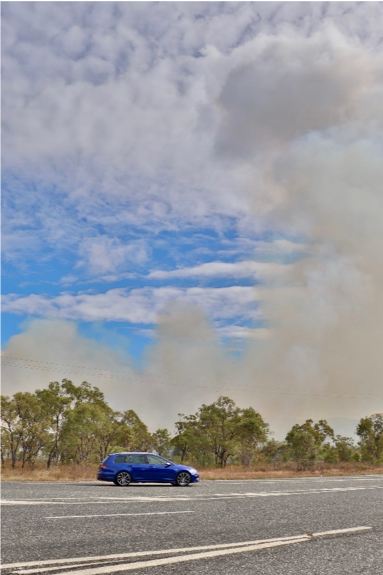 Our first overnighter is Palm Cove just north of Cairns, a laidback holiday hamlet that happens to be where my wife Tace and I tied the knot in a little beachfront chapel almost eight years ago.
It's an appropriate departure point for Cooktown and potentially soaked in irony if this trip ends up being the ultimate test of our marriage. In truth, we just wanted to see Palm Cove again, its manicured esplanade home to a number of majestic melaleucas old enough to have been described in James Cook's diaries as he charted Australia's east coast in 1770.
The four-hour journey north takes in the spectacular coast-hugging Captain Cook Highway to Port Douglas before we head inland just outside Mossman, passing trains and trucks packed with freshly harvested sugarcane before we tackle the tightly twisting, rainforest-lined climb to Mount Molloy.
Even fully loaded, our high-performance Golf is clearly in its element on this mountain pass, climbing strongly and steering keenly without throwing our passengers and possessions around or becoming a bucking bronco on lumpy cane train crossings.
Relieved, we pause at a precipitous layby on the way up to take in views of Snapper Island, behind which the ocean-fringing Daintree rainforest sprawls into the distance.
Not far from here we pick up the Mulligan Highway for the final northbound leg and quickly things feel a lot more remote, with Brahminy kites swirling through big smoky skies as they pick off bushfire-fleeing prey and unfenced cattle stations spilling their wandering stock across the road.
We pass through the eerie piles of granite boulders of Black Mountain National Park before reaching the Annan Gorge causeway, the riverbed exposed in these dry winter conditions and formed from such jaggedly carved rocks that we can't help but imagine the raging rapids that must exist here during the wet.
From here, the landscape quickly gets greener, densely forested Mount Cook appears on the horizon and we're soon among the buzzing, frontier-like atmosphere of Cooktown.
All of us have enjoyed the journey and it's with an upbeat mood that we head to the Sovereign Hotel for a pub dinner before unpacking into the family room that will house us for the next two nights.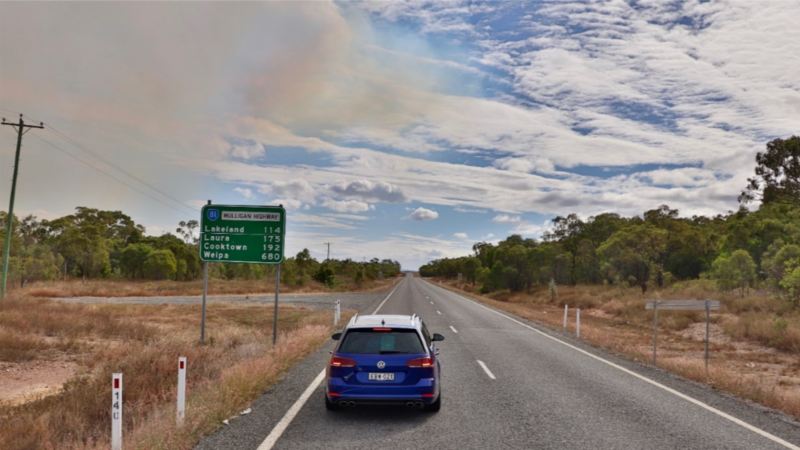 ...our high-performance

Golf

 is clearly in its element on this mountain pass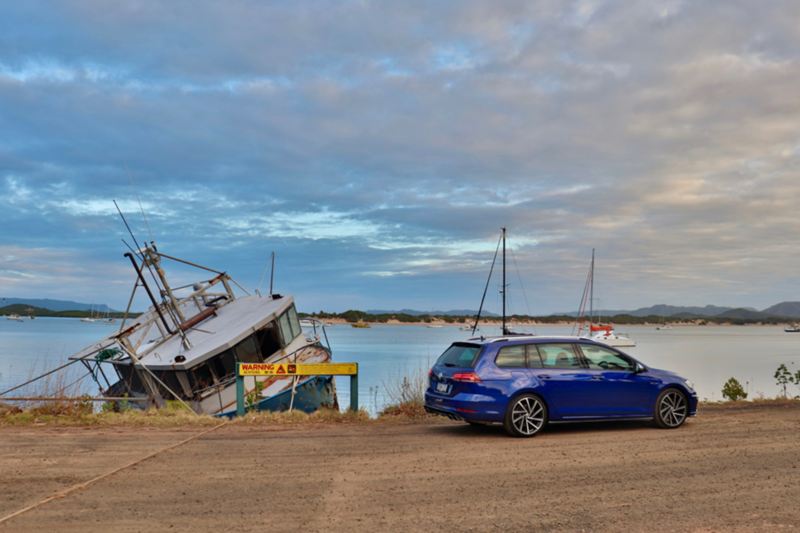 Waking refreshed, it's tempting for Tace and I to dash around Cooktown ticking off the sights but we're mindful of the two other generations on this trip.
Thankfully the scenic riverfront is dotted with playgrounds and points of interest, taking us half a day to reach the recently redeveloped esplanade area at the foot of Grassy Hill where we stop to enjoy excellent fish and chips – trawlers deposit their catch at the nearby wharf daily – as we gaze out over the Endeavour River.
After a slow walk back into town we take the Golf R up to the top of Grassy Hill, where in 1770 James Cook and botanist Joseph Banks spotted their first kangaroo and plotted a route through the Great Barrier Reef that would avoid repeating the damage that brought HMS Endeavour to this safe harbour for repairs almost 250 years ago.
Our daughter finds plenty of amusement running up and down the ramp to the lookout, the decoration of which represents the dreamtime story of Mungurru, the rock python that created Wahalumbaal Birri, now known as the Endeavour River.
Unlike Cook and Banks, we see no kangaroos from up here. But even on this rather cloudy day the 360-degree views of the meandering Endeavour River, as it emerges from mangroves to widen and form a long sandy beach beneath its mountainous north shore before merging with the Coral Sea, are incredible. 
Our final morning in Cooktown is spent at the James Cook Museum, which is housed in a former convent.
The downstairs walls are covered with extracts from the diaries of Cook and Banks plus recollections of aboriginal elders about their ancestors' encounters with HMS Endeavour and its crew, along with accounts of conflicts with the European and Chinese settlers who arrived more than a century later in search of gold.
All three generations find something of interest here. The museum is full of local artefacts – Aboriginal, European and Chinese – and stories from when the building was occupied by nuns.
Exhibits directly related to James Cook's 1770 visit largely consist of the anchor and one of six canons ditched from HMS Endeavour to prevent it from sinking after it was damaged. They remained submerged until the successful recovery operation of 1969.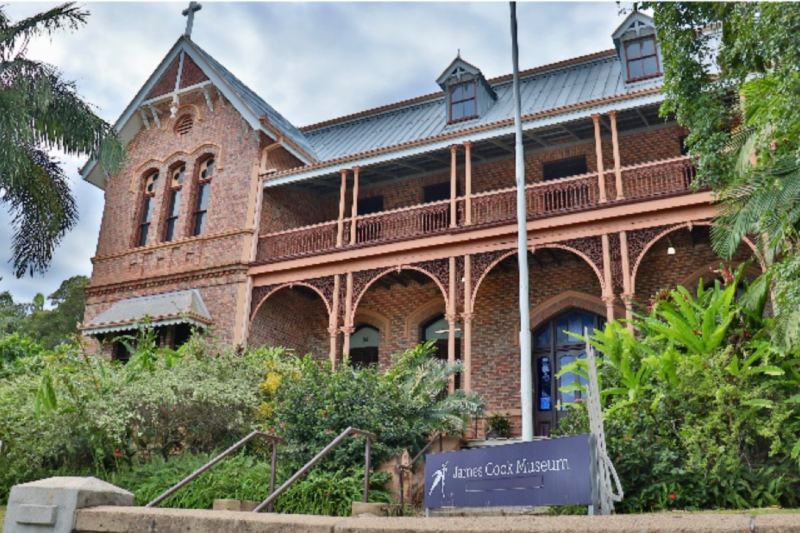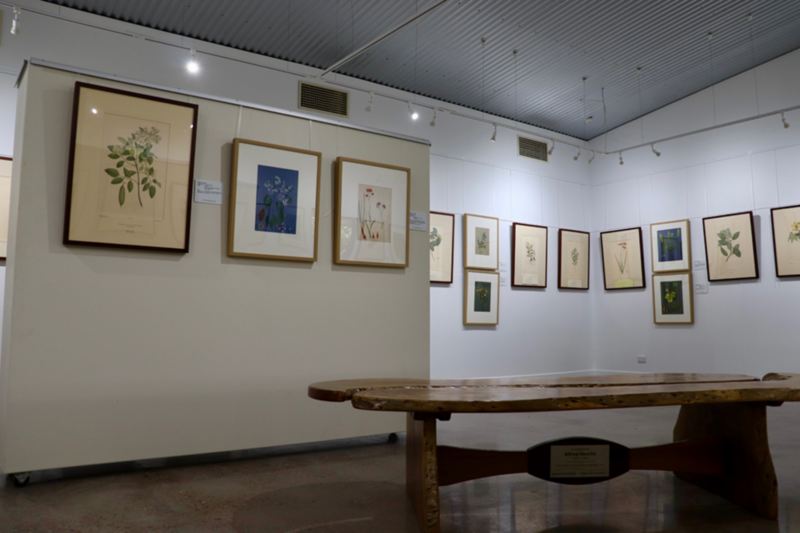 Before hitting the road, a surprise highlight we stumble upon while enjoying a seriously delicious lunch at the Nature's Powerhouse visitor centre in Cooktown Botanic Garden is the adjoining art gallery – and luckily our visit coincides with two truly wonderful exhibitions.    
One is a captivating and deeply moving collection of works by aboriginal artist Vincent Serico titled 'Some People are Stories' on its first major touring exhibition since Serico's death in 2008.
The other is a fascinating set of 21 prints from copper engravings based on illustrator Sydney Parkinson's drawings of Australian flora collected by Banks and his naturalist colleague David Solander during their voyage with Cook aboard HMS Endeavour. Alongside these works are paintings of the same plants by botanical artist and conservationist Vera Scarth-Johnson, who settled in Cooktown in 1972 and passed away in 1999.
Sightseeing, history, culture and fantastic food. A great start to our Great Inland Way adventure has us leaving Cooktown in high spirits.