The Great Inland Way: Chasing waterfalls in the Atherton Tablelands

Haitham Razagui  |  October 2019

Three generations of Haitham Razagui's family continue their 4000km inland odyssey from Cooktown to Sydney, in a Golf R wagon.    
Part 2.
The first 220km of our 300km drive to the Atherton Tablelands is back along the Mulligan Highway, past a big banana plantation and refuelling at the Lakeland Roadhouse from which many a Cape York adventure has begun.
We didn't realise on the way up, but the Golf R's altimeter reveals that much of this journey is spent at around 400 metres above sea level. Compared with the steep, twisty drive up from Cairns to the Atherton Tablelands, the road gently climbs between Mareeba and the regional centre of Atherton, which sits at 752 metres.
But we don't discover that before making a detour to fulfil one of my mum's bucket list items; taking the Kuranda Scenic Railway up into the rainforest-covered mountains that provide Cairns with its dramatic lush green backdrop, then back down on the Skyrail cableway that provides another perspective from above the forest canopy.
It proves to be a very worthwhile diversion and the train journey up is steeped in history. Planning of the railway began in 1882, with construction commencing in 1886 and concluding five years later. Oh, and the World Heritage listed rainforest it cuts through has been around for 130 million years.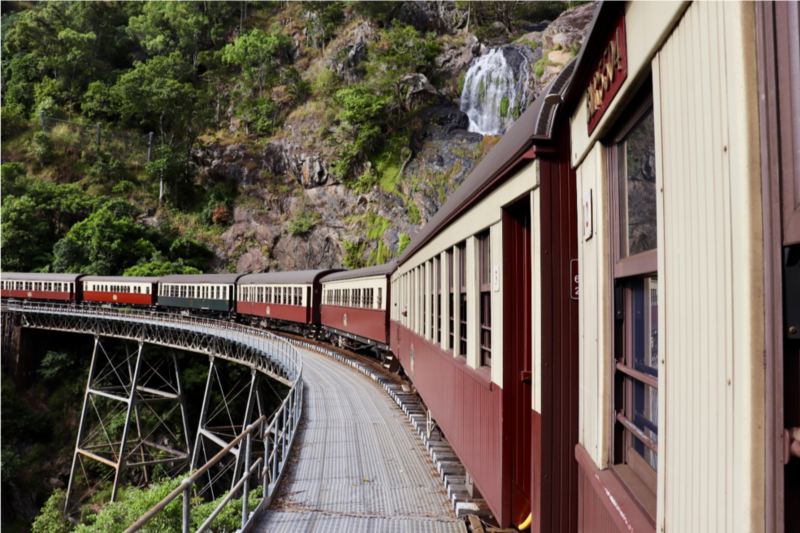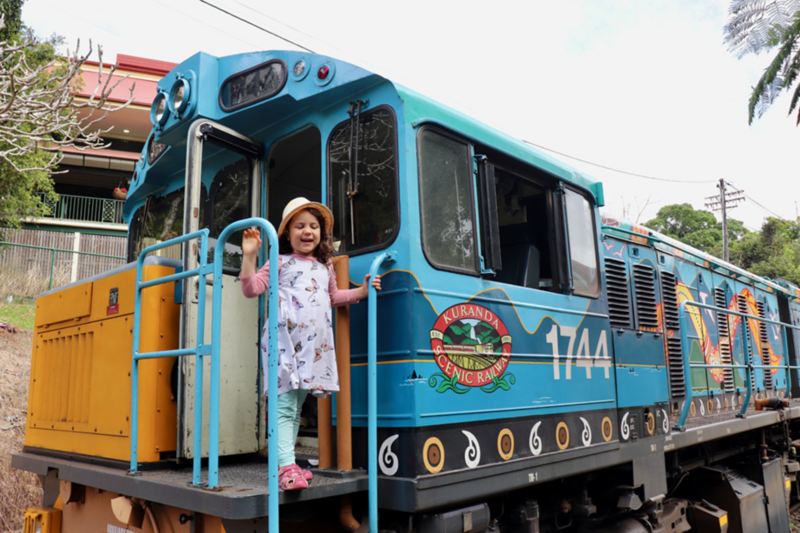 Our collective lingering unease, tension and apprehension about stepping off the Great Inland Way and the challenge still ahead of us is quickly dissolved by the scale and beauty of this railway experience.
Peering out from our tastefully restored vintage Queensland Rail carriage – rolling stock used on the route was built between 1909 and 1938 – the sheer rock faces and heavily scented stretches of dense jungle we trundle through make it feel miraculous that this railway exists at all, given the basic tools used by the predominantly Irish and Italian workforce in unforgiving and often deadly conditions.
Using dynamite, basic hand tools and determination, up to 1500 workers at a time carved out endless escarpments, dug 15 tunnels and constructed 37 bridges to complete a railway consisting of almost 100 curves on its way to Kuranda, 328 metres above sea level.
The vertiginous, winding ascent provides increasingly dramatic views across rainforest and sugarcane plantations to the Coral Sea beyond and long, sharp bends present several opportunities to see the entire train as it passes plunging waterfalls.
Hauling us are twin 1000-horsepower locomotives dating from the 1960s, resplendent in aboriginal art representing the dreamtime story of Buda-dji, a carpet snake who carved out the Barron Gorge and its tributaries.
Barron Falls has its own station stop, where we have about 10 minutes to view the 125-metre cascade from various vantage points. A hydroelectric power station established in the 1930s reduces the torrent to a trickle for most of the year, but we're assured that this steep waterfall really rages when the wet season is in full swing.
A honk of the train's horns summon us to board for the short final leg to the pretty Kuranda terminus, designed with ornamental planting as a 'show station' in 1910 and retaining to this day the feel of a botanical garden from which you can catch a train.
Powered by dark chocolate-coated frozen pineapple chunks on a stick from the Kuranda station gift shop, we board the 7.5km Skyrail cableway that has been operating since 1995 and today has 114 gondolas running between four stations on cables suspended by 32 towers.
We are quickly mesmerised by mountain vistas as we are carried high across the Barron River and skim the towering rainforest canopy of ancient kauri trees and sprawling strangler figs peppered with vast, bushy epiphytes and football-sized green ant nests. Between them are Alexandra palms with impossibly slender trunks and glimpses of glistening fern gardens on the forest floor.
From up here, it's no wonder that director James Cameron's vision for the jungle world he created in the movie Avatar was inspired by his views from the Skyrail.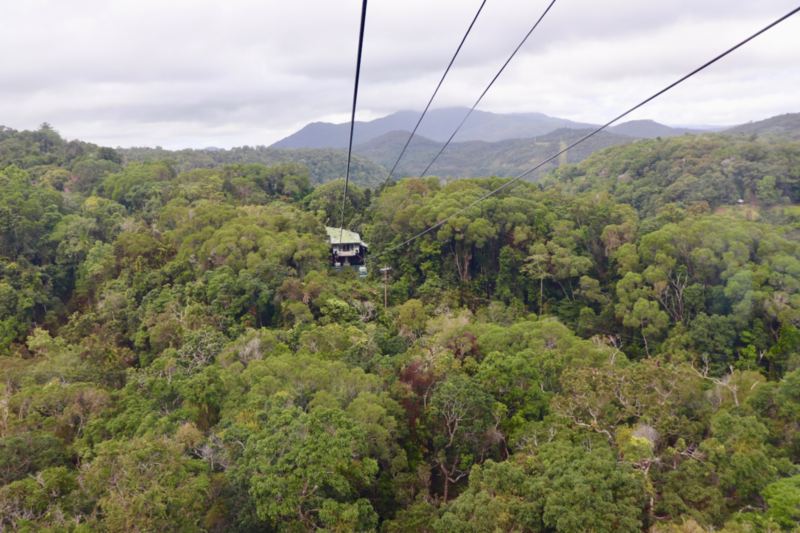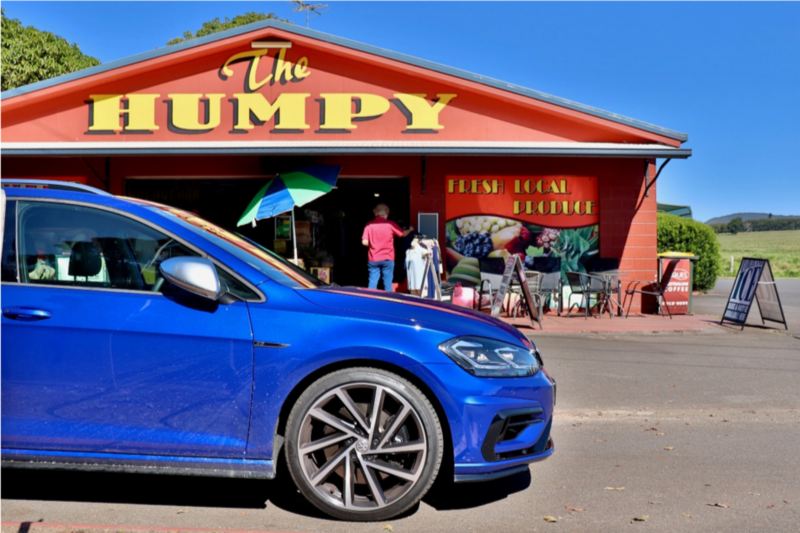 Our first station stop treats us to another perspective of Barron Falls from a recently constructed lookout called The Edge, with glass floor sections that reveal the true scale of this gorge as it plummets 160 metres below and the pillar-like rock formations between the four deep green plunge pools.
The next Skyrail stop at Red Peak is 209 metres higher than Kuranda, with educational displays and a boardwalk through the jungle ending with a view of what seems like an endless valley carpeted in layer upon deep green layer of rainforest.
Once back into a gondola, our final descent is marked by unbroken views of the coast, stretching to Double Island in the north and Cairns to the south, with Cape Grafton visible in the distance.    
Before checking into our self-catered cabin in Atherton we collect produce from the fertile Tablelands' abundant farm gate stalls and stock up on supplies from the Humpy grocery outlet, resulting in a new level of luggage Tetris as we accommodate the bulging freezer bags we've bought to keep perishables fresh.
Thankfully, assembling our daughter's bike has freed up some space – as has the discovery of a huge additional compartment beneath the Golf R's boot floor in which we stash all our bulky winter clothes we'll need later in the trip.
Not now, though. Even this high up, the weather is glorious as we drive by paddocks so green they almost glow, populated by dairy cattle and teeming with groups of elegant brolga cranes.
It's more than a little tragic to consider this area was once covered in the same kind of dense jungle we saw on our the train and cable car experience but some has been preserved, notably the vast curtain fig near Yungaburra that is thought to be at least half a century old.
The 39-metre circumference of this giant's trunk is only dwarfed by its 50-metre height. An array of interwoven aerial roots – hanging like a waterfall of wood from 15 metres up – provide its famed curtain-like appearance.
It owes this enchantingly unusual form to the collapse of its original host tree onto two neighbours that remained standing but were in turn engulfed by the fig's strangling limbs and have long since decayed into the forest floor.
Queensland's highest peak, the 1622-metre Mount Bartle Frere, looms on the horizon as we enjoy an exquisite ploughman's lunch on the delightful deck of Mungalli Creek biodynamic dairy before taking a tour of the local waterfalls.
Ellinjaa Falls is easily accessible, achingly picturesque and, when we visit, flowing well. We all enjoy balancing our way along the rocky gully to get as close as possible and soak up the white-noise serenity for a while.
Zillie Falls is not so successful and we rename the attraction Silly Falls after my mum wisely declines to scramble down the challenging muddy beaten path that promises to lead toward their base but ultimately goes nowhere.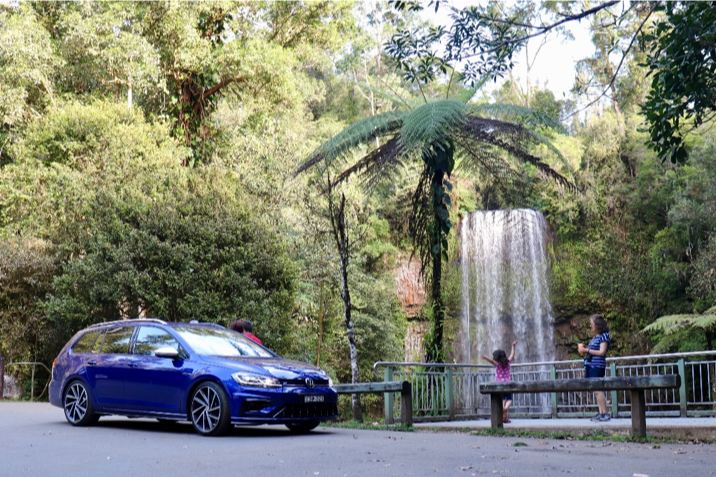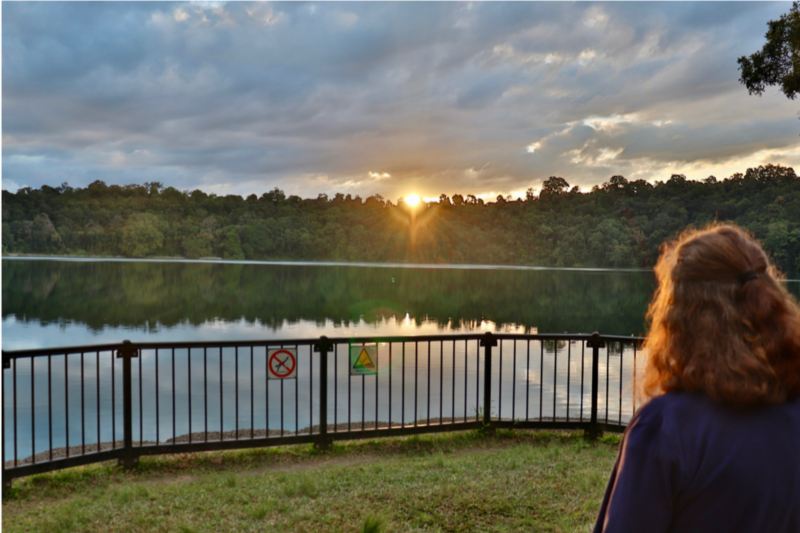 We get a glimpse of the cascade from a lookout so, after clearing away some stray chooks that have taken a liking to our Golf R, we're hitting the road and dodging Friesian cows en route to Millaa Millaa Falls, which proves to be just as Insta-perfect in real life – except the crowds aren't edited out.
Still, our daughter enjoys spotting fish in the water and hearing her voice bounce back at her off the rocks as she yells "Millaa, Millaa" with everything she's got.
As the sun begins to drop faster than our daughter's eyelids, we gamble on a quick visit to Lake Eacham, one of two crater lakes that were formed by volcanic activity more than 9000 years ago.
It pays off. The lake is stunning, even in this fading light, and the ethereal glass-green waters are absolutely still. As we pause to take it all in, a number of saw-shelled turtles – that breathe through their bottoms, much to our daughter's amusement – paddle over to check us out while a kookaburra silently observes from its perch above.
Before we climb back into the Golf R bound for our cabin for dinner, the lake is briefly ablaze as the sun descends between the clouds before disappearing behind the rainforest canopy.    
Read Part 1

Read Part 3