The Great Inland Way: The Outback Art Trail

Tace Clifford  |  November 2019
Tace Clifford somehow maintains her sanity and finds unexpected opportunities to indulge her passion for art during a 4000km inland odyssey from Cooktown to Sydney with her husband, daughter and mother-in-law, in a Golf R Wagon. 
They say hard times bring out the creativity in people and nowhere is this more evident than out here. Land dry and barren, bottle trees and cacti the only things visibly living and, looking at the sky, not a glimmer of hope of rain in the near future.
Yet, like a string of pearls flowing over the border of Queensland into New South Wales, stretching over 1200km of the Great Inland Way from rugged Carnarvon National Park to the cool climate of wine country Orange, is a string of tiny outback towns where creativity is abundant.
The first gem is found at Injune, where our daughter burns energy in the park as the adults enjoy the morning sun and quaint old buildings on the main street. We're admiring the 'Characters of Injune' series of metal statues that depict local identities and their stories from throughout Injune's history.
My three-year-old daughter, husband, mother-in-law and I are back on the road in Glenda the VW Golf R Wagon. We're 10 days into the trip and have all submitted to the simplicity of life on the road.
Doubts over how we'd all get on have quickly dissolved and there are constant giggles coming from the front and back of our car. We sing, to country music and enjoy sharing the sights and experiences this road trip brings for all three generations of passengers.
With more than 450 kilometres to tonight's stop we detour briefly to Roma, home to Queensland's largest bottle tree. It's simply magical, towering six meters tall and 9.51 metres in girth with a crown of 20 metres.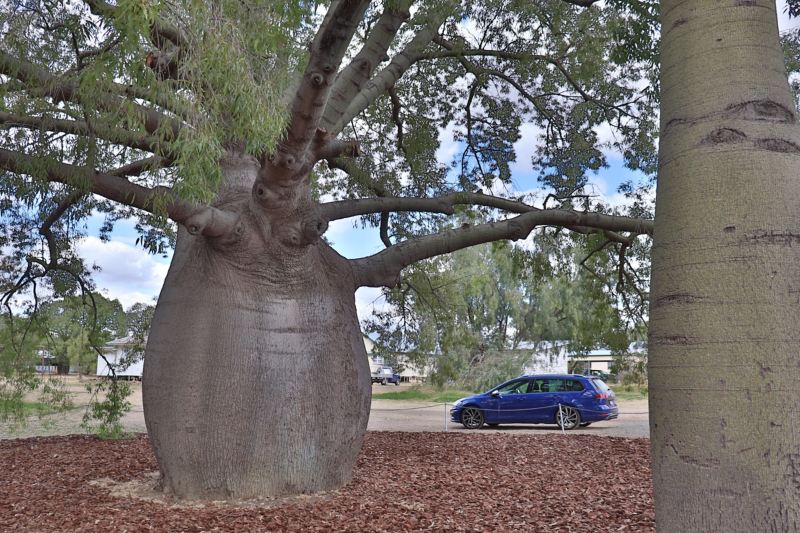 Just as the sun sets we roll into Queensland's oldest pub. The Nindigully Pub is set on the banks of the Moonie River and 'the Gully', as it is affectionately known, was first issued its pub licence in 1864. It operated as shearers' accommodation for the Nindigully Station prior to that and from the late 1800s the Nindigully Pub was a Cobb and Co coach change-over station.
More recently, the Nindigully Pub became famous on social media for its enormous 7kg Road Train Burger but we decide that between three adults – one of whom is vegetarian – and a three-year-old, there is no way we can order one!
Inside at the bar, the walls are decorated with cowboy hats, foreign banknotes, old photos and memorabilia. But it's outside in the beer garden where memories are made, where we enjoy a yarn with other travellers around the fire pit beneath the starry outback sky while our daughter enjoys the cleverly situated rides and toys.
Character seeps out of every wooden wall and floorboard and I'm so glad we chose to stay in this classic Aussie outback pub, in the middle of nowhere. The rooms are period decorated and furnished, and the rudimentary toilets and showers are outside – which came as a bit of a shock to my mother-in-law! After staying the night in two of this historic pub's atmospheric rooms we head 35 kilometres to the nearby town of St George for breakfast.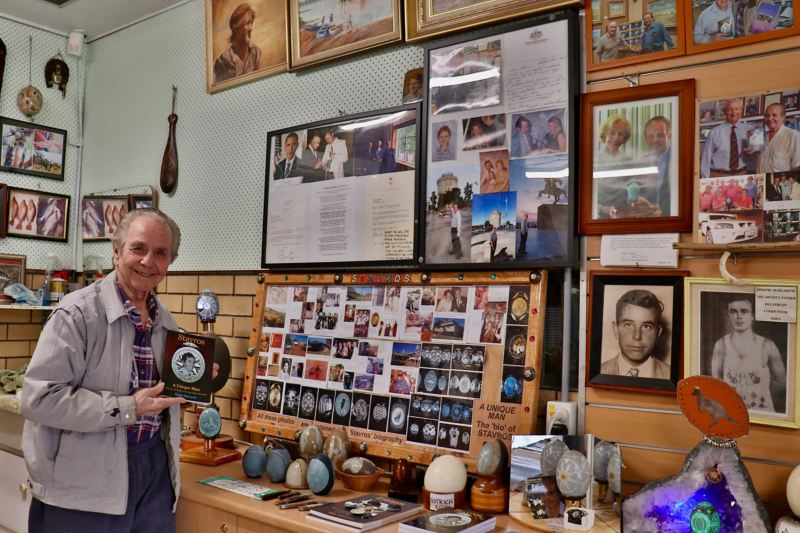 On the drive in, banks of earth create walls around fields and we discover these form part of the irrigation system for St George's massive cotton industry. It's another great learning experience for our daughter, who is able to see the raw cotton from the plants and we talk her through the process from here to her clothes. It blows her mind and spurs so many questions.
After an enjoyable breakfast at the St George Cafe in town, we head next door to see the unique carved emu egg museum. It's a hidden gem, established by Stavros 'Steve' Margaritis who moved from Greece to Australia in 1954.
Having been keen on wood carving from an early age, Steve turned his hand to emu eggs when he arrived in Australia and perfected his art. On display in his gallery are 150 carved and illuminated eggs, including one with the image of Barack Obama that he had sent to the former US president and received a thank-you letter from the man himself.    
Across the road is the Mani Tribes Gallery, which I sneak off to alone and can't recommend it enough. I had a guided tour by Johnny Tattam, one of the local Aboriginal artists. I relished the opportunity to learn about the cultural meanings, symbols, imagery and colours used in the paintings. It was a privilege. I could ask questions I have wanted to ask since I first laid eyes on Aboriginal art and Johnny was so happy to answer.
One of Johnny's paintings showed the yellow belly fish (or 'fargay' in traditional language) and he told me how easily huge numbers of these fish could be caught when the bridge we crossed on the way into town was raised. Johnny also explained the tradition with didgeridoos and played for me. I came away with my creative cup full; it really was such an unexpected highlight on the Great Inland Way.
I rejoin my family and we get back on the road refreshed from our morning in St George.
We're all surprisingly emotional, thinking of the distance we have covered, what we have seen, explored, learnt and not wanting it to end. 
Next in our string of outback gems we drive to the tiny township of Thallon, where four enormous corn silos stand brightly in stark contrast to their dusty surroundings. Vibrantly painted with the design titled 'The Watering Hole' by artists Joel Fergie and Travis Vinson, they capture the essence of the district, including the Moonie River, beautiful sunset, a scarred tree recognising Thallon's Indigenous community, pale-faced rosellas and a mob of sheep in celebration of the area's agriculture.
Thallon also houses a two-metre-high, 3.5-metre-long climbing statue in the shape of a northern hairy-nosed wombat named William. We take the opportunity to stretch our legs and have fun climbing William! He's here because some of the earliest specimens of his species were found in Thallon. One of the world's most endangered species with only 250 remaining, there are nevertheless plans to re-introduce northern hairy-nosed wombats to the area.    
With hundreds of kilometres still to go before our overnight stop in Coonamble, we cross the New South Wales border and it's a striking a landmark in the road trip. We're all surprisingly emotional, thinking of the distance we have covered, what we have seen, explored, learnt and not wanting it to end. We know that from here on in we are returning toward civilisation and will miss the outback road trip spirit.
There have been none of the expected troubles such as too many people in a confined space, a screaming car-hating child or cliché mother-in-law fall outs. Most surprising of all, after thousands of kilometres in Glenda, no numb bums!
The next big jewel is Lightning Ridge, a land of opals and home to a set of dentures made out of these gemstones that belong to an old Lightning Ridge character.
Much more important and jaw-droppingly impressive is the discovery of an entire herd of 100-million-year-old fossilised dinosaur bones, including an entirely new species named Fostoria after the local family that found them. Lightning Ridge is also home to the world's most complete opalized dinosaur.
We're still 200km from our motel in Coonamble as we hit 'roo time, so I stay behind a road train the rest of the journey to give us the best chance of making it without decorating the front of Glenda with marsupial.
Discussion in the car is animated with excitement about art, dinosaur fossils and the things we didn't have time to see but will next time. Our daughter tunes out and reads her kids' National Geographic magazine… cute!
We roll into Castlereagh Lodge Motel in the dark, tired from a long day's drive. We have dinner across the road at the RSL club and have a much-needed early night.
All of us wake refreshed and remarking on our unexpected best night's sleep on the trip before loading everything into Glenda and swinging by Coonamble water tower, painted by artist John Murray, it's a rich and bold statement against the bright blue sky and blossoming yellow tree.
The final gem in our Outback Art Trail is the tiny town of Gulargambone, home to a cute police station and a riot of street art.
A row of quaint, old shops was purchased by an artist and now each window displays creative works relevant to each shop's history and what they once sold.
Everything in this town has been tickled with creativity; the street is even renamed Bourbah BoulevART.
Murals decorate the walls and bus shelters. Even public toilets are beautifully painted in Gulargambone, while undecorated buildings have a ramshackle charm of their own. Sheetmetal galahs keep watch over the life-size bullock wagon 'Ghosts of Bullocks Past', made by local artists Alison Dent and Brian Campbell and assembled here by local volunteers.
Two weeks on the road as a family and I wish this would never end. I relish this time together with my girl while she's young. The simplicity of our days and our enjoyment are equally measured.
We're creating funny faces with mandarin segments in the back of Glenda when we roll into Orange at sunset.
From here on there's no more red dirt. Glenda looks filthy and we LOVE it! Driving around these suburban roads, no one could imagine the adventures we have all been on together. If these tyres could talk...
A clothing designer by trade and adventurer at heart, Tace Clifford founded parent-focussed car review website BabyDrive.com.au after driving her infant daughter to sleep in the countless press cars her husband brought home from work. Taking her daughter on epic road trips at least guarantees a few hours' peace and quiet .