The Great Inland Way: Undara, the outback and beyond

Haitham Razagui  |  November 2019
Three generations of Haitham Razagui's family continue their 4000km inland odyssey from Cooktown to Sydney, in a Golf R wagon.
"I need the toilet, Daddy," comes the call from my daughter's cocoon-like child seat. Just as I'm feeling all proud that she's now mature enough to communicate these things, she follows up with: "I'm desperate!"
That's even in her vocabulary? But urgency in her voice tells me she knows exactly what it means.
Frustratingly this unscheduled stop comes only about 20 minutes after we checked out of our cabin at Atherton and our destination, Undara Volcanic National Park and its famous lava tubes, are still another two hours southwest of here.
While we're scanning the roadside for convenient 'wild wee' locations, a brown tourist attraction sign for Mount Hypipamee Crater appears. We divert into a thicket of rainforest and are immediately faced with multiple warning signs for cassowaries.
As we emerge cautiously from our Golf R Wagon, people in full-on safari gear wield high-end cameras with gargantuan lenses hoping for a glimpse of the reclusive and potentially deadly flightless bird.
We have no cassowary encounters on our visit to the toilet block but are curious enough to follow a track toward the crater that is thought to have been formed by a volcanic gas explosion. It turns out to be a 130-metre-deep cylindrical hole in the rock with sheer cliff walls and the bottom 73 metres submerged.
Around 58 metres below the viewing platform is the crater lake's bright green skin of duck weed, which sustains a unique species of freshwater shrimp. Stalactite-like bacterial formations also thrive here due to consistent water temperatures of between 17.2 and 17.5°C.
Before my mind gets too occupied by the fact no land-based creature could ever escape a fall into this geological attraction we head back to the Golf R, keeping an eye out for cassowaries – there are none – and resume our journey toward Undara.
Another 25 minutes later and we're passing through Ravenshoe, which at 930 metres above sea level is Queensland's highest town. It's an altitude we shan't again exceed until we cross the Blue Mountains on our final approach to Sydney.
Patches of rainforest have become less frequent and dry, grassy country is the new normal, peppered with squat termite mounds resembling abstract statues of the Laughing Buddha.
Ranging from sandy in colour through multiple shades of orange and red, these stocky anthills reflect otherwise unseen soil changes beneath the bitumen on which we travel.
Bottle trees begin to appear by the roadside, along with a level of roadkill that my mum – who still mourns a wild rabbit she ran over when I was in my early teens – finds absolutely horrifying. But regular causeways with flood markers remind us it's not always this dry.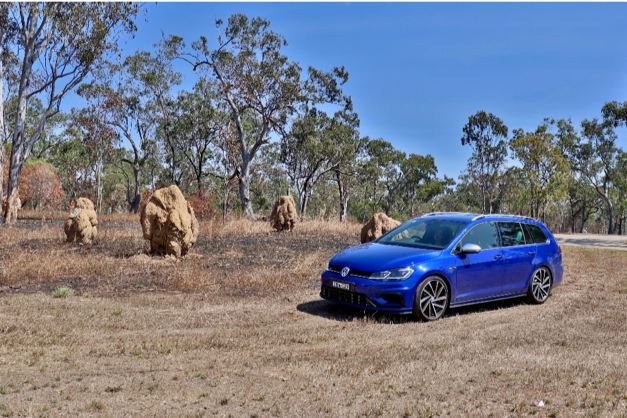 We pull onto the Savannah Way for our short detour to Undara, where the foliage becomes shorter and sparser, there is less definition between the bitumen and its stubbly verges, and the almost cloudless sky takes up at least a third of the view out of our Golf R.
Piles of basalt rocks line long stretches of road, removed during its construction and added to later when power lines were installed. They are our first evidence that this landscape is home to some spectacular remnants from one of the longest lava flows to ever have originated from one volcanic crater.
Undara Volcanic National Park showcases the result of an eruption that happened around 190,000 years ago, spewing an estimated 23 billion cubic metres of lava – at a rate of 1000 cubic metres per second – across 1550 square kilometres.
The main lava flow was more than 160 kilometres long and another stretched 90km. Appropriately, the national park's name is inspired by an aboriginal word for 'long way'.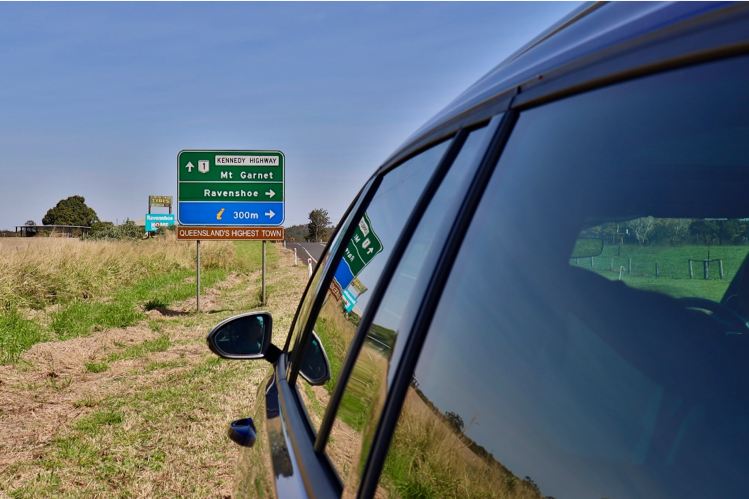 Mindful of how much ground we're yet to cover on this Great Inland Way adventure, 'Undara' is added to our shortlist of names for the hardworking Golf R wagon. In a remote-feeling part of the world plied by tough-looking off-road vehicles, the fine layer of red dust covering this low-slung, sporty vehicle fills us with a perverse sense of pride.    
The national park is part of an outback cattle station established by the Collins family, who became the area's first European settlers in 1862. Fourth-generation family member Gerry Collins decided in 1987 to create a sustainable tourist facility for visitors to experience the local geological wonders and purchased 11 decommissioned rail carriages to convert into accommodation.
It's fitting that we stay in these century-old carriages for the night, having recently travelled the Kuranda Scenic Railway in rolling stock of similar vintage. We also dine in a repurposed passenger coach, among several others arranged in horseshoe configuration beneath a huge rainwater-harvesting shelter at the heart of the Undara complex.    
The charm and olde-worlde detail of these old Queensland Rail carriages has been maintained, with modifications making them liveable and, for tourist accommodation purposes, their ornate original luggage racks remain at least as functional as they ever were.
On the way back to our carriage, our daughter gathers various samples of red dirt, then mixes them with water to create paint with which she happily applies colour to the Undara walking trail map.
We hop on a bus first thing the next morning with our guide Chris, who is showing us round the lava tubes on what is his first day back after six years away. Thankfully his knowledge, and ability to convey it, remain extraordinary.
The early hour means we see heaps of wallabies and kangaroos en route to the Archway Explorer tour, as Chris explains how the underlying basalt and granite dictate which types of foliage can grow.
...fine layer of red dust covering this low-slung, sporty vehicle fills us with a perverse sense of pride.

Before we enter Stephenson Cave, we stop to discuss the surrounding copse of rainforest that has survived from another epoch. It's one of several areas where the collapsed roof of a lava tube has created an oasis of sheltered, fertile conditions for lush growth that also supports fauna not usually found in this rocky, dry savannah of grass and eucalypt.
As we descend the into the cave, Chris describes how a crust formed on top of the quickly flowing lava as it followed a dry riverbed, insulating the molten rock below and enabling it to drain further. This left behind the series of hollow lava tubes that we're here to explore.
Sprawling vein-like roots reach into the darkness from a fig tree by the cave entrance while another root has penetrated the rock from above and dangles like an uvula in the throat of the chamber, of which the roof and walls are stained in a beautiful camouflage-like pattern by mineral deposits from millennia of rainfall soaking through the ceiling.
As we follow the boardwalk deeper into darkness, Chris recalls numerous times that the lava tubes have flooded, with one particularly wet year instigating swimming tours of some caves.
Using a powerful torch, he goes on to show us how different shapes in the rock tell a story of ceiling collapses that were absorbed into the 1200°C lava below, as well as examples of melted-looking areas of fallen rock and evidence of gas bubbles that never completed their upward journey through the magma before it solidified.
Chris then takes us along a boulder-strewn gully formed by a collapsed section of lava tube and now full of tangled vines. We arrive at the 25-metre-wide Archway, a rock bridge of breathtaking beauty, not least because abundant natural light combines with the unusual angles and texture of lava tube rock to make it glow with colour. And the sinewy fig trees that flank it are similarly magnificent.
Our final descent is into Ewamian cave, named after the traditional owners of this area who reputedly avoided the lava tubes for reasons modern science attributes to carbon dioxide levels that can get dangerously high.
Here, Chris tries his best not to disturb the resident microbats that feast on airborne insects come nightfall – while unlucky ones complete the food chain courtesy of snakes inhabiting a conveniently located fig at the cave's entrance – and shows us some interesting cave art by none other than Mother Nature, including a heart shape and the mask of Darth Vader, all rendered in shimmering calcium deposits.    
Undara has been such a worthwhile little detour. Our daughter spent plenty of time being carried during our two hours with Chris but enjoyed it as much as the adults. And my mum's fascination for geology was fed like a foie fras goose.
So far, we've packed a lot into the Far North Queensland leg of our Great Inland Way adventure. Our next major destination, Carnarvon Gorge, is more than 1100km south of Undara.
That's three days of road trains, roadhouses and roadkill. Hopefully we can keep everyone happy along the way.