Hennika Kestilä  |  June 2019
Arguably one of the most beautiful and wild places in Australia, adventurer Hennika Kestilä loads up in a T5-based Trakkadu adventure machine, and ventures into the park. 
By the time we arrived at Kakadu National Park in early August 2018, we had covered more than 17,000km over seven months. We'd travelled from Melbourne to Darwin via Australia's west coast in our Trakka-fitted Volkswagen T5 Transporter campervan.
We'd already had some experience with both 4x4 tracks and dusty, hot conditions, so we felt ready to get inside and explore this vast national park, which is nearly half the size of Switzerland!
As we approached the entrance, we were wide-eyed. We couldn't believe we had finally arrived in this iconic part of Australia, with its ancient landscapes, sacred aboriginal sites and abundant wildlife. During our planning, we had discovered that Kakadu National Park is, in fact, one of very few parks in the world that meets the criteria for both cultural and natural wonders in its listing as a World Heritage region. Adding this place to our itinerary had been a no-brainer, and at last we were going to experience it for ourselves.
We had scheduled our visit to Kakadu during the dry season – May to September – due to many of the sights and roads only being open towards the end of this season. In early August we expected most of the waterfalls and hiking trails to be open and accessible with our AWD Transporter.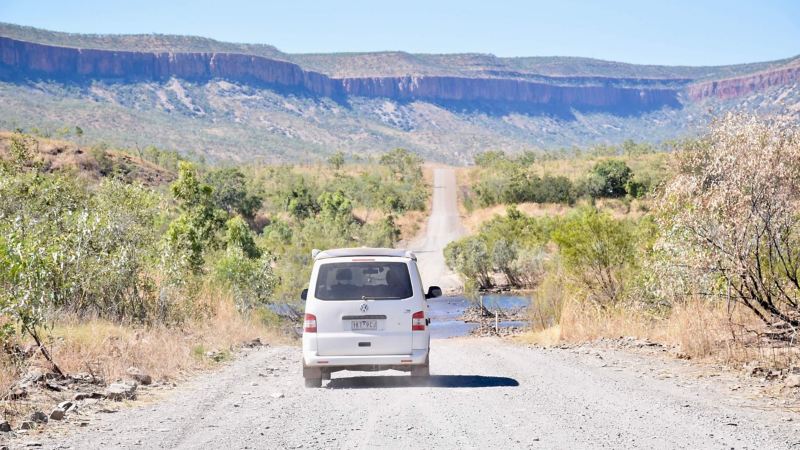 Cahills Crossing
On our first day out in the wilderness we headed to East Alligator river, home to the famous Cahills Crossing and the nearby Ubirr Rock art site.
Upon reaching this impressive tidal river and Cahills Crossing, which is widely acknowledged to be one of the world's most dangerous river crossings, we knew couldn't resist taking the opportunity to traverse its saltwater crocodile-infested waters ourselves.
Our VW T5 Transporter is equipped with the Seikel lift kit, which allows us to comfortably cross rivers where the water level is below 40 cm. Crossing at Cahills was an exhilarating experience; we could see the enormous saltwater crocs swimming just meters away from the van, and we passed local fishermen attempting catch the barramundi that wriggled along in the rushing currents.
As the water levels became higher and the river changed direction, we watched more than 30 crocodiles glide past, often catching the barramundi in their powerful jaws before the fisherman had a chance. We could have spent hours immersed in this amazing spectacle, but eventually it was time to drive on.
Next, we headed up to Ubirr, one of Kakadu National Park's two most famous Aboriginal rock art galleries. Some of the art pieces here are thought to be between 2,000 and 10,000 years old.
Leaving our van, we trekked the dusty track to find the red rocks with their incredibly intricate and beautiful designs, which were painted by the Aboriginal people as a way to share stories among their communities, to pay respect to animals for giving their lives and to ensure future hunting success.
Unfortunately we missed the weekly ranger talk, which tells the stories of these paintings, but seeing the original rock art on its own is simply incredible and we wandered around the site in awe. It would be worthwhile checking when these free talks are available to the public before visiting the park.
As if the rock art wasn't enough of a draw, the Ubirr site also comes with spectacular views of the vast wetlands that cover much of Kakadu. We sat for a while and soaked up the serene beauty before heading back to our VW to drive on to our campsite.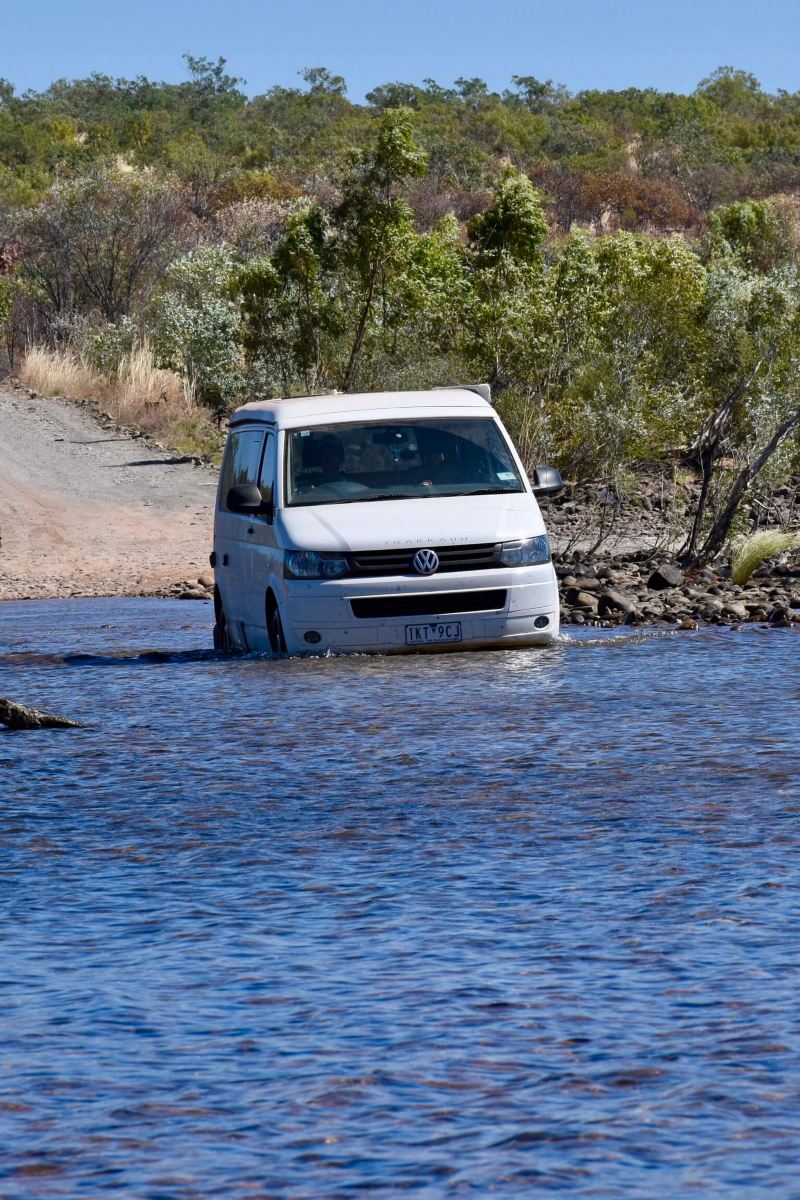 Camping in Kakadu
After a long day on our feet, we set up camp at one of the free campsites located south of Jabiru. Nights in the Top End are full of noises, and we weren't entirely surprised to come across the occasional python on our nocturnal visits to the bathroom. 
Jim Jim Falls
The next day we headed to Jim Jim and Twin Falls. The road to this area is fairly long and dusty with lots of corrugations. We tended to let some air out of our tyres before entering these roads, to make the drive a little more comfortable. As our vehicle was on the heavy side, we took the time to drive carefully over these corrugated roads.

Upon reaching the spectacular Jim Jim Falls, we decided to hike to the top to see the surrounding landscapes and to gaze down on the upper waterfalls. The hike was steep and hot, with temperatures reaching 36 degrees C.
When we finally made it to the top we discovered that, unfortunately, the upper falls were dry.  However, we weren't disappointed for long, as we were treated to some incredible scenery over Kakadu from the top of the falls.
After making our way down to the lower waterfall, we finished our visit to Jim Jim Falls in the only way that made sense to us in our sweltering state – by diving into the ice-cold fresh water of the Jim Jim pool. So refreshing!
Our second disappointment that day was finding the Twin falls closed due to upgrades. Here's hoping it will open for the 2019 tourist season with lots of new infrastructure.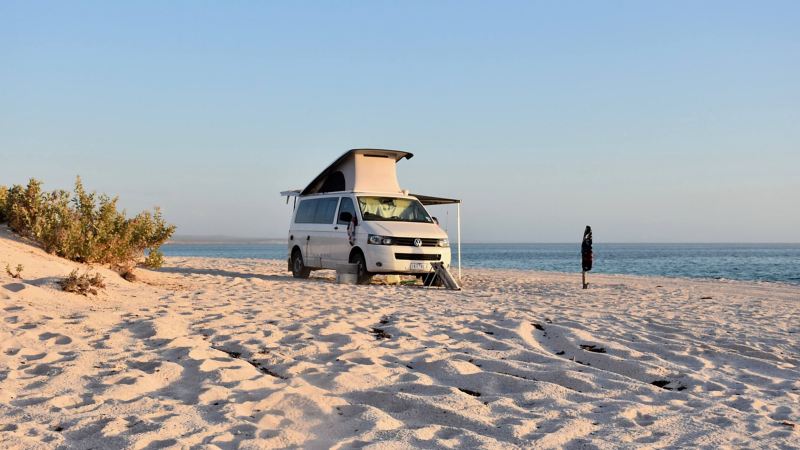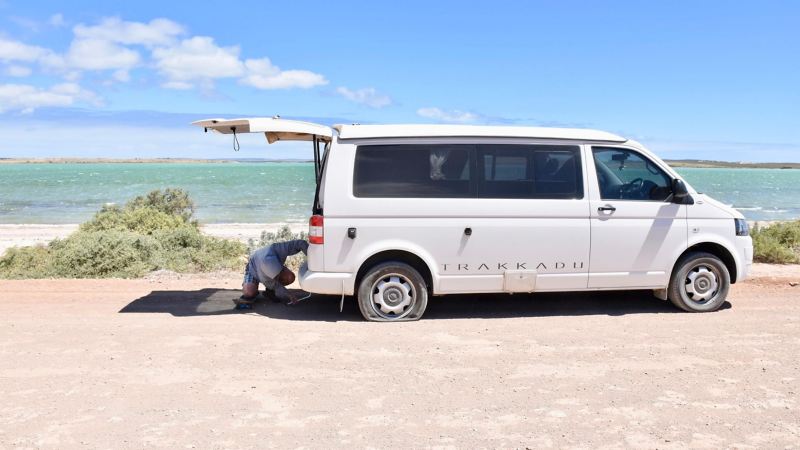 It's a magical moment to savour

Gunlom Falls
Our camp that night was the Gunlom Falls Campground, complete with stunning views of the waterfall and a natural infinity pool that was calling to us from the moment we saw it!
In the morning the campground was dusty and hot. We couldn't wait to jump into the lower pools and start exploring the area. We hopped into the water and quickly realised that we were sharing the pool with a freshwater crocodile. But, as they say up here in the Top End: "It's only a freshy, ay! Nothing to worry about!" So we didn't. In fact, when we approached it, it dived to the bottom of the pool and we never saw it again.
After this refreshing start to the day, we hiked the track to the upper pools and found several natural pools just waiting for someone to jump in and enjoy them. We did some pool hopping and finished our tour at the natural infinity pool – the most famous one in the Top End. The views are simply breathtaking and the feel of this place as we looked out across the landscape was very special. 
Food for thought
Enjoying the warm weather, catching the sunset and cooking a meal are all essential parts of travelling to new destinations. After a busy day of swimming, hiking and exploring new places, it's nice to focus on fuelling your body and soul. 
At Gunlom Falls Campground we found some free BBQs and started to cook ourselves a feast. While we were doing so, we met some fellow travellers and got to exchanging travel tips. During our 13 month long trip, we received some of our best destination recommendations from strangers we met on the road or at campsites. It's always a joy to meet like minded people who understand the journey that you're on.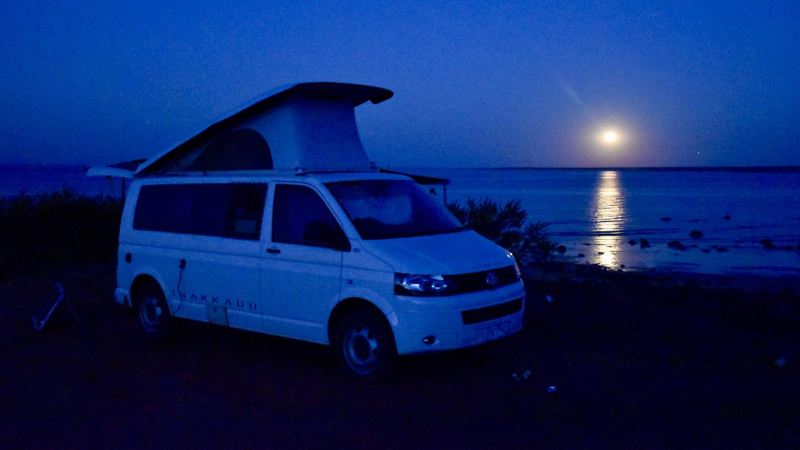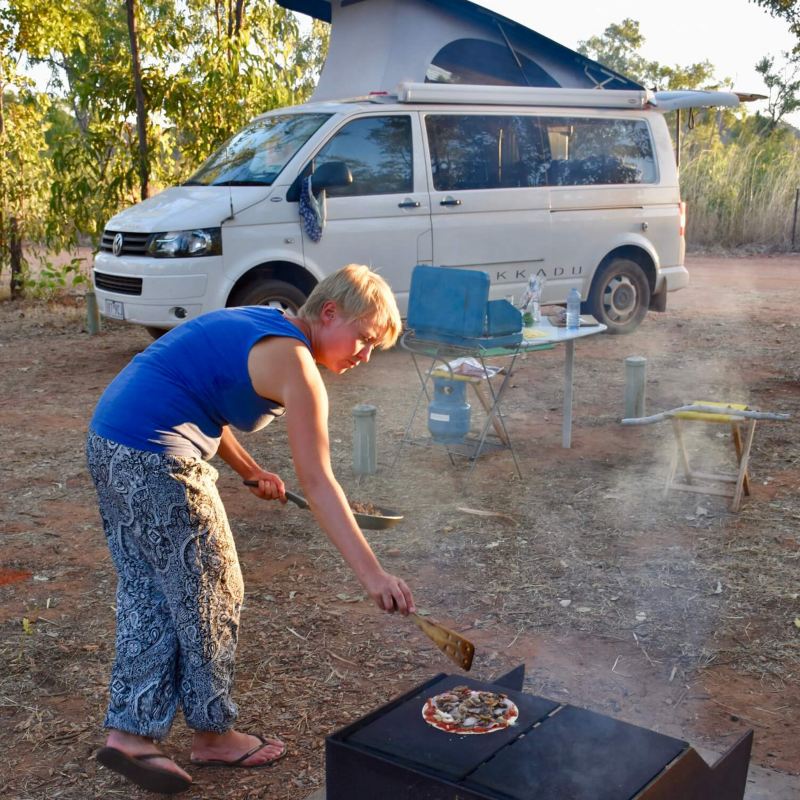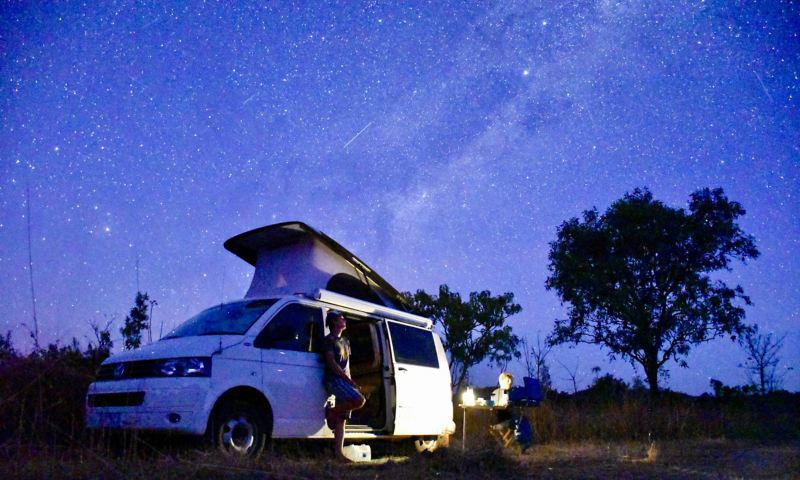 Night Skies 
It's difficult these days to find a location without any light pollution, from which to capture the perfect night shot. But at the Top End you can see the Milky Way on most nights during the dry season, and one of the most enjoyable ways to spend a quiet evening is to see how many mind blowing star formations you can spot. 
Lessons from the road
We spent one week in Kakadu National Park, discovering incredible rock art sites, blissful rock pools, thundering waterfalls, rocky hiking trails and so much more.
When visiting the park, we would highly recommend a high clearance 4x4 vehicle, which will be capable enough to go off road and to do some river crossings. 
If flying to Darwin, Kakadu creates a perfect loop with Litchfield National Park and together these two parks create an amazing road trip.