A weekend of winter bliss
Alexandra Lawrence | December 2019
Alexandra Lawrence does the week's obligatory two days of rest her way - the way it's meant to be - in a Caddy Beach on the coast.
Chocolate, wine, cheese and a beach sunrise. 
That's my weekend of bliss wrapped up in a delicious nutshell. 
But it's one I'd like to share so that hopefully you (yes I'm looking at you) can enjoy for yourself. 
I know winter can be grim, but that's exactly why you should be doing things that make you feel warm and fuzzy - like bubble baths, binge watching Netflix, ordering Uber eats (all those things combined) and taking weekend trips to show winter who's boss.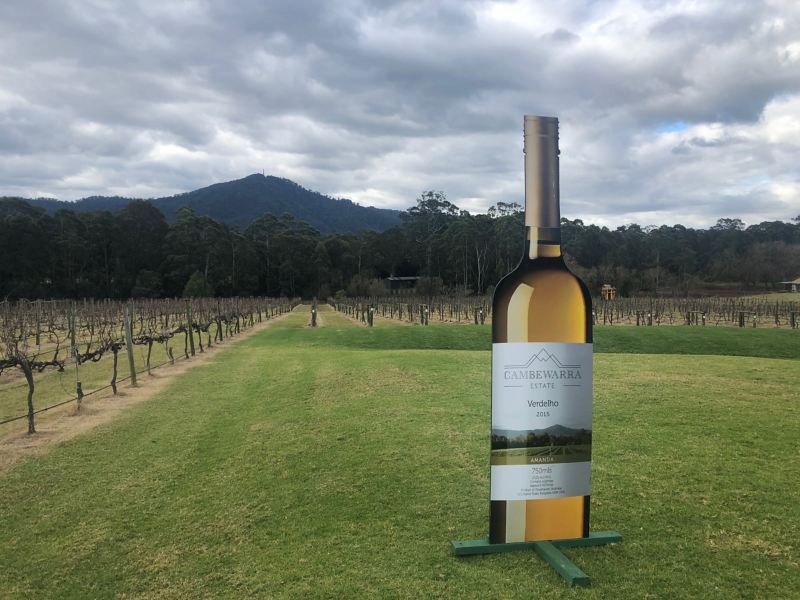 For me it begins in the Shoalhaven region, in the small village of Berry where the first stop is Berry Chocolatier on Queen Street. 
My top recommendations are the milk chocolate coated strawberries and caramel chocolate drops - I'd come back for those alone. The coffee's not bad either, but this isn't your basic Cadbury chocolate shop so be prepared to spend a little more with the mindset that you really do get what you pay for. 
Berry is quaint, full of specialty and boutique stores down the main street, where you could easily spend the afternoon wandering. For me, it's off to Two Figs Winery, a 20 minute drive from my little slice of chocolate heaven. 
A taste test of Two Figs' most popular whites and reds reminds me how much of a wine drinker I am not (hint: it's growing on me). Even still, I polish off the complimentary cheese platter, much to my delight, and after the tasting I'm certain of three things going straight in my basket: the matured cheddar cheese, a jar of mustard pickles and whatever those wafer thin crunchy crackers were. All that for $19?! I'll take ten! Or maybe that's the wine speaking…
After a few cuddles with Chloe the winery dog, it's time to hit up the next winery, Cambewarra Estate Winery, another 20 minutes down the road.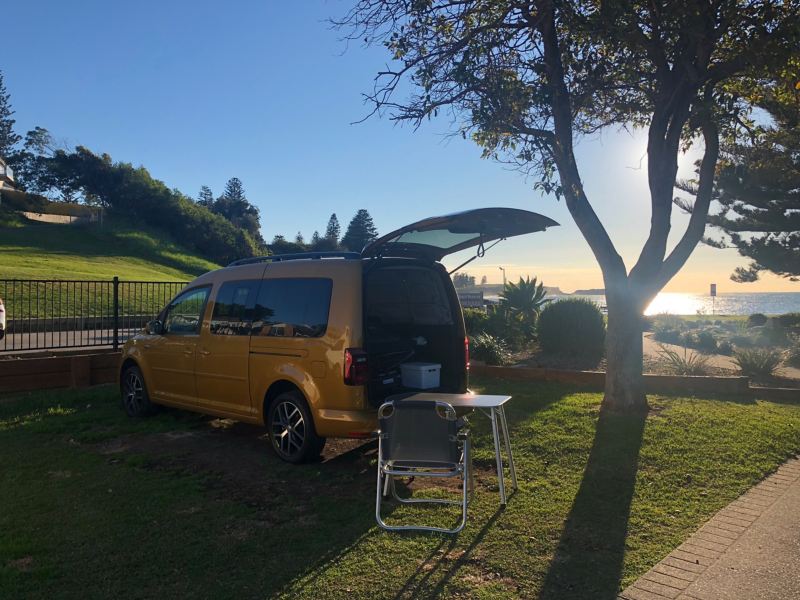 My (very) late lunch consists of roasted butternut pumpkin slices topped with herbs and mozzarella - a wonderful way to absorb any alcohol left in the system from the pre-lunch tasting. 
Wined and dined, I'm ready for the drive to Kiama for some takeaway on the beach. 
Low-key grateful I'm not sleeping in an actual tent in 10 degree weather, the Caddy Beach is not only my trusty chariot and companion this weekend, but also my holiday house on wheels. 
Reaching Kendalls On The Beach by dusk, my home for the night is set up within five minutes and I'm plowing into the wonton noodle soup from the local takeaway that I sadly won't be recommending.
It takes some time to recalibrate after leaving the hustle and bustle of Sydney, as the stark contrast is deafening at first. 
Winter has just begun, so an icy breeze ensues as nightly temperatures fall somewhere within single digits.
Fairy lights from nearby holiday houses glisten in the night sky and all I hear are the calm ocean waters meeting the shoreline just metres from my site and after a moscato or two, I'm lulled into a deep sleep.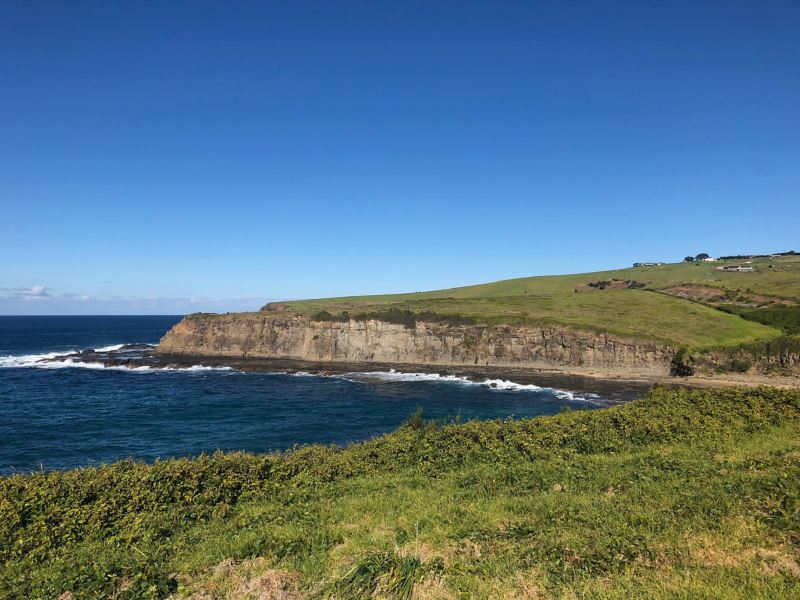 Waking up with a blanket covering my head reminds me of the previous night's chill and I'm left to contemplate how much colder I would've been without the Caddy's protection.
The park's facilities are great and I'm won over by the fact I get to wake up to my own beautiful sunrise. I'm also impressed that the caravan park is dog-friendly, although it's worth noting that the secluded beach attached is not. 
After enjoying the sunrise, it's time to hit the road again.
An early morning walk along the east Australian coast line is just what the doctor ordered.
You can park on Elanora Road, but if you venture deep enough down a lonely path like I did, you'll find what seems like a secret parking bay closer to the water where the Kiama Coast Walk begins at Loves Bay.
The unpaved walk offers gorgeous views of the coast and it's pup friendly. The Destination NSW website recommends you cover the 22km trail over multiple days, but I'll let you live your own life. 
I won't tell you how much I covered. But I will tell you it was enough.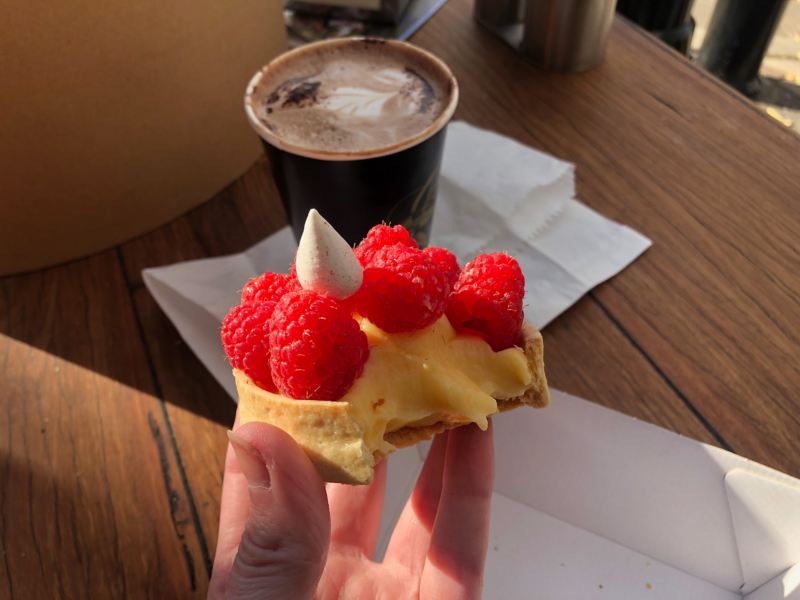 Once making it back to the car (no judgement if you caught an Uber) and de-frosting, you'll be famished. 
For breakfast it's local favourite, the Hungry Monkey. The cafe by day and restaurant by night is welcoming with a warm and cozy atmosphere. Slow RnB plays in the background and the low murmurs of people enjoying each other's company makes it feel like home.
My morning caffeine shot is put on the back burner when I see Nutella hot chocolate on the menu, but I also need a fruit juice to cleanse me of yesterday's sins. Passionfruit, watermelon, orange and apple served in a cute little milk jar hits the spot.
Drinks are served almost as soon as you've ordered and the food isn't far behind, even on a steady Saturday morning. I order the porridge - boring maybe, but never disappointing, particularly served with fresh berries, toasted coconut and a berry compote. 
Fergie's Big Girls Don't Cry starts to play in the background immediately taking me back to simpler days when I was learning to play it on my dad's acoustic guitar. 
It feels like the kind of place that makes you forget all your problems and the fact that too much smashed avo could somehow be the reason millennials like me will never buy a house in Sydney.  Maybe avocados are cheaper down here, I ponder. 
Yeah, I think to myself, this is where I'd spend every Saturday morning too if I could.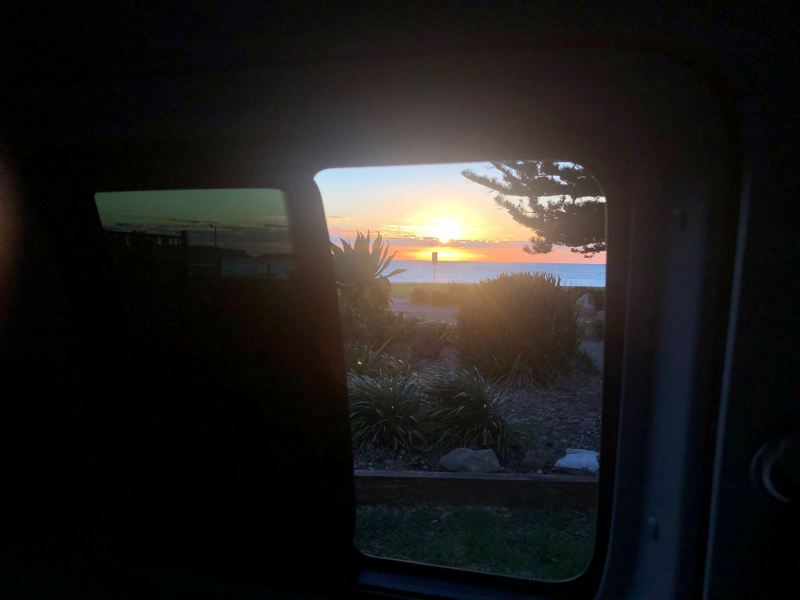 Anyway, that's enough daydreaming - we've got more to see in Bowral. 
There are plenty of routes to take but I opt (and highly recommend you do too) for the scenic route. Macquarie Pass - a popular eight-kilometre section of the Illawarra Highway and a drive you'll easily get wrapped up in. 
Travelling through an emerald blur, the mountain-top views are truly something to see. The driver however, must ignore those views in order to focus on navigating their vehicle safely around an abundance of hairpin corners and narrow cliff-top bends.
Caution signs are sprawled throughout the distance of the drive. A rightful reminder to not get too enthusiastic coasting up and down the glorious bends.
It's impossible to not enjoy yourself on this drive. Even in the Caddy Beach, a practical beast that started life as a commercial vehicle feels nothing short of capable as it dances through the mountains under your guidance. 
Becoming ravenous on the way, hangry-me thanks wise-me as I munch on the snacks I stowed in the Caddy's overhead tray (super handy).
Within an hour the next destination is upon us and it's just as charming as the last. 
Home to the Corbett Gardens (where the Tulip Time Festival is held each September) and a population of around 13,000 humans, Bowral has a small town feel with diet country flavour - not too bumpkin, but not overly modern either.
For lunch, there's no going past the Gumnut Patisserie on the town's main street.  
I opt for a cheeky raspberry tart and a double shot mocha, because that missed caffeine earlier has finally caught up to me.
A walk through town offers a range of antique, clothing and homewares stores, and if you haven't loaded up on sweets yet, head down High Street Arcade to Bowral's Sweets & Treats where you'll likely get your next fix. 
You're also bound to find that perfect boutique gift you keep forgetting to buy for your girlfriend's bridal shower next week. 
After soaking up two days of foodie bliss down south, I reluctantly head back home to my responsibilities. 
The straight n' narrow drive back on the Hume affords me time to reflect on a weekend well spent and gives me some time to plan the next adventure.