Haitham Razagui  |  March 2019
Haitham Razagui and his wife Tace continue reliving the tour of WA that kicked off their around-Australia adventure in a 1974 Kombi more than a decade ago. This time, their three-year-old daughter Tulsi is along for the ride and they're travelling in a Multivan Kombi 70 special edition.
Perth, June 2007. Among the classified ads I've been browsing in the search for a vehicle that Tace and I will to take on a cross-continental adventure, is a dark blue 1974 VW Kombi. It doesn't fit my criteria of fuel-efficiency or modern-day reliability, nor does it look like a great example in the photo.
I'm tiring of backpacker bidding wars over bland but box-ticking vans and during this process have noticed the Kombi's price dropping, to the point where my man-maths has built room in the budget for extra fuel and spare parts. And a Kombi has long been a bucket list purchase…
Fast-forward 11 years and we've made Australia home. Lifelong friends we made on that epic Kombi adventure are getting married in Western Australia and Volkswagen is commemorating 70 years of the iconic bus with a special edition T6 Multivan.
The Multivan (which Tulsi has named 'Kamps') has taken us from Perth to Albany and through the Valley of the Giants near Walpole.
Having scaled – and survived – the massive Diamond Tree near Manjimup, we're approaching Cape Leeuwin Lighthouse, famed for being the tallest on mainland Australia and for guarding the treacherous waters where the Southern and Indian oceans collide.
Perched on a peninsula at the most south-westerly point of the Australian continent, the lighthouse was first illuminated in 1895 and remains in operation to this day.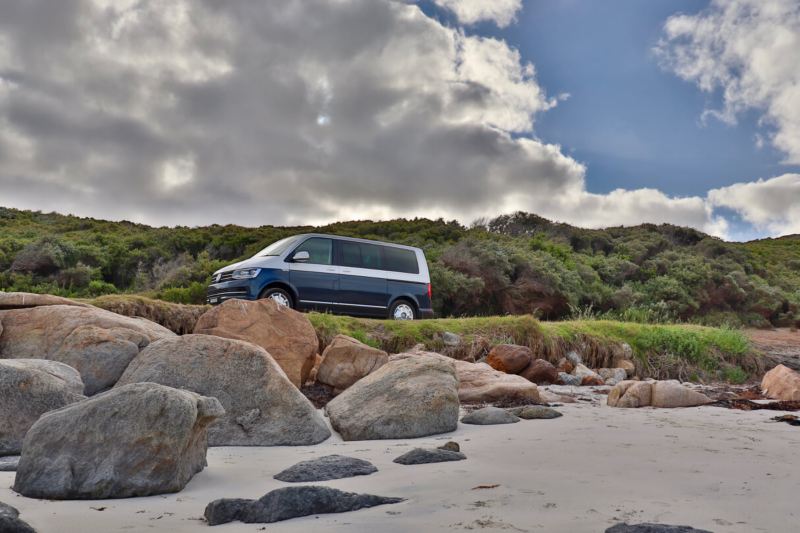 With the Southern Ocean to our left as we cruise along the dune-lined Leeuwin Road, glimpses of the gleaming white, 39-metre limestone tower become more frequent.
Rounding a corner, we find ourselves on the Cape Leeuwin peninsula, the Indian Ocean joins the view to our right and the grey overcast skies of the past few days make way for a glorious blue, with a scattering of fluffy white clouds.
After a long drive, the opportunity to stretch our legs is as welcome as the change in weather, which also enhances the view from various lookouts surrounding the lighthouse.
Nearby, a heavily calcified water wheel that once drove a pump supplying fresh water to the lighthouse has almost become a solid piece of rock due to the mineral-rich spring that still feeds a wooden channel leading to the now permanently frozen impeller.
Between the surrounding heathland and swirling waters of the Indian Ocean, rocks of all colours and formations create plenty of visual interest for Tulsi, as do the inhabitants of several large saltwater pools.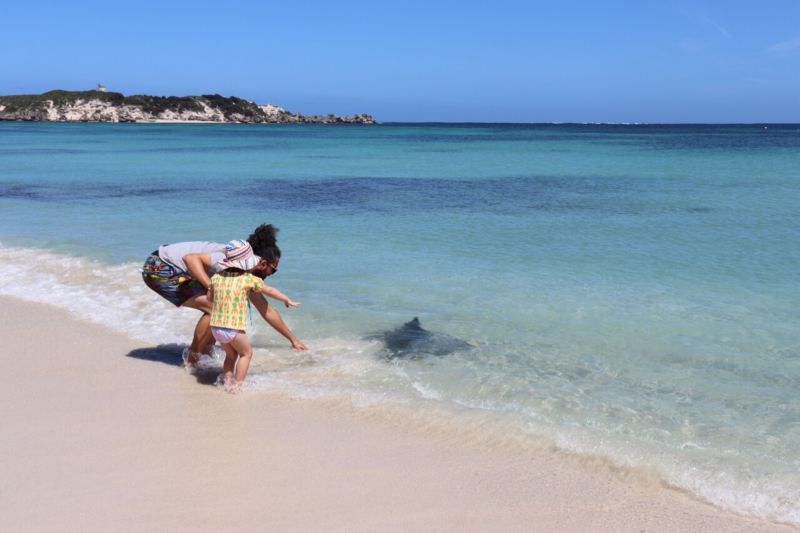 The temptation to linger is strong, but the sun is rapidly sinking westwards, so we take the achingly scenic Caves Road toward our overnight stop of Hamelin Bay.
I don't quite know how we missed Hamelin Bay during our first Kombi adventure, because it's the most gobsmackingly beautiful surprise.

We arrive at this little piece of perfection just in time for sunset and enjoyed paddling in the markedly warmer waters of the Indian Ocean, having chilled our toes in the Southern Ocean at curiously-named Dead Finish beach on the way here from Cape Leeuwin Lighthouse.

Children fly kites and young couples pose for selfies beside the photogenic remains of Hamelin Bay jetty, the timbers of this once 600-metre-long structure bleached by more than 130 years of sun and salt air.
Nearby, Tulsi dances on the powdery white sand and tries to re-float a large piece of driftwood before noticing some small white snails perilously crossing a sand-strewn wooden staircase and cautioning passers-by not to squash them.
The dazzling, almost otherworldly sight....
After a well-earned sleep at the nearby caravan and camping ground, we venture back to the beach. The dazzling, almost otherworldly sight that welcomes us is almost certainly nature's way of saying "hold my beer" to Captain Photoshop and Lieutenant Lightroom.
Beneath an almost cloudless sky, the calm, clear and glistening teal of the Indian Ocean gently laps at sand so pale and pristine that it could be mistaken for talcum powder. The colour of the water is so intense in this bright sunlight that the white hull of a small boat moored a few metres offshore is turned blue by the reflection.

The water is too inviting to resist. Tulsi and I are paddling hand-in-hand when a large stingray cruises past. It's clearly a curious creature as it returns for a closer look when we squat down to observe it and, when it gets close enough, we're both compelled to reach out and discover what it feels like.
I briefly experience the soft slickness of the ray's skin before it retreats with a harmless flick of the tail. It remains close to the beach, having a good look at Tace and other beachgoers before following a man who is standing in chest-deep water and brandishing a piece of fish in an attempt to attract the creature towards him.
All he achieves is a dive-bombing by seagulls, providing us with a laugh as we join him in the ocean.
The road-tripping nature of this adventure means we must soon return to Kamps and resume our journey up Caves Road and through what feels like a tunnel of trees, where the forest floor is thickly carpeted with the vivid green of ferns.
We pass through the wine-soaked Margaret River region and pause at Yallingup for lunch while Tulsi makes friends at one of the most amazingly crafted public play areas we've ever seen. It also happens to be set high on the clifftops against a stunning backdrop of curving coastline and the popular reef breaks that generate wave after perfect wave, overlooked by a bronze statue of a surfer.
But comprehensively upstaging the Yallingup playground is our accommodation for the night, Mandalay Tourist Resort and Holiday Park in Busselton.
As we drive in, Tulsi's eyes light up at the sight of a huge rainbow-coloured water slide that plunges into the network of outdoor and indoor pools below.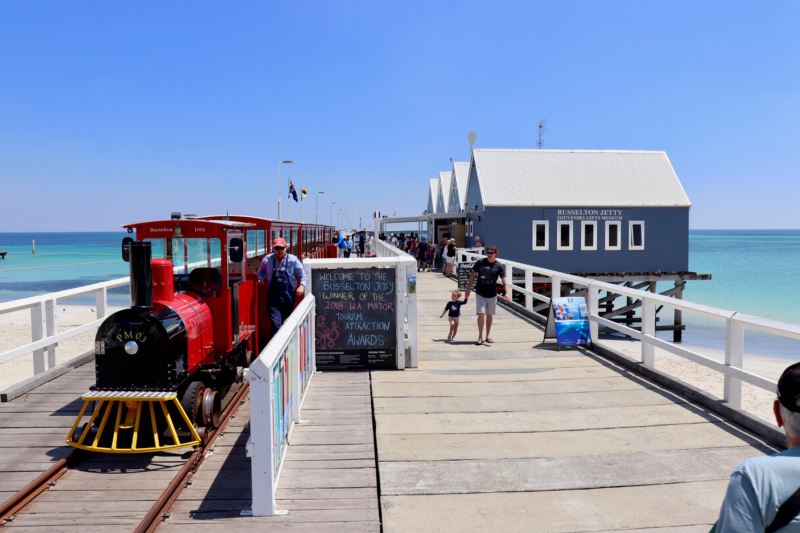 Equally big, colourful and exciting is the jumping pillow adjacent to a challenging set of climbing frames that – having already swum and bounced to her heart's content – drain the last of her energy.
Our two-bedroom chalet is as comfortable as the surrounding facilities are exciting, a combination that guarantees a peaceful sleep for all in preparation for another action-packed day.
We're in Busselton to experience the underwater observatory located at the end of the town's 1.8km jetty, not least because our visit here in 2007 was scuppered by wild weather.
Today, the sky is an unbroken blue that is reflected by the calm, iridescent shallows of Geographe Bay. From our vantage point on yet another chalk-white beach, the jetty almost seems to disappear over the horizon.
Behind us is a truly magnificent shipwreck-themed play area – this part of WA seems to be leading the way in terms of outdoor children's' facilities – but the sight of a bright red train making its way toward us along the southern hemisphere's longest wooden jetty reminds us why we're really here.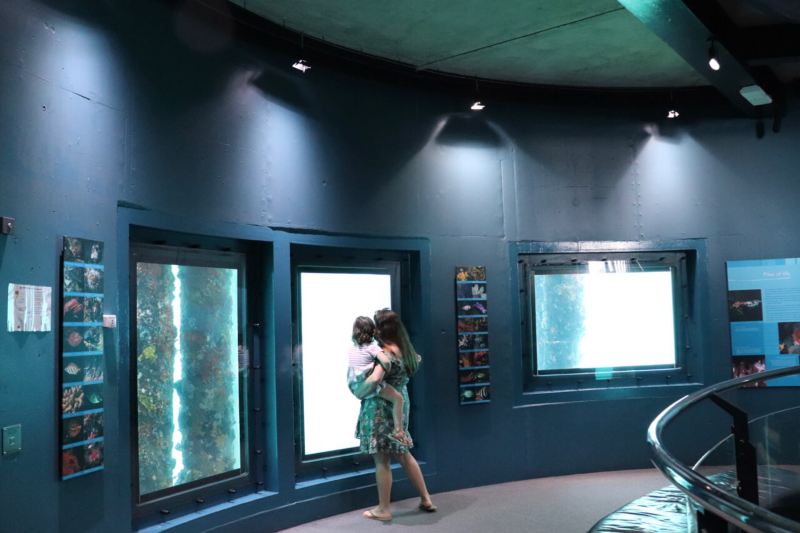 We board the train, which turns out to be powered by batteries that are charged using solar panels. It's impressive, forward-thinking stuff wrapped in retro steam-train-style bodywork.
During our journey to the underwater observatory, we learn that construction of the jetty started in 1853 and that it was repeatedly extended to accommodate increasingly large ships until its closure in the 1971.
It's all in remarkably good shape given its age, with just a few visibly rotted-out timbers playing host to nesting seagulls and their chicks.
As we arrive at the underwater observatory, we still cannot help but marvel at the clarity of the water below, especially this far out to sea. Filing into the spiral staircase that will eventually take us eight metres down to the seabed, we are told this is one of just six similar facilities in the world.
On each mezzanine level of this cylindrical structure are thick windows providing various views into the water and the fascinating ecosystem that has developed on and around the jetty's supporting pillars.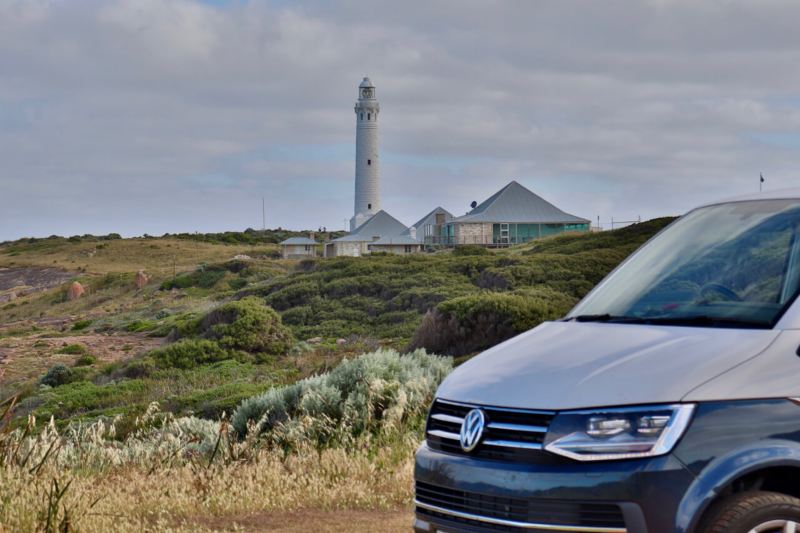 Tulsi is utterly captivated by spotting fish, crabs and sea stars in their natural environment. A decaying ship's anchor, encrusted in barnacles and coral, is a thrilling sight for this pirate-obsessed toddler.
As the train takes us back to shore, our little girl stretches herself across the three-seat bench in surrender to her need for a sleep.
It's just as well, because our next stop is a wedding in Mandurah and she's in for a late night. Not to mention the final leg of our road trip.