Milk or wine, take your pick on this drive journey.
Words by Tatyana Leonov
Photos by Evan Dickson
The camels are all around us, some poking their long necks and slobbery mouths right into the ATV, frightening my daughter a little the first time it happens. My husband is trying to take photos of the doe-eyed bunch… and if he were after close-ups, he'd have scored gold.
The couple sitting in front with Michelle Phillips, the owner and manager of the farm, keep edging closer to the middle of the bench seat. There's really no point to their crusade, because the two of them are quickly drenched in camel slobber. And soon after that my husband, daughter and I are, too. But, luckily, the camels have eaten their fill from the ATV boot, which Michelle used to encourage them to venture closer to us.
Michelle, along with her husband Dan, opened Camel Milk NSW in 2014. When asked why, her answer is fascinating. "I have three sons and my middle son was diagnosed with Asperger syndrome in 2010. I started looking into natural remedies that might help him," she explains. "And learned that camel milk is considered to be effective for dealing with anxiety and gut issues."
Michelle wasn't able to find anywhere to purchase camel milk in New South Wales, so she figured it wouldn't be that hard to find and train a few camels. "If I had known then what I know now I probably wouldn't have done it," she laughs. "But now I would never be without a camel."

Six years on and her sons are grown up (replacing standard cow milk with camel milk did help her middle son), and the camels and business continue to thrive. There are currently 80 camels residing on the farm and Michelle sells camel milk to people far and wide. She's the only commercial camel milk producer in New South Wales, and on top of that she also operates tours on her camel farm, showing visitors what she does and delving into all that camel farming entails… slobber and all.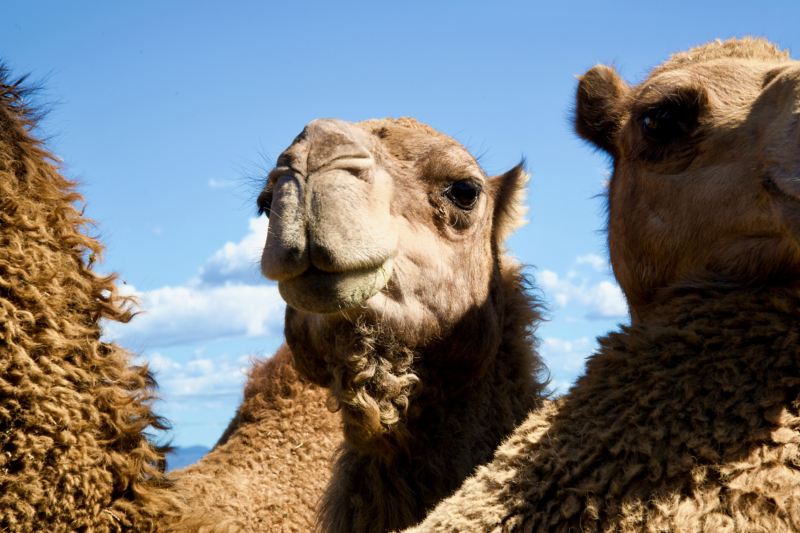 For us, spending time with Michelle makes for a perfect start to our final road trip as a family of three. We're driving the Touareg Adventure from Sydney to Tamworth and beyond, stopping often, seeing plenty, and taking longer routes to make the most of our journey.
My husband and I alternate driving, and since our next stop is a winery – Small Forest – I jump behind the wheel. Morning wine tasting is commonplace when holidaying in wine regions, but since I'm pregnant my husband is the guinea pig. Still, it's fascinating to chat to Atsuko Radcliffe, who owns and manages the boutique winery, located about 20 minutes' drive from Muswellbrook. It's the only winery run by a Japanese winemaker in Australia and Atsuko is happy to share her story.
Atsuko started making wine in Japan over 30 years ago, and her work has taken her to France and California, and later to Australia. In 1999 Atsuko was offered a job in Australia, and although her plan was to only stay and work for a year, she ended up staying for seven.
"The wine industry was flourishing at this time, and I really enjoyed working and being part of a team during those years," she explains.
She moved around between Japan and Australia following that work stint, but it wasn't until 2013 that she opened Small Forest, her own winery, with a focus on wines made in her unique style and, interestingly, sake-tasting. "In Australia you need to have a license to sell sake, but since I have studied with sake brewers in Japan, I offer sake tastings here," she says.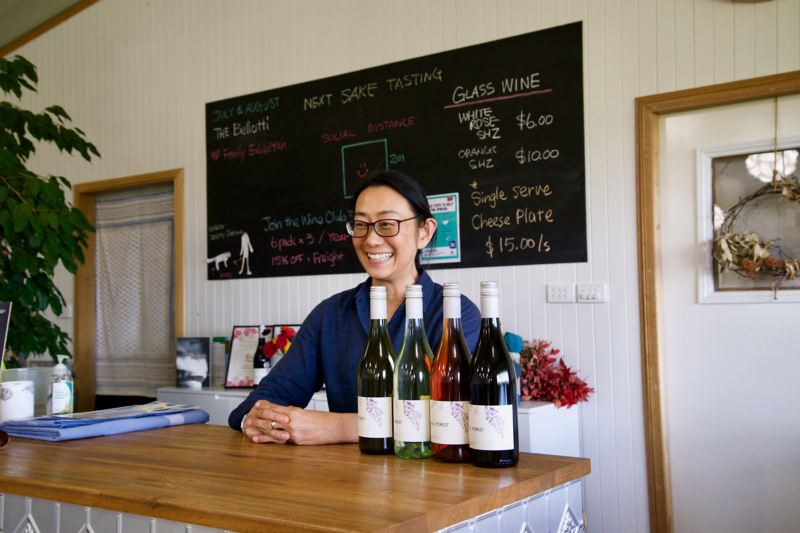 Atsuko makes Verdellho, Rose, Chardonnay and Shiraz and my husband samples the Chardonnay and Rose. He finds both drops clean and fruity and promises to return for a sake-tasting. I commit to come back to try both her wine and sake.
The drive to Singleton from Small Forest is just under an hour, but we slow down to take advantage of the views. Rolling emerald green and sunflower yellow fields can be seen in all directions, and our daughter enjoys spotting herds of cows and sheep as we cruise past them.
A number of people have recommended we stop in at Worn Out Wares… and the food photos on their company Instagram page concrete our decision to stop here for a late lunch and a mosey around the adjoining shop and florist. I enjoy one of the best salads I've ever encountered (I order the nourish salad and add roasted vegetables for a sustenance kick); hubby is happy with the Reuben sandwich; and our daughter is fine to gobble down whatever is placed in front of her as long as she has time to mooch around the florist after the meal.
Worn Out Wares is a family-run business, and it's refreshing to discover that owner Louise Christensen has time to chat to customers. Her three daughters are involved in the business, with eldest daughter Anna heading up the florist, second-born Lili looking after the retail and social media sides of the business, and youngest daughter Meg working as the head barista in the café. "The family vibe is one of the aspects that makes us who we are," Louise explains.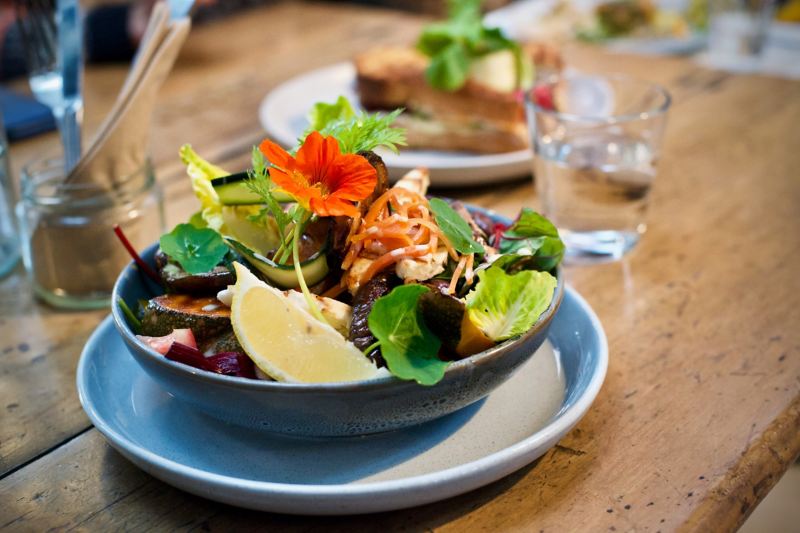 As for our family? Well, we holiday well together. At home there is always something to do, but being on the road – and on the way to somewhere – is one of our favourite ways to pass time. Climbing into the Touareg Adventure to start the journey, the tunes we listen to on the way, the anticipation as we near a destination, and the making of memories… drive holidays offer so much on so many levels.
And often kids nap in cars… and these are good times, too.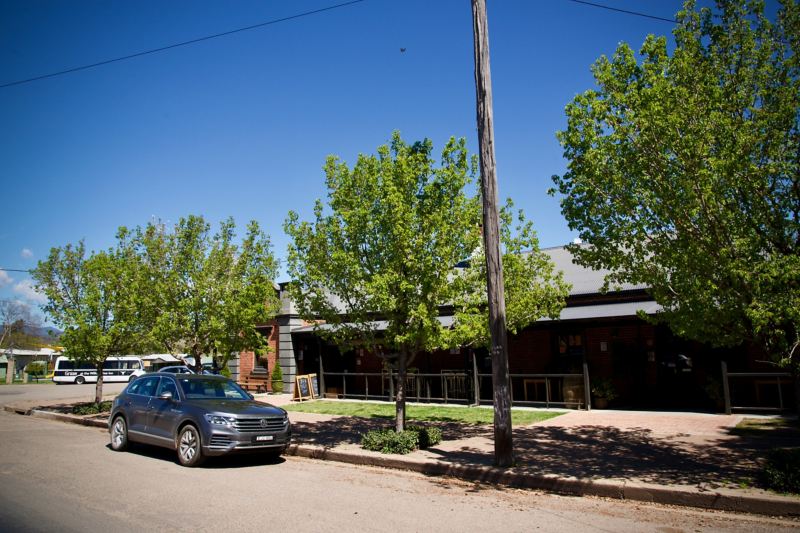 Our daughter hits the hay within 10 minutes of us leaving Singleton, and for a good two hours it's just my husband and I listening to tunes, talking and enjoying the serenity (and that massage function I enjoy so much). 
She stirs just as we near the small town of Willow Tree, home to arguably the best steaks in New South Wales.
Willow Tree Inn – which is situated on the New England Highway between Scone and Tamworth – is where you'll find the award-winning Graze Restaurant. All the Angus steaks and beef options on the menu come from Colly Creek, home to a 2000-acre aggregation bounded by the New England and Kamilaroi Highways. Over 2000 Black Angus cattle roam the property, and the culinary team from Graze choose the 25 best steers each month for their customers.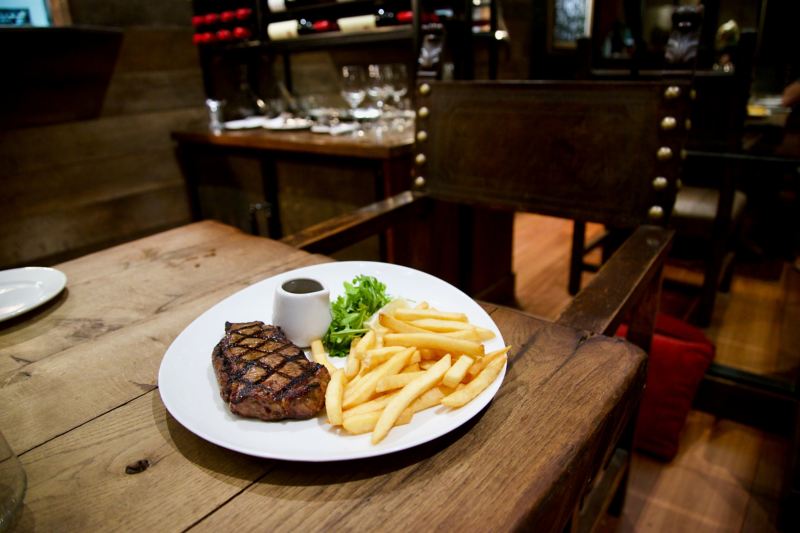 Although we are taking a somewhat spontaneous approach to where we stop and when, dinner at Graze Restaurant was on the cards before we even left Sydney. The 700-gram chateaubriand is an appealing choice, but my husband and I decide to order separately so that we can have our steaks cooked exactly to our liking.
Our choices are worth every cent. Both my eye fillet and my husband's New York striploin are extremely tender, and we decide we will stop in again on the way home… perhaps to even to try and tackle that 700-gram chateaubriand.
For more information visit www.visitnsw.com