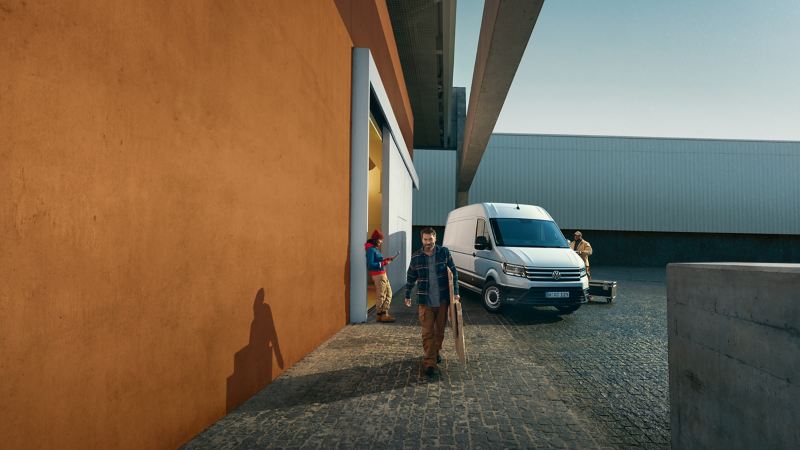 1
Crafter Van
Great for business
Online order now available
Online order now available
The best tool for your trade

If anyone knows business, it's the Crafter. This van has been designed with the perfect blend of utility, versatility and comfort to meet your every need. With over a hundred customisable options, the Crafter has everything to help get your business running. All that's left to do is slap your logo on it.
A Crafter for every occasion

Site visits, heavy hauls, airport runs – the Volkswagen Crafter can be customised for any requirement. With options for engines, wheelbases, roof heights and weight capabilities, it's easy to build your Crafter your way.
Comfortable, practical and designed to handle everyday transportation jobs with ease, this iconic van has everything you need to make tough jobs look effortless.
An everyday transporter or something a bit tougher? Choose a more powerful engine in your build to switch between the Crafter 35 and the heavy-duty Crafter 50 and 55.
Your workplace with the lot

Running a business can be a lot of work. At least the Crafter can do some of the heavy lifting for you. Simply build and customise it to suit you and your business needs.
One van fits all.
Build your Crafter your way. Choose between 3 different lengths and heights to find your perfect combination.
Medium wheelbase
Load length: 3,450 mm | vehicle length: 5,986 mm

Long wheelbase
Load length: 4,300 mm | vehicle length: 6,836 mm

Long wheelbase Maxi
Load length: 4,855 mm (plus overhang)
Vehicle length: 7,391 mm

Medium roof
Vehicle height: 2,355 mm

High roof
Vehicle height: 2,590 mm

Super high roof
Vehicle height: 2,798 mm
Supporting you and your cargo

The Crafter's innovative and intelligent driver assistance and safety systems help to keep you stress-free and your cargo in tact.