Integrity - Doing the right thing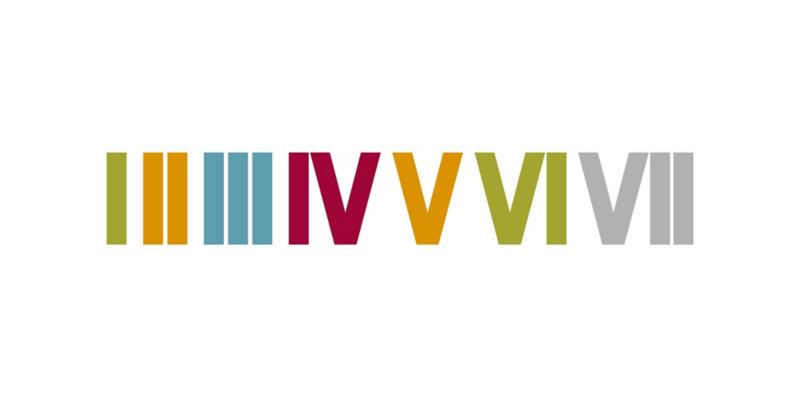 The success of the Volkswagen brand is underpinned by honesty and integrity on the part of all of our employees. By acting in accordance with national and international laws and regulations, internal policies, guidelines and voluntary commitments, we always repay the considerable trust shown in the Volkswagen brand by our customers, business partners and stakeholders on a daily basis. An ethos of integrity, irreproachable conduct and fair dealings with each other are not merely something we take for granted – these values are deeply rooted in our brand identity. Upholding and further strengthening our system of values is one of the main duties of our company.

We drive and accelerate our business by living and breathing the Volkswagen Group Principles - which defines our value based behaviours. 
For the Volkswagen Group, compliance is adherence to legal requirements, internal corporate policies, ethical principles, and self-imposed values for the protection of the company and its brands. In the long term, a company can only be successful if it acts with integrity, complies with statutory provisions worldwide, and stands by its voluntary undertakings and ethical principles, even when this is the harder choice.  We remain committed to this principle and compliance must be second nature to all Volkswagen Group employees.           


The section further explores the following compliance topics:
The

Volkswagen

Group Modern Slavery Reporting Requirements


The

Volkswagen

Group Code of Conduct for Employees

The

Volkswagen

Group Code of Conduct for Business Partners

The

Volkswagen

Group Whistleblower System
Modern Slavery Reporting Requirements
As Volkswagen Group Australia is a key supplier of vehicle and parts, through our parent entity Volkswagen AG, we have prepared our first Modern Slavery Statement which outlines the steps the Volkswagen Group Australia has taken to assess and address the risk of Modern Slavery in our operations and supply chains for the financial year ending 31 December 2020.  This is Volkswagen Group Australia's first Modern Slavery Statement under the Modern Slavery Act 2018 (Cth). We encourage you to review the content below and contact our Procurement Department should you require any further assistance: procurement@volkswagen.com.au.
Code of Conduct for Employees
The Volkswagen Group's Code of Conduct is the key instrument for strengthening employee awareness of correct behavior, providing support and guidance, and finding the right contact persons for consultation and advice. The focus is on the responsibility of each individual employee to comply with the rules of ethical conduct.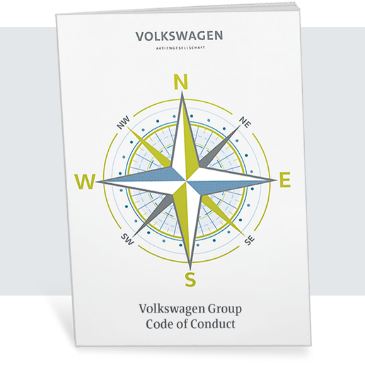 Code of Conduct for Business Partners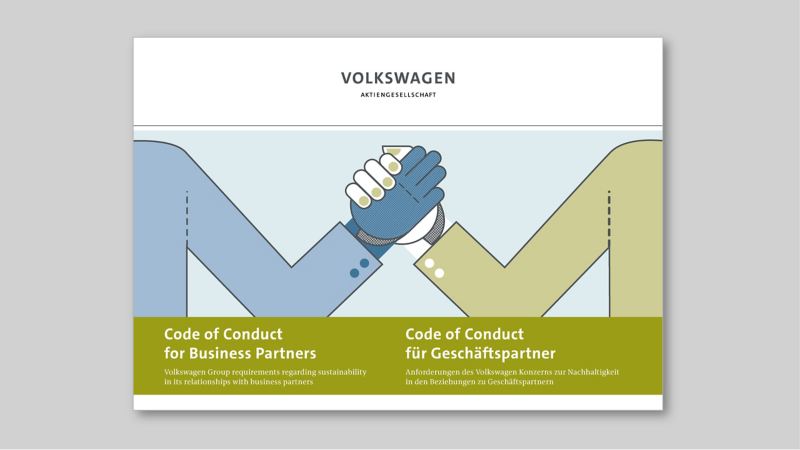 The Code of Conduct for Business Partners embeds our expectations of our business partners' conduct with respect to key environmental, social and compliance standards in our contractual agreements. The requirements are based, among other things, on the OECD Guidelines for Multinational Enterprises, the UN Guiding Principles on Business and Human Rights and the relevant International Labour Organization (ILO) conventions. The Code of Conduct is, however, not just based on international standards, but also objectives, rules and policies of the Volkswagen Group.
The

Volkswagen

Whistleblower System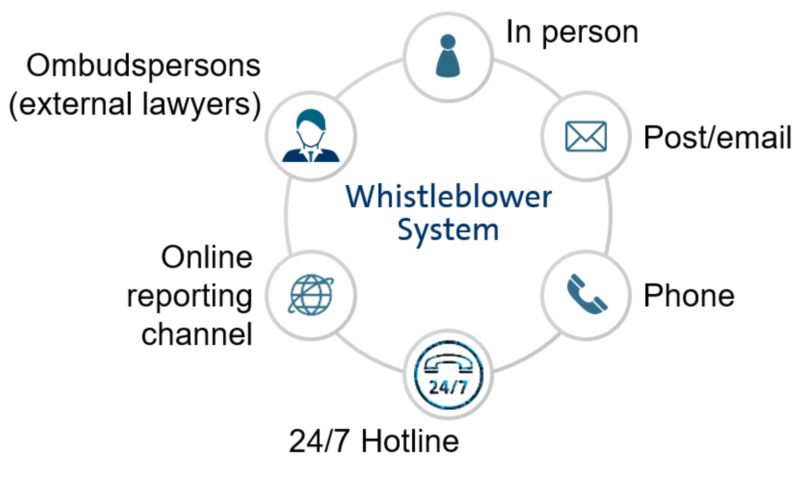 Complying with statutory regulations and internal polices has top priority at Volkswagen. We can only avoid damage to our company, our employees and business partners if rules and standards are respected. Consequently, misconduct must be recognised swiftly, processed and immediately remedied.
That calls for vigilance on the part of everyone along with a willingness to draw attention to possible Serious Regulatory Violations on the basis of Reasonable Suspicion. We also value information of this nature from any individual who is, or has been a director, employee, secondee, contractor, consultant, supplier, service provider (or their employee or subcontractor), franchisee (or its authorised representative or their employee), or working with, the Volkswagen Group. Relatives or dependents of these individuals (or of their spouse) are also eligible to raise concerns through our formal channels. We encourage certain third parties, such as suppliers or service providers, to report concerns they may see in their interactions with the Volkswagen Group and, similarly, encourage reporting the conduct of these third parties. Reports to the Investigation Office can be made at any time and in any language.
The Whistleblower System guarantees the greatest possible protection for whistleblowers and persons implicated. An investigation is only initiated after very careful examination of the facts and Reasonable Suspicion of a Regulatory Violation. There will be strict confidentiality and secrecy throughout the investigative process. Information will be reviewed fairly, promptly and in a sensitive manner.
How do individuals get in touch?
To ensure that anything you disclose can be handled, it is important to provide information that is as factual as possible. When you report, consider the answers to these five basic questions: Who? What? When? Why? Where?
Employees can have a conversation with a senior manager or the Compliance Officer. Alternatively, contact the Volkswagen Group Whistleblower System if individuals are uncomfortable or not able to go through internal channels, would like to report anonymously, or make a report under the Group Whistleblower Policy.
Disclosures can be made to through the channels below:
Phone:
You can make a report using the international toll-free number: +0011 800 444 46300*. If your local telephone provider does not support the toll-free service, you can call the following chargeable number: +0011 49 5361 946300.
*Depending on the country you are calling from it is possible that the international toll-free hotline is not available since some telephone network providers do not support the service. If so, please use the offered chargeable number or your country specific number.
Email:
Online:
You have the option of using an internet-based communication platform to contact the Investigation Office, exchange documents and conduct a dialog with the lawyers via a separate mailbox. This system is confidential and protected. Whistleblowers can decide for themselves whether they wish to give their names. If you would like to send a confidential report to the lawyers in the Investigation Office you can use the secure reporting channel to submit a report.
Important Notice: Even if your preferred language is not offered in the reporting channel, you can use any language to submit your report. You can also contact the Investigation Office in any language via email or mail.
https://www.bkms-system.com/vw
Postal Address:
Central Investigation Office
Letter Box 1717
38436 Wolfsburg (downtown), Germany
Ombudspersons of the Volkswagen Group:
"Ombudsman" is a term taken from the Swedish word for mediator or legal representative. Dr. Rainer Buchertand Thomas Rohrbach, the external ombudspersons appointed by the Volkswagen Group, act as special counsel to accept reports of potential statutory or internal violation of regulations or any other kind of harmful conduct in the Group, and to review these with respect to plausibility and substantiality. They consult with the whistleblower if necessary and if the identity of the whistleblower is known. Finally, they forward all the information that has been agreed with the whistleblower to the Investigation Office for further processing.
All information is treated as confidential and it is the whistleblower who decides whether he or she wishes to protect his or her identity vis-à-vis the Group. The ombudspersons appointed by the Group ensure that reports from whistleblowers who do not wish to be identified by the Company are forwarded to the Investigation Office anonymously.
If you want to get in contact with the Volkswagen Ombudspersons you can find their contact point on the following homepage: http://www.ombudsmen-of-volkswagen.com/
In person:
Central Investigation Office
Porschestraße 1
38440 Wolfsburg (downtown), Germany
Please make an appointment in advance writing an email to io@volkswagen.de.